Are you also stuck in the chaos of WordPress hosting services, and finding it challenging to choose one?
Its is not your fault, as there are so many options available that it becomes difficult to choose one for your WordPress website. Well, amid everything, there comes the name Kinsta Managed WordPress Hosting, claiming to have the best speed, robust servers, and excellent customer service.
So, to find out the truth, we are going to explore the Kinsta WordPress Hosting services features, pricing, policies, and what people are saying about it after using services. But before diving deep into the Kinsta WordPress Hosting reviews, first, have a look at the money-saving Kinsta two months free hosting coupon.
✅Latest Kinsta WordPress Hosting Offers
[affcoups id="12936″]
Why there are no coupon codes available for Kinsta web hosting?
Well, Kinsta believes that they offer quality services at a price already set for various plans. They say
that plans offered are as per the usage of the small and large business clients. Furthermore, they are
providing two months of free hosting service with every plan on the list if paid yearly.
That will definitely save you lots of money as monthly plans already costly, whereas yearly plans save money when paid in one-go. When compared to other hosting services, the pricing seems to be decent and fair enough for such powerful features.
---
How to take advantage of the Kinsta web hosting two months of free hosting?
Here are simple steps to get two months of free hosting with Kinsta when you pay annually.
At first Visit Kinsta Hosting Page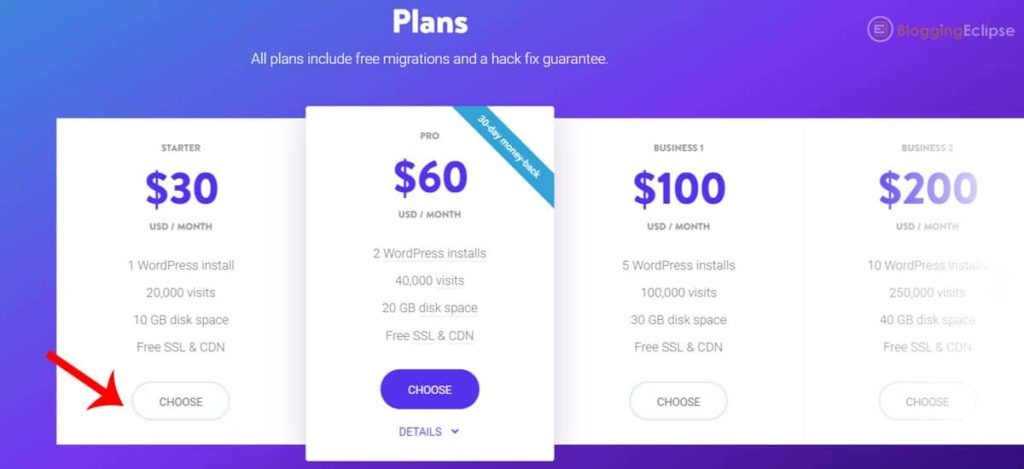 Go to Kinsta and choose any of the preferred plans from its pricing.
Select Annual term 'Get 2 months Free'
You will be directed to the page that will ask for more detailed information on your part along
with payment details. Two months of free hosting will automatically be added to your account.
Create an Account and proceed to checkout
You will need to pay for just 10 months and will get hosting for 12 months. Go to checkout and complete your billing to get your hosting activated. you are covered under their 30 days money-back guarantee.
---
Kinsta Managed WP Hosting- An Overview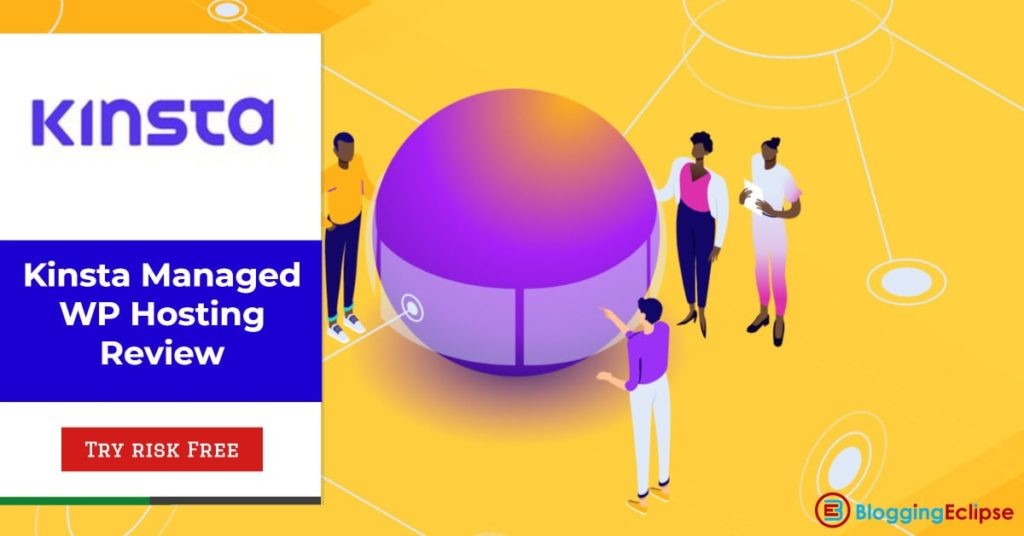 Kinsta is the Premium Managed WordPress hosting platform that offers everything to make your website extraordinary. The performance is dependent on two factors, namely, robust and innovative technology, and best customer support. Since its inception in 2013, Kinsta aimed at becoming the best WordPress hosting platform in the world.
They not only committed high-quality services to the clients but delivered them with time-tested
WordPress hosting built on leading-edge technology with the main focus on speed, safety, and
steadiness.
The people behind Kinsta never go after the crowd and try to attract them with unreasonable offers. Instead, they try to work with the best and like-minded people of the industry who are looking for dependable and unswerving services. Kinsta team is spread all over the world from the US to Europe, helping people to establish their online presence more abruptly.
Overall, Kinsta proves to be a dependable hosting service as you can count on them from their
hardware and software infrastructure and the veteran staff. They keep monitoring their infrastructure and speed internally so that there are issues faced by the customers.
Kinsta aims at keeping itself updated with the phenomenal and fast-changing technology, so your
website never sees a downtime. They are real WordPress professionals as the team of Kinsta has
worked with the WordPress community and helped them time and over by contributing to the core.
---
Breathtaking Features
Kinsta is an experienced player in hosting industry. It has worked with WordPress for ten years to gain every point of knowledge so that it can pour all that info in creating the best-managed WordPress hosting services for its clients. Now let's have a look at the features that Kinsta offers to its clients:
#1. State-of-the-art technology
Kinsta is obsessed with the best and speedy infrastructure, and so it provides the most advanced
technology like Nginx, PHP 7.4, LXD software holds, MariaDB, and cipher-hone VMs to ensure that your website loads quickly. It also includes absolute resource alienation, machine-driven scalability, and high accessibility.
#2. Extremely secure networks
It works on combat-ready and unresisting measures to halt afflictions and malicious purposes in its
course. Kinsta always monitors its set-up for uptime, DDoS attack sensing, software-based restraints,
SSL support, and hardware security system. GCP firewall and self-healing PHP.
#3. GenX Infrastructure
Kinsta applies only the high-grade technology, be it their fortified server hardware or the performing
software. Irrespective of the development load you use, Kinsta will have the up-to-the-minute structure variant installed for your site.
#4. Google Cloud Platform
Kinsta is power-driven by the Google Cloud Platform. The complete infrastructure is powered by Google cloud which is the most advanced and robust cloud platform in the world with the highest performance. So your WP site on Kinsta is like hosting with Google with the managed platform provided by Kinsta.
#5. Absolutely free site migration
If you want to transfer your site to Kinsta, then don't worry about the downtime. Kinsta's experienced migration team will take into account every factor to keep your site at full swing. They will give an impermanent domain to your migrated website and look into every essential element before your site goes live.
#6. Total peace of mind
With Kinsta, you don't have to worry about every small thing like timely uptime checks, backups,
automatic scaling, or hack fixation. The team will take into account everything proactively and prevent small blunders from happening.
You just need to concentrate on growing your business while Kinsta will take care of sudden upsurges or downfalls taking place on your website.
#7. Fully Managed automatic backups
All sites on Kinsta are backed up at least once in a day so if anything worst happens, The latest backup is always available for full restoration in a click of a button. All backups are stored in different environments so the development and staging are always safe.
Additionally, kinsta can increase the backup frequency to every 6 hours or 1 hour if your site is highly dyhnaimci and get content changes frequency. This additional backup can be availed by paying a minimal fee.
#8. A Team of professionals that care
From the day Kinsta came into action, excellent support service through an experienced team of people is the top priority. They firmly believe that users understand better when they are guided
adequately via personal chatting rather than scripted emails. They have Wordpress veterans ready to
help you, 24/7.
They maintain a vast resource center, including knowledgebase, WordPress related posts, updates,
blogs, and newsletters. Besides, you can catch them on social media as they are very active on
Facebook, Twitter, Instagram, and the WordPress community.
#9. Powerful yet User-friendly
Kinsta is not only for the experienced web developers but also for the novices who are up to achieving something big in the online world. So, by keeping the platform and dashboard simple to understand for beginners, yet they have the most powerful tools and features best suited to developers.
#10. MyKinsta Site Management
MyKinsta is a utility platform that is your portal to coercive site management. You can see elaborated
statistics, pull off DNS settings, use innovative site tools, handle payments, etc.. It is indeed the full
the control center for your website. Demo.kinsta.com
The kinsta my site management dashbaord enables you full control and tracking of all your services including analytics, CDN, bandwidth, Wordpress hosting tools, manage users, and more. It is all in one intuitive dashboard that comes with powerful tools and features.
#11. Add-ons
If you still want to add more functionality to your website, then Kinsta offers you additional tools like
Cloudflare, Railgun, Elastic search, Redis, scale visits, disk space, Nginx reverse proxy, CDN, and more. You can contact them if you have something else in mind.
Few More Technical Features of Kinsta include:
• Highest server-level Website Caching,
• SFTP, Free SSL, Server File Manager
• Staging Sites.
• Data Centre Locations to choose.
• Plugin Restrictions with Security Measures, Post-hack cleaning.
• Uptime Checks, Daily backups, and Visitor Analytics.
• Multiple Support Channels.
• WordPress Site Migration and staging.
---
👉 Kinsta Wordpress Hosting Pricing
There are several plans of Kinsta Managed WordPress hosting service designed to suit different
requirements of users. The Starter plan priced at $30/mo, which is best for beginners, whereas the Pro plan is priced at $60.
There is a Business Plan priced differently at $100, $200, $300, and $400, respectively, as per the features per-requisites.
[affcoups id="12936″]
Then you can also go for Enterprise plan if your business requirement is much higher; the plan is priced at $600, $900, $1200, and $1500, respectively, depending on the features you need.
For all yearly payments, you will get two months of free hosting service credited to your Kinsta account.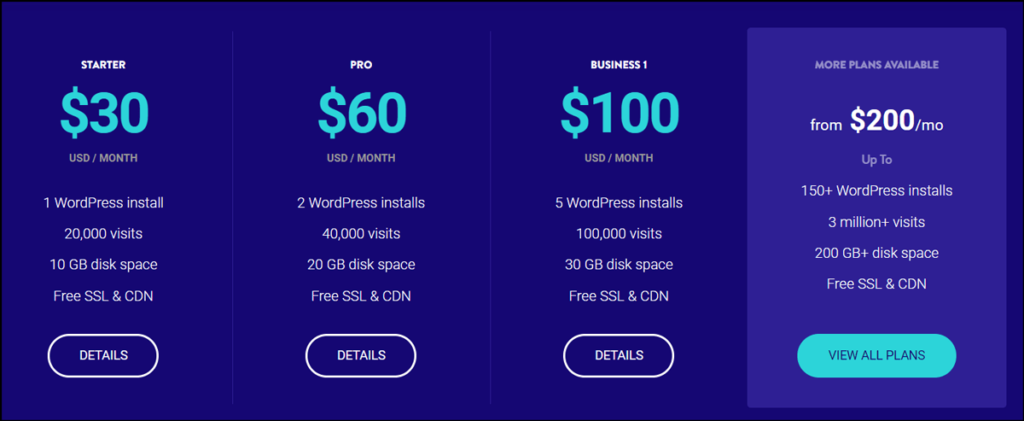 The features included in all the plans irrespective of the money you have paid are:
• select your datacentre
• blazing fast speed and performance powered by Google cloud
• 24/7 expert support via live chat, and phone.
• staging areas and secured network.
• powerful administration
• unlimited free basic migration
The add-ons will be charged separately as per the user demand.
---
Pros and Cons of Kinsta Hosting
Pros
Great speed and performance.
No temporary site suspensions due to daily backups.
All WordPress tools and features included with server-level caching.
Timely and knowledgeable support.
Premium built-in features.
User-friendly and time-saving.
Fully managed and supported by Google Cloud platform.
Cons
No email support.
no trial period but 30 days full money-back guarantee.
little pricey for small businesses
---
Kinsta FAQ
Kinsta vs. WP Engine – Which is better?
As per the Blitz.io Test 1-5000, Kinsta handled 5,000 concurrent hits to the front page without any issue. WP-Engine, on the other hand, struggled with the test. Hence Kinsta dominated Wp-Engine in multiple trials and benchmarks.
Kinsta CDN vs. Cloudflare CDN – Which is better?
As per the Blitz.io Test 1-5000, Kinsta handled 5,000 concurrent hits to the front page without any issue. WP-Engine, on the other hand, struggled with the test. Hence Kinsta dominated Wp-Engine in multiple trials and benchmarks.
How do i migrate my WP site to Kinsta?
You don't need to. Their highly-skilled technical team is there to do migrate your site on their servers, You need to fill migration form, and they will take care of it.
How kinsta keeps your data safe?
Kinsta is a severe io disaster recovery. The company is backed by Google cloud a takes an automation snapshot of each site that comes with downloadable backups and 24/7 server monitoring.
---
Reasons to choose Kinsta over other providers
When it comes to superior managed WordPress hosting, numerous top companies like WP-engine, WPX, etc. claim to be best for WP sites. Wordpress is the most used CMS for every kind of website that has lots of flaws, security issues, performance, and more. Not every web hosting provider is familiar with advanced Wordpress issues.
Kinsta, on the other hand, comes with best speed architecture and is entirely powered by Google Cloud, With the highest level of security network and next-generation infrastructures, Kinsta is complete peace of mind.
Most successful bloggers and WordPress developers endorse it. All their plans come with express WordPress support with 24/7 monitoring and a 100% solve rate.
---
Final Thought- Is Kinsta really working wonders for users?
Yes, Kinsta seems to be an uncompromising Managed WordPress hosting service working on the most progressive technology. After having personal experience, we firmly believe that Kinsta lives up to the expectations of the customer without failing to its commitments. Not only we, but there are thousands of positive and genuine reviews of Kinsta hosting all over the web. It is because the services offered are prompt, factual, and swift.
If you think that the price is a little bit of a higher side, then let me tell you friends- when you will have actual results in your hand, then you will realize that its worth every penny you spend on Kinsta services. After all, time is money and success comes along when you value time and stop wasting it on cheap hosting services that do not give fair results.
I hope you like the Kinsta WordPress Hosting, and if you still have any questions in mind, feel free to
shoot in the comments section below.
After knowing so much about Kinsta Hosting- Do you still think Kinsta Wordpress hosting is just an extensive form of publicity?