Are you also stuck in the chaos of WordPress hosting services and finding it challenging to choose one? This article on Kinsta WordPress Hosting review is going to help you a lot!
It is not your fault, as there are so many options available that it becomes difficult to choose one for your WordPress website. Well, amid everything, there comes the name Kinsta Managed WordPress Hosting, claiming to have the best speed, robust servers, and excellent customer service.
So, to find out the truth, we are going to explore the Kinsta WordPress Hosting services features, pricing, policies, and what people are saying about it after using services. But before diving deep into the Kinsta WordPress Hosting reviews, first, have a look at the money-saving Kinsta two months free hosting coupon.
✅Latest Kinsta WordPress Hosting Offers
Why there are no coupon codes available for Kinsta web hosting?
Well, Kinsta believes that they offer quality services at a price already set for various plans. They say that the plans offered are as per the usage of the small and large business clients. Furthermore, they are providing two months of free hosting service with every plan on the list if paid yearly.
That will definitely save you lots of money as monthly plans are already costly, whereas yearly plans save money when paid in one go. Compared to other hosting services, the pricing seems decent and fair enough for such powerful features.
---
How to take advantage of the Kinsta web hosting two months of free hosting?
Here are simple steps to get two months of free hosting with Kinsta when you pay annually.
At first Visit Kinsta Hosting Page
Go to Kinsta and choose any of the preferred plans from its pricing.
Select Annual term 'Get 2 months Free'
You will be directed to the page that will ask for more detailed information on your part along
with payment details. Two months of free hosting will automatically be added to your account.
Create an Account and proceed to checkout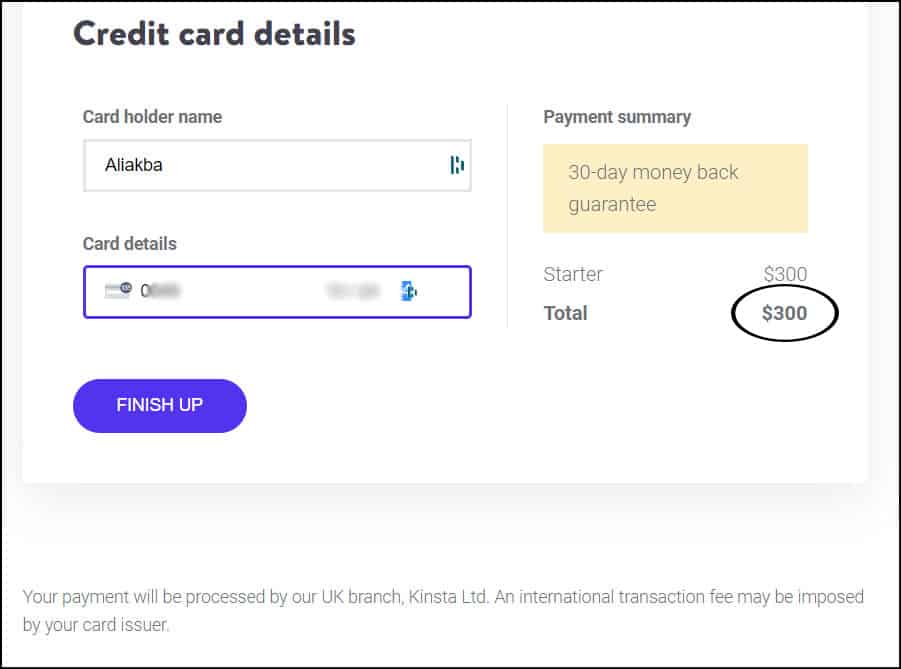 You will need to pay for just 10 months and will get hosting for 12 months. Go to checkout and complete your billing to get your hosting activated. you are covered under their 30 days money-back guarantee.
---
Kinsta Managed WP Hosting – An Overview
Kinsta is the Premium Managed WordPress hosting platform that offers everything to make your website extraordinary. The performance is dependent on two factors, namely, robust and innovative technology and best customer support. Since its inception in 2013, Kinsta has aimed to become the best WordPress hosting platform in the world.
They not only committed high-quality services to the clients but delivered them with time-tested WordPress hosting is built on leading-edge technology with the main focus on speed, safety, and steadiness. The people behind Kinsta never go after the crowd and try to attract them with unreasonable offers. Instead, they try to work with the best and most like-minded people in the industry who are looking for dependable and unswerving services. Kinsta team is spread all over the world, from the US to Europe, helping people to establish their online presence more abruptly.
Overall, Kinsta proves to be a dependable hosting service as you can count on them from their hardware and software infrastructure and the veteran staff. They keep monitoring their infrastructure and speed internally so that the customers face issues.
Kinsta aims to keep itself updated with the phenomenal and fast-changing technology, so your website never sees a downtime. They are real WordPress professionals as the team of Kinsta has worked with the WordPress community and helped them time and over by contributing to the core.
---
Breathtaking Features of Kinsta
Kinsta is an experienced player in the hosting industry. It has worked with WordPress for ten years to gain every point of knowledge so that it can pour all that info into creating the best-managed WordPress hosting services for its clients. Now let's have a look at the features that Kinsta offers to its clients:
#1. State-of-the-art technology
Kinsta is obsessed with the best and speedy infrastructure, and so it provides the most advanced technology like Nginx, PHP 7.4, LXD software holds, MariaDB, and cipher-hone VMs to ensure that your website loads quickly. It also includes absolute resource alienation, machine-driven scalability, and high accessibility.
Kinsta has partnered with Cloudflare to offer you even more powerful tooling and automation. Cloudflare helps us deliver your content to audiences around the world, turbocharging delivery speeds and offering you even more control over your content. Cloudflare does offer support for HTTP/3, which is an evolution from HTTP/2 and offers benefits such as faster SSL handshakes and 0-RTT support.
#2. Extremely secure networks
It works on combat-ready and unresisting measures to halt afflictions and malicious purposes in its course. Kinsta always monitors its set-up for uptime, DDoS attack sensing, software-based restraints, SSL support, and hardware security system. GCP firewall and self-healing PHP.
Security tools offered by Kinsta
SSL Support and hardware Firewalls
It offers one-click SSL cert activation. Also, all the Kinsta websites come with automatic wildcard SSL support via their Cloudflare integration.
Automatic updates of security patches
Blocking code injection, Free hack fixes, daily malware/spyware scanning and DDoS attacks.
Complete Monitoring
If in case your website gets hacked or goes down, the staff at Kinsta will alert you instantly and will try to resolve it as soon as possible.
Name Servers
Most hosts give you 2 name servers, but with Kinsta, you get 4 – for different website suffixes (.net, .org). This is very helpful if one goes down, you can rely on the other to keep your site afloat.
#3. GenX infrastructure
Kinsta applies only the high-grade technology, be it their fortified server hardware or the performing software. Irrespective of the development load you use, Kinsta will have the up-to-the-minute structure variant installed for your site.
#4. Google cloud platform
Kinsta is power-driven by the Google Cloud Platform. The complete infrastructure is powered by Google cloud which is the most advanced and robust cloud platform in the world with the highest performance. So your WP site on Kinsta is like hosting with Google with the managed platform provided by Kinsta.
#5. Absolutely free site migration
If you want to transfer your site to Kinsta, then don't worry about the downtime. Kinsta's experienced migration team will take into account every factor to keep your site at full swing. They will give an impermanent domain to your migrated website and look into every essential element before your site goes live.
#6. Total peace of mind
With Kinsta, you don't have to worry about every small thing like timely uptime checks, backups, automatic scaling, or hack fixation. The team will take into account everything proactively and prevent small blunders from happening. You just need to concentrate on growing your business while Kinsta will take care of sudden upsurges or downfalls taking place on your website.
Kinsta provides you with plenty of tools that come give you peace of mind like:
Daily Backups
Kinsta provides daily automatic WordPress backups and system-generated backups for all sites on your account.
Manual Backup
You can make up to 5 manual backups, which includes one downloadable backup every week.
External Backups
This is a new and unique feature by which you can backup your site to Amazon S3 or Google Cloud Storage for an extra fee. Using this tool can save time and get the peace of mind of an offsite backup.
Event Backups
Few certain events can also generate an automatic backup. For example, if you wish to switch from staging to production, it would generate a copy of your live site in case something goes wrong.
#7. Fully managed automatic backups
All sites on Kinsta are backed up at least once in a day so if anything worst happens, The latest backup is always available for full restoration in a click of a button. All backups are stored in different environments so the development and staging are always safe. Additionally, kinsta can increase the backup frequency to every 6 hours or 1 hour if your site is highly dynamic and get content changes frequency. This additional backup can be availed by paying a minimal fee.
#8. A team of professionals that care
From the day Kinsta came into action, excellent support service through an experienced team of people is the top priority. They firmly believe that users understand better when they are guided adequately via personal chatting rather than scripted emails. They have WordPress veterans ready to help you, 24/7.
Instead of offering a series of level 1 or level 2 support reps, Kinsta offers real experts directly at their beck and call.
Kinsta offers 24/7 support via live chat and ticket solution and intercom widget.

They maintain a vast resource center, including knowledgebase, WordPress related posts, updates, blogs, and newsletters. Besides, you can catch them on social media as they are very active on Facebook, Twitter, Instagram, and the WordPress community.
#9. Powerful yet user-friendly
Kinsta is not only for the experienced web developers but also for the novices who are up to achieving something big in the online world. So, by keeping the platform and dashboard simple to understand for beginners, yet they have the most powerful tools and features best suited to developers.
#10. MyKinsta site management
MyKinsta is a utility platform that is your portal to coercive site management. You can see elaborated statistics, pull off DNS settings, use innovative site tools, handle payments, etc.. It is indeed the full the control center for your website. Demo.kinsta.com
The kinsta my site management dashbaord enables you full control and tracking of all your services including analytics, CDN, bandwidth, WordPress hosting tools, manage users, and more. It is all in one intuitive dashboard that comes with powerful tools and features.
#11. Add-ons
If you still want to add more functionality to your website, then Kinsta offers you additional tools like Cloudflare, Railgun, Elastic search, Redis, scale visits, disk space, Nginx reverse proxy, CDN, and more. You can contact them if you have something else in mind.
#12. Optimised for E-commerce sites
Kinsta offers good support for E-commerce sites with free plugins like WooCommerce. E-commerce-type websites need to get very overwhelming, and resource-intense as these plugins can often make the most technologically-complicated sides of WordPress.
Business owners using WordPress do get a lot of support from Kinsta and other tools like. It employs Fast Server-Level Page caching with rules to ensure optimized functionality for an e-commerce website. But the excluded pages from catching are mu-account, cart and checkout.
Also, as your traffic grows, you can upgrade your plan by paying for the next tier. You don't have to worry about any complicated migrations to a different host server, which is possible when you share a host. This is really beneficial for sites that keep on adding product pages. So you can say that in the long-term use, Kinsta offers a solution by which you can overcome the growing pains. Kinsta is an ideal WordPress hosting provider for entrepreneurs that want to focus more on growing their business and less on the technicalities of keeping their website online. Kinsta can offer a LOT to any entrepreneur who wants to do the same.
#13. Kinsta offers its own CDN
A Content Delivery Network is a system that takes cached copies of your website and delivers them to multiple data centers so that you can take advantage of more than one server location at a time. Kinsta provides you with its own CDN, which is fast and comes included in the price you are paying. In contrast, many other hosts do allow you to integrate your website via a third-party CDN which is usually Cloudflare which is usually in the free plan. But there, you would find some considerable limits unless you pay more money for better Cloudflare plans.
#14. Auto-scaling CPU & RAM
Kinsta is a managed WordPress hosting provider with a dynamic auto-scaling system that scales CPU and RAM in response to traffic, ensuring that your website will handle any demand it receives. Just to compare, Kinsta recommends that you can have around 10 times the amount of RAM that the competitors provide.
#15. Gives you good traffic spikes
Stay ahead of the competition and avoid creating a headache with scalability. One of the most attractive features of Kinsta is its scalability, an indirect reflection of its cloud-based architecture. For anyone who uses a cloud-hosting platform like Kinsta and also relies on Google Compute Engine, it is essential to realize the advantage that scaling containers can provide when traffic is high. With Kinsta, you are able to quickly scale your site with just a few clicks of your mouse.
Note that if you go over the monthly visits cap on your plan, an overage fee of $1 will be charged for every 1,000 visitors counted after the first 80 visitors. Kinsta also offers an Exponential Traffic Spikes and Surges Upgrade that can help you to address a variety of traffic spikes and surges as long as they are known in advance.
Few more technical features of Kinsta include:
Highest server-level Website Caching
SFTP, Free SSL, Server File Manager
Staging Sites
Data Centre Locations to choose
Plugin Restrictions with Security Measures, Post-hack cleaning
Uptime Checks, Daily backups, and Visitor Analytics
Multiple Support Channels
WordPress Site Migration and staging
---
👉 Kinsta WordPress Hosting Pricing
Kinsta currently has a total of 10 different tiers to choose from. Each tier is intended for a different type of work and offers its services on a unique scale. Many of these plans offer the same primary key offerings, such as free SSL and CDN support, their 24/7 customer care team, daily backups and the like. The main differences between the plans are the number of WordPress installs managed per account and the number of PHP workers assigned to your site. These PHP workers determine how many simultaneous requests your site can handle at a given time, i.e., one handling each uncached request.
Every plan is described in detail so you can easily choose which one is the right fit for your needs. They are also all included in the 30-day free trial, and you have the option to upgrade or downgrade your hosting plan at any time.
The Starter Plan is best suited for a small WP-hosted business website or blog where you get maximum visitors of about 25,000 visitors a month and 10 GB of storage. Whereas the Pro Plan is good for small-medium business websites where you get a maximum of 50,000 visitors a month and 20 GB of storage.
There is a Business Plan priced differently at $100, $200, $300, and $400, respectively, as per the features per-requisites.
Then you can also go for Enterprise Plan if your business requirement is much higher; the plan is priced at $600, $900, $1200, and $1500, respectively, depending on the features you need.
For all yearly payments, you will get two months of free hosting service credited to your Kinsta account.
The features included in all the plans irrespective of the money you have paid are:
Blazing fast speed and performance powered by Google cloud
24/7 Expert support via live chat, and phone.
Staging areas and secured network.
Unlimited free basic migration from other hosts via a WordPress plugin
30-Day money-back guarantee
Automatic database optimization
WordPress-specific site architecture
The add-ons will be charged separately as per the user demand.
Features offered according to plans:
| | | | |
| --- | --- | --- | --- |
| | Starter | Pro | Business 1 |
| Pricing | $35 | $70 | $115 |
| WordPress Installs | 1 | 2 | 5 |
| SSD Storage | 10 GB | 20 GB | 30 GB |
| Monthly Visits | 25000 | 50000 | 1,00,000 |
| PHP workers per site | 2 | 2 | 4 |
| SSH Access | Yes | Yes | Yes |
| 24/7 Email Support | Yes | Yes | Yes |
| Free CDN | 50 GB | 100 GB | 200 GB |
| Unlimited Users | Yes | Yes | Yes |
| Premium Migration | 1 | 2 | 3 |
| Staging Area | Yes | Yes | Yes |
| Multisite | No | Yes | Yes |
---
Few Alternatives to Kinsta
Kinsta Vs. WP Engine
WP Engine is known for offering free WordPress migrations with no limitations. With Kinsta, the limitations are in place, so their basic plan includes one free migration, and other migrations cost $100 per site. WP Engine's Automated Migration plugin helped you save time and effort and create content quickly. You might have had some difficulty when using it the first time, so we recommend you try the tool again when you are more familiar with it.
Their plugin has been tested not to migrate redirects (critical to prevent website 'disasters') and data or images stored outside of the WordPress content directory. They argue that, if done incorrectly, this method can lead to data loss. Moving to a new WordPress installation can be nerve-wracking, but Kinsta has you covered with their comprehensive migration service. Don't worry about downtime when you have their team of experts helps out.
WP engine is proud to offer 24/7 phone support. Another service Kinsta has been criticized for. The size of WP Engine's staff is much larger than that of Kinsta's, which may reflect in their level of service. WP Engine offers shared or dedicated hosting options. Site scaling and migration to a different environment may be necessary, but WP Engine has the tools for that. Kinsta offers more flexible plans with fewer restrictions than WP Engine, yet all Kinsta customers benefit from the same automatic scaling cloud infrastructure. For users who want to upgrade their websites and manage resources more effectively, the process is relatively seamless with Kinsta.
Kinsta Vs. WPX
When comparing both of them, I came across various comparisons made which were similar. WPX Hosting can be termed a managed WordPress hosting provider with incredible performance and great reliability to your Business. Many well-established businesses do use WPX hosting in order to power up their website. In terms of pricing, the cloud-based platform is affordable for both small and medium-sized businesses and individual users because of its various plans that allow you to choose a monthly or yearly payment plan. The platform also has an easy-to-use Cpanel with many features that make it incredibly easy for content to be created.
So after using both the platforms, I made the following inferences:
Kinsta has been delivering exceptional performance for several years, thanks to its industry-leading Google Cloud Platform. With Google's highly-optimized infrastructure, Kinsta delivered excellent speed and performance. With WPX Hosting, you get a content delivery network that has high speed and low reliability. You also get the stability of a managed WordPress hosting platform that is not behind in terms of performance or reliability. Many may argue that the WPX offers better performance than Kinsta when it comes to speed, so you might be interested in trying them.
Regarding reliability, I found that Kinsta hosting is one of the most reliable WordPress hosting providers in the industry. As a website monitoring tool, Kinsta has excellent uptime and operates 99.9% of the time. It performs regular monitoring to ensure that there are no critical issues with the website and also saves you from having to do it yourself. WPX offers a very reliable platform with an uptime of 99.99% and 24/7 monitoring of your site for malware and just about anything else that could happen. WPX does not have as many security measures in place as Kinsta. Still, they also offer a free service that provides daily site monitoring and instant notifications to keep you informed about any issues on your website.
Speaking about the user-friendly platform, I would advise that if you are someone who is new to website development, it can find a little challenging to find your way through the Kinsta dashboard. WPX is one of the most beginner-friendly WordPress hosting providers in the industry. They have a straightforward Cpanel that is easy to understand and use, allowing beginners to quickly get started on their website.
Finally, regarding pricing, Kinsta has a MASSIVE lineup of hosting plans that starts with the basic plan, which goes for $35/month and is followed by the Enterprise 4 plan, which goes for $1,650/month. Whereas WPX has three hosting plans, with the first one, Business, costing $6.25/month, the Professional costs $12.25/month and the Elite is priced at $24.75/month. So the apparent winner in terms of pricing is WPX.
---
🌟 Top FAQ on Kinsta
Is Kinsta safe?
The company states that it monitors your sites every two minutes for uptime. Also, all the websites that are hosted on Kinsta are protected by Cloudflare's enterprise-level firewall and include free DDoS protection. They also support IP Geolocation blocking and two-factor authentication and automatically ban IPs with more than 6 failed login attempts in a minute. Along with this, on all new installs, strong passwords are enforced, automatically creating 2 weeks' worth of backups, meaning a hacked or defaced site can be instantly rolled back.
Can you transfer your WordPress site to Kinsta?
Kinsta offers unlimited free standard WordPress migrations in most cases. They allow you to migrate as many sites as you need to the Kinsta platform and are well-known for the high success rates with which the migration process typically proceeds.
Kinsta vs. WP Engine – Which is better?
As per the Blitz.io Test 1-5000, Kinsta handled 5,000 concurrent hits to the front page without any issue. WP-Engine, on the other hand, struggled with the test. Hence Kinsta dominated Wp-Engine in multiple trials and benchmarks.
Kinsta CDN vs. Cloudflare CDN – Which is better?
As per the Blitz.io Test 1-5000, Kinsta handled 5,000 concurrent hits to the front page without any issue. WP-Engine, on the other hand, struggled with the test. Hence Kinsta dominated Wp-Engine in multiple trials and benchmarks.
How do I migrate my WP site to Kinsta?
You don't need to. Their highly-skilled technical team is there to migrate your site on their servers, You need to fill migration form, and they will take care of it.
How Kinsta keeps your data safe?
Kinsta is a severe io disaster recovery. The company is backed by Google cloud a takes an automation snapshot of each site that comes with downloadable backups and 24/7 server monitoring.
Does Kinsta offer discounts?
Yes, they do. To see how much you will save by prepaying a year in advance, please toggle to the "Paid Yearly" section under the plans below. If you cancel during your 1st month 6 months later, we will refund the unused portion, so there is no additional risk for you.
Does Kinsta offer you custom plans?
Kinsta utilizes a number of critical metrics when determining the plan tiers. If none of their current plans is a good fit, then you can request a custom plan tailored to your exact needs by reaching out to the sales team. In order to talk to discuss your hosting needs and find the Kinsta plan that's right for you, you can contact them at (+61) 1800 952 470
Does Kinsta offer dedicated server hosting?
Yes, Kinsta does offer dedicated server hosting. In order to get started with it, you need to activate Kinsta hosting plan that has enough visits and disk space for all sites in your account. Then their team would be able to provide you with an accurate dedicated server quote.
Does Kinsta use Cloudflare?
All sites on Kinsta are protected from DDoS attacks and other web threats by our free Cloudflare integration. Cloudflare is a leading provider of web security and performance services. This integration includes intelligent firewalls that protect your domain from DDoS attacks, viruses, hackers and severe security breaches.
---
Reasons to Choose Kinsta Over Other Providers
When it comes to superior managed WordPress hosting, numerous top companies like WP-engine, WPX, etc. claim to be best for WP sites. WordPress is the most used CMS for every kind of website that has lots of flaws, security issues, performance, and more. Not every web hosting provider is familiar with advanced WordPress issues. Kinsta is one of the Best WordPress hosting solutions available, and WordPress-based blogs will love it. The account gives you security, virtually unlimited storage space, fast loading times and decent speeds for your readers.
Kinsta, on the other hand, comes with best speed architecture and is entirely powered by Google Cloud, With the highest level of security network and next-generation infrastructures, Kinsta is complete peace of mind. Most successful bloggers and WordPress developers endorse it. All their plans come with express WordPress support with 24/7 monitoring and a 100% solve rate.
---
Final Thought: Is Kinsta really working wonders for users?
So that was our comprehensive Kinsta WordPress Hosting Review. And Yes, Kinsta seems to be an uncompromising Managed WordPress hosting service working on the most progressive technology. After having personal experience, we firmly believe that Kinsta lives up to the expectations of the customer without failing to its commitments. Not only we but there are thousands of positive and genuine reviews of Kinsta hosting all over the web. It is because the services offered are prompt, factual, and swift.
If you think that the price is a little bit of a higher side, then let me tell you friends- when you will have actual results in your hand, then you will realize that its worth every penny you spend on Kinsta services. After all, time is money and success comes along when you value time and stop wasting it on cheap hosting services that do not give fair results.
I hope you like the Kinsta WordPress Hosting, and if you still have any questions in mind, feel free to
shoot in the comments section below. After knowing so much about Kinsta hosting- Do you still think Kinsta WordPress hosting is just an extensive form of publicity?
Kinsta Review – WordPress hosting for sites that mean business!!
If you're looking for the ultimate web hosting, then look no further. Kinsta's premium managed WordPress hosting is the best way to get started in the business. With Kinsta, you can forget downtime, sluggish speeds, and worrying about anything technical. It offers enterprise-level tools so you can focus on your business, not your hosting. Stop wasting time managing your WordPress site, and start getting back to what matters. Kinsta has the tools you need to be confident in the performance of your site. With advanced caching systems and a custom optimization plugin, it gives you the power to manage your WordPress sites like never before.
Positive
Great speed and performance.
No temporary site suspensions due to daily backups.
All WordPress tools and features included with server-level caching.
Timely and knowledgeable support.
Premium built-in features.
User-friendly and time-saving.
Fully managed and supported by Google Cloud platform.
Negatives
No email support.
No trial period but 30 days full money-back guarantee.
Little pricey for small businesses
Kinsta – Premium Managed WordPress Hosting
Choose from the wide range of premium plans and scale your business with Kinsta.