Earning profits through Ecommerce is easy. All you need to know is some strategy and a quirky mind.
Talking about the Ecommerce business, dropshipping has become a popular part of it. Many startups are rigorously investing in different dropshipping themes to earn a quick profit.
The major reason for increasing dropshipping popularity is the different content management systems, like Shopify and WordPress. Setting up an online business or store has become easy that many are marking their footsteps.
So how can you remain unique?
An unappealing website is a major turn off to the viewer. They would judge your whole business by their 2 minutes of surfing. Even though your products are impeccable and quality-wise superior, they won't spare a minute more to glance.
Hence, your dropshipping store should be unique enough to catch the viewer's eye in a minute. Below given are our ✅Best Shopify Dropshipping Themes, which we have liked the most.
Also, don't forget to read till the end, as it covers some tips to pick the best theme for your dropshipping business.
---
9 Best Shopify Dropshipping Themes (Increase sales by 200%)
Shopify booster theme is at the top of the list because of its unique features and cost-effectiveness. The latest version of this theme was launched recently, and we are totally in love with it. Thousands of e-commerce businesses are using this theme because it gives lots of freedom.
You can creatively edit your theme title and make it more aesthetic to give a professional look. Apart from this, the smart mega menu offers proper navigation to the user.
Check: Shopify Booster Theme Review
Below given are quick feature check for you:
Cross-Sells: This is an ultimate feature that tells the customer to look at other products that they might like. Hence it will help you to increase the average order value dramatically.
Theme Updates: Very few dropshipping themes have constant theme updates. You will get free updates and access to the latest feature through which you can rebuild your store.
Smart Mega Menu: The smart Mega menu will attract your customer as they will quickly locate any product from your site. This will also give your store a professional and clean look at providing great user experience.
Display Related Products: Through this feature, you can provide your customer with a list of choices if you don't have a product then. Thus your customer will not be disappointed at any cost.
Countdown timer: This timer will boost your sales instantly, as the customer will get eager to buy the product
With lots of features, the Shopify booster theme is all you need to have in this competitive environment. One site package's cost is $179, for two sites $297, and five sites $497.
---
Ecom Turbo is second in our list of dropshipping themes because of its unique features it offers to its users. If you're looking for an ideal Shopify theme to grow your business speedily, then this is the best pick for you.
The admin interface is simple yet flexible with lots of amazing features. You will get an inbuilt scarcity timer, custom footer, simple trust badges, cash boosting upsell, save on cart tab, urgency sales sticker, and a customizable home page.
As far as mobile usage is concerned, eCom turbo is highly optimized for every portable piece. Hence you can encash a large number of customers with this ideal feature.
The Shopify based theme will help you to get profit by improving customer experience. Some more features of e com Turbo are as follows:
Quick Loading Speed: The average loading speed of Ecom Turbo is just 2 seconds; hence you an attract your customers through a single-use itself.
Customizable Home Page: You will get a lot of flexibility when it comes to customizing the homepage. You can easily customize color, image, icons, and other elements too.
Currency Converter: The currency converter feature will allow your customer to buy any product using their currency; hence you can get a lot of customer base globally.
Scarcity Timer: the sense of urgency makes a customer buy the product at that time itself; hence the scarcity timer feature will help you to display the amount left in stock by the discount timer.
Trust badges: Build your customer's trust towards your business through trust badges by ecom turbo. You can add one at a time or put it at the bottom of your page.
The cost of eCom turbo depends on how many licenses you need. If you want it for a site, it is for $97, and the unlimited one is for $147.
---
If you are looking for simple and minimalistic designs, then the BEStore theme comes with nine different pre-packed layouts. Apart from this, you even get an extensive documentation feature to customize your design appropriately.
Powerful admin panel: You can view your analytics easily through this feature by BEStore.
Best Support: The support from the team when you are stuck with the functionality is too good. You can contact them, and they will give you instant solutions.
Free extensions: You can create your online store easily by these extensions. By adding all your creativity to color, text, and icons, you can instantly attract your customer.
The cost of BESTore for one site and five sites is $118 and $217 only.
---
If you are looking for highly responsive dropshipping themes, then consider FAP to be the best one. The minimalism, clean, and modern style is the major reason why It's in our top 5 dropshipping theme list.
Have a look at the fantastic features to make your choice:
Upgrades and support: The customer support team of FAP is very considerate when it comes to their user base. They will give you long term support, along with regular updates to make your work easier.
Product reviews: Nowadays, many customers buy a product by looking at the review section, and FAP gives a section as a source of information that can help you to increase your customer base.
Customization tools: You can easily customize the different elements like header, font, layout, and color. You can also create a storefront on your own.
Quick view feature: The quick view feature helps the user to read the information about a product without leaving the page.
The cost of FAP for a regular license is just $39. You can even get an extended license for only $2250.
---
You can easily enhance your user browsing experience by the Konversion theme. There are grids to make the UI more interactive. Hence, you can quickly generate profits from the store by adding links to the price, title, and cart options. Other features of the Konversion theme are as follows: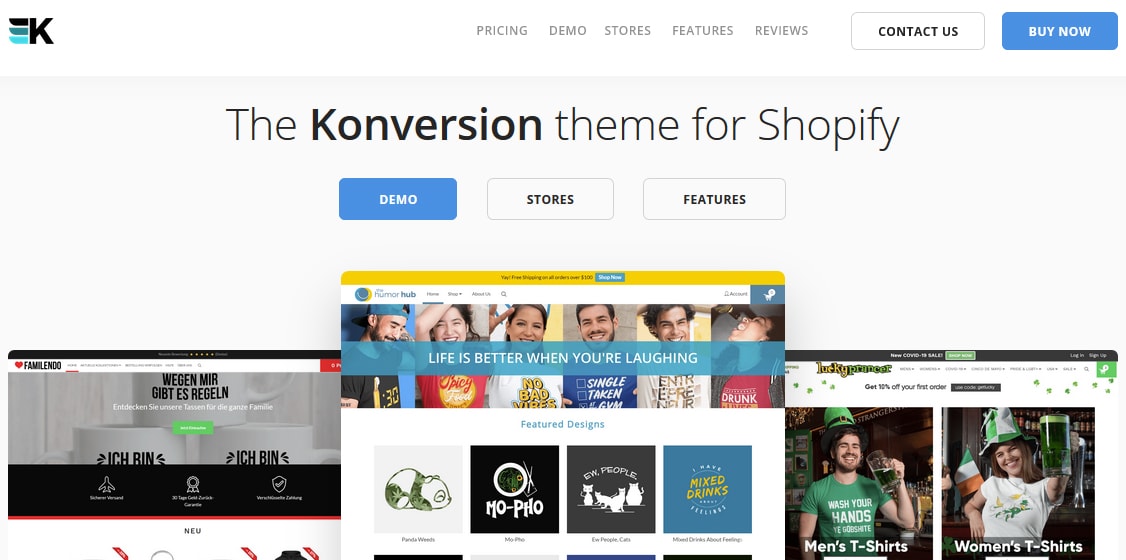 Customized CTA: You can easily customize your call to action, which can help you invite your customers creatively.
Mobile-friendly: The theme is highly compatible and responsive to different versions of mobiles.
Countdown timer: The countdown timer gives the sense of urgency to the user, which is usually displayed at the time of sale discounts.
Collection banner: The banner will consist of all your premium products to your customer at the homepage itself. It can act as an advertisement for your store.
Deal of the day: You can offer daily discounts and deals to your customers and attract them instantly. Customizing the deal and tweaking the prices is comfortable with the theme.
The cost of the conversion theme for a single site's license is $197, and if you want a license for three sites, it will cost you $397 only.
---
If you are looking for modern design and amazing plugins, then the Claue theme is the right choice for you. The feature of the theme makes it more ideal for any e-commerce business to generate profit.
Easy integration: You can integrate your website with different social media to increase your business earnings. This can even help you to advertise and boost your sales in a limited period.
Modern designs: The designs are looking good for any e-commerce business. You can display your products creatively and add more value to the site.
Mobile-friendly: The themes work faster on any mobile version—the top detailing notch.
Fast loading speed: The loading time is quicker than other themes on laptops and phones.
The Claue theme's cost is $60 for a regular theme, and it can take your business to another level instantly.
---
Are you in search of a highly responsive theme for your WordPress site? Then Elessi 2.0 theme is our best pick for you. The features of this theme are extraordinary that can help your business to grow in a quick time.
User-friendly design: The theme is easy to use in any mobile versions; hence you can attract your customer without putting many efforts.
Product filtering: Through this feature, your customer will be able to filter their choices according to the needs.
Cart sidebar: The cart sidebar will allow your customer to put different products in the cart and buy it later.
Quick view: In this tab, you can display different premium products of yours to attract your customer quickly.
The cost of the Elessi 2.0 theme is $69 for a license.
---
If you are looking for lots of flexibility and customization, then the dropshipping theme is the best choice for you. It has lots of potential elements you can add to your website to give it an extra-professional look.
Easy customization: There are four different header options and designs to add to your website. You can also choose the color and size of the text and icon.
Random sold number: This feature is unique and not available on many sites. This can help you to boost your sales gradually.
Related products: The thumbnail slider will consist of all the associated products, through which you can attract your customers by cross-selling.
Attractive thumbnails: You can use different thumbnails at the product page to give it a professional look
SEO friendly: This feature will help your site to come at the top in different search engines.
Lastly, you can add product videos to increase sales. The cost of the dropshipping theme is around $84 for a site.
---
If you are looking for a minimal, clean, and professional theme, then the Arthur theme is our choice for you. The cost of the theme is $59, which is the lowest of all. You can get creative designs and fonts from the theme, and the best part is, it's mobile-friendly.
Tips for picking the best theme for your dropshipping business:
Installation time: This is the first thing you should look after while picking any dropshipping theme. A good theme will be easy to install.
Level of customization: An high degree of customization will help you tweak a lot and control your online shop all on your own.
Design: Customers look for a responsive design that is mobile friendly and can be used on the desktop too. Take utmost care while choosing the theme, because mobile-friendly designs get good ranking by search engines.
Speed: The page load speed plays a significant role in SEO ranking; hence always look after a speedy design. Also, choose a visually appealing design.
Updates and support: When it comes to dropshipping themes, support plays a major role. There should be ongoing updates and support from the team if you are facing any difficulty.
---
🌟 Dropshipping Themes FAQ
🙄How does dropshipping work?
It is a simple business model in which customer needs to place an order from your online store. You simply need to instruct your supplier to ship products to your customer's door, which means you can run your store anywhere globally.
🤑Is dropshipping profitable?
Yes, dropshipping business is a profitable business as it is a low-risk business model that does not allows you to invest much like a wholesaler.
🏪Is it essential to register a business entity to Dropship?
Once you start making sales, then it is mandatory for you to register your business. It is important because the majority of payment providers need proof that your business has credentials.
🤔Do I need to hold products for my online store?
No, the beauty of dropshipping is that you do not need to buy any product for your online store. Once the customer places an order, you need to instruct your supplier.
---
Conclusion: Best Shopify Dropshipping Themes | Should you go for it?
The above given were our best 9 dropshipping themes. This is helpful for every business, and we have reviewed it in such a way that any of the features are not missed.
Every dropshipping theme has its uniqueness; hence, choose what can suit your business in the right way. Select the best theme for your e-commerce website through this list, and do let us know what you liked the most?
Affiliate Disclosure: This post may contain some affiliate links, which means we may receive a commission if you purchase something that we recommend at no additional cost for you (none whatsoever!)