Are you looking for an Ecomhunt review? Don't worry, I have got you covered. I know searching for an excellent dropshipping product spy tool can be a hectic task in itself. But that's just the beginning; how to maximize profit and unlock those potential profits in your dropshipping business?
Or should I say how to be better than most dropshippers that fail to make their business a profitable one?
Maybe I can help you with that! You might be familiar with the process of extensive research to find the hot products best for your dropshipping business. Still, these research hours can be minimized while maximizing your profits. I'll also provide you with some of the best offers and Ecomhunt promo codes for getting a premium subscription for Ecomhunt at a comparatively lower price.
Since you are now into dropshipping, what's next? How are the top-notch players in dropshipping business gaining better profits than you? What's the secret?
In simple words, its finding that perfect product with high demand and low competition, which is all a part of good product research. In this article, I'll be discussing which ecommerce tools are used by them and what makes them gain better profits?
Ecomhunt is one of the platforms that dropshippers have been using to get better results for their business. It can help beginners get along with hot selling products, niches and even have the data for the right audience with the help of Facebook targeting (covered later what it is).
But before we dive deeper into the features offered and how to maximize your profits using Ecomhunt, let's take a quick look at what is Ecomhunt?
What is Ecomhunt? – Who is the Founder of Ecomhunt?
As per Ecomhunt – "It is a curation of some of the best and new products, every day."
In simple terms, you can infer that Ecomhunt is a legit way to find out all the hot and winning products. It is also the best way that can always keep you ahead in search of the best hot products, which can give a higher sales conversion and, in turn, boost your revenue. You can even manually add winning products on a daily basis and see how these tools sky rocket your revenue.
So forget about those old hardworking days which you used to find hot products selling online. Use Ecomhunt and find all the trending products on AliExpress. Ecomhunt gives you necessary details about the product, which generally include the ads of your competitors are running.
With Ecomhunt, you can be assured that you will find the winning products which you can sell at your store. It would save your time and effort in finding the hot products currently selling in the market and make making sales easier and boosting your revenue possible. Now let's have our Ecomhunt review in detail.
Detailed Ecomhunt Review 2023 – Find Winning Products
For those who are not fully aware of what is Ecomhunt, Let me give you a quick review to clear your doubts. Ecomhunt is a tool that helps you get best-selling niche products that might be a bit hectic while doing that hour-long of researches. Ecomhunt lets you explore the best-selling products available from many sellers and suppliers across different ecom sites such as Amazon, eBay, Shopify, AliExpress, etc.
If you are new to dropshipping, Ecomhunt can be an innovative tool for you. The tool has excellent features and tools that can help you expand and explore them in depth areas of dropshipping. As I mentioned above, Ecomhunt can be very helpful to beginners; it can also be helpful to professional dropshippers. The features of Ecomhunt and the extensive set of tools can help you better analyze the products, audience and much more. We will be discussing this 'much more' part in a while.
Getting along with in-depth Ecomhunt review
After having a quick overview of what is Ecomhunt? It offers a great set of features that can help you maximize the profits and minimize your product research part at the same time. Let's dig into what makes Ecomhunt a tremendous dropshipping tool overall.
Exclusive Ecomhunt Coupon Code 2023 (💯 Working)
How to Use Ecomhunt Coupons?
You can utilize the Ecomhunt coupon code and offers by registering on the website with your name and email address. You can decide whether you want to go for a free version or the pro version.
Going for the pro version is best for the users as they can have access to unlimited features of finding hot products. And if you are not satisfied with the services, then you will get your money back within 30 days.
Ecomhunt Features at a Glance – How do You Use Ecomhunt?
1. Facebook Targeting
Getting the right audience for your product can be an arduous task, as you need to get along with the best suitable audience for your product. As a beginner creating the right audience for your dropshipping can be challenging; getting along ad campaigns and targeting the correct audience can take a lot of time.
Facebook targeting can be counted as one of the key features that can maximize your profits; targeting the potential audience with the help of Facebook ads can help you in the long term. The Facebook targeting lets you get along with information like:
Age group and gender: The age group and gender suitable for the product while getting along an ad campaign.
Country and audience size: For example, if you are searching for a product like a leather handbag, it will show an overview of the country, gender and even the audience size for an ad campaign over that product. Overall, a complete overview of product and ad campaign stats.
As mentioned above, the campaign part may not be needed for professionals, but this will be a total kick starter as a beginner.
2. Saturation Inspector with Cost & Profit Analysis
The cost and profit analysis really impressed me; while searching for that perfect product for you, the money metrics can help you a lot, the cost and profit analysis helps you by recommending the selling cost, with addition to the product cost and the margin cost (profits, right!!) Whereas the saturation inspector will give you an overview of the number of shops/sellers are selling these products. (Total stores selling that product)
3. In-Depth Product Analysis
This really amazed me a lot as it was an in-depth analysis with an adequate amount of product description; while looking at the product analysis, Ecomhunt offered information such as:
Profits: The Profits section gave quite some vital information such as:
Profit Margin (For example, the profit margin is $30)
CPA (As an example, it is around $4-5)
Net (The net will be around $25-26)
4. Analytics
Product analytics can help you in many ways as you'll be given a better overview of the product in terms of:
Source: The source of the product, like whether the product is from AliExpress, Amazon, eBay, Shopify, etc.
Orders: Gives you an overview of the total number of orders on that specific product.
And other information such as Product Reviews, Votes and Rating (All covered in terms of information)
5. Engagement
The engagement of the product lets you take a deeper view on your product, the engagement lets you know about how your product is performing over FB Ad campaigns as well as other information such as:
Likes, Comments, Shares and the Reaction: The perfect overview of how the product performs over a social network (Facebook Ad Campaigns).
Links: The links show the stores or platforms across which the product is available; it might show you links such as Aliexpress, eBay, Shopify, Amazon and even the Facebook Ads link. For example, you click on the Facebook Ads link, and it will show you all about the engagement, such as likes, comments, shares, etc. Pretty Impressive, right?
6. Using Instagram Influencers
This might be helpful for those who look after getting a better organic reach and building customer relationships through their product; if you are someone who looks over Instagram marketing as a way to reach more, this feature will be helping you in a number of ways. You can access a whole list of Instagram influencers that can help you get better engagement across Instagram.
7. AliExpress Integration
The integration with AliExpress makes this platform even more trustworthy as you can view the reviews related to the product delivered. The product delivering platform and reviews available on a single screen make the experience for the user much more accessible.
8. Explore Your Niche
The feature enables you to deliver more products in the same niche that you might be dealing with. This gives you a better chance of exploration along with specific product and their niche. Basically, you will get along with the term more like this, which will make you explore more similar hot selling products in that niche. As an honest opinion, these features will help you make a more strategic review on how you should be doing the dropshipping; the features mentioned above can be beneficial for a beginner who is new to the dropshipping business.
Ecomhunt can be a great asset tool if you are into dropshipping business, even though most of the popular marketer's reviewer's advice is that Ecomhunt is a great way to start a dropshipping business for beginners dropshippers.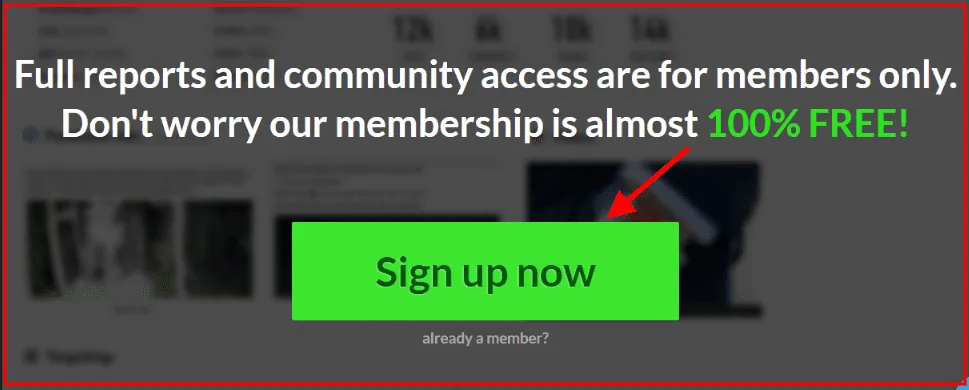 The Ecomhunt webinars and tutorials will enable you to make an excellent deal for beginners and intermediates as well. Still, as per my perspective, even a professional Marketer can better understand drop-shipping and hot products (best selling products) scrapped by Ecomhunt.
Ecomhunt Pricing Plans – Is Ecomhunt Free?
Now, after looking at all are the key features offered by Ecomhunt, let's discuss what all are plan offered by them. Ecomhunt offers you four pricing plans which are as follows:
Does Ecomhunt offer a free trail?
Well, it does offer you a Free Plan instead of the Free trial. Isn't that great?
Ecomhunt offers a free plan that gives you access to almost all the essential features but within some limitations. If you are someone who has come to Ecomhunt as a beginner, the free plan will give you an overview of all the essential features. Let's take what does this Free Plan offers:
5 Product Tracking (As I mentioned above, saving products for future reference)
10 Live trending products
3 Product Tracker sessions
Limited Data Available.
You can only search 2 products per day.
You cannot access the community.
Can't access new product instantly, (3- days delay)
Basic Plan – $23/mo or $279 billed annually
With this plan, you get all the features of Free Plan Plus:
2 Years of Ecomhunt winning products database
Specific product data & analytics
50 Live trending products
10 Tracker sessions
Pro Plan – $39/mo or $468 billed annually
With this plan, you get all the features of Basic Plan Plus:
Unlimited access to ALL ecomhunt features
1-on-1 Ecommerce and dropshipping expert consultant
80 Live trending products
100 Tracker sessions
Suite Plan – $49/mo or $588 billed annually
With this plan, you get all the features of Pro Plan Plus:
Unlimited access to AliExpress info & extended product analysis
Unlimited access to our content library
Access our 3ET course to help you land your first sales
120 Live trending products
500 Tracker sessions
How does Ecomhunt accept payments?
The best thing about Ecomhunt is that it accepts payments through PayPal. PayPal, as you know among the most secured payment gateways worldwide. It does keep your bank account secured and your card details safe. You just inserted your email address linked to your PayPal account to initiate the transactions.
Does Ecomhunt offer a refund policy?
Well yes. Ecomhunt does offer a 30-day money-back guarantee. So in case, you don't like Ecomhunt for any reason, you can ask for a full refund within the stipulated time. So that is a great option when you wish to upgrade your plan.
Ecomhunt University, A University for Dropshippers
I'll say a couple of words here as this feature or the access to the Ecomhunt university/community is of great use to all the dropshippers, whether you are a beginner or a professional one. This should be considered an excellent positive feature as you can have access to their webinars and tutorials.
Suppose you are new to the field of dropshipping and do not know how dropshipping works; these webinars and tutorials can be beneficial to you. In that case, these webinars and tutorials can be an excellent way of knowing how dropshipping works.
Ecomhunt Top Tools for Dropshippers (🥇 Goldmine)
A quick look around Ecomhunt top tools for dropshippers.
As an ecommerce product research tool, Ecomhunt offers some great features that make it quite a player overall in dropshipping business.
Let's take a look at all are the tools offered by Ecomhunt over their header (drop menu):
Tracking the right e-commerce product can be a task in itself; this feature lets you compare the profitable product with its competitors in the same category. It can be constructive in looking for trends or identifying gaps in the market. Overall, a great feature to make better strategies.
An AliExpress powered bot, and this bot lets you get along with the best products available across AliExpress. Not just an ordinary bot, but a smart one !!
I personally call this feature the "lucky one." Ecomhunt evaluates each profile thoroughly and helps you find the optimal options for your niche. Kind of a lucky draw to find the best products suitable for you under a particular niche, but in a more organized way with the help of analytics. We can call it a lucky draw but with detailed analysis.
Ecomhunt live refers to the new products that are mentioned in their hot products and are updated manually on a daily basis; Ecomhunt Live allows access to thousands of products and get along with what's trending in the market, the products mentioned here are updated with the help of their award-winning product finder.
Ecomhunt Chrome Extension
With the EcomHunt chrome extension, you can find what your competitors are up to and all this on a single click sounds like a time-saving task to me. This extension is all made for the Adhunter tool mentioned above. I guess you remember it?
The Ecomhunt Chrome extension enables you to get an overview of your rivals and their Facebook Ads with a single click to make better strategies resulting in maximized profits.
The Ecomhunt Classic helps find the right type of product for you with the help of their award-winning product finders. Their traditional way of searching for the best products is by Ecomhunt.
What is Ecomhunt Tracker?
With Ecomhunt Tracker, you can track any AliExpress goods and monitor them daily, weekly or monthly AliExpress sales. You can also know about the general growth rate of your business. You can also track Facebook Ad campaigns and Shopify products. You can track 5 products for free.
Additional Kiick-ass Features of Ecomhunt
Some additional Ecomhunt features grabbed my attention.
1. Ecomhunt Winners Club
Seriously won't this be great if someone cheers for you? Praises your efforts and hard work; this is something Ecomhunt believes in. Winners Club by Ecomhunt completely praises your efforts and the hard work you have done over their platform.
Even when you land on the Winners Club page, it states, " Winners Club celebrates your hard work and personal achievements with your store," which looks like a confidence booster.
2. Shopify apps by Ecomhunt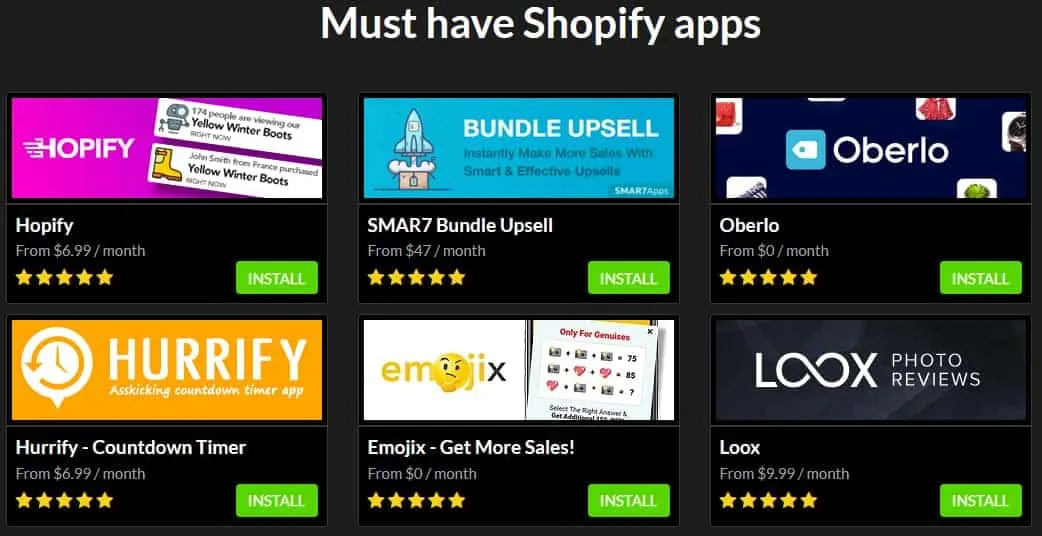 These are the apps offered across the Ecomhunt platform for Shopify that can help you get higher conversion rates and unlock potential profits. These apps are Hurrify, Smar7 Bundle Upsell, Hopify and much more. If you are dropshipping through Shopify, these tools can benefit you, both as a beginner and a professional.
3. 30 Days Money-Back Guarantee by Ecomhunt
Although they offer a free plan so that you can get along with the interface and features offered by them, the features in the Pro Plan are just unique. Unlimited searches, EcomHunt Chrome Extension, and full access to the community make it an excellent choice overall. While searching for product research tools like Ecomhunt, I was able to find only a handful of tools that too with a 30-day money-back guarantee.
Just by any chance, which is pretty thin, if you don't like the features and tools offered by Ecomhunts Pro Plan and are not satisfied by what they offer. Just contact them, and you will be provided a full refund.
4. Jack Kaching Your 1on1 Maestro
As an honest opinion, this one was missing in almost every product research tool, as they might be offering some customer support, but this involves calling their customer care associate or sometimes even manager, but not in Ecomhunt, Jack Kaching is a free 1on1 expert, solving all the issues that we might be dealing with.
Jack is just a click away and can even help you find profitable products, and by this, I mean solving your queries on the go. Ecomhunt offers this 1on1 maestro for getting along with any issue, whether its Targeting, Scaling, testing or even store reviews; Jack got you covered!!
You only need two things to get along with Jack if you have any queries:
The first one is the Facebook account, as it works over Facebook messenger, and another one is your query itself which Jack will be assisting you with.
5. Ecomhunt Blogs for Learning
If you are new to dropshipping, these blogs will help you learn about almost everything you need to learn about dropshipping. Ecomhunt Blogs cover topics such as social media advertising, Shopify ads and dropshipping to give you a clear understanding of whether or not these are effective in your business.
You will even get tips on improving your Facebook ads. In addition to this, you can also learn different strategies and keys to running a successful dropshipping business. As you study them, you will know what might work well for your dropshipping business.
So these blogs will be functioning as a kind of EXPLORE AND EXPAND tool to make you a top-notch drop shipper.
How does Ecomhunt Help You to Find Winning Products? | How to Use Ecomhunt?
After reading out about the features of Ecomhunt, let's look at how this tool has helped various drop shippers find out all their winning products.
It is also among the cheapest Saas tools around the globe, which gives you top trending products. Plus, we would say that it is also among the much-needed tools for all the beginners out there as they can get lots of data for all the trending products.
If you are someone who likes simplicity, then this might be the right tool. You can also register for a free account and check all the features of this account. But remember that if you sign in for a free account, there are a few limitations, like you only get limited features, but still, it is a very good option to have a sneak peek of what this product research tool has to offer.
So now let's have a look at how you should use Ecomhunt and find all the winning products.
#1. Selecting your Product
So how should you go about your selection of products? Well, our piece of advice would be to initially stay away from any expensive electronics goods or any of the complex or hyped products. The reason behind this is that if these things don't work as they are supposed to, it can backfire, and you can face refunds and chargebacks.
Well, we would also advise you to stay away from products that can be seen as a weapon in Facebook's eyes because, in that case, you would not be allowed to run paid ads. But you can still sell these items via Instagram influence. So do consider this aspect judiciously.
#2. Analyzing the Product
Analyzing your product is a very critical part of your product selection. If you simply select any product from Ecomhunt or from any other list, you can face issues like:
Chargebacks
Bad Reviews
Termination of Facebook or PayPal account
Refunds
As a beginner, you should not just select any random product, whether it is any tool that promises the best dropshipping products. It is essential to analyze each of the products and then make a sound decision which should be tried and tested.
But Ecomhunt does help you with this as it gives you ample information to analyze. The following are the key aspects you need to look at and analyze before selecting any product.
Profit Margin: With Ecomhunt, you can check the recommended selling price. You can also check the product cost and then analyze your profit margin, which can help you determine your best selling price.
Product Saturation: The Ecomhunt Saturation Inspector is a very nifty feature to have as it shows how many other Shopify stores are selling the same product. So you can assume that if this number is low, you do have a great chance of winning the competition.
Feedback of the Customers: The formula is quite simple. If the existing customers do not like your product, you will not make good sales. Even if you somehow manage to make sales, you would see refunds and chargebacks coming to your account. So you should check and open all the links to all the 'ecommerce stores and the Facebook ads' which are there on the page to see how people respond to your product.
#3. Setting up the Product Page
Product Import: After you are done with the selection of your dropshipping product, you have to import it into your ecommerce store. The team at Ecomhunt provides you with Oberlo, which they think is the best option by which you can manage your product and orders on the Shopify store, and that's the reason why they have provided the ' Sell with Oberlo' option by which you can quickly import all the products at your store in a single click.
Product Name & Description: Ecomhunt also provides you with good product names and excellent product descriptions for each product. But always remember that you are not the only one selling this product. So we would recommend you modify your product description and name based on the names provided by Ecomhunt instead of just using the same one provided.
Product Images: You should select images of high-quality images which can make your product more compelling and build the confidence of the buyers.
Pricing Structure: They also provide you with a pricing structure that you can use, but we recommend you do your own research first. You can also prefer the commonly used retail pricing structure like .95, .97 etc. We have noticed that the most commonly used is the .97 one.
Product Reviews: Reviews from genuine and honest customers add a lot of credibility to your store, and it also creates an assurance among the customers. So to import the product reviews from AliExpress and Amazon, you should use the loox app, which can help you.
Also, make sure that you look after all the minute details of your product page and fulfill all the missing details and avoid mistakes. And now you are ready to advertise your product.
#4. Marketing Strategy
Facebook ads and Instagram Influencer deals are among the most common ways to promote your dropshipping products. And there as well, Ecomhunt helps you and provides you with usable data.
Media for Facebook Ads: With Ecomhunt, you get all the links to the Facebook ads which are actively running for that particular product. Plus, they also provide you with a YouTube video which you can use for advertisement. If you don't see any video, then the Ecomhunt team has not been able to find any video for that product.
But here is a warning for all those beginners. These videos are NOT copyright free, so you may end up in trouble. So it's still a risky move.
Text Copy for the Ad: The text copy of the Ad for Facebook provided by Ecomhunt can be used. But we recommend you create your own Ad copy, which can be somewhat similar to the one suggested by Ecomhunt.
Ad Targeting: Ecomhunt provides you with only 1 Facebook adset targeting data, which actually can never be enough. We always suggest you have at least 2-4 unique adsets for each product. But the single adset data can help you to find and have a key idea about what kind of demographics and interests you can use for the rest of the adsets.
Instagram Influencers: The best thing about Ecomhunt is that it provides you with a list of Instagram accounts that might be ready to post a shoutout of your product.
But with this great feature, there are some considerations which you should take care of:
All the list of Instagram accounts provided by Ecomhunt is based on its search algorithm. So you can say that Ecomhunt does not have any contract with these Instagram accounts.
The list contains a mix of both personal and themed accounts. The personal ones charge much more than the themed ones, but they also provide you with higher conversions.
The account posted in this list does not guarantee you that it is suitable for posting your product shoutout.
You should always check with the engagement as well as the authenticity of their followers.
Also, the decision to promote your product solely lies with the Influencers.
Ecomhunt has added this feature and removed the "influencer search" part from the research process. But we would recommend you to do a diligent search on your own so that you ensure that an Instagram account is legit and is the perfect fit for promoting your product. And also, remember that its up to you to convince them to post your shoutout.
What are the Benefits of Using Ecomhunt? – Few Additional Surprises
When we talk about any product hunting tool, they offer you all lucrative products you can sell on eCommerce platforms. And Ecomhunt gives you all the legit products and detailed insights about all the products which they provide. This helps all of its users to remain to stand out from the competition. Also, with their products, you can earn decent and easy cash, boosting your revenue.
But we would recommend you to go for paid plans of Ecomhunt and invest as with these plans; you get a deeper insight into all of your dropshipping requirements.
The most obvious benefit you get with Ecomhunt is Facebook Ads Information. This is important information about Facebook Ads which are already running on that particular product. Also, the details include the links to the stores along with the Facebook Ads associated with them.
Plus, you would also be getting all the actual videos about that store which is currently using and also other advertisement information associated with particular products. All these details are beneficial for many people who are new and don't have any idea about the ad copy and for those who actually don't have any videos to promote on social media.
This is quite a nifty feature to have where you can get information about the product engagement. You can also get an idea about which and how many people have bought this product already. You also get the product review from the genuine buyer who bought this product from AliExpress.
So before promoting and selling any product, you should understand and know whom you want to target this product. Which country, age group or interset-based area where this criterion can help you get more customers? Ecomhunt gives you various targeting examples, as discussed earlier. But you can also improve by providing detailed insights and many details about the targeting of a product.
Adam Your Aliexpress Product Research Virtual Assistant
Adam is the virtual assistant by which you can know about your competitor's Facebook Ads Performance, and it is simply one of the best features to have. Also, you can get yourself ready to chase down your competitor's Facebook Ads with ADAM.
Profit Statistics and Social Media
With Ecomhunt, you get a proper estimate of your current profit margins and also the engagement rates that all the adverts have. So it is good to have all the details about the product you like and get you the highest rating about the most ordered products. You also get a better insight into the number of likes, shares and also reactions and comments, which can help you to better assess "How much the product is popular?" So it also helps you choose the right product that can boost your revenue.
Where can you offer your products on Ecomhunt?
A wide range of online marketplaces and ecommerce platforms are compatible with Ecomhunt items. This includes the likes of WooCommerce and Shopify, as well as BigCommerce and Ecwid. All the modern ecommerce channels Google Shopping, Facebook Marketplace and Facebook Shops, also allow you to sell items via Ecomhunt.
Can you get access to the Ecomhunt items that have been password-protected?
In Ecomhunt, the products will be available to all users, including free members, after three days. But with the paid plans, you get access to the database's locked products. Those customers who pay for early access to the new winning products have a continuous edge over others. So in order to access the locked products, you have to subscribe to a paid plan. You can visit your Ecomhunt dashboard and look under 'Billing & Subscriptions.'
Which is the best way to find products on Ecomhunt?
The best part about Ecomhunt is that you get a lot of choices for getting profitable products. You get more than 2000 award-winning products that are organized in a searchable database. You can utilize any of their unique features offered by Ecomhunt, like lucky and live features and get instant access to a list of top 50 selling products in the Ecomhunt database. Plus, you can also get easy product ideas with Ecomhunt Lucky's one-click feature.
Does Ecomhunt include all products of every niche?
Ecomhunt has a database of products in 40 main categories and hundreds of subcategories totaling more than 2000 items. You can filter the database of winners by category or searching for specific keywords. You can term it as a technique for swiftly stocking your business with a large number of high-margin dropshipping products.
Ecomhunt gives something for everyone looking, whether you are looking for hot selling items for cats or for your own house. It's basically like a general merchandise store that has a little bit of everything to offer.
Oh Yes, In this Ecomhunt review, we did find it to be 100% legit. It helps you find the hot products out there, which can increase sales conversions daily. Ecomhunt is also probably the best solution for all those product hunters who are always searching for hot products. You can use Ecomhunt to find hot products for any search engine. Plus, you also get access to new trending products with a simple search.
How to cancel your Ecomhunt subscription?
The Ecomhunt subscription can be canceled at any time, and you will continue to have access to the Services through the end of your pre-paid billing cycle. It does not provide any refunds or credits for any partial membership periods. So to cancel your subscription, you must navigate to your account profile and follow instructions from there. You can also contact their Customer Support team at [email protected]. If you wish to cancel your membership, your account will automatically close at the end of your current billing period.
Ecomhunt v2.0 (Whats their in the new version)
The Latest Ecomhunt updated version includes:
Ecomhunt Alternatives – Where does Ecomhunt stand by?
Ecomhunt 🆚 Pexda
Well, both of the tools provide you with similar features. But after closely reviewing both of them, Pexda's chrome extension was a little better than the Ecomhunt one. Plus they also provide you with 6 new products. But we also feel that Ecomhunt delivers you more excellent value for your money. Also, Pexda is also slightly more expensive compared to Ecomhunt.
👉 Also read: Pexda Review: 50% OFF Coupon Code | #1 Product Hunt Tool
Also, if you want the ultimate product suggestion from Pexda, you will have to pay a premium price. But with Ecomhunt, you do get everything at a single price.
Ecomhunt 🆚 Dropship Spy
Dropship Spy also is a similar kind of tool to Ecomhunt. It is giving features right at the same price as that of Ecomhunt. Also, the set of features that recently Dropship Spy has updated is pretty unique and gives a tough fight to Ecomhunty. If you are someone who is looking for new features and want to try out something different, then you can choose Dropship Spy, but still, Ecomhunt will be our premier choice.
How is the support offered by Ecomhunt?
The customer support offered by Ecomhunt is quite in-depth and helpful. On their official website, you can find there are six ways by which you can get help:
Help Center page
Live Chat popup
Email
Facebook Group
Facebook Page
In the live chat window, you can leave your contact details, and the team at Ecomhunt will respond to you in a quick time. So you don't have to sit for long hours in front of the computer screen waiting for your answers.
Ecomhunt MasterClass – For all the beginners out there!
This masterclass is helpful for newbies and people looking to start their profitable journey by owning a profitable store. This class gives you the right tools and knowledge on How you can create A Profitable Online Store In The Next 6 Months!
This complete course is made to give you practical and actual tools and does not contain any system, formulas or Ninja tricks. It is pure content which is beneficial for running an online store like a pro. Also, if you don't like this course for any reason, you get a 14-day Money Back Guarantee.
Ecomhunt Facebook Group
Presently it has been a common practice, especially for digital product sellers, to create a Facebook group for their customers and its no surprise that Ecomhunt also has a Facebook group for its users. At times it has been seen that discussing problems and strategies with other people who have used this product can help you decide your future cause of action.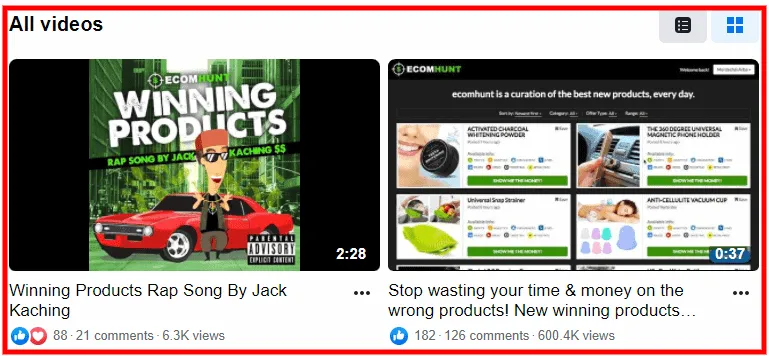 Ecomhunt Customer Reviews & Testimonials

FAQ related to Ecomhunt
What services does Ecomhunt provide?
The best part about Ecomhunt is that it updates its new products daily. The product data, which is listed by Ecomhunt, includes Facebook Targeting, Profit, Analytics, Facebook Ads, Product Video, Engagement, Links, and Offer type. Ecomhunt also provides live training to their clients in order to increase their sales.
In which Ecommerce Market can I use Ecomhunt products?
One can use Ecomhunt products in the various ecommerce market, including eBay, Amazon, etc. One can also use their store using Shopify or Woocommerce.
How often is the Ecomhunt products list updated?
Ecomhunt updates their products list on a daily basis. Every day, they add several products that depend on the quality of the products available on the ecommerce market. Ecomhunt currently contains more than 2000 best-selling products in more than 40 primary categories, and the numbers will increase day by day.
Can I save the products for easy reference later?
Yes, Ecomhunt allows you to save and store your favorite products so that you can use that product later.
How do you pay on Ecomhunt?
After using Ecomhunt, I came across the point where the payment transactions are performed; now, Ecomhunt does not support credit card payment. So if you don't have PayPal as your payment method, you might have to wait for a while. As per their official website, it shows that they will be accepting credit cards soon. So, credit card users might have to wait for a bit.
Is Ecomhunt worth the hype?
Overall, as per my experience, I will say that Ecomhunt is an affordable tool for dropshipping businesses, as they offer great features and in-depth analytics of the best-selling products selected by their Product Finder. If you are a beginner, Ecomhunt offers a free trial to get along with its product research, analytics, and interface even though the pro plan as per the Ecomhunt cost won't be a lot compared to the features and tools offered by it.
What are the Ecomhunt alternatives for dropshippers?
In my personal experience, there were not a lot of product research tools that came somewhere around the features and tools offered by Ecomhunt. Still, another ecomhunt alternative that came close to this rock-solid tool is Dropship spy and FindNiche (more specialized in Facebook ad campaigns and in-depth data for ad campaigns).
What is a low visit on Ecomhunt?
The products on Ecomhunt offer metrics for products such as Low Visits, Google trend, Aliexpress interest and margin score. The low visits show how much sellers visited the product, and if the low visit bar is green, this means that a lot of sellers did not visit the product; this indicator can be very helpful while looking for a product with high demand, i.e.,, hot products on Ecomhunt.
Ecomhunt cancels the subscription; should I go for it?
As per my personal experience, you can opt for canceling the subscription, but as per my experience, the features and tools offered by Ecomhunt are worth the money, and the in-depth product research can be beneficial in your dropshipping business. Even though after all the features and tools offered by ecom hunt, if you are still not satisfied by the Ecomhunt pro plan, you can contact the company as they have a 30-day money-back guarantee.
Can you use the video ads included with the product data in your campaigns?
The videos which you find are the ones which are used by other stores as well. They are just used to show the user the engagement rate. So you can use them in your ads. But do make sure that those are not watermarked in the logo of any other brand or store. But we would recommend you find a clean one. Else you should make your own and post it like any other video.
Which are the available advertising methods for Ecomhunt products?
The best thing about Ecomhunt is that it offers numerous ways for advertising, like YouTube ads, Google ads or even using Instagram influencers. You also get an option of Dropshipping on marketplaces like Amazon or eBay.
Can you Ecomhunt for other marketplaces?
While reviewing Ecomhunt, we did find that it simply does not limit the number of stores or which marketplaces or platforms you choose to use. You can certainly use it for other marketplaces as well.
Does Ecomhunt offer an affiliate program?
Yes, Ecomhunt does offer an affiliate program. You can sign up for their affiliate program from their official website. You will get a custom affiliate link that you can share and earn a very generous affiliate commission. You can also get custom affiliate resources and live progress monitoring as your affiliate commission roles.
How good is the Ecomhunt support?
As discussed in our Ecomhunt Review, it provides round-the-clock support, including live chat, FAQ and blogs. Plus, the Ecomhunt community page on Facebook is also quite beneficial. Plus, you can also contact their support team at: [email protected].
Does Ecomhunt offer Chrome extension?
Ecomhunt does offer a Chrome Extension by which you can check competitive Shopify stores and successful Facebook ad campaigns. You can also quickly check out your competitors' stores and analyze Facebook advertisements and check how well they are performing. You can also add any AliExpress goods to your Ecomhunt Tracker list with this Chrome extension. You can install this for free from the Chrome online store.
Top Videos of Ecomhunt from Social Media
Conclusion: Ecomhunt Review with Discount Coupon 2023 – Should you buy?
After looking at all the features, tools, pricing plans and even their 1on1 expert Jack, it can be said that Ecomhunt can really be helpful to you; even if you are new to the dropshipping business, the Ecomhunt is going to be your helping hand.
Most of the new dropshippers go with the wrong product; all credit goes to not having proper knowledge about the dropshipping business and not being able to perform long, extensive researches for finding that perfect dropshipping product for your business.
Ecomhunt has reduced this gap of understanding what dropshipping consists of and working as the perfect tool for finding you amazing products. The blogs, webinars and tutorials are pretty helpful for you if you are new to the dropshipping business, but as per my perspective, you should take a look at these blogs and tutorials even if you are an intermediate or a professional; you never know what you might learn from these blogs.
As per my personal experience, you should never stop exploring in any aspect, and Ecomhunt can be a great product research tool as well as an excellent platform to learn more about dropshipping; there's just one thing you need to do and its getting their Pro Plan, which is worth the money, but even if after using the trial version, and later pro plan doesn't satisfy you, you can go Ecomhunt money-back guarantee.
Looks like a Win-Win to me!!

EcomHunt is the best tool available to help you hunt hot and profitable products that give high conversion in sales. With Ecomhunt, one can easily discover winning products for selling on their online store. This tool also helps you find trending products on AliExpress. Get started with Ecomhunt for free today and scale your revenue to the next level.🚀
Quick Links:
Affiliate Disclosure: This post may contain some affiliate links, which means we may receive a commission if you purchase something that we recommend at no additional cost for you (none whatsoever!)