Are you tired of posting blogs and coupon content on your WordPress website and not getting enough traffic? Then switch to affiliate marketing through your WordPress website itself and quickly earn profitable money! Is it as easy to perform affiliate marketing through WordPress?
Don't worry more because we have got you covered with excellent tips and tricks you can perform to get the best out of WordPress affiliate programs. We have also chosen two different WordPress plugins and reviewed them for you to make your earnings easier!
In this post, we have featured ✅Content Egg vs. Datafeedr comparison updated for 2023 that includes an in-depth comparison between these two WordPress plugins.
---
Content Egg vs. Datafeedr | The ultimate comparison
The Content Egg is a WordPress plugin developed by the authors of the Rehub theme, having all the requirements required to get the best of blogging. This plugin will allow you to add affiliate products, links, and auto coupon content to your blogs from product boxes and tables.
Once you download and install this plugin to your WordPress, you can locate the Content Egg module at the sideboard's left corner.
There are lots of affiliate networks that are entirely compatible with the plugin. And the compatibility we liked the most is Amazon, Walmart, Shareasale, CJ, impact radius, Flipkart and eBay. These can surely help you to earn a hefty amount of commission in a quick time.
Datafeedr is yet another plugin for WordPress if you want to take a step ahead and go for affiliate marketing. This plugin comes with many benefits, like automatically updating the price list and product comparison and a lot more.
As WordPress is offering different plugins and themes, it becomes difficult for a user to choose the right one for their affiliate marketing. Datafeedr easily displays your product from one merchant to another. Datafeedr has this amazing feature of connecting with major affiliate links and downloading the right data feeds.
Both the WordPress plugins are unique and important in their way. But as a user, you need to know which one will give you a profitable business. Hence, go through our in-depth review and find your solution to the problem on your own!
---
Content Egg vs. Datafeedr: Features
A detailed comparison between Content Egg and Datafeedr according to the features:
| | | |
| --- | --- | --- |
| Features | Content Egg | Datafeedr |
| #1. Free Version | Content Egg offers a free version to its users. | Datafeedr do not offer free verison. |
| #2. WordPress integration | It allows you to build your store on the most popular CMS software. | It also allows you to build your store on the most popular CMS software available on the internet. |
| #3. Woocommerce integration | It enables Woocommerce integration. | One can easily import affiliate products to their Woocommerce store. |
| #4. Powerful product search | Easily search product which your users want to purchase. | Search products on multiple affiliate networks and retailers to find the products your visitors are looking for. |
| #5. Affiliate networks | It provides 20+ affiliate networks. | It provides more than 30 popular affiliate networks. |
| #6. Autoblogging | It provides Autoblogging features to create content easily. | It also provides Autoblogging features to its users. |
| #7. Auto remove products | It does not have features. | Datafeedr has this feature, which automatically removes products that are not for sale from your store. |
| #8. Show price history | It shows price history. | It does not show any price history. |
| #9. Sorting features | Yes | Yes |
| #10. Content module | Yes | No |
| #11. Add videos | Yes | No |
| | Download Content Egg | Get Datafeedr |
---
Content Egg vs. Datafeedr: Principle of operations
#Content Egg
The whole working of the Content Egg is based on the module system. This plugin will add features to quickly enter and search a keyword to make the entire blogging process easier.
But this depends on which modules you are selecting for your website. Once you enable any of the modules, the plugin will search and display the result to you. Now it's up to you which link you want to add to your blog and edit further results.
To start using any module, you must register for the services and set an access key to the API whenever you save a post. Content Egg modules also store automatically in your WordPress custom fields.
You can display the plugin's data by choosing any of the settings from the search module, like:
At the beginning of the post
By a shortcode
At the end of the post
If you choose the shortcode, then you can get a customized output template for your blog. But if you go for the automatic mode, then a single template will be applied to all your blogs. The working if the Content Egg is based on templates and themes for your blogs or webpages.
#Datafeedr
On the contrary, Datafeedr works on collecting data from various affiliate stores and keeps it safe in the Datafeedr factory. The exciting part of this plugin is it supports many affiliate networks.
Hence you can configure easily between categories. You can decide which link or product can perform best if you include it on your website. You can use this plugin very easily, but make sure that you have some technical knowledge to make the best use out of every feature.
Steps to use the Datafeedr plugin:
Register to Datafeedr plugin and install it on your WordPress site
Start searching for the products you want to add in your blogs.
Join an affiliate network which you think can be beneficial for you
When you liked a product, start applying to all the merchants for permission.
Build your shopping category for your viewer's ease
Set up your unique search page along with different styles and filters
Search 'Update product setting' in WordPress and turn it on
Once you have completed all these, Datafeedr will download all the required updates for your WordPress page.
---
Content Egg vs. Datafeedr: Supported shops
#Content Egg
The plugin will help you add numerous products to your website and continuously get your commission by affiliate programs or CPA. When you choose the Content Egg as your plugin for WordPress, you get access to more than 20 affiliate networks at a go.
You get access to big affiliate networks like pixabay, Amazon, eBay, Flipkart, aliexpress, and udemy. We are also looking for an expanded list by a Content Egg as they have added udemy recently.
Through the Content Egg modulation, you will get to choose products from e-commerce that may give you a good conversion rate.
Hence it is a win-win for both. All you have to do is maintain the product and the pricing up to date. Even Content Egg can automatically make changes in your link, depending on the keyword you are using on your site.
#Datafeedr
Datafeedr comparatively has a large number of networks, and that too the most popular one. Once you start to use this plugin, you can easily include products from multiple merchants and target everything just in a store.
Datafeedr provides lots of flexibility to its users. You are not required to download anything or import anything to your WordPress network. The plugin itself does everything.
Moreover, you can search for any product through multiple affiliate networks by using the filters. And you will get a detailed description of the product, price, brand, and product specifications.
Unlike Content Egg, you are not required to update anything manually. Datafeedr does everything on its own. If the product is unavailable, the link automatically expires, and it gets removed without you taking any actions.
---
Content Egg vs. Datafeedr: Auto blogging feature
#Content Egg
Through this plugin, you can easily create content by using the auto blogging feature. All you have to do is type the relevant keyword, and it will automatically find the right images, videos, and other related content.
Once you type a keyword, for example, mobile under some category, it will help you set correctly to get the right search.
Hence, as a result, you will be able to provide the right post to your reader. The only effort you must do is find a keyword for low competition and give the right product quantity.
#Datafeedr
Datafeedr product dripping feature gives a tough competition to the Content Egg in many situations. This feature allows you to set up a drip for your blog posts or a particular category. Hence you get to decide the intervals between your product ranges.
---
Features offered by Content Egg
The content module feature by Content Egg makes the plugin more attractive to the users. Through modules, a user can add any additional content to their site without making extra efforts.
You can add images, news, or some exciting videos to make your blog more attractive and interactive. Modules play a very important role when it comes to affiliate marketing. It helps the user to choose a product and other relevant factors to improve their conversion rate.
Also, once you start using this feature, you can keep track of your fellow competitor. You can even partner with someone to maintain your product descriptions up to date.
There are also many templates options like product boxes, product listings, and grids through which you can attractively showcase your product list. You can even add graphs or histograms to show your viewer product demand and price alerts.
Features offered by Datafeedr
If you use Datafeedr, you won't worry about updating your account constantly, because the plugin does it for you. All the product information and product description gets updated easily. You are not even required to change the product pricing if there are any fluctuations.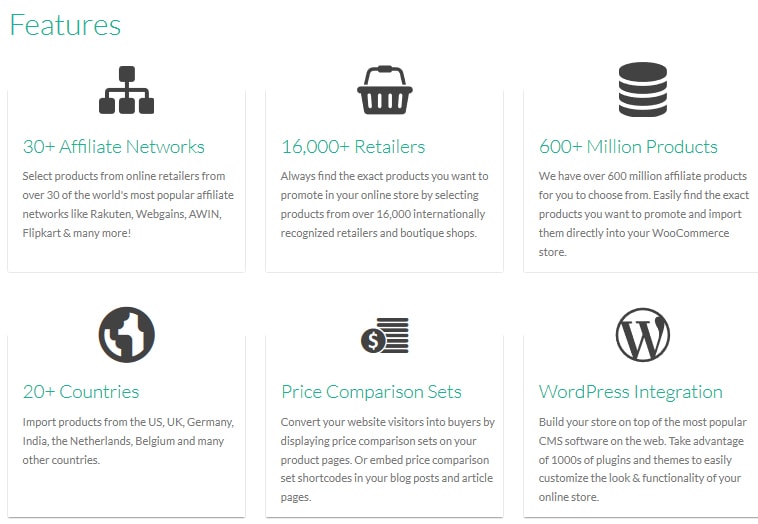 Another fantastic feature by Datafeedr is that the product automatically gets removed when it is not in the stock. Hence the manual work gets down dramatically.
The spin rewrite option by Datafeedr, helps you rewrite any content and spun it to create new and unique content for your blog.
The WordPress widgets by Datafeedr help you showcase attractively and let's not forget the dripping feature mentioned above. The advanced browsing feature by Datafeedr will allow you to order products by its popularity, pricing, and name. Hence, the visitor will quickly find anything they are in search.
---
Content Egg vs. Datafeedr: Pricing plans
Before heading out to find which plugin is best suited to the price, let's find out how much you have to pay to get a Content Egg or Datafeedr as your WordPress plugin.
#Content Egg
To get Content Egg pro, you must purchase a license, which can be activated and performed just once. Once you start this, you won't be able to change your domain name later

However, if you want to change the domain, then be ready to pay $5. That's why we always suggest you be dead sure about the domain name before buying any plugin.
There are several pricing plans; if you want just a license, you will have to pay $48. And if you wish to get 20 licenses at a go, you will get a discount, and the sum amount is $260 only.
#Datafeedr
Datafeedr also has different plans, subdivided into API plans and Factory plans. The starter plan can cost you around $29 for a month. And the unlimited plan will cost you $99 per month.
Datafeedr is comparatively more flexible than the Content Egg when it comes to pricing and plans.
---
🌟 Content Egg vs. Datafeedr FAQ
🤔Does Datafeedr provide a free version for new users?
No, Datafeedr never provides any free feature to their user. But the basic plan of the plugin is affordable; hence, you can buy and try it for a month.
🙄Which WordPress plugin has a great number of popular networks?
Datafeedr has almost 30 popular networks, but the Content Egg adds more networks to the plugin lately.
🧐Content Egg vs. Datafeedr, which WordPress plugin is cheapest?
The plans of Datafeedr are flexible, and one can use the basic plan to understand more about the plugin. Content Egg also has impressive features under reasonable pricing. Hence it all depends on your needs.
🔎Which is better Content Egg vs. Datafeedr?
Content Egg and Datafeedr offer the same features, but Datafeedr is more automatic than the Datafeedr. At the same time, Content Egg has cheaper options for users than Datafeedr.  
---
Conclusion: Which is the best WordPress plugins for affiliate commissions?
Although Datafeedr supports merchant features, the Content Egg is relatively cheaper. If you are looking to start up your affiliate website over WordPress within a limited budget, then the Content Egg is on your side.
But if you want to invest money in growing your affiliate marketing website or Review site, then the features by datafeedr would help you to get quick commissions. Both the plugins serve their value in the right way.🚀