Are you looking to start your business online by creating your own website but not finding the right domain name at the right price? This in-depth Porkbun review is only just for you.
Before you start building your website you need to first think of a domain name and search for its availability. But if you are not finding a good name for your website then you need to take help from some tools that provide suggestions for your domain name based on keywords.
Finding the right domain name is the first key to start your website but not the last. Once you choose your domain name then comes the crucial part of hosting your website. This is where most people make the wrong decision by choosing a bogus hosting provider.
While choosing a hosting provider for your website you need to ensure certain features from the hosting provider. Some parameters to look for when choosing a hosting are speed, Space, technology and finally the price. Most people tend to choose the cheapest hosting and end up in malaise. Cheap hosting comes with fewer features and often your site has to face downtime which results in losing your customers.
Honest PorkBun Review: Is Porkbun a Good Domain Registrar?
In this PorkBun review, we bring you the world's greatest domain registrar with not just limited to domain registration but also provides quality hosting and other tools for growing your business online. Porkbun is the company that we researched on and found that it is one truly amazing domain registrar with ICANN accreditation.
I have been using Porkbun since 2018 to manage my domains. I have over 50+ domains purchased and parked on Porkbun. The best thing is its simplicity , easy to manage and cost effective pricing.
About Porkbun – What Exactly is Porkbun?
Porkbun is an ICANN accredited domain name registrar based out of Portland, Oregon. It has a great team of professionals looking behind every aspect to bring your business on a global platform with all the features and tools at the best price guaranteed like nowhere else.
Porkbun is different than other domain registrars as it is easy and affordable and provides many things for free. The company is located in beautiful downtown Portland, OR, US and was founded in 2015 by Ray King and Peter Brual.
If you have any issues you can reach Porkbun helpline number and get your issues resolved right away.
Enlightened Minds behind Porkbun – Who is behind Porkbun?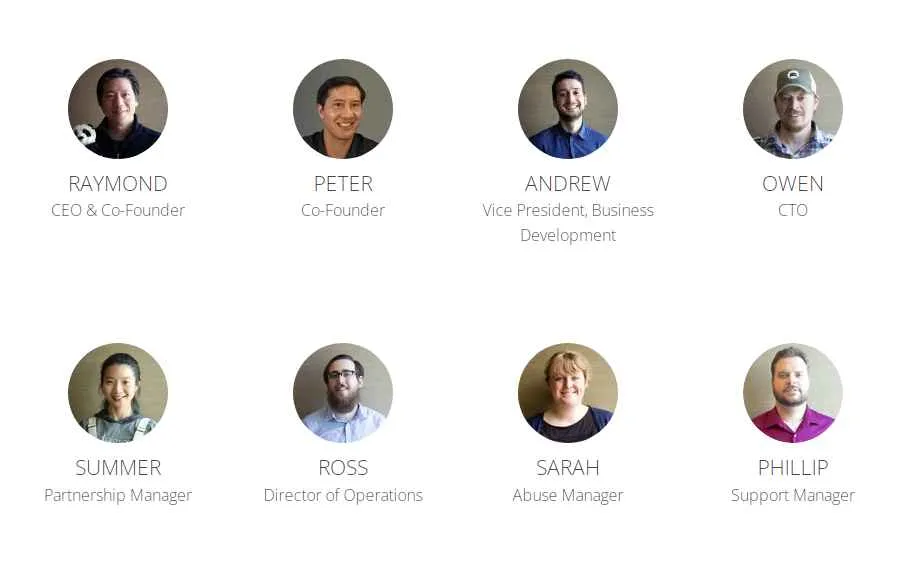 Services Offered at Porkbun 🐷 – What is Porkbun used for?
You name the recipe, and you will serve a fine dish of the platter with all the ingredients you need to fill your stomach. Believe us, you won't return empty stomach and empty-handed. Porkbun offers Domain Name Registration, Domain Transfer, Shared Web Hosting, Website Builder, Email Hosting, WHOIS Privacy, DNS Management, SSL Certificates, Email Forwarding, URL forwarding, Quick Connect and PorkBun Ambassador Affiliate Program to earn for your livelihood.
Amazingly if you are not sure which domain name to choose for your website then you can take help from Porkbun Domain Suggestion Generator tool to find a suitable domain name and then search for its availability to register your domain name.
If you are not good at generating passwords for your Gmail account, Social Media accounts or any other services then you can use the free Porkbun Password Generator tool to generate passwords for you easily in no time.aff
Porkbun Domain Name Registration – Easy and straightforward
The aspect that makes Porkbun better than the rest is that it offers hundreds of TLD and domain extension options that go beyond the generic domains like .net, .com, and .info and also from country-specific locations and for international use to category specific like those for apps and more.
Also, the ordering process is pretty straightforward. As you add the domains to the cart, you can easily select the registration period, which is up to 10 years for most of the domains; you can add web hosting, email hosting and a coupon code as well. With each domain, you get an SSL certificate, WHOIS privacy and also a bunch of trials of other services like Web and Email Hosting Etc. Plus, you can also pay with your credit card, PayPal, Bank transfers, and AliPay. You can also pay via cryptocurrencies like Bitcoin, Bitcoin Cash, Ethereum, Litecoin, and USDC.
As your payment is processed, the domain is automatically registered by Porkbun. After this, you can easily administer your domain from the domain management panel. From the panel, you can renew your domain, add more services, add email plans, connect it with a hosting account etc.
Free Features with Every Domain Registration at PorkBun – Is Porkbun.com Legit?
Who doesn't want to save extra bucks on purchasing any product or service? At Porkbun you won't just save your money but you will also get free features that you won't have even thought of.
Porkbun offers:
Free WHOIS Privacy: If you don't want to show personal information to prying eyes then you need to WHOIS privacy for which most companies charge you heavy. But at Porkbun you get this feature for free. So now nobody can capture your personal information and worry you for no cause.
Free SSL Certificates: Don't want the bad guys to hack your customer's personal information like payment info and personal details? Attaching an SSL certificate to your website will secure your site from the hackers and keep the bad guys at bay. At Porkbun you don't have to pay a single penny for securing your site with SSL. Porkbun offers free LetsEncrypt SSL certificates for all your domains an even renews it every year automatically.
Free Website Builder: Don't have the expertise to build your own site or looking to hire a professional to design your website from scratch? Don't even think about wasting your money on hiring a professional, just take help with the free Site Builder trial to design a beautiful and stunning website. Weebly powered site builder is easy to use without any coding skills required and is available free for three months.
Free Email Trial: Having domain specific email address gives a professional look to your business. At Porkbun, you get two months free email hosting with every domain registration. So instead of using your Gmail address or any other email address you can now have your own custom domain address to communicate with your customers and grow your online presence at super speed.
Domain Management 100% Free: Whether you have a single domain or multiple domains, you can manage all of them with a cool management console. You can transfer in, transfer out or update all of the domains from the same console which makes it the best in the world. Here are a few of the supported DNS record types: A, MX, CNAME, ALIAS, TXT, NS, AAAA, SRV, TLSA, and CAA.
You can quickly connect your website to other website builders with a single click. It doesn't matter whether you have made your site on Weebly, Wix or another site builder, you can anytime link your domain to any other 3rd party site builder.
Free URL and Email Forwarding: With this feature of Porkbun, you can redirect your newly registered domain to an existing website. The URL forwarding service of Porkbun supports SSL and also allows both temporary (302 / 307) and permanent (301) redirects. Plus, this is a free service offered by Porkbun. Along with this, you can also forward for free up to 20 email addresses for your new domain to your existing email addresses.
Free WHOIS Protection: If you wish to keep your registration details private and hidden from hackers and spammers, Porkbun offers you a WHOIS privacy service that you can use with most of the domains.
Free Ethereum Name Service: Few of the TLDs support the Ethereum Name Service (ENS). This service enables you to connect your domain to the blockchain. This is also a free service and is included in the registration price. When we did this Porkbun review, only .luxe supported TLD.
Handshake Domains: According to the official website of Porkbun, Handshake is an experimental and permissionless naming protocol that uses blockchain technology in order to create a decentralized root zone. Also, you can use a browser optimized for handshake domains like Opera or Brave, plus you can also use an extension or a plugin on Safari or chrome to visit these domains.
If you are worried about your account security then Porkbun backs you up with security technologies like WebAuthn, 2FA, login notification and more.
Porkbun Domain Transfer – How do I Transfer a Domain from Porkbun?
By using this feature of Porkbun, you can easily transfer your domains from another registrar to Porkbun. And for this, Porkbun offers tools that will get your site up and running again within a few minutes. This is a handy feature to have, as many of the other domain providers do not offer such kinds of services.
You can transfer your domain and ensure the domain is not using WHOIS privacy protection. Also, if the service is not forwarding emails to them, you will not be able to get the transfer code. Make sure that the domain should be registered for at least 60 days with the current registrar and should be unlocked first and not on hold.
All of the transfers of TLD domain names do include a one-year renewal of the domain unless the domain inside auto-renews within the grace period. Following are a few of the country-code TLDs which do not offer a free renewal as part of a transfer:
off.ai
co.uk
me.uk
com.ai
la
ai
org.ai
org.uk
net.ai
de
uk
cx
Porkbun Web Hosting – Porkbun Web Hosting Pricing Plans Revealed
Porkbun offers numerous hosting options for domain names starting from only 2.5/mo. Following are a few of the hosting plans offered by Porkbun to their clients;
PHP Hosting – $12/month
All of the paid plans for PHP hosting come with:
10 GB of Disk Space
10 Subdomains
5 dedicated PHP processes
Max memory limit of 128MB.
PHP versions 7.4 and 8
Unmetered Bandwidth
SSH access
SFTP access
Extra security
Easy switch between the plans
Easy WordPress Hosting – You can get this at as low as $2.5/month
For Easy WordPress hosting, Porkbun offers:
5GB of disk space
One PHP process
Max memory limit of 64MB
Unmetered bandwidth
WordPress performance enhancements
Automatic updates & extra security
Free SSL certificate
Static Hosting – You can get this at as low as $2.5/month
With all of the paid plans of Static hosting plans, you get:
Unmetered bandwidth
FTP access
Static Hosting
Performance Enhancements
File Browser
GitHub Connect Etc.
L.INK Social Media Bio – If you quickly want a bunch of links for your social media bio, Look no further than L.INK is the perfect tool to do just that on your own domain name. You can get this at as low as $4.17/month.
With each of its plans, you get:
Unmetered bandwidth
Free SSL certificate
Custom themes and Colors
Domain
Custom L.INK URL
Analytics integration
Weebly Sitebuilder – Porkbun has partnered with Weebly to bring you a powerful website builder which will allow you to create powerful and professional sites with dynamic and easy-to-use drag-and-drop tools. No updations are required, and you can focus on the important stuff. You can get this at as low as $3/month.
cPanel Hosting – Looking for a more generic shared hosting plan? cPanel might just be for you. It is not explicitly designed for a particular website, but it is a good choice if you wish to install a prebuilt or custom PHP site. You can get this at as low as $10/month.
Unmetered Disk Space
Unmetered Bandwidth
PHP
MySQL
FTP access
Softaculous
Free SSL certificate
If you purchase a WordPress Hosting plan on Porkbun, you will also get numerous plugins along with additional customizability, security and speed, as its Hosting platform is powered by AWS that offers faster loading times, security and privacy.
With Porkbun WordPress hosting plans, you get Free 3 months trial and later on, you can upgrade or change your plans with ease, making the platform valuable and risk-free.
PorkBun Innovative Shared Hosting
Porkbun Shared hosting is best suited for any kind of blog or e-commerce websites with cool features that never let you down in front of your competitors. The price might be a little higher than other hosting providers but definitely worth paying for some cool features.
Porkbun Shared Hosting costs $8/month but if you purchase it on yearly basis then you can save and get it for $80/year.
Features included in this plan:
With this plan you get awesome features like unlimited disc space and bandwidth, Unlimited Add-on domains, FTP accounts, and MySQL databases, free Let's Encrypt SSL certificate, easy to use control panel cPanel, Softaculous for 1-click installation of 3rd party apps and if you are not satisfied with the plan then you can cancel it anytime and get money back.
Porkbun Website Builder – Porkbun Review
When you purchase any domain at Porkbun it comes with Weebly powered site builder so you could easily create your website from scratch to stunning & professional one with easy drag & drop tools. There are 5 different plans for Site builder depending on features and price so choose the right one after checking all the features included in each plan.
You can anytime start with the free trial valid for three months with basic features such as drag & drop, unlimited pages, and SSL security.
Once you are satisfied with the basic features you can anytime upgrade your plan by purchasing Starter plan at $8/month, Pro plan at $12/month, Business plan at $25/month and performance plan at $38/month.
If you have an e-commerce website then you have to pay additional fees depending upon the number of products added. Some cool features you get with this plan are footer customization, favicon, header slideshow, HD audio, and video players, password protect pages, site search, member registration, integrated shopping cart, coupon codes, shipment methods with taxation, inventory management and more.
Business Email Hosting at Porkbun
Give a professional look to your website with a custom email address with your own domain name. Domain-specific email address increases the chances for more business and gives a professional look to your email. As you register a new domain, you can use this custom address and provide your online presence with a professional feel. Also, this email hosting plan comes with 10 GB of storage along with secure IMAP and POP, Webmail, email forwarding and mind-blowing customer support. Moreover, for the first 3 months of domain registration, it is absolutely free, and after that, it is only $24/year.
This makes your email more authenticated and receivers tend to open your email more often instead of deleting it without opening and reading your emails.
How does Email Forwarding Work in Porkbun?
Porkbun offers two ways to make your custom email address for your domain:
Email forwards
Hosted Emails
The Email forwards is free, but the replies will show that you have sent it from your
Following is a step-by-step procedure to set up a simple email forward:
Step 1: Log in to your account, and you should arrive at the domain management screen. As you log in, click on the ACCOUNT in the top-right corner and select Domain Management.
Step 2: You must identify the domain to which you want to add an email forward and then click on the envelope icon next to the name. There you will appear grey if you have never set up an email for that domain. Personal email address.
Step 3: Now, on the Email hosting and Forwarding page, locate Option 2: Email Forwarding on the right side.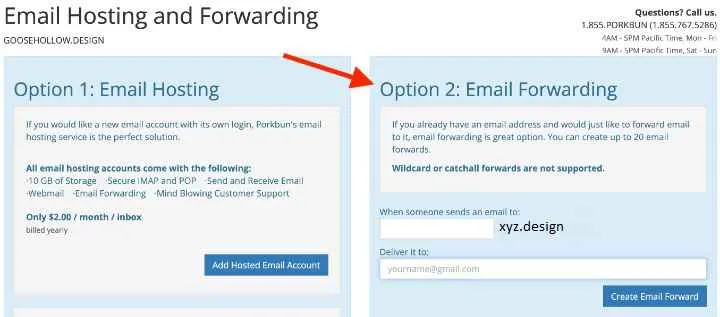 Here you should specify the name of your email address. You can name it depending on the purpose of the email address. For example, it could be your name, an employee's name, or something like info, help, reservations, etc.
Step 4: In the "Deliver it to:" box, you have to enter the email account you want to keep as your custom address to forward to. Then click on the "Create Email Forward."
And Done! Congrats on being a new owner of one very unique email address automatically forwarded to your existing account. You can repeat the same procedure to create up to 20 active Email forwards.
Porkbun for Affiliate Marketers
If you an an internet marketer or affiliate marketer then you will need hundreds of domains name for your multiple affiliates sites, landing pages and niches sites. Porkbun is indeed the top choice for domain registrars as it has maximum extensions available under on roof and lot more freebies like Free WHOIS privacy protection, Free SSL certificates with every domain and Free Email hosting.
Most of the affiliate marketers host their domains and landing pages with AWS ore other cloud hosting providers. Hence Porkbun can be very useful as it offers free SSL certificates with each domain that can be deployed on any cloud provider.
Porkbun Payment Methods – Payment Methods that Suit Everyone
Porkbun is a premier hosting provider that offers numerous payment methods. All of the payment methods are safe and protected for security reasons. Users can quickly pay using any of the payment methods mentioned below.
Credit Cards: They accept payments from major credit cards: Visa, Mastercard, American Express, Diners Club, and JCB.
AliPay: It is a popular digital wallet in China and is operated by Ant Financial Services Group, which is also a financial services provider affiliated with Alibaba.
Apple Pay: Easy and secured and works with all of the Apple Devices. Works with Safari and Mac and iOS devices.
Google Pay: Simple and secured method of payment provided by Google, which works with browsers and devices that support Google pay.
PayPal: It is another secured and premier payment provider, but at the moment, you cannot use it for automatic payments.
Bank Account: You can add a US bank account to transfer funds.
Crypto Currencies: They do accept several forms of cryptocurrency, which include:
Bitcoin
Bitcoin Cash
Ethereum
Litecoin
USD Coin (no fee) (ERC20 tokens on the Ethereum chain only)
There is a 10% fee on all of the above except USD Coin. All of the cryptocurrencies will be converted to USD minus the fee. There are no refunds for account credit purchased using cryptocurrencies.
Porkbun Performance & Uptime – Porkbun keeps your website always ready!
Porkbun has placed all of its data centers strategically in North America and Europe to give its customers 100% uptime and maximum speed. Also, their primary data center is in Dallas, Phoenix and Atlanta, whereas the secondary data center is in Clifton.
The company does take care of all those data centers carefully, and all of them are equipped with air conditioning, redundant power, world-class security, and a network. Also, they have high-end servers, Xeon processors and RAID protections. They do have state-of-the-art technologies and a data center and offer its customers 99.99% Uptime.
Any website wants that its website should be available at any time. Otherwise, there can be financial losses as well, which can affect the reputation of the website owner and affect customers as well. But with Porkbun, you don't have to worry about any sort of downtime. You can also back up your data every two weeks and forget the worries about losing your data if any unprecedented events occur.
Porkbun Customer Support – Good Customer Support
In terms of support, Porkbun offers numerous types of support for its users. First, it provides live chat support, which offers rapid response and turnaround. Their team will always be ready to assist you with their in-depth understanding of the registrar's products and subtleties.
Also, they do have a very attentive customer support staff that is there to assist you with any issues. To get a consultation call, simply dial the toll-free number. You can also visit the Porkbun website for more information regarding the package rates.
They also have a knowledge base section where you can know more about how to connect your domain to a third-party hosting service and other queries related to payment methods and more. This section is quite in-depth and provides you with fair-size knowledge and simple instructions along with basic tutorials about how you can use every aspect of Porkbun services.
If you have any queries and you need some extra help, you can reach out to Porkbun via email and live chat or phone during the working hours of 9 AM – 5 PM, Pacific Time, 7 days a week, including all holidays.
Phone Support –
1.855.PORKBUN ( 1.855.767.5286)
4 AM – 5 PM Pacific Time, Mon-Fri
9 AM – 5 PM Pacific Time, Sat-Sun
Email Support: [email protected]
How to Install the Let's Encrypt SSL Certificate on the Porkbun Domain? – Retrieve Your SSL Certificate
With a Porkbun account, you get a free Let's Encrypt SSL certificate, which will renew automatically if you are using Porkbun as your DNS provider. So if your website is hosted with Porkbun, you don't have to do anything at all to add SSL security and the certificate will generate and install automatically!
So let's see how you can retrieve your SSL Certificate.
Even if you don't host a website at Porkbun, you can still get an SSL from them as long as you are using its nameservers. So to download your certificate, click on the "Details" button, which you will find in Domain Management. After that, click on the "Edit" link next to SSL.
As the certificate is ready, click "Download SSL Bundle":
And your browser will download a .zip file which will have all the necessary certificates required to secure your website in .pem format. You can also install the .pem certificates on any modern web server, but the instructions can vary by vendor.
Porkbun Alternatives You Should Try in 2023 – Porkbun Closest Competitors
Even though Porkbun offers a host of services, you might have a look at a few of its competitors, which can give a tough fight to it. All these alternatives mentioned do have some benefits over Prokbun. Let's check them out one by one.
Porkbun Vs. Namecheap
Namecheap was founded in the year 2000 and has quickly emerged as a good alternative to all premium registrars due to its competitive pricing. Also, it is a renowned brand on the internet that offers a variety of services and also has good reviews.

Let's start with pricing; .com, which is the most popular domain extension; Namecheap offers it at $5 to $10, while Porkbun sells the TLD for 7 to 11 dollars. But the .net domain on Porkbun is for $10.56, whereas on Namecheap, it is for $10.58. All these pricing can vary from time to time.
Namecheap also offers shared hosting services like Porkbun. It offers three shared hosting plans – Stellar, Popular, and Stellar Business. Their pricing ranges from 2.88 to 8.88 dollars every month. Also, you can host 3 unlimited sites on its shared servers, which also provides you with 20 to 50GB of storage memory. The non-stellar plan also comes with an automated daily backup service. Also, you can enable the proprietary Namecheap Supersonic CDN with any of the Namecheap plans.
Namecheap also offers Virtual Private Server hosting at a starting price of $9.88. At the same time, Porkbun doesn't offer VPS hosting yet. In terms of support, well Namecheap users enjoy email, phone, and real-time chat support. Also, Namecheap offers much more features than just domain registration.
Porkbun Vs. GoDaddy
GoDaddy is one of the most renowned world's most prominent "web services" companies. It offers almost any domain extension you are looking for, For example, .com, .net, .today and more. Also, the .com domain will cost you $14.99 the first year and $19.99 after, which is not the cheapest.
Talking about the GoDaddy shared hosting plans, it can cost you between $8.99 and $24.99 at renewal. Also, with this kind of hosting, you will share a server with other clients. GoDaddy also offers a suite of WordPress hosting plans for single WordPress websites.
The GoDaddy Business Hosting plans are nothing by VPS hosting plans with active management. VPS plans at GoDaddy start at $6 a month, which can go up to $100 a month. Along with this, it also offers a wide range of dedicated server hosting where you basically lease an entire server with specific, known resources. GoDaddy also offers email hosting plans which start from $5.99 per user per month for 10 GB of email storage.
👉 Also read: GoDaddy WordPress Hosting Coupon: (88% OFF + Free Domain)
So as you can see, in various parameters, when we compare GoDaddy with Porkbun, GoDaddy is slightly on the expensive side.
Top FAQ on PorkBun Review
Who owns Porkbun?
Porkbun is the leading domain registrar company created by Ray King and Peter Brual. It is founded in 2014 and is currently situated in Sherwood, Oregon, USA.
Is Porkbun a reliable domain name provider?
If you are looking for a secure domain registrar company that enhances your online business, then you can easily trust Porkbun. Currently, Porkbun is used by thousands of customers because of its top-notch servers and excellent customer support.
How to transfer a domain to Porkbun?
Check the following simple steps if you want to transfer your domain from any other registrar to Porkbun:
1. At your old registrar, you first need to unlock your domain.
2. At the same time, at your old registrar, you need to turn off the WHOIS Privacy service.
3. You need to check for the authorization code required to transfer the domain from an old registrar to a new registrar. 
Which are the DNS supported by Porkbun?
With the Porkbun DNS management console, you can host your domain on its nameservers and create custom DNS records for your domain. This is often required when you do use third-party web hosting or email solutions.
Is Porkbun legit?
After our comprehensive Porkbun Review, we can say that it is 100% legit. Also, the positive reviews about this hosting provider speak about it and how much beneficial it has been for all of its users.
Following are the Supported DNS by Porkbun:
A – Address record
ALIAS – CNAME flattening record
CAA – Certification Authority Authorization
CNAME – Canonical name record
MX – Mail exchange record
TXT – Text record
NS – Name server record
AAAA – IPv6 address record
SRV – Service record
TLSA – TLS Authentication Record
How can you contact Porkbun support?
Porkbun offers good customer support, and you can use the telephone support option at Pacific time from Monday to Friday. You can also drop your queries at the email id [email protected].
Does Porkbun offer VPS hosting?
Currently, when we did this Porkbun Review, it did not offer VPS Hosting.
How to delete your Porkbun account?
It is a pretty straightforward process to delete your Porkbun account. 
Step 1: First, Log in to your Porkbun account and go to the Account Settings page by selecting "Account Settings" from the drop-down list in the top right.
Step 2: After that, On the Account Settings page, you got to click the "Delete Account" button on the right side of the page, which you can find under Delete Account and Privacy Settings.
Step 3: You will get a pop-up window asking you to confirm your account deletion request. To confirm, enter your account password, and click the "Delete Account." This will automatically submit your account to our deletion queue. And now, log out of the account, and redirect you to the Porkbun homepage.
And That's it! 
Is there any Porkbun coupon code?
If you are looking for a working Porkbun coupon code that helps you save money, use the above-mentioned Porkbun coupon code and get an attractive discount on its pricing plans.
Conclusion: Porkbun Review 2023 – Try it yourself!
After this Porkbun review, we can certainly recommend that if you are looking for a reliable hosting provider to grow your network, Porkbun is the one to go for. They do offer state-of-the-art technology and data centers with top-notch customer services currently serving hundreds of thousands of customers. It also provides transparent pricing plans and a lot of free Add-ons. And the best part of them all is that it promises to deliver a guaranteed uptime of 99.9% to all of its customers.
Porkbun services can be purchased by paying through credit cards or PayPal. All the major credit cards are accepted and automatic renewals are also done which can be managed in your account settings. Apart from the domain, hosting and email services, Porkbun also offers some cool tools like domain name generator and password generator for free.
Life at Porkbun is fun!
Porkbun Review – Get more for your money!!
Choosing a domain name can be frustrating. With so many options, how does one know what to pick? Well, Porkbun offers web hosting, email hosting, DNS hosting and domain registration. Porkbun is the #1 ranked domain registrar that makes registering domains so easy. Porkbun also offers several different hosting plans; free WordPress hosting is great for beginners, while paid hosting gives you features like security and site backup services.
Positive
Porkbun offers a variety of top-level Domains to choose from.
The pricing is quite transparent.
Various Add-on features are provided for free.
It has a UI that is simple, clean, and intuitive.
Issues related to Security are taken very seriously.
Easy to use interface and ordering process.
Customer support is amicable.
Accepts Cryptocurrencies as payment.
Negatives
No 24/7 live support.
There are fewer Add-ons for free.
Does not have an affiliate program.
Porkbun – Reliable Domain Name Provider
Register your domain name at Porkbun and get more for your money.
Quick Links: