Its monsoon time, and it's raining heavily. Similarly, email, SMS, web push and SMTP email are raining heavily. But how's that possible?
It is possible now to send bulk and rocket speed marketing emails, SMS, web push notifications with an increased open rate by 30% via SendPulse intuitive and fascinating services.
Email marketing is one of the best methods to promote products & get conversion online. Millions of eCommerce companies, Bloggers, Entrepreneurs, Affiliate marketers use Professional mail services to get leads & automate email campaigns to gain more quality traffic and conversions.
There are hundreds of email marketing companies scattered over the web with different innovative tools and features, But SendPulse not only offers email automation but also increase open rate via their AI tool and prediction analysis. They also provide Targeted web push notifications and SMS for your campaigns.
---
SendPulse Review: Maximize Email open rates automatically with Artificial intelligence:
SendPulse ensures that all your messages are delivered and received at the customer side successfully. But for an email to be sent and received successfully, you need a channel that ensures and gives you a sigh of relief as soon as you drop an email.
Moreover, security is the biggest concern, and sometimes it might happen that your email has been hacked or diverted to some other link. Hence, it is important to use email services that are fast and secure, keeping the bad guys at bay.
SendPulse is one of those companies that ensures reliability and affordability at its best.
About SendPulse:
SendPulse has offered superior quality and affordable platforms to reach your customers with the lightning-fast speed that builds strong corporate relations, thereby boosting revenues.
It uses Artificial Intelligence to maximize the open email rate, which is the biggest challenge but is done with ease and effectiveness. The study reveals that AI increases the free email rate from 15% to 30%, which is a big jump. Without AI, it is impossible to take the lead and cross the hurdle of 15% and gratify with 30%. It is why SendPulse is considered to be the best in the market.
Company Information:
The company is located in two cities in the US with a dedicated team of 35+ professionals ready to support you 24/7 via phone and chat. Bloggers, small and large business owners, affiliate marketers are active users of SendPulse, and because of its dedication and commitment, it has more than 2,50,000 active users worldwide.
---
What does SendPulse provide?
Not just email but other services like SMS, web push, and SMTP email are also reliable and affordable to consistently deliver the best in class products and services by using cutting-edge technologies.
The unique AI contemplates the user's behavior. It includes the opening time of the email, how long the user is viewing the email and the associated files attached within the email. Such information predicts what should be the best time to communicate with the user.
It does not only provide AI for email services but also provides effective campaign interfacing for monitoring your progress. You can access hundreds of email templates and designs to create emails in minutes; AB test tools ensure that you get adequate results.
Amazing Features of SendPulse:
A/B testing for Email conversions
Email personalization with premium templates and drag & drop editor.
Mailing list statistics & detailed analytics for open rates, etc
Automated mail campaigns & third party integrations
Schedule emails for every list in single click.
Custom subscription forms for websites & CMS apps like WordPress, etc..
Replaceable text fields DKIM signatures
Dedicated IP address for mail server to get better delivery.
Unsubscriber list with personalized notifications.
Bulk SMS and web push notifications
Cost effective pricing as compares to other players in the industry.
---
Email features of SendPulse:
SendPulse offers abundant email features that other companies can only dream of. Let us discuss all the exciting features one by one.
📧 Email editor
This feature helps you create unique and colorful templates quickly. So, even if you are a novice, it is easy for you to use the SendPulse email editor without any professional experience. It provides a set of blocks that a template can contain, so you simply need to click on it and drag and drop it wherever you want to.
The emails created with this editor are responsive, meaning that they are excellent when using any device with any screen resolution. Before applying it, you can first preview your email by sending a text message to the destination.
You can select any element you need to drag it from the left side of the screen to where you need it. If you want to preview how your email looks every time you edit it, it is possible to preview it in a browser or smartphone.
You can use free email templates in different categories. 100+ Free templates can be used for email campaigns and the SendPulse email service. Categories like Holiday, e-commerce, travel, restaurant, business, healthcare, education, etc., are available to choose from.
💻 In-depth Personalization
Personalization in most cases refers to only the customers' names, but with SendPulse, you get other related fields such as Gender, Age, Date of Birth, Company, Position. These personal details about your client give you additional details which make your email more efficient and help in marketing.
Its smart personalization feature helps you create a template for each recipient. You can send different emails within a single email depending upon variable conditions.
🏅 Segmentation
Using the segmentation feature, You can personalize emails based on gender or wish them on holiday. You can give special offers in winter to the people living in colder regions. You can add a soothing subject line that attracts your users for more impact.
e.g. "Special discount on Black Friday: Save up to 80% off".
Send emails when the user has completed one year from the subscription date. All this is possible with just one address book containing several email addresses, and the more details you have about your user, the more particular your segmentation can be.
🚀 A/B Testing
It helps you track the subscriber's behavior to determine the best form of your mailings. It is also called split testing and can be created from the SendPulse panel.
A/B testing works by dividing the complete list of email addresses so that only some percentage of the recipients set by you will receive the message.
Once you have decided on the winning message criteria, the other beneficiaries in the address book can be sent the original and alternate versions of the message. A/B testing results are more reliable when selecting more addresses that make your customers more loyal.
Steps to create A/B testing in SendPulse:
First, create the 'A' message.
Copy the settings of the first email
Now create the 'B' message
Before sending the email, it checks the information and displays the winning message automatically
🌌 Automated Subscription form generator
SendPulse allows you to create stunning-looking subscriptions forms to collect leads and emails from your website or blog. It also helps in building strong corporate relations with the users.
How to create Subscription forms:[Tutorial]
You can edit the text and other fields as per your need, and once you use it, the HTML code is automatically generated. It can be utilized with numerous third-party plugins such as ConvertKit, etc.…
📨 Email Scheduler
It allows you to send the emails as per the time zone and the time you feel right to reach the customers. All you need to do is set the time and date for the emails to be sent, and the email scheduler will automatically send the emails as per the time set.
No more of waiting anxiously to be present to click send. So, if you want to send greeting emails to bulk recipients, then this tool is of immense use.
📩 Automated sending
This feature allows you to send a series of emails as per your time in advance. It helps you avoid mistakes when working with a broad range of addresses.
This service is called autoresponders and involves emails related to confirmation of email subscribers, welcome or greeting messages, etc.
Some conditions on which auto responding depends are:
If the recipient has subscribed to your newsletter only, a message will be sent. If the previous message was opened, then the message will be sent. If the recipient has clicked on a link in the previous message, a message will be sent. Whenever any subscriber has a birthday, a greeting email can be sent.
💥 White label Branding solutions
It is a unique feature of SendPulse that enables you to highlight your brand while sending your emails. Once you activate this feature, the name of SendPulse will vanish from the header or body of an email, and instead, you can let customers recognize your brand value. It also offers a unique IP address and the use of your domain in email headers.
📱 Powerful Smartphone App
SendPulse offers a mobile app for analytics that can be used on any smartphone and is compatible with iOS and Android. You can view your performance statics with detailed reports on your phone.
🥈 Integrate mailings through API
By using API, you can integrate mailings with your project or third-party extensions. Integration can be done via CRM, CMS, eCommerce and 500+ online services. Modern integrations such as WordPress, Zapier, WooCommerce, etc., are possible.
---
SMTP service of SendPulse:
SendPulse offers a reliable and affordable SMTP server that is easy to integrate and allows 12000 messages/month free. You can send emails with your online system by incorporating an SMTP server into CRM, CMS and other systems. It supports PHP, Ruby, Python, Java, Node.js and Obj-C. Features of SMTP service: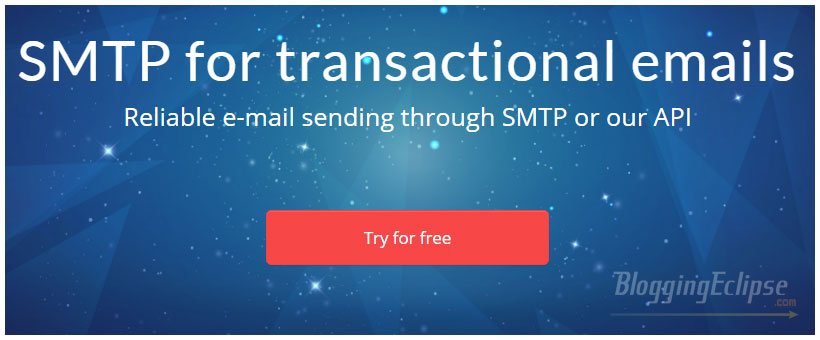 Increases your sender reputation by assigning a dedicated IP address.
SPF and DKIM records for better SPAM filtering.
All messages are sent through secured blazing speed server protected by high level SSL certificates.
It also generates error reports which can be exported.
Automatic unsubscribe management.
Web push Service of SendPulse:
Push notifications work on almost all devices and browsers. This feature instantly informs your customer about sales, order status and other important events on their mobile or desktop devices.
Features of Web push service:
Completely Free Web Push notifications forever.
A web push request will allow customers to subscribe to notifications from your site.
It ensures 90% chances of visibility & traffic.
As soon as the user is online, he/she will get the notifications.
The messages can be personalized and segmented based on the location and other details of the user.
With certain criteria to be fulfilled, you can send push messages automatically.
Using SendPulse API, you can send sms, emails, push notifications via a single platform.
SendPulse Bulk SMS service:
It allows you to send bulk SMS worldwide from any location with faster delivery. A speed of 200-500 SMS/second is provided on over 800 networks in more than 200 countries worldwide.
Like email scheduling, even SMS can be scheduled for a particular time and date. You can personalize the SMS by showing your brand name as the sender and adding the recipient's details in the SMS. For each SMS, you can get statistics to report to evaluate for better marketing results.
SendPulse Plans and Pricing:
It offers cost-effective plans for every kind of user or agency. They also offer flexible plans like "Pay as you go plan," which charges you according to your uses. The company also provides a free plan limited to 2500 subscribers.
Email Service plans:
SendPulse offers four different plans depending upon the number of newsletters you send. The free plan allows you to send 15000 emails to less than 2500 subscribers.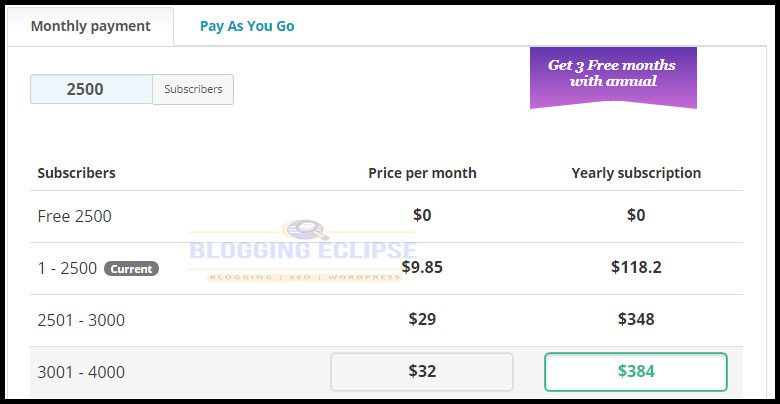 The monthly subscription plan costs $9.85 and allows you to send emails to 2500 subscribers. If you upgrade the plan to $32, you can send up to 10,000 messages. For more than 1 million subscribers, you can choose the VIP plan.
The best thing is you get Three months free with Annual subscription.
---
🌟 SendPulse FAQ
What is SendPulse?
SendPulse is the best marketing automation software that helps users accelerate their sales. It offers email marketing, CRM, and automation tools that allow you to take your business to the next height.
Is SendPulse reliable?
Yes, With SendPulse, one can easily automate their sales and marketing process in one single place. It offers email marketing, chatbots, SMS, web push services that help you stay with your customers.
Does SendPulse offer a free plan?
Yes, SendPulse provides a FREE plan that allows you to test all the features of SendPulse for free.
Is there any working SendPulse coupon code?
Yes, if you are looking to save money on its paid plan, then use the above-mentioned SendPulse coupon that helps you to enjoy the maximum discount.
---
Final Words:
SendPulse is a reliable and trusted AI based Email marketing company by millions worldwide. It offers free push notifications and free email and SMS services also.
The upgraded plans are also cheap and affordable, highly competitive with other providers. The best thing is it provides AI based predictions and tools which increase email opening rate and boosts your conversions.
I have switched to SendPulse from my traditional email delivery platform, and you should give it a Try. Every pulse counts!
Stay tuned with BloggingEclipse for more such reviews, and share your email automation experience in the comments section below.🙂