Are you looking for an upfront comparison of Sellfy Vs. Gumroad? If so, you have just landed on the right page because we are going to compare these e-commerce tools in detail and let you know the best among them.
We all know how e-commerce platforms are a great resource for marketers and businesses to sell their products online. Sellfy and Gumroad are among the ones which allow you to sell digital products online.
Both of these e-commerce platforms offer excellent and unique features, but which one among them is the best? Well, let's find out in our Sellfy vs. Gumroad Review.
Sellfy Vs. Gumroad – Key Differences Upfront
Sellfy
Gumroad
Platform
E-commerce
E-commerce
Products that can be sold
Physical and Print-on-demand Products along with Digital Products.
Digital downloads/goods with physical optional as well.
Pricing
$29/month
10% Flat Fee on every sale made.
Key Features
Social media tracking, discount codes, upsell, Product links, Email Marketing Tools, Product cards, Buy now buttons,
Audience Builder, Discover, Landing Page Builder, Soundscan reporting
Instant payouts
Yes

✅

No

❌

Sell downloads
Yes

✅

Yes

❌

Clean checkout
Yes

✅

Yes

✅

Digital file security
Yes

✅

Yes

✅

Sell on social media
Yes

✅

Yes

✅

Built-in email marketing
Yes

✅

Yes

✅

Upselling feature
Yes

✅

No

❌
What is Sellfy? Sellfy Review
Sellfy is an easy-to-use hosted e-commerce platform that works on Shopify website management through which you can sell digital products along with physical products as well. It promises to offer a to get your store up and running in just 5 minutes which is excellent!
This tool is for businesses who want to create their digital presence and sell their products without any complexity and also with guaranteed results. It allows you to start a store in just a couple of clicks where you only have to sign up and add your products, customize your store, and you're live!
The platform began its journey in 2011, and since then, it has become quite popular among sellers. It has empowered 2,70,000 creators to sell their 1.2 million products worldwide. The tool has a built-in AI that will ask you a few questions before you start your online store.
The tool will ask you about what field you want to market and sell your product, how you plan to sell, what your targeted audience size is, and more through which it can deliver and optimize your entire selling process per your requirement.
Sellfy allows you to do product deliveries on your own. So, in that case, if you are selling ebooks, design assets, or other digital files, you will have to deliver the products to your clients once the order is processed.
Sellfy comes with a unique preview feature that allows you to view your online store in live mode. So users can check out how their store looks like to their customers and can make instant changes to it if needed or as required, which is an awesome feature!
How to Get Started with Sellfy?
Let's discuss how easily you can get started with Sellfy with the help of the below-mentioned steps:
Step 1: You will be required to verify your email address, the one which you have registered for an account with Sellfy.
Step 2: After that, you can customize your store according to your requirement by using its powerful customization tool.
Step 3: You now have to add and set up payment methods. If you have chosen PayPal, well, then you have to configure it, but as Stripe accepts direct credit card payments, so you need not have to wait for your payments.
Step 4: It's time to upload your type of products on Sellfy. You have to write product descriptions and upload product images that can compel the audience to purchase your products.
Step 5: Next, you have to add the pricing and then embed it to a Buy now Button and your store page on your site or a single product you want.
Step 6: Now you are all set to receive your first sales on your Sellfy store. You can also use marketing techniques like Google or Facebook Ads, Email Marketing, and others to boost your sales performance.
Sellfy Features
Next, in our Sellfy Review, we shall discuss the various features offered by it.
#1 Products
Sellfy allows you to sell ebooks, videos, audio & music, or any other files like PSD, AI, and many more. It also allows you a print-on-demand service through which you can sell t-short, hoodies, mugs & hats. It will automatically print incoming orders and send them to your customers.
Sellfy even allows you to sell physical products & tangible items from your Sellfy storefront. You can even create digital subscription products and earn from them on a weekly, monthly, or yearly basis. It also offers a video streaming feature where you can offer your videos on demand, reduce the risk of piracy and eliminate free downloads of any sort.
#2 Easy customization
Sellfy allows you to create great customization of your store and allows it to be built within 5 minutes. You can do all of this effortlessly and create a beautiful storefront that customers find unique and can find all the items you offer easily.
You can add your logo, change colors and create the layout as you want. You can also add a shopping cart through which you can allow customers to purchase multiple items at once. You can also link your existing domain to your Sellfy store to make your brand even more popular.
It also allows you to offer your customers an automatically translated version of your store's interface based on their location. Lastly, it even allows you to create a mobile-optimized store and flawless checkout experience for both desktop and mobile.
#3 Sellfy Marketing Feature
Sellfy also offers you a few marketing features which can help you to have the edge over your competitors. You can use discount codes to compel users to purchase your products and boost your sales.
Even it allows you to send product updates to existing customers with its Email marketing feature, and then you can also collect newsletter subscribers on your store. You also have a powerful upsell feature where users who go through checkout increase your order value. You can also track Facebook & Twitter pixels and create ads for your store.
#4 Embed
Sellfy allows you to sell from your website or even from Social Media. For this, it provides you with various features, which are as follows:
Adding "Buy now" buttons for your website and turning it into a store.
Embed product cards to your website and monetize your existing content.
It allows you to add cards and end screens within your YouTube videos to increase the traffic of your store.
You can sell anywhere with product links which are handy when you are selling on Social Media platforms or when directly communicating with the buyer.
You can flip your website into a store by embedding your entire store with all your products.
What is Gumroad? Gumroad Review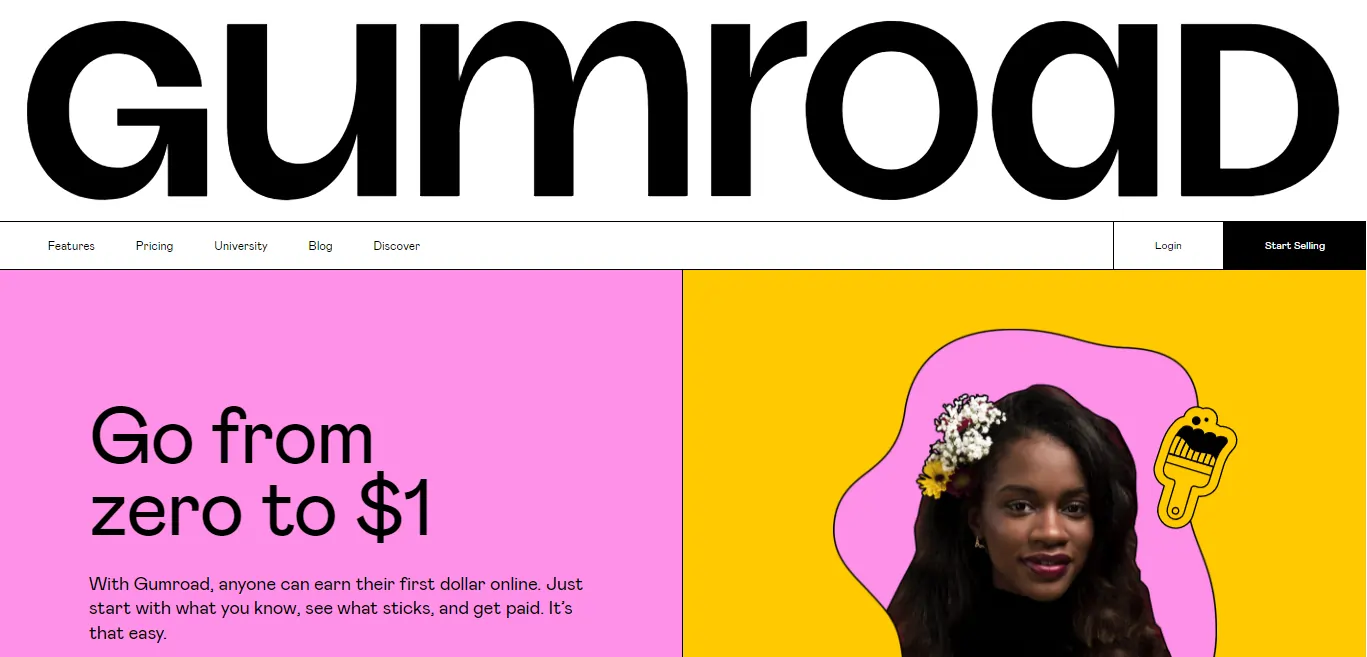 Gumroad is another online e-commerce platform that offers a wide variety of tools right at your fingertips through which you can create your online storefront in no time. Through this e-commerce platform, you can easily sell digital services, books, courses, membership, and a whole lot more to your audience and earn significant revenue.
You can easily create a store on Gumroad and embed it with your own site. It also offers payment forms that you can share on your website or across the web. It even provides insight into your target audience and customers about how they find you and also tells you about how you can ensure they keep coming back.
The platform has been around since 2011 and has now become among the most sought-after and loved platforms for bloggers, artists, and writers selling products online. Even the platform allows you to list your services and products to attract relevant sales with features like 1-click upsells, in-depth analysis, and an intuitive site dashboard.
Gumroad is powered with excellent features with advanced product selling and marketplace. It does not integrate seamlessly with other marketing and analytic tools and also has a low conversion rate. Users have said that they do find it a little harder to navigate, and it even looks a bit outdated as well.
How to Get Started with Gumroad?
Let's discuss how you can start with Gumroad easily.
Step 1 – Begin by creating an account on Gumroad.
Step 2 – Set up Payment Information.
Step 3: Now add your products and their descriptions and other details.
Step 4: Publish those products.
Step 5: You can share the link with your target audience on social media or on your site and newsletter, among other platforms. As the user clicks on your link, they will enter the payment details and get the download link.
Gumroad will verify your account. After this, you can expect to receive your payouts every Friday. Gumroad will also process the payment on your behalf if you are selling physical products, but you have to charge the shipping amount to the customers.
Gumroad Features
Let's quickly discuss the features offered by Gumroad.
#1 Storefront
Even if you don't have a website, Gumroad's flexible page editor will help you build a storefront and customize your site colors and a lot more. Even it allows you to embed its payment platform and 'follow' button on your existing site. And if you already have a website, you can easily integrate your Gumroad store into it.
#2 Build your Audience
This is a unique feature offered by Gumroad that allows you to build an audience for your store. This can increase your revenue as it helps to build your audience where you can import your existing list of followers, customers, prospects, and others.
The tool also allows you to create simple memberships, and you can offer them access to a content library for as long as they have subscribed to it. You can also allow customers to pay over time, like monthly, quarterly, yearly, and more.
You can also bring your old friends, which lets you import your email list and export customers or followers. It also allows you to update and share through which you can deliver content and engage with audiences with unique posts and workflows.
#3 In-depth Analysis
Gumroad offers you powerful data insights which can help you to build your audience and boost your sales. So with this data, you can learn more about your audience and even send customers regular updates via email and other sources that they have got or even set up automatic workflows for your upsells and more.
The most important and advanced feature is that it also offers you live notifications right on your mobile phone from your Gumroad dashboard. You can also check out the Analytics Sales Dashboard to view sales, views, and conversions on your products.
#4 Secured Transaction
Gumroad is known to do well when we talk about security, as it prioritizes the security of its customers and creators. All the card details are processed according to the terms that meet PCI compliance and other certified independent authors.
Each of the purchases made is protected by an encrypted HTTP Secure connection. Most importantly the user details are only stored if they create an account to make future purchases quickly.
Sellfy Vs. Gumroad – Integrations offered
Sellfy and Gumroad offer several options when it comes to integrations, if we consider most of the Shopify-oriented tools and platforms, having a good integration system can help in making things better in terms of accessing everything on the go. We have mentioned some of the important integrations offered by Sellfy and Gumroad that can help in making things better for business operations.
Sellfy Integrations
Sellfy easy integrations with the following tools and software:
Google Analytics
Facebook Live Chat Integration
Pateron Integration
Zapier
Zapier Filtering
Twitter Ads
Facebook Ads Integration
Webhooks
Gumroad Integrations
Zapier
YouTube Annotations
Pabbly Connect
Convertkit
Booklaunch
Gumroad WP Plugin
Infusionsoft
IFTTT
Drip
Order Desk
So in this comparison, we found that Gumroad offers more integrations.
Sellfy Vs. Gumroad – Payment Methods Offered
Sellfy Payment Methods
Sellfy offers numerous payment gateways, which are as follows:
PayPal – You can use PayPal and accept payments from over 200 countries.
Stripe – You can offer a credit card payment option on your store with Stripe.
One aspect which we really like about Sellfy is that the amount you don't have to wait for long to get your money back, as it is credited straight to the Seller's account. So this means that PayPal & Stripe cannot hold the funds, as is the case with most eCommerce platforms.
Additionally, Sellfy does not charge a transaction fee for sales you make, making it an ideal platform for sellers who wish to make a huge volume of sales. Along with this, it also facilitates quick payment processing.
Gumroad Payment Methods
Gumroad accepts payments from major payment providers like:
Visa
MasterCard
AMEX
Discover
Diner's Club
PayPal
Apple and Google Pay
*Other Major Credit Card providers
Even though you don't get the option of paying through Stripe, there are plenty of them which can help you.
So the final assessment will be that both Gumroad and Sellfy offer a variety of payment options.
Sellfy Vs. Gumroad – Pricing Plans
Sellfy Pricing Plans
Sellfy offers Three Pricing Plans – Starter, Business, and Premium. You can opt to go for a monthly, yearly, or two-year subscription. You can also avail the 14-Day Free Trial, which is fantastic.
Sellfy Starter Plan – $29/month
This is the initial plan offered by Sellfy, where you get features like Unlimited products, Up to $10k in sales per year, Subscription products, Connecting your own domain, Email Marketing, and Digital products.
Sellfy Business Plan – $79/month
You get all the features of the Starter plan along with a few new ones like – Up to $50k in sales per year, Store design migration, Cart abandonment, Product upselling, and Remove "Sellfy" branding.
Sellfy Premium Plan – $159/month
This is the ultimate plan offered by Sellfy, which provides you with features like – everything in the Business plan, up to $200k in sales per year, Product migration, and Priority support.
If you have more than $200k in sales per year, then you can contact their customer care support, and they will offer customized solutions for you.
Sellfy also offers a 30-Day Money-back Guarantee which is excellent news for users who are hesitant to try out this tool.
Gumroad Pricing Plans

Gumroad does not offer any pricing plans currently, but it takes a 10% Flat Fee on every sale you make.
It aims to make lives better and does not charge any monthly charges, and only takes a small chunk of every sale.
Sellfy Vs. Gumroad – Pros & Cons
Sellfy Pros & Cons
Offers Online store hosting.

Easy to use, intuitive dashboard

Native Support for digital, subscription, and print-on-demand products

14-Day Free Trial

Mobile App

Pay what you want a feature

Native upselling and email marketing feature
Does not offer a Free Plan

Limited App integrations

You cannot filter the products and sort them out
Gumroad Pros & Cons
Clean and Easy to the checkout page

Easily create discounts and coupons

No monthly charges

A license fee can be generated to sell digital products
Mobile app features are limited to the iOS version.

No Free Plan

VAT on checkout
Top FAQs Related to Sellfy Vs. Gumroad 2023
How do you get paid on Sellfy?
Sellers will get paid instantly after a sale is made. Also, the payments are directly sent to your PayPal or Stripe account, which, of course, depends on the one you choose.
What are Email Credits in Sellfy?
In Sellfy, the email credits are actually the number of emails that you can send through the built-in marketing feature. You can set this number of credits to use each month for the Business or Premium plan you subscribe to. You can purchase more credits from the merchant dashboard if your email credits are over.
Is it compulsory to have a website for using Sellfy?
Absolutely not. Sellfy allows you to build a store on Sellfy, and you can immediately start selling on Twitter, Facebook, and other Social Networks. Also, if you already have a website, you can also embed it with the "buy now" buttons, product widgets, or the entire Sellfy store anywhere on your site.
How do you get paid on Gumroad?
Gumroad helps sellers to make a living in the way they love, and therefore it has made the process as simple as possible. They pay sellers through direct deposit or PayPal, and this varies by country.
Can you use Gumroad in India?
As per their official website, Gumroad is constantly supporting Indian and Brazilian Business accounts.
Is Gumroad Safe?
Gumroad sources say that they don't have access to your credit card information. The same goes for the PayPal details of users. Along with this, a Gumroad account or even Gumroad itself does not compromise your security, and no one can get access to your payment data.
Does Gumroad offer a Free Trial?
No. Gumroad does not offer a Free Trial.
Does Sellfy offer a Free Trial?
Yes. Sellfy offers a complete 14-Day Free Trial on any plan you choose.
Sellfy Vs. Gumroad – Which one finally wins?
As per our Sellfy Vs. Gumroad review, we did find both the E-commerce online business platforms equally good. If you check their features, well, both of them are pretty neck and neck.
Both of them are easy to use, and you can navigate along the interface easily. It was quite challenging to choose the best among them for your business, but we have tried to bring the best out of them.
If you are looking for powerful and robust features, Sellfy is a better option as it has it all along with a perfect app design, and you can build your own store and make it more unique for your buyers. Also, it comes with an upselling feature which you don't find in Gumroad. With a 14-Day Free Trial and 30-Day Money-Back Guarantee, Sellfy should be your pick!
Gumroad, though, is also easy to use and has a decent amount of features, but it does lack a few of the features, and its 10% flat fee on each sale has not been well appreciated by a few sellers.
So it's up to you! Choose your Best Pick among them. Hope you like our in-depth Sellfy Vs. Gumroad comparison.