Music affiliate programs are a great way to earn money online. Not only do they offer tons of opportunities for you to partner with other business ventures and revenue streams in the music industry, but they can also provide passive income if you're willing to invest your time in the program.
The market for musical instruments is expected to be worth nearly $350 billion by 2022.
In order to see a good profit, you have to choose the best affiliate program for your needs, the one that offers a good commission and lets you refer with ease. Since there is such a vast range of programs available, it can be hard to decide the best type for you. Read on to know more about the most popular music affiliate programs out there.
So music lovers🎷🎷
The ✅Best Music Affiliate Programs are given below, which will help you turn your Passion into a Business.
---
17 Best Music Affiliate Programs to Earn Money in 2022
| | | |
| --- | --- | --- |
| Best Music Affiliate Programs | Affiliate Commission | Official Link |
| 1. Masterclass Affiliate Program | Commission is 25% & Cookie period is 30 days | Join now |
| 2. Pianoforall Affiliate Program | Commission is 6% & Cookie period is 2 weeks | Join now |
| 3. Guitar Center Affiliate Program | Commission is 60% & Cookie period is 90 days | Join now |
| 4. Prime Loops Affiliate Program | Commission is 20% & Cookie period is not disclosed | Join now |
| 5. Apple iTunes Affiliate Program | Commission is 7% & Cookie period is 24 hours | Join now |
| 6. Musician's Friend Affiliate Program | Commission is 4% & Cookie period is 14 days | Join now |
| 7. Sam Ash Affiliate Program | Commission is 10% & Cookie period is 30 days | Join now |
| 8. Singing Machine Affiliate Program | Commission is 5% & Cookie period is 30 days | Join now |
| 9. Singorama Affiliate Program | Commission is 70% & Cookie period is 60 days | Join now |
| 10. Music Teachers Helper Affiliate Program | Commission is 20% & Cookie period is not mentioned | Join now |
| 11. Music Business Institute Affiliate Program | Commission is 50% & Cookie period is 45 days | Join now |
| 12. Emusic Affiliate Program | Commission is not disclosed & Cookie period is also not disclosed | Join now |
| 13. Sweetwater Affiliate Program | Commission is upto $0.07 per click & Cookie period is also not disclosed | Join now |
| 14. Gear4music Affiliate Program | Commission is 3.5% to 5% per sale & Cookie period is 30 days | Join now |
| 15. Thomann Affiliate Program | Commission is 3.5% to 4.5% per sale & Cookie period is 14 days | Join now |
| 16. Guitar Tricks Affiliate Program | Commission is $25 to $30 per sale & Cookie period is 5 years | Join now |
| 17. Thalia Affiliate Program | Commission is 15% to 20% per sale & Cookie period is 90 to 120 days | Join now |
If you are a music lover, you would indeed have a huge list of videos that you might have wished to purchase, but you cannot do so because you don't have an appropriate budget for the same. It's time that you can be a part of the Masterclass affiliate program just in a few clicks and earn your favorite apparel, videos, courses, and so much more.
The Masterclass is a website that supports the professional musicians' community. Their main motive is to ensure that all musicians can earn a respectable amount of money in this digitalization age where everyone is heading on to unfair means. Masterclass makes sure that their content is affordable enough to make it easier for musicians to gain knowledge and information to boost their musical talent. Also, they have made sure that they give a much more commitment to its affiliates than others in the same field in the form of credits.
Can you believe learning from great music teachers can become so much easy to access just by spreading about the master class to the world? In the affiliate program, you have to promote and advertise Masterclass on your affiliate website. If it's not an affiliate website, it can also be your social media accounts or blog post. The best part is the commission that it provides you.
Masterclass offers its affiliates a 20% commission in the form of credit. To work with their affiliate program, they provide you proper links that you have to embed/use on your email, affiliate website, blog or social media, or any other platform. If you can generate enough traffic for Masterclass and your visitors make qualifying purchases, then you will be eligible for a 20% commission in the form of credit.
---
One of the most renowned and much in trend courses online is available on Pianoforall. Available to use since the year 2006, Pianoforall has always been the top choice for people who are interested in learning the skill of playing the piano. It has excellent packages like the availability of audios, videos, and Ebooks compatible with your Android or Apple both and on any device, be it your computer, Mac, tablet, or phone.
They teach you all types of piano that range from classical to pop and from jazz to ballads, which is impressive. They teach you how to read music and play by your ear simultaneously. Besides teaching you the skill of playing the piano, they also teach you some fantastic tips and tricks to help you more in your music lessons. It provides you impressive ebooks that are clearly and efficiently designed. You can find over 200 videos and over 500 audio lessons at just a single place that is piano for all.
Pianoforall provides an excellent opportunity for affiliates to earn the right amount of commission, about 60%. This is just incredible. If you can generate even one sale in a day, you will be able to make so much money out of this affiliate program. You can't miss out on this opportunity because not all affiliate programs provide such great courses and affiliate programs. Its cookie is active for up to 90 days. The payment method is secure, and you really can relax with your payments. The payment is given to you by direct transfer to your bank account, and everything is automatically done.
---

The Guitar Center affiliate program is another excellent opportunity for budding musicians to make money with one of the biggest retailers of musical instruments worldwide. Just like other affiliate programs, the Guitar Center affiliate program also has the same terms and conditions that is to embed a link in your online affiliate website. You can even add the online music store on your website.
The commission is a little low, i.e., 6% on each sale that you generate compared to others in this field.
The Guitar Center affiliate program will ensure that your visitors that turn into customers are provided with the best service possible and ensure customer satisfaction in all imaginable ways. The Guitar Center is a retailer of musical instruments like basses, keyboards, drum sets, recording and lighting DJ gear, and so much more to add on. The best part is that they keep on adding new items and musical instruments that are exclusively available on their online store every week. The cookie duration is up to two weeks after you get the referral for the affiliate program.
Joining the affiliate program is very easy and free of cost. The best part is that there are no limits on how much you can earn from it. You can even sell up to the cheapest of items like a guitar's strings and even expensive products like recording studios.
---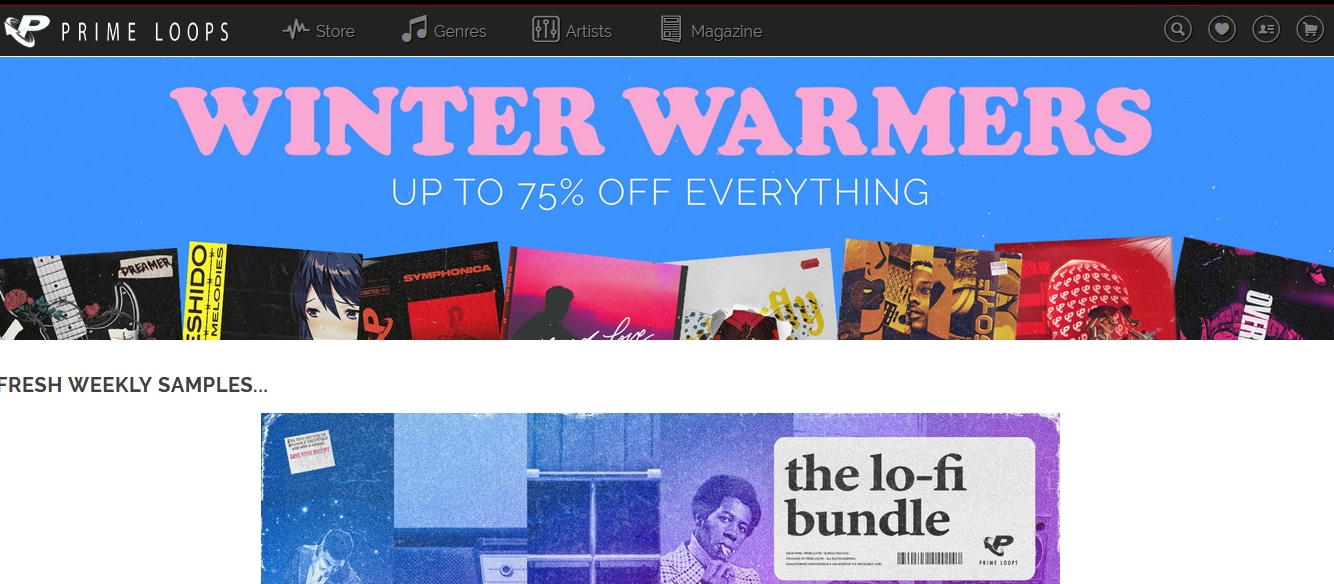 Established in 2007, Prime Loops are located in London, a music studio and a boutique sample store. They have been renowned worldwide for developing samples for royalty-free music producers and are tremendous. Their specialization field is in many precious musical gems like a trap, boom bap, hip hop, vintage, Asian sounds, and so much more.
They have downloadable stock of about 650+ products from labels that are commendable. Along with labels, they also have XXL audio, prime loops, and much more, which are their labels. These labels are put up every week after proper auditioning with the best packs available and not a single compromise with the quality.
Great artists like Skepta, Chris, marshmallow can be easily hurt by you royalty-free with prime loops. Since the year of organizing, they have been able to bring in unique and exclusive content, which has been able to win so many national awards. All the budding musicians, who have a blog or an affiliate website, can consume this fantastic opportunity of being an affiliate with Prime Loops by sending up their affiliate program. Their affiliate program is very user-friendly and straightforward on terms, just like other affiliate programs.
Whenever your visitors click on any of your embedded links of Prime Loops, and if you visit us, turn to customers for excellent loops, you will be able to generate a sale, which will bring in a 20% commission to you. The process of setting it up is straightforward, and their affiliate's software will track you. They will send you to their text links and a banners collection that you can embed on your affiliate website. You can receive the earnings you do from this commission on PayPal, which is given to you every quarter.
---
iTunes, a name that has been heard so many times. Apple iTunes is just the game-changer that has been able to change your experience with podcasts, music, and movies to a great extent. We have been listening about how noteworthy iTunes is, and also, we have heard about its excellent functionality. We all know about how we have been syncing everything on our mobile phones or laptops via iCloud. iCloud has made it so much easier for you to restore and keep a backup of everything on your devices.
The name also knows iTunes affiliate program of performance partners program. This affiliate program is another excellent opportunity to earn commissions and get Apple music memberships too. You can make sales of different TV shows, books, audiobooks, movies, and so much more. Nobody would ever like to miss the opportunity to be a part of the performance partners, i.e., the Apple iTunes affiliate program.
---
Musician's Friend started with a blend of excellent knowledge about conducting a music business and dedication and hard work. The Musician's Friend had released its first catalog, a simple flyer that gave information about Guitar strings and other accessories that people could get at a discounted price.
Things kept on changing and found in 1983, and they became one of the earliest marketers of music gear catalogs. Along with this, there were also the first ones to bring light on rock band gear. Musician's Friend, which is such a great blend of hard work and love for music, is another affiliate program amongst the best 17 affiliate programs. The process is simple and user friendly, just like other affiliate programs. You have to embed a link on your website.
As soon as your visitors click on those referral links and become a verified customer to the musician's friend, you will become eligible to earn a commission from the Musician's Friend. Musician's Friend, have an account team dedicated and accountable, gaining nationwide respect and importance. The Musician's Friend website offers many resources, which proved to help customers make decisions while purchasing.
Musician's Friend gives you a commission of 4% on each sale that you can generate. They offer gear at affordable prices and keep on going with the trend by adding on so many new products and items from time to time. This helps you in bringing in more sales to the Musician's Friend. Along with being able to on through commissions, you also become eligible for so many deals, contests, and exclusive offers.
---
Sam Ash affiliate program is not just a website to cater to musicians' requirements; they are musicians. Can you believe people who talk to you on customer care or the people who take your orders are people who love music notes? This is why you can trust these people because this Passion for music can never go wrong.
They have an inventory of instruments that you would love to know about and would want to purchase for yourself. Along with tools, they also have gear and accessories that will make you feel obsessed. They have excellent customer support that is always ready to help their customers with whatever problems they have been facing.
If you own a website, it's time you can offer your traffic with the best music deals for musical instruments and gear available. Along with this, you will be able to make money out of it if you can generate qualified sales. You can join the Sam Ash affiliate program by merely embedding their links on your affiliate website. As soon as your visitors make purchases through your links, you become eligible to gain an income from each sale that you make. You get a commission of 10% on each sale. As an affiliate, you will be to get real-time reporting and your commission checks every month.
---
Singing Machine is located in the United States was established in the year 1982 and since then, it has been the most prominent leader in Karaoke products. The Singing Machine was one of the first to offer the customer's Karaoke systems for entertainment at home. It is a brand known for its excellent products and provides customers with the latest technology as much as possible. You can use this Karaoke system for your singing practice, listening to music for entertainment purposes, and so much more.
Their affiliate program follows the same process like other affiliate programs and offers you a commission of 5% total sales, along with a cookie period of about 30 days.
---
Singorama is a website that believes in helping people to learn the skill of singing much better and the best. They have been using unique techniques and have an advanced methodology that allows you in significant learning. The program makes sure that you don't spend a lot of money on just learning music. You can learn music from Singorama and discover the best vocal music possible.
If you want to join their affiliate program, you can earn up to 70% commission, commendable for instant download products. Also, you can on 40% commission on the shipped media course. This is one great opportunity for people to make money not just for the starting sales but also for generating sales for any Singorama products. You get a cookie period of about 60 days too.
---
Do you know that music teacher's helper is an affiliate program that has been loved by so many teachers worldwide? You can also be a part of their affiliate program, which has commendable terms and conditions by just sharing about the music teacher's helper and earning by every referral you do.
One great thing about the Music Teachers Helper affiliate program is that you can make about 20% recurring monthly commission. It is free of cost to join, and you can get a payment each month. As soon as you enter their affiliate program, you will get an automatically generated promotion code along with a collection of banners that you can use in your blogs or website. Not just blogs or websites, you can also add these links on your social media platforms too.
To keep a check on your reports and the number of clicks you have generated, you get an affiliate account to log in to save an assessment of the same. Along with this, you are sent an email which tells you about your earnings every month.
---
The Music Business Institute is a platform that is an excellent help to musicians who are super talented and are just on the road to achieving great success in the music industry. It is an online platform that helps artists grow better and become popular by developing a good fan base. These budding artists are provided with opportunities to get more work and ample opportunities to sell their fantastic music out to the world.
On joining the Music Business Institute's affiliate program, you get a commission of 50% on generating qualified sales along with a cookie period of 45 days. You can make a lot of money through the commissions because each course costs about $300 for a year, which is a significant amount. So even if you make a single sale, you will generate a lot of income for yourself.
---
Have you how about music which is an online store which sells musical instruments. It is a Malaysian store that sells instruments like flutes, trumpets, pianos, and so much more to name. You can avail good discounts on the products which make buying instruments very affordable for the customers.
EMusic affiliate program doesn't disclose any information about the commission you generate on every qualified sale not they have any information revealed about the cookie duration. But still, they are one of those online musical stores that you can find in Malaysia that have a program for affiliate marketing. There are so many influencers who have a sufficient number of follower bases in Malaysia who become eligible for a tremendous amount of money to do the music affiliate program.
---

Sweetwater began operating in 1979 and is still going strong today. Founder Chuck Surack did all his recording up to that point on a Focusrite, into a Dana portable recorder, and had some channels balanced into the back of his Microbus, which he drove around town Since the company was founded, it has consistently been accredited by leading businesses. It is now one of the largest musical instrument and pro audio equipment sellers in the US.
Sweetwater sells all the musical instruments you could imagine. They have a studio equipment category that covers everything from microphones, electric guitars and keyboards to drums and even monitors! Sweetwater has an affiliate program, but it is different from the others on this list; it offers you a commission of up to $0.07 per click. Affiliates in the music category can get paid through product links that direct users to specific landing pages. You can make a lot of money from this program if you can drive significant traffic. However, it may not be worth your time to focus on this program if you're trying to reach smaller groups of people who are more qualified.
---
Gear4music stocks upwards of 50,000 products from 820 different manufacturers and offers some of the most competitive prices on brands such as Yamaha, Roland, Korg, Fender, and Gibson, along with its own musical instrument and equipment range. It has a pretty great affiliate program that offers.
Gear4music offers a commission rate of 3.5% for other products and 5% for their own brand, but most of their sales come from bigger name brands such as Fender Guitars, Roland Products, etc. Gear4music's 30-day cookie window is quite generous when compared to other similar programs, and with an average order value upward of $250, there is plenty of potentials to earn money with this program.
---
Thomann is Europe's biggest music store, with a catalog of more than 80,000 products. It also sells a wide range of mini recording studio software from brands like Steinberg and Sonarworks, plus more obscure gear like psychoacoustic effects and graphic equalizers.
All of Thomann's products carry a three-year warranty and a 30-day money-back guarantee. Thomann's affiliate program is on par with most programs, but it is a little stingy compared to some of the other brands on this list. Its affiliate commission rate is offered to websites and blogs based on the type of traffic they generate. For example, affiliate marketers who publish in forums and meta-networks can make 2% commission per sale, those on authority sites can make 3.5% of each sale, and those who are influencers get 4.5% commission per sale. The site's average conversion rate is high at around the 5% mark, which has helped Thomann affiliates generate more than six million sales.
---

Guitar Tricks is one of the likeliest sites to help you become a shredder. It has more than 11,000 online lessons, 7.5 GB worth of content, 4K multi-camera videos and over 2.8 million registered users. There's something for beginner and advanced guitarists. The accessible layout and accompanying learning system let you find what you're looking for quickly and easily. Advanced players are able to learn sweep picking because the content is easy to follow, new examples are carefully explained, and full video demonstrations throughout the site let you see exactly how they're done.
Rather than making up a percentage of their overall sales, affiliate members earn $25 for trial signups and $30 for bringing in full access members. There's also a bonus system based on monthly subscriptions. Guitar Tricks help you reach new visitors by providing access to banners of professional quality. And the best part is that their cookie duration is of a whopping 5 years.
---
Thalia is a manufacturer and seller of guitar accessories. It sells guitar capos, picks, slides, pickups and some types of clothing and jewelry. Thalia is an affiliate program that offers a great commission payout. Unlike other programs, the highest rate of 20% per sale seems accessible.
Thalia offers generous commissions and bonuses as part of its affiliate program. As soon as you've confirmed a link placement, you're eligible for an additional 60 days of commission redirection. Affiliates can see a variety of creatives and tools to help them generate sales. Advertisement banners, text links, ad images, and more – are all available at their disposal.
---
Final Verdict:
The music industry is a lucrative market. There are many people who want to make money by selling music and related products. One way to make money in this industry is by joining the best music affiliate program, which pays commissions for every sale made through the affiliate's website. Music affiliate marketing is one of the best ways to make money out of your passion for music. It's time that you don't let your passion down and make a promising career in this field by referring to the best affiliate programs available for passionate musicians.
Many websites are working with budding musicians' dedication to keep growing and keep running behind their passions without worrying about the lack of money. There are many music affiliate programs that you can try out. But only a few of them are the best and worth your time. We hope that this article has helped you find the best music affiliate programs for you!🎼🎼