Creating new and innovative ads can become tiring. It is hard to find new ideas each time and it's even harder to know if they will work, right? As a marketer, this is a forever problem. But there is a solution to this. Pencil AI can save you from the pain of coming up with ideas, editing them, testing them, and hoping they work. The AI can do all that quickly and deliver ads that will perform! Let's see how all of it works with the detailed Pencil AI review.
What is Pencil AI? Pencil AI Review
Pencil AI is an Ad Generation tool that can help you create static and video creatives that drastically improve your ad's performance. Marketers in the Direct to Consumer area need something like this because of the fantastic combination of Design, Copywriting, and Analytics. You can use this tool to create ads and track existing ones too.
Activate 40% discount on annual plans using our verified Pencil AI coupon offer. Hurry up!
Buy quaterly plans of Pencil AI and get 20% OFF using our promo offer.
Features of Pencil AI: What does Pencil AI has to Offer?
Pencil AI is an amazing AI tool that has many exciting features. It can generate ads based on your assets and the experience of generating a million ads for more than 2000 brands. Let's take a closer look at the true power of Pencil AI.
Generation
Pencil AI can develop new ideas for video and static ads by using existing branding and assets. Artificial intelligence is reliable as it has generated more than a million creatives for more than 2000 brands. All you need is to give access to your branding and assets and the AI takes care of the rest.
Pencil AI can generate ideas for you and give you new perspectives to pitch your products. It can even create new videos from old ones by combining them and creating something new entirely without the help of a video editor.
Editing
Pencil's real-time editing tool helps teams to edit copy on the go with a focus on performance more than perfection. The pencil video editing tool is not like a regular video editor. It uses simple drag, drop, and swap features and makes sure everything is within reach. You can create what you can imagine with the Pencil Editing tool choosing from its library of pre-built scenes and stickers meeting the needs of the channel along the way.
Another benefit of this powerful and amazing tool is that you no longer have to create the same video in different sizes. The AI will do it for you! The Ai can edit and create the same video in different sizes so you don't have to wait for social media posts from youtube videos.
Prediction
Pencil AI can predict how your ad will perform based on the thousands of creatives it has made over the years for many brands. This tool helps you to stay ahead of the game and make changes to your ads on the go to make them more suitable. With this tool, you can predict the effectiveness of the creative as well as the copy to get the best result. The tool can help you to create a list of existing and similar assets you can get that will enhance the performance of your ad.
You can say goodbye to uncertainty with Pencil AI which can find more winners faster by running ads that are predicted to win based on the software and its experience.
Insights
The Pencil AI learns from the past performance of your previous ads. It analyses the points that are most attractive to customers and configures emphasis on different aspects like the brand or the product of the ad itself. This helps to boost performance giving customers what they want and making the ad even more effective.
With Pencil AI you can get insight into the smallest aspects like on the creative, copy, topic, and tag levels. These details add and give a significant performance boost to your ad as a whole. The artificial intelligence solution is better than methods like A/B testing which are complex and can have varying results. Instead, Pencil AI's insights are much simpler to use and understand. The AI gives you a complete picture of your past performance in terms of creatives that can help you to optimize your ads for your current goals.
Pencil AI understands that the value of insights comes from the source of the data itself and so the software gives you a quick view of how many impressions are behind any given insight, so you know how significant that insight is likely to be.
Benchmarks
Pencil AI uses a reference of over 1,000,000 ads across different sectors to find the best way to pitch your business. It can be hard to know that you can be better as a marketer and so AI has unique insight into $1B in ad spend data to help you perform at your peak.
The software also allows you to get a sense of performance through key metrics like CPA, ROAS, CPC, and more. You can even get data on what is trending in your sector to better optimize your ad according to what works and also avoid what does not work. Pencil AI also gives you insights into your sector's behavior like buying tactics, spending, and testing so your ads can compete for the top spot. The software also discovers topics relevant and trending in your niche to better optimize your ad's performance.
Benefits of Using Pencil AI
As we have seen so far, Pencil AI is a feature-rich tool that gives the freedom of creating new and better ads to marketers with a lot of ease and control. The AI software is beneficial for small businesses or individuals looking to create their own ads on different platforms. Another benefit of using Pencil AI is that it can seamlessly integrate with your existing stack and you can connect your Ad accounts to optimize your ads with the help of AI by seeing insights and predictions. You can generate ads quickly based on your existing resources.
Talking about the additional features, there is an extensive Ads library in various sectors and for a wide variety of products and services from cosmetics to the technology they have done it all.
Drawbacks of Using Pencil AI
There are a few disadvantages to using Pencil AI like
Users report difficulty in downloading creatives from the website.
The website is known to freeze sometimes.
The editing can be clunky and there might be a minor bug.
Only supports the English Language
Pencil AI Pricing Plans: Which plan should you choose?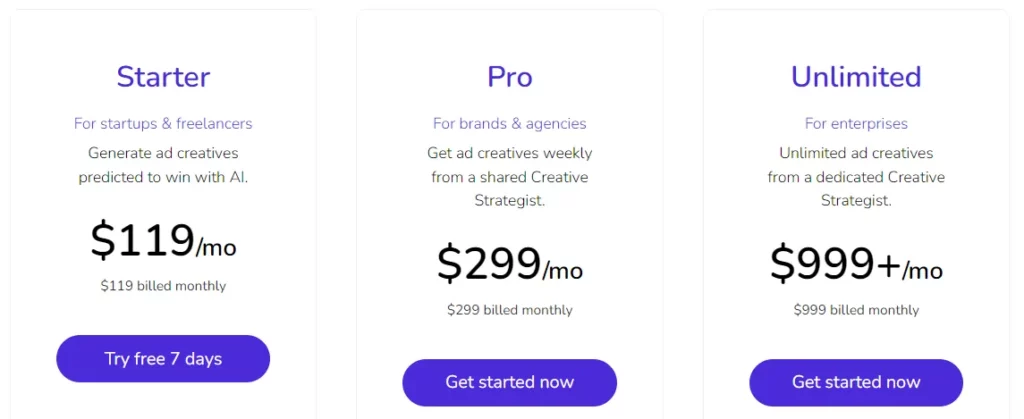 Here are the different pricing plans you can choose from for Pencil AI.
Pencil AI Starter Pack
The Pencil AI Starter Pack starts at $119 monthly. The pack is perfect for start-ups, with the pack you get
To Generate Ads yourself with AI
To Do 50 exports
You can add 1 brand
You get Free stock music, images & video
You get Predictions, insights & benchmarks
You get Direct channel integrations
You can share and comment and approve videos
You get Chat Support
Pencil AI Pro Pack
The Pencil AI Pro Pack Starts at $299 per month, with this pack you get all the features of the starter pack and more!
Along with features from the Starter Pack, you also get
Shared Creative Strategist
Ads made by Creative Strategist
1 brief/week to Creative Strategist
Slack with Creative Strategist
100 exports
1 brand
Pencil AI Unlimited Pack
The Pencil AI Unlimited pack comes with all the features of the Pro Pack and more.
Along with features from the Pro Pack, you also get
Dedicated Creative Strategist
Ads made by Creative Strategist
1 brief/day to Creative Strategist
Unlimited exports
Custom pricing for multiple brands
Bank transfers & payment terms
What do people have to say about Pencil AI? Honest Pencil AI Reviews
Pencil AI has changed the Ad game with their AI. This is what people who have used the Pencil AI have to say about it.
"[Pencil AI] Eliminates the guesswork in making winning ad creatives. The interface is easy, and the results are impressive. Lots of companies claim to have built a better mousetrap, Pencil has actually done it".- Rob Carliner, Co-founder, Angela Caglia.
"We are a startup with a limited budget. Pencil allowed us to create robust ads and easily iterate on those that worked… Impressive product and pleasant team."-Adam Low, Co-founder, Buckle Band.
Who is Pencil AI for?
Pencil AI is the perfect tool for marketers who are looking to create effective ads for their brands quickly and effectively. It is also a great resource for small companies or startups that want to create high-quality ads with the help of this AI's Conversion intelligence. This is a great tool for marketers who want to test their ads easily and quickly with definite results. This tool can be used by big companies to explore new perspectives on products to explore more possibilities.
Top FAQs on Pencil AI Review 2023
What kind of Input do I need to use Pencil AI?
Pencil AI requires the right input. Your input will decide your output. It means if you provide low-quality input, you will get low-quality output.
The Inputs required to use the software include
1. A brand kit including logos, fonts, colors, and a short description of your brand and products.
2. Assets including product images, lifestyle images, product videos, or UGC videos.
Images and video must not contain any text or "supers" as this text will interfere with Pencil's automated video editing functionality.
How can I try Pencil AI?
You can try Pencil AI by signing up for a 7-day free trial. It's completely free, you can get ad ideas, get predictions, see insights, and more.
What languages are supported by Pencil AI?
Pencil AI supports the English language officially.  It can also generate content in other languages if the input is in that language but the quality of the outcome is not guaranteed.
Can I activate or deactivate brand workspaces?
Yes, you can activate or deactivate the brand workspaces you've subscribed for as your needs change. For example, if you're an agency and have subscribed for 3 workspaces, you can deactivate an old client workspace and activate a new client workspace to replace it easily.
If you need more brand workspaces, you can add a new brand workspace at the standard rate and your subscription period will begin immediately.
What is your cancellation and refund policy?
You can cancel your subscription at any time, and any charges will stop at the end of your billing period.
Pencil AI Review Conclusion: Why should you try Pencil AI
Pencil AI is a powerful tool in the world of ads. This tool can help you to create and predict how new ads will fair against the top ads in any domain. The AI has the experience and has created thousands of successful ads for over 2000 brands. The AI is quick and accurate and makes the process effective and fast. Pencil AI is your best choice to create high-quality, high-performance ads quickly and easily.