Are you looking for a reliable adult web hosting provider on a budget?
Let me assure you that you have made the right decision to visit this page and read this Vicetemple review, which will tell you why it is the choice of 100's of adult websites displaying adult content. If you plan to launch an adult or dating website, you must first know what content is prohibited from being displayed on the website. Otherwise, your site might be suspended without prior notice from the web hosting company.
Not all web hosting companies allow adult, nude or dating content. There are numerous types of restrictions and policies.
Very few web hosting providers allow this type of content as they have their data center in a country where adult content is legal to host, For example, the Netherlands.
Vicetemple Review + Special Coupon Code: 2023
Vicetemple is one such super web hosting company that enables you to hose Adult websites, Escorts type of sites with the superior network, performance at a budget-friendly price.
If you have some doubts about the content policies, contact the team of Vicetemple. "It's better to rise early instead of falling later."
Vicetemple Company Introduction | The Largest Adult Hosting Network
Vicetemple was founded by professionals with experience of over 8 years in the hosting industry. Some might have worked in the adult/offshore hosting industry, which led to the formation of this one-stop solution for all adult businesses.
Vicetemple is a hosting company and was established in 2016 with a vision to provide every possible solution for adult businesses like adult hosting, domains, themes, and scripts. They are known for their catchy-named web hosting services that come with SSD storage and unrestricted bandwidth, making them ideal for even the most demanding videos. If your requirement is beyond the normal limits of web hosting packages, then they offer a VPS account with SSD storage, high bandwidth and unlimited traffic that can meet your needs.
Each VPS plan has additional storage options, which you can use to store data on high-quality SAS hard drives. The dedicated servers of Vicetemple can lack flexibility regarding RAM capacity, storage type, and space. They vary primarily in their mid-range solutions, where they are known to be best for those who have a basic need that is fulfilled by these servers. They also have the best in class and trusted Xeon E3 CPUs, along with unmetered traffic and high bandwidth.
Vicetemple specializes in adult websites. Their team has an experience of 8 years in the hosting industry since the company has formed. It offers services to over 200 adult websites and applications with a 12-person team and runs a privately run data center in Amsterdam. It offers a range of services, including services for the development of adult websites. It only has an English-language website. The team provides hosting as well as fantastic themes and scripts. As a result, even though you're looking for new ways to improve your website, the team is ready to assist you in any way necessary.
As adult website content requires large bandwidth, It offers a pure offshore web hosting solution with larger bandwidth at a cost unmatched to another adult offshore hosting provider. They have a small team of 12 people, which means more focus on every customer. The team works remotely and on-site data centers. It doesn't rely on other servers for hosting clients' websites and has its own servers located in Amsterdam, Netherlands.
You can purchase any hosting plan with multiple payment options like PayPal, Credit card, Bitcoin, Altcoin and bank transfer.
Why Choose Vicetemple for Your Adult Web Hosting?
It offers an all-in-one solution to adult businesses, and it is one of the largest adult hosting networks in the world.
If you want to create a blog or an adult website, want your blog or website to be created by the expert team, already have a blog or adult website, working on a new project related to an adult website or doing any other thing that has a relation to the adult industry. Vicetemple is a one-stop solution to all your needs.
It is liberal with everyone and accepts all kinds of adult content unless it falls out of the policies laid down for everyone. It doesn't matter what kind of adult blog or website you start with that has controversial content or runs a dark fetish community. It will allow running your website open-heartedly.
Since adult websites can become popular within a few weeks with huge traffic worldwide traffic, it needs a large bandwidth to handle the tsunami of traffic. It ensures that you get unlimited bandwidth for running your adult sites blazing fast.
You keep you going a long way and a happy & satisfying journey. The company offers 24/7 customer and technical assistance right when you need it the most.
Since nude content spreads like rumors on the internet, so are the chances of copyright claims. But Vicetemple ignores such copyright claims as their servers are hosted in the Netherlands, So your site will be running hassle-free without any complications or DMCA issues.
Down the lane, if you find obstacles that you cannot find a solution to with Vicetemple hosting solutions, you can cancel the plan within 45 days to get your full money back. The company believes privacy is the most important factor, and this is why it offers full data integrity. Their subscription plans are also cost-effective compared with other players in the industry.
With ideas starting to form just $5 per month with unlimited bandwidth, ten addon domains, and free dedicated IP, Their pricing falls under the budget-friendly category. Still, its hosting infrastructure, servers aren't affected by its low pricing policy.
Services Offered by Vicetemple | Vicetemple Review
Vicetemple provides Web Hosting Services for your website. They offer a cPanel that can be used very quickly and with a variety of options for dedicated IP, enormous data storage, and unlimited web traffic. The Web Hosting offered by Vicetemple is the company's most special service. If you are someone who needs just an adult hosting provider, Vicetemple is the provider to go for.
With Vicetemple, you get access to a dedicated server that can bring in unlimited traffic, with an extremely wide bandwidth range and complete root access. Their dedicated, adult-focused servers are equipped with cutting-edge processors that allow the company to serve a high volume of traffic at all times.
Domain names are the address for any website, so it is crucial to register one now in order to avoid confusion and frustration later on. And that is the reason why Vicetemple offers a variety of domain names and extensions so that you can find your perfect domain names. You can simply log on to their official website and check which domains are offered.
Vicetemple offers virtual private servers that you can use to conduct your illicit activities on the internet and keep them private. Vicetemple provides virtual private servers (VPS) on which you can conduct your illicit activities on the internet. In terms of features, you'll get a robust network, guaranteed bandwidth of 100 Mbps, limitless traffic, and a lot more.
The clone script has become significantly utilized in the digital marketing world for creating a site with all of the same features and format as one that is already well-known. The script also allows easy updates to be made to cloned websites.
Vicetemple provides you with the following clone files:
This service by Vicetemple is an all-in-one service for any who is looking for an effective solution for their adult website. As per the official website of Vicetemple, this package can surely get your porn site ready for action.
In this package, you get:
Porn X theme, which is valued at $99
A Domain starting at $22
A Virtual Server for 3 Months which is valued at $116
And finally, you also get a Content Marketing Plan which is valued at $350
So as you can check, you get so many features in an all-in-one package, and within an hour, your adult website will be up and running. You just have to pick the right design that suits your taste, then select the domain and a server website and select the content and marketing plan.
---
Vicetemple Pricing Plans
Next, in our Vicetemple review, we will look at the company's pricing plans. Vicetemple has a good range of web hosting solutions to choose from. If you're new to the hosting industry and are looking to start with a decent plan, you can start with their adult web hosting plans.
All the plans are optimized to handle high traffic, and therefore, each plan comes with high SSD storage.
Adult Web Hosting
As discussed earlier in our review, Vicetemple offers adult web hosting. For adult web hosting, It offers the following plans.
Dedicated IP
Free SSL Certificates
Unlimited Traffic
10 Subdomains
10 Addon Domains
20 MySQL Databases
15 GB SSD
One-click CMS Installation
cPanel Included
Stallion Plan – $10/month
Few features remain the same as the previous plan, with further improvement in some.
25 Subdomains
25 Addon Domains
50 MySQL Databases
35 GB SSD
Mattress Actress – $20/month
In this plan as well, further improvements in some features are offered.
60 Subdomains
60 Addon Domains
120 MySQL Databases
80 GB SSD
This is the ultimate plan offered by Vicetemple, where you get loaded features like:
Unlimited Subdomains
Unlimited Addon Domains
Unlimited MySQL Databases
180 GB SSD
Adult Domain
In our Vicetemple review, we did discuss domain names. Now let's have a look at the various domains and extensions offered by it.
Adult Domain Extensions
| Domain Name | Pricing |
| --- | --- |
| .porn | $196 |
| .sex | $196 |
| .adult | $198 |
| .xxx | $196 |
| .sexy | $110 |
| .sx | $69 |
| .love | $62 |
| .webcam | $53 |
| .exposed | $36 |
| .tube | $62 |
| .cam | $49 |
| .sucks | $299 |
Regular Domain Extensions
If you are domain name is not dirty enough, you can go with the following common one from below.
| Domain Name | Pricing |
| --- | --- |
| .com | $31 |
| .net | $34 |
| .tv | $71 |
| .io | $91 |
| .pro | $42 |
| .co | $58 |
Clone Scripts Pricing
Vicetemple offers the Hamster X, which can help you to create the next Pronhub with this most advanced Pornhub clone script online. This script does not need much; you only need 2 GB of RAM, PHP 5.4 or above (including PHP 7), and MySQL 4.1+ (MySQL 5 is recommended). They will install the script, allow it to run for 48 hours or less, and then iron out any kinks that may arise without any inconveniences.
HubX may just start to look like one of the most famous porn sites, but with a bit of tweaking and some slight changes, it can transform its complexity as per your needs. It is based on the industry-leading KVS script, so you can easily mirror the winning formula of PornHub. Further, you can also upgrade it and make it far better. You can also apply for a front-end demo as well as for an Admin Demo, plus you also get lifetime updates and marketing advice as well. You can have HubX for one month for $79 to decide upon purchasing it for a lifetime.
HubX Script Pricing – $799 or rent for $79
Features you get with HubX Script
Multi-Server System
Optimized for Heavy load
Multi-language System
HTML5 HD & Mobile Videos
Advanced Video Preview
Fully optimized SEO
100% Open Source Code
Monetization Channels
Similarly, you can get Scripts of:
VideoX — Xvideos Clone Script
HamsterX — Xhamster Clone Script
RedX — Redtube Clone Script
All scripts are highly custom designs that will make your adult website really appealing. Their pricing and features remain the same. Just the actual look is different.
Adult Themes Offered by Vicetemple
Vicetemple is not like any other adult web host providers, which give you bare naked themes with limited functionality and also charge you extra for every feature. They offer everything at a single price. So you are rest assured that everything runs smoothly and your website is up and running. It provides PornX themes, which get integrated with your WordPress in less than one hour.
Porn X Pricing – $99/theme
Wp Script – $421/Theme and 8 add-ons
Features with this theme:
Complete Legal Compliance
Advanced Customization
Customizable Popups
Auto-import thousand videos
Premium Membership
Automated E-Mail system
User-managed content
Community
Advanced filtering and much more.
Adult Shared Hosting – $5/month
Unlimited Traffic
Free SSL Certificates
15 GB SSD
10 Subdomains
10 Subdomains
10 Addon Domains
One-click CMS Installation
cPanel Included
1 GB RAM
Xeon E5-2650 v2 Processor
Unlimited Traffic
Free SSL Certificates
1 Dedicated IP
1 Core CPU
10 GB SSD (RAID 10)
Full Root Access
Adult Dedicated Servers – $150/month
16 GB RAM
2 x 1 TB SATA
IPMI
Full Root Access
Free SSL Certificates
Xeon E3-1270 v3 Processor
Unlimited Traffic
1 Dedicated IP
All the plans include a 30-day money-back guarantee without any questions asked.
🔥 Vicetemple Coupon Code: Special Discount
Here we are with a special Vicetemple Coupon which enables you to get an extra 25% off on your total billing. This is a unique coupon code only available via BloggingEclipse.
Click on the button above to redeem the coupon code.
10% OFF
ViceTemple Exclusive Coupon: 10% Discount
This Exclusive ViceTemple Coupon enables 10% discount on Adult Web Hosting, VPS and...
Show More
This Exclusive ViceTemple Coupon enables 10% discount on Adult Web Hosting, VPS and Dedicated servers on the first payment.Thanks to ViceTemple team for especially generating this unique coupon for BloggingEclipse Audience.
Show Less
All the plans include a 30-day money-back guarantee without any questions asked.
How to Buy Cheap Adult Domains from Vicetemple?
Your website success depends upon your domain. The better the domain name, the more natural it's for users to remember. The domain name is an online brand, and since the launching of new TLDs and extensions, there are plenty of TLD launched for adult websites like .adult, .xxx, .sexy, .webcam, .love and many more.
Vicetemple provides all adult + regular domain extensions. Their pricing is also cost-effective, and most of the domain renewal pricing is the same as new registrations, While other domain registrars charge hefty renewal fees for the next term.
Check out all domains list and pricing at Vicetemple
Vicetemple Features & Services
Let's take a look at these awesome features and services that come with every hosting plan.
No matter how much traffic you expect on your website, all the hosting plans have unlimited traffic handling capability. Adult contents get huge traffic, especially teenagers viewing those contents at night. So be it daytime or night of adults, Vicetemple adult hosting plans are always ready to handle massive traffic.
Your website won't face downtime throughout the year and will always remain up and running with network uptime 99.9% guaranteed.
Ensuring the highest level of your adult website's privacy is important. As a result, purchasing hosting from Vicetemple will give you complete control over your website's privacy and data integrity. You would also have complete data security and protection against the possibility of any threat. Another unique feature that I liked is that the team will not be able to access any of your content unless you change the password on your panel. This is an outstanding feature to have, which can ease your concerns and make Vicetemple an excellent host to launch your adult website.
To manage your hosting account effectively, all the adult hosting plans are integrated with cPanel. You can also install a free SSL certificate using Letsencrypt.
You are protected from any kind of copyright issues that you might receive due to the data centers located in the Netherlands.
You can upgrade your hosting plan to another one with more disc space and more features when you feel a more powerful hosting. At a single click, you can upgrade or downgrade your hosting plan.
With an automatic backup, you can take file backups at a click of a button and later restore them from a secured server.
Round the Clock Monitoring
All the servers are monitored 24/7 to keep you safe from the bad guys and kinds of malware or viruses attacking your website. If you are offline for some time, or if you need to monitor your website 24 hours a day, this service provider will help keep your website running. One of the most critical components of determining how good a web server might be doing is through monitoring its database. Monitoring the database will indicate if the site has been accessed, if it keeps accurate data, and most importantly if its overall performance is satisfactory. You can certainly use this feature to monitor all the serves even though the company has its own server monitoring available.
Although the team is small, it focuses more on providing round-the-clock support to all its users. Get expert opinion or resolve any technical issue with friendly 24/7 support.
Adult websites are always coming up with new ways to combat piracy. They want to be sure that they grow and stay competitive. Even though the process may never end, efforts are being made so that this pirate-ridden industry can continue on its way. Vicetemple disregards the concept of duplication and also various other copyright claims.
Well, if you think that coding is mandatory for making a website, Vicetemple is indeed dislodged by this fact as it offers its users single-click themes and plugin installations. Using this feature, you can easily upgrade or downgrade any of the functions.
The best thing I found about is Vicetemple is the money-back guarantee window offered. It offers a whopping 30-day money-back guarantee which is certainly note-worthy. So if you are unsatisfied with the services you can easily request a refund.
Getting Started with Vicetemple
Now its time to analyze your need, Which plans you should buy?
If you are at the initial stage and do not have massive traffic or are just trying in this industry, it's better to go with the Vicetemple adult shared hosting plan. It costs $5 per month and comes with ultimate features like dedicated IP, ten domains, Free SSL, unlimited bandwidth, and SSD storage.
This plan can handle good traffic initially as you don't have any limitation on bandwidth.
However, if you want to hose a video streaming website or your site has more downloadable content, then I recommend going with "adult virtual servers." VPS is a state-of-the-art cloud instance that is far better than traditional shared hosting and comes with dozens of unique benefits with the superpower of speed.
The company offers 30 days, no-question-asked money-back guarantee, and you are safe to test their plans and continue further if you feel.
Vicetemple Customer Support
With their round-the-clock assistance customer support, Vicetemple offers a hosting option that is ideal for those who are looking to build a website in the fastest possible time. They offer fast and reliable response times and high-quality resources to ensure your website doesn't go down. Their customer support can be reached via email ticket or live chat.
Vicetemple offers excellent support to help users with any questions they might have or if they need assistance. They also offer a customer service line that is available 24/7, which provides a great way to contact them while they are working as well. Their customer team will answer your questions that you have in your mind or any sort of misunderstandings; they are readily available to help you start in the adult industry. Their team is available 24 hours a day, 7 days a week. You can reach them via email, live chat or a ticket. Right from their cPanel, you can have access to all these choices. Plus you can also contact them by phone.
Top ViceTemple Alternatives You May Try in 2023!
Now that we covered all that ViceTemple has to offer, let's have a quick look at the various alternatives it has.
Hostinger is a premium name when we talk about any type of hosting. With over 15 years on the market, the company provided free web hosting earlier and, since then, has come a long way. The platform offers website owners decent, affordable plans along with high-quality hosting and various other benefits.
It does not matter if you are new to website building and you are switching your hosting provider; Hostinger has got you all covered. It offers you budget-friendly hosting along with robust performance and provides the best uptime results. It is also regarded as among the best adult web hosting providers around the market. As long as your website content is legal and not copyrighted, Hostinger will have no problem with adult content.
You can set up your WordPress website, domain and SSL automatically. Also, the Hostinger interface is quite easy to install and use, known as hPanel. With hPanel, you can also control the entire website and set up new features and manage them.
All of the Hostinger Plans can host at least 100 websites, including 100 professional email accounts, a free SSL certificate, a custom domain, unlimited bandwidth, free CDN and weekly backups. You also get free WHOIS domain privacy protection which comes with your domain purchase.
Talking about the pricing, Hostinger has 2 shared hosting plans and 1 cloud hosting plan. Its pricing is as low as $2.99/month with a 4-year billing cycle. Plus, it also offers a risk-free 30-day money-back guarantee.
Next on our list is HostGator which has got a respected name when we talk about the best adult web hosting providers. That's because it offers affordable pricing along with great features which can power your adult website.
HostGator does not disallow you from hosting adult content, but you are not allowed to use the service branding for advertising such content. Plus, there are additional requirements to comply with applicable laws, rules and regulations. Also, make sure of the copyright laws.
HostGator offers you a dashboard which is a Cpanel one. In the central dashboard, you have shortcuts to the WordPress Installation, domains, emails and SSL setups, most of which are automatically done. It offers you features like website builder, which is limited to 6 pages. Additionally, you have a free SSL, a custom domain, unlimited storage, bandwidth and email accounts. A unique feature, domain privacy, is something that comes at the cost of $14.95/year.
In terms of speed, this adult web hosting provider does not disappoint you. It offers you an average response time of 525ms and an uptime of >99.99%, which is strong. Along with this, HostGator hosts all the websites on the US servers. So if you are targeting US-based audiences, you will enjoy quick-loading pages, which is not optimal in the case of other locations across the globe.
Along with this, HostGator also offers a 24/7 live chat option which is fantastic, along with phone line support. For shared hosting, this hosting provider offers 3 affordable plans. The pricing starts from as low as 2.75/month with a 3-year billing cycle. Here as well, you get a 30-day money-back guarantee.
How web hosting impacts on your adult affiliate business?
Most top internet marketers have moved their vertical to adult and dating due to high CPA, more ROI, and low fallback rate. The Online adult industry is booming, and now the blockchain industry is stepping into this market and has launched various adult-crypto coins, products, and ecosystems.
Most adult website owners use webcam sites, video sharing portals, etc. These require high bandwidth and fast loading as your users won't wait for buffering. Fast video delivery is of utmost importance in this business.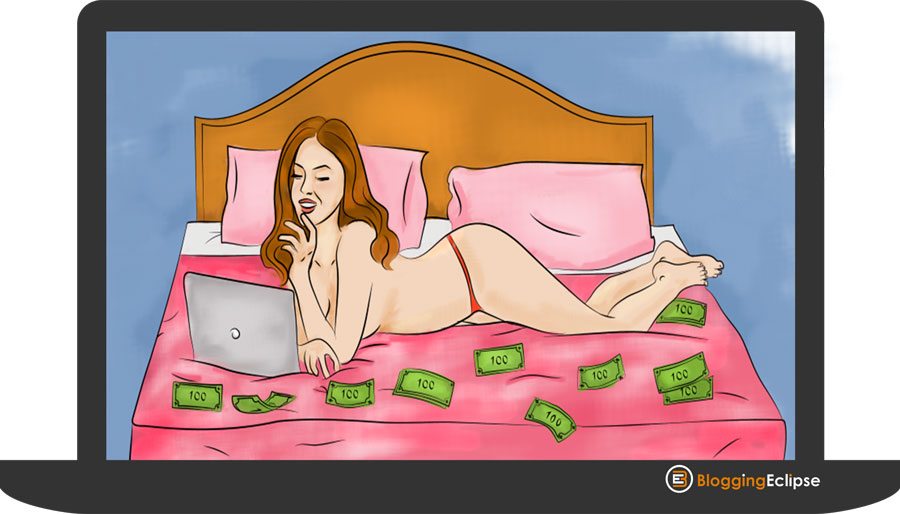 Not all web hosting companies allow this type of content, and most will suspend this site. Adult + copyright content is permitted in various countries. Hence, hosting providers who offer adult hosting services install their data centers in those allowed lists of countries and completely comply with government laws.
So if you are an affiliate marketer in the adult industry, you may start using vicetemple today or check out this list of best adult web hosting providers.
Also Read: Top 12 Highest Paying Adult Affiliate Networks
🌟 FAQ on Vicetemple Review
What is Vicetemple?
Vicetemple is one of the leading and largest adult web hosting providers on the Internet that allows you to host adult websites.
Does Vicetemple offer a refund policy?
Yes, Vicetemple provides a 30-day money-back guarantee to all its new users.
Does Vicetemple offer a domain?
Yes, Vicetemple allows you to select a perfect domain name for your site as it has a huge variety of domain extensions.
What kind of services does Vicetemple offer to its customers?
It provides domain, adult hosting services, web development services, themes, and scripts.
Is there any active Vicetemple coupon code?
Yes, Redeem above mentioned our latest Vicetemple discount coupon that helps you save some money.
Can you buy domains from Vicetemple?
Yes! Vicetemple can help you find the perfect domain name by offering a wide selection of extensions, including. com,.porn,.xxx, and many more! Register the domain name of your choice and take advantage of our professional services to help optimize your site for success.
Does Vicetemple offer Virtual Private Servers (VPS)?
The company does provide Reliable VPS, which you can conduct all your illicit activities over the web. Talking about features, you get a robust network, guaranteed bandwidth and traffic of up to 100 Mbps, limitless traffic, and much more. You also have the option of selecting between SSD VPS and STORAGE VPS, from which you can choose whichever suits your needs best.
Are adult themes offered by Vicetemple customizable?
The adult themes offered by Vicetemple are highly customizable. As WordPress is flexible with designs, so are these themes. You just have to make your selection right, and the rest will be provided to you.
How long does it take to install the scripts on your server?
While using Vicetemple, I found that the script runs in 48 hours. Within a week, you are almost sure to start using them just like an adult website owner.
What are the payment options available for making payments at Vicetemple?
Vicetemple supports popular payment options like Debit cards and Credit cards. Plus, you can also pay via PayPal, Bank Transfer, Altcoins and even Bitcoin.
Down the Line!
That's all about Vicetemple review. We tried our level best to explain all its features and services.
So if you are in this multi-billion dollar industry, Try Vicetemple today risk-free. Make sure you use the above given unique Vicetemple coupon code to save extra bucks…
Happy Monetizing.✌
Vicetemple Review – The largest adult hosting network on the Internet!!
Vicetemple is a powerful adult web hosting company that provides all the tools you will require to start your own porn website. The plans of Vicetemple are designed to handle big adult traffic as well as the bandwidth of your site. On the other hand, you can enjoy full privacy when purchasing adult hosting from Vicetemple. Vicetemple hosting is used by more than 1400 customers globally. It offers various adult web hosting services that make it easy for you to compare and launch your adult website.
Positive
30-Day money-back guarantee
1-click CMS installation for all plans
Unlimited traffic with each hosting plan
Free SSL certificate with every hosting plan
Variety of different payment methods
Excellent customer service, available 24/7
1-click upgrading feature
1-click application installation
Negatives
No free trial available.
Only works with clients who are from the adult industry
Though pricing is affordable, but still cheaper hosting providers are available
Vicetemple – Best Adult Web Hosting Company
Want to create the next adult website? If yes, then get started with Vicetemple adult shared hosting at just $5/mo only.
Also read: