When it comes to monetizing an adult WordPress blog or website, there are numerous tools, affiliate networks, and technologies available in the market which give you money for quality traffic on your website.
Here we will be reviewing a super awesome WordPress plugin developed by one of the greatest adult/dating CPA networks: CrakRevenue, for WordPress websites & blogs. The super cool WP plugin works on autopilot mode to monetize your traffic with their highest paying adult affiliate offers.
Recently, the CPA network CrakRevenue launched its own WordPress plugin for affiliates.
As you may already know, the popular content management system (CMS) is behind 30% of the world's websites — 15 years after its creation by software developer Matt Mullenweg. That's no small feat, and today we'll see how exactly CrakRevenue's latest offering can help you make more money online.
What is CrakRevenue Affiliate Network?
CrakRevenue is a CPA-based affiliate network that has been around for more than 7 years and is headquartered in the USA. The company was established by CrakRevenue Ltd. in 2010. The CrakRevenue mainly offers links to affiliate products and other types of content locking solutions. The website has more than 35,000 members and was founded in Nick.
CrakRevenue has a solid reputation for being reliable and trustworthy, and they have been around for over a decade. They have built up a large base of satisfied affiliates and merchants who use their services on a regular basis. But this fact is not just in words; but it has facts to support mentioned below:
100+ Skilled professionals
$250M+ Paid in affiliate commissions
At the first instinct, we found that CrakRevenue offers the following features and benefits:
Highly reliable and trustworthy in the business for the past decade.
Its platform is mobile optimized by which you can manage your account from anywhere.
Multiple offers across Multiple niches.
You can get detailed campaign performance data by which you can get good ROI.
Also, the wide variety of offers you get on CrakRevenue is simply what we liked. They have a variety of products from different niches, from gaming to software downloads and also from health to beauty products. So you can find a variety of needs according to your interest.
CrakRevenue WordPress Plugin Review – Why should you care about CrakRevenue WordPress plugin?
If the fact that WordPress powers up millions of websites right now isn't enough for you, the idea of streamlining your online marketing might.
See, with a plugin such as the one CrakRevenue created, it's way easier and fast to create profitable affiliate websites. All you need to do is download the WordPress plugin and install it on your website. That's it.
Here are my top reasons why you should choose this plugin for your WordPress installs.
When I say it's easy to install CrakRevenue's WordPress plugin, I mean it. Simply upload it using your dashboard (Plugin > Add new > Upload) and activate it to get started. Of course, you'll first need to register as an affiliate before being able to make money.
It goes without saying that great plugins require a lot of development. Fortunately enough, this one doesn't have any premium version: you get everything for free. I think that's noteworthy because a lot of WordPress publishers charge extra for the features you care the most about, so it's nice how affiliates are on a level playing field.
It's packed full of neat features!
At the end of the day, it's the features that define whether or not a plugin will be successful. On this topic, I'm glad to say CrakRevenue delivered. As you will find out shortly, the included features really help boost your affiliate campaigns by providing additional revenue streams.
What's inside CrakRevenue's WordPress Plugin?
If you crack open the plugin, you'll find lots of things that will pique your curiosity. Here's a rundown of all the features included within:
#1. In-text Ads
Being able to turn any word into a hyperlink leading to an offer with your affiliate link is very useful. With CrakRevenue's plugin, you can achieve it easily thanks to a quick and easy to use interface.
Simply choose the words you wish to replace and save. The verticals to choose from are Adult, Cams, VOD, Dating, Gay, Adult Gaming, and Survey.
#2. Native Ads
Native ads are great conversion magnets since they feel like part of your normal posts. In other words, they're often better than banners because viewers don't discard them outright.
CrakRevenue's plugin allows you to add your own native ads using a variety of settings like font, color, the number of thumbnails, etc. There are also many tags to choose from so you can really narrow the ads to fit with your niche.
#3. Live Cam Widget
Arguably the most powerful and useful feature of CrakRevenue's plugin. Since the CPA network already well established in this industry, you'll love being able to display live cam shows directly in any widgetized area of your WordPress theme.
Just like most other features, you'll be able to select from many tags should you feel like narrowing down the type of content shown. There are over 30 tags for the live cam widget, including stuff like Asian, redhead, toys, etc.
Live Cam Widget is one of the best conversion magnets for adult WordPress sites. It boosts your conversions by over 500% and it is proven to offer the best performance on affiliate campaigns.
#4. Banners Widget
Banners are something webmasters are pretty accustomed to. They've always been at the forefront of online advertising, so it's no surprise that CrakRevenue's plugin allows you to set them up on your pages in a breeze.
#5. Smart Pops
It's good to have the option of running pops on your affiliate site.
CrakRevenue's plugin lets you choose from various verticals so your pops are always relevant. Even though it's titled "Popup," in fact what you'll get are pop-unders. Here's a brief overview of this feature as seen in the WordPress dashboard.
#6. Link Replacement
You can choose words you want to replace with affiliate links on every single page of your website automatically.
You can also attribute some words to specific niches in order to get better conversions. 
You also have the option to open the links in a new tab or in the same browser window. 
You can also set the maximum number of times a specific word that you want to be replaced in your affiliate link.
Also Read: CrakRevenue Review (#1 Rated Premium Adult/Dating CPA Affiliate network)
How to Install CrakRevenue Adult Affiliate WordPress Plugin?
First, you need to download the latest version of the plugin from its official website and also recommended WordPress version: 4.5.0+.
After you are done downloading the ZIP File, you need to upload it with your WordPress installation (Plugins > Add New) and activate it.
You could see their logo added to the left column of your WordPress dashboard like this:
After this, click on CrakRevenue, and you can see a screen like this: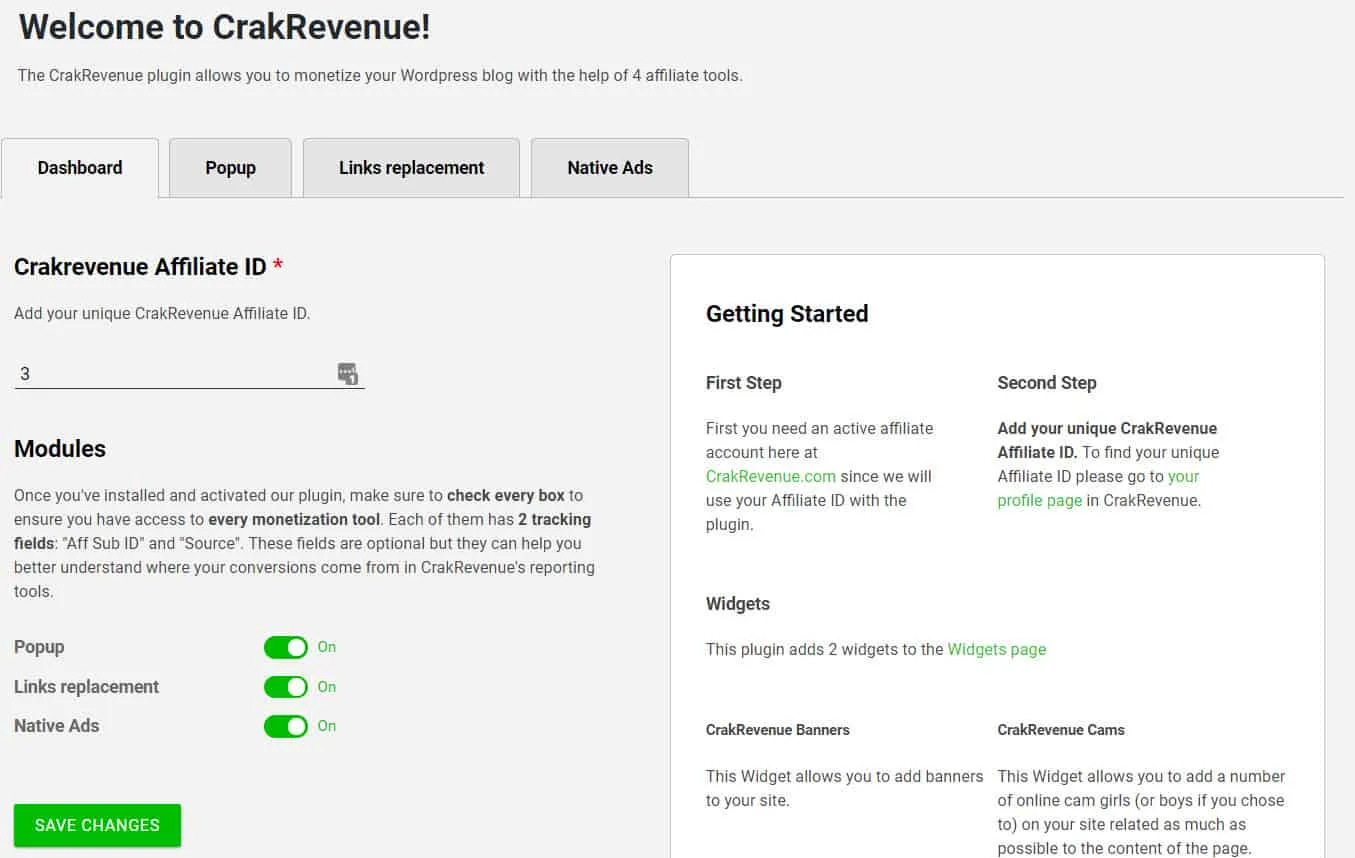 Before heading out to see each feature, you must sign up as an affiliate if you have not.
Further, you can also join in by clicking the link that you can find under the "First Step" in the plugin's dashboard.
As you have your account with CrakRevenue, copy & paste your aff ID*. If you already have your ID with them, you need to locate it on their website.
In the "Modules" section, you can choose the tools you want to activate on your WordPress theme by clicking on the "Activate" button. All 3 options are activated by default because they will help maximize your profit potential.
The last section is the "Widgets," where you can add Cam Girls and Banners directly to your theme. Just click and drag the widget you want to use.
So these are your options:
Widget Title (facultative)
Source (facultative, for tracking purposes)
Aff Sub ID (facultative, for tracking purposes)
Number of columns
Number of Rows
Allow Male Models (check the box if you want to show gay material)
When you enter the number of columns and rows, the widget will start displaying content from our top converting offers to your visitors with professional ease. The said content will be tailored to your website's keywords.
Now next in our CrakRevenue WordPress Plugin review, we shall see how you can add banners to your site.
Drag & Drop the CrakRevenue Banners Widget at the place where you want it to appear in your theme. You will see the following options: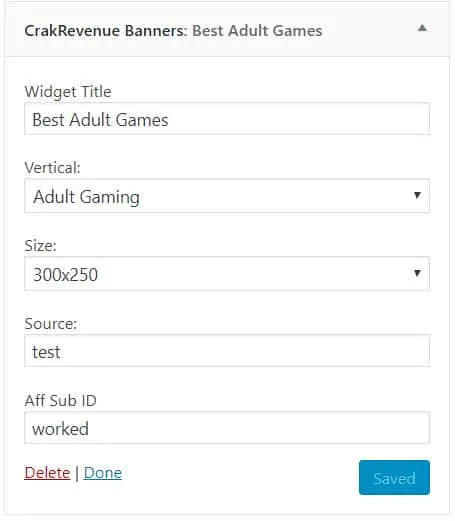 Widget Tittle
Niche: You can choose from Multiple 18+, Adult Gaming 18+, VOD 18+ or Cam 18+
Source
Aff Sub ID
🚀 Want to monetize your adult website and make more money? If yes, then download the beta version of the CrakRevenue WordPress plugin today!!
How to Sign up for an account with CrakRevenue?
The best part we liked about CrakRevenue is that you can sign up for free as an affiliate manager and start promoting offers immediately as an Affiliate or as an affiliate manager.
Now let's see how you can sign up with CrakRevenue.
First, head on over to the homepage of CrakRevenue and click on the "sign up" button, which you can find in the top right-hand corner.

Then you have to enter your email address and password to get started. They don't even require any sort of more personal information like your date of birth or social security number.
After entering this information, hit "Create my account", where you will be headed to a page where you have to fill in information about your account.
Well, that's all! You now are an official member of the CrakRevenue affiliate network. The next step will be to start with promoting offers. For this, you can find any instant offer of your interest and click on the "offers" on the left side of the dashboard. Next, in our CrakRevenue review, we will guide you on how you can integrate it with your website.
How to Integrate CrakRevenue with Your Website
Steps to integrate CrakRevenue with your Website.
Step 1: Head to the official website of Crakrevenue
Step 2: Then Signup using your email or Facebook
Step 3: Get your email verified
Step 4: Now open the CrakRevenue portal
Step 5: In the website column, submit your Website
Step 6: Get your website approved
Step 7: Finally, get the codes to insert into your website
CrakRevenue Payout Terms
While talking about CPA networks, the most curious question that comes to everyone's mind is how reliable the network is and what are its payout terms. As mentioned earlier in our review, CrakRevenue has been around for a decade and is undoubtedly among the most reliable networks. CrakRevenue's current payment threshold is $100, which means you will get payments every time your balance reaches this threshold or more. They make use of PayPal as their primary method of payment. They also do make use of other payment methods like Check, Paxum, ePayService, Bitcoin, ACH, and Wire.
CrakRevenue Alternatives You Should Try in 2022
Next, in our CrakRevenue review, we will have a look at the best alternatives to CrakRevenue.
1. Ezoic
Ezoic is an Artificial Intelligence-powered platform that simplifies ad optimization, layout testing, Content Delivery Networks, and revenue optimization for publishers. It is a potent tool that saves time and provides high quality. The primary focus of the exotic AI-based platform is to provide a personalized and engaging experience for your use while maximizing the revenue for the publisher or webmaster. Thus, both you and your content provider will have a win-win situation. It offers features like Speed, monetization, SEO and Analytics.
2. Wafra Media
WAFRA Media is a high-performance and scalable ad network specialized in the Arab world that serves both publishers and advertisers with traffic from GCC, North Africa and the Middle East, which can be reached in various verticals like sports news, gossip and leisure. They have a professional team of experts who speak Arabic and are young Enthusiasts who love life and have an understanding of media and culture. They are dedicated to optimizing every client's performance, thereby selecting the best campaigns and audiences along with generating custom-made solutions by using top-class technology and tools.
3. Smartlinks Technology
Smartlinks are the driving force of CrakRevenue's affiliates. They help affiliates generate quality traffic by always sending them the best-converting offer on our site, specifically tailored to their campaign and location so that they can achieve maximum conversion rates. The Smartlinks are available in many verticals, and CrakRevenue keeps introducing new, high-converting ones all the time. They optimize these tools daily so that not a single lead is lost.
The Future of WordPress Plugins for Affiliates
The affiliate industry is full of different monetization tools, techniques, and services. WordPress is one of the most important platforms for affiliates to host their website, landing pages, product pages and more., Its one of the finest method to drive organic and paid traffic.
Most of the top affiliates use WordPress and Elementor plugin to create beautiful pre landers and landing pages. Most of the top CPA Networks have already released their powerful WordPress plugin, which enables automated traffic monetization.
Gone are the days when affiliates need to add each link or source manually. Now its the era of automation, and with Smart links, Auto Live cam widgets in adult affiliate Industry, WordPress plugins have come into limelight by offering a great solution to Marketers.
What's next with the CrakRevenue adult WordPress plugin?
CrakRevenue is on a mission to get this plugin approved and get it listed on the official WordPress repository. This would finally allow affiliates to have an easy way to install the latest updates. CrakRevenue also has some fantastic ideas about its Adult WordPress Plugin, which it shall implement soon. It also has a plan to add a webmaster referral widget so that affiliates can enroll new affiliates and further gain 5% of their earnings.
Overall Appreciation
I think CrakRevenue's WordPress plugin is a great tool for adult affiliates. It's easy enough to use, so you don't get lost and very powerful at its core. All of the included features serve a purpose: helping you make more money with adult offers. The plugin's a great add-on to any affiliate site running under WordPress; there's no premium version either, which means you get everything in a single package.
To start using its WordPress plugin, simply create your publisher account at CrakRevenue here and install the plugin on your WordPress website to see better conversions with their highest paying adult affiliate offers.
I have tried this plugin personally, and it works well. If you have any adult or dating WordPress websites, You can install this plugin to monetize your content with quick links automatically. It also enables new offers to update directly on your WordPress dashbaord, So you can see which campaign to implement on your traffic. CR team will also be going to integrate statics near in the future in this plugin, So you can also see how your campaign is performing right on your WordPress dashbaord.
So if you're looking to integrate live cam shows in widgetized areas of your site or just want a straightforward plugin to maximize your gains using the CrakRevenue CPA network, go ahead — it's great.
CrakRevenue WordPress Plugin Review – Free WordPress plugin to monetize adult affiliate website!!
CrakRevenue is the leading CPA affiliate network that gives you access to around 700+ offers that you use to promote on your affiliate website. On the other hand, the CrakRevenue WordPress plugin is a new plugin introduced by CrakRevenue that allows affiliates to display CrakRevenue cam offers on their WordPress affiliate site with ease. The affiliates can easily download the CrakRevenue WordPress plugin from the official site of CrakRevenue. The plugin is completely free and comes with an easy-to-use interface. Now you can make money with the CrakRevenue WordPress plugin!
Positive
They have a top-notch team of dedicated affiliate managers.
Gives you a good selection that can give you higher payouts.
Best Platform for every CPA network along with being user-friendly.
Efficient features like Smartlinks and Survey generator.
Negative
The Advertisers can determine whether your website is fit for their campaign or not.
CPM Rates are highly moderate.
Some users reported time zone issues, especially the ones from Asia and Africa, as they are based in Canada.
CrakRevenue WordPress Plugin – Best WordPress Plugin for Affiliates!!
Download the beta version of the CrakRevenue WordPress plugin & make more money.
Also read: