Each business tries hard and monetizes a lot to get on the top and be in the customer's eyes. Advertisements are the best way to communicate with customers, but it is essential to track your ads' effectiveness. Many ad tracking tools are available in the market, but it isn't easy to find the best one to satisfy your needs.
Being the best Internet marketing tool, an ad tracking tool is undoubtedly a boon for businesses. Whether you are running an ad or thinking to do one, these tools give the best insights for strategizing.
Here, we have featured some of the ✅Best ClickMagick Alternatives. You can check the review, feature, and pricing of each alternative and compare them with ClickMagick.
ClickMagick is among the best tracking tools, which not just improves the quality of your ads, but the features are incredible. If you are still not aware of the tool, you can read this quick brief feature table.
Features of ClickMagick:
IP manager: You can easily set up the IP range or enter the address manually for filtering or blocking.
IP Lookup: Through ClickMagick, you can track a particular IP and lookup for opt-ins and sales for events. You can filter auspicious clicks, too, through this feature.
Data exporter and Importer: You can export the rotator data, rotator URLs, link data for selling the data to any party, and import.
Batch editor: You can easily reset, edit and delete the rotates if it is not performing through the batch editor, and can also change the rotator URLs from the same.
Compatibility with Google analytics: ClickMagick integrates well with Facebook and Google analytics to keep track of visitor's activity.
Solo seller system: If you want to sell solo ads and are looking forward to setting up your business, you can use this tool's link tracking software.
Content locking: There is a share, lock, and like an option available for all your contents.
We didn't like some features of ClickMagick like, link rotators and link cloaking, as they can send the single traffic to different destinations, leading to many problems.
So as we have spotted some cons, we will surely provide you with the best alternatives of ClickMagick so that you don't get stuck. In this review, we have covered all essential aspects about what makes these tools better than ClickMagick, have a look:
---
Best & Cheap ClickMagick Alternatives [2023]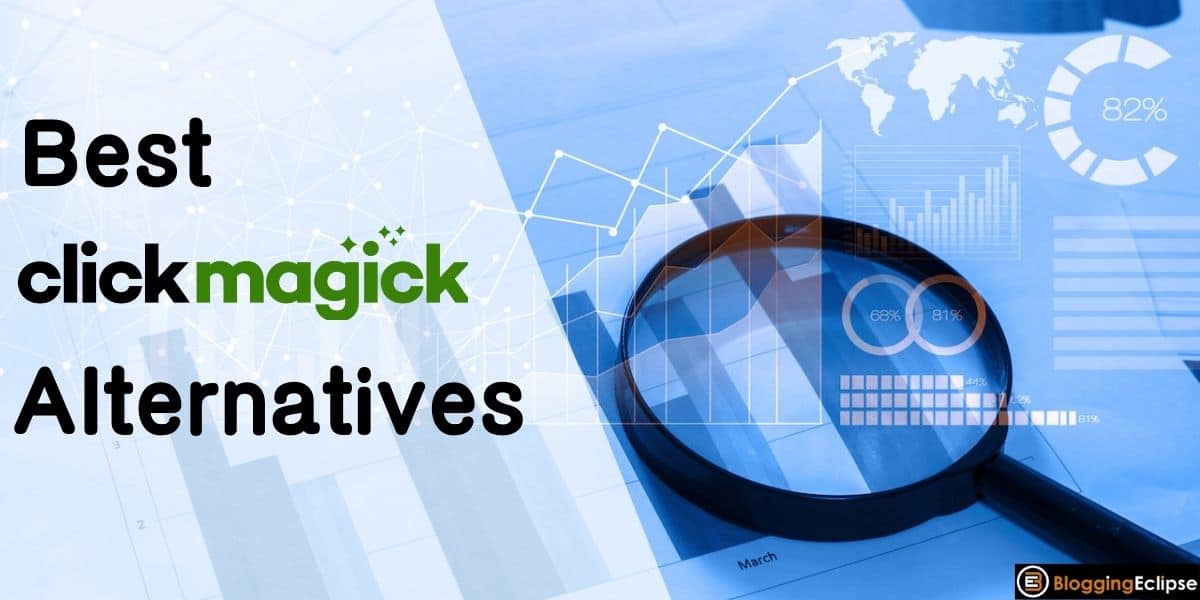 Voluum is cloud-based ad tracking software similar to ClickMagick, having the best features to track, manage, and optimize marketing campaigns. Reportedly, Voluum users have generated over $1.5 billion of revenue manually as it gives the best performance in advertising campaigns.
Voluum offers regular reports, post-install analytics, and flexible campaign setup along with A/B testing within a few minutes. It works on the SaaS model, so you know how beneficial it is. All the data is stored in the cloud while working; hence you can reach it via an app hosted on any app store.
Features of Voluum
One can easily track organic and paid traffic without redirecting. You can also accelerate the visitors by pushing unlimited ads to the list.
Follow the impression of different ads by combining the statistics and making the campaign more effective.
Custom conversion tracking
You can track different types of actions by interpreting the activities of the users.
The autopilot mode for campaign optimization pulls the data even faster and offers the best landing pages.
Despite the limited link cloaking, A/B tests of Voluum are a lot beneficial. You can run this test to determine which campaign is doing better and build up specific conversion goals.
Instant reports and stats are generated within minutes irrespective of the traffic volume.
Through Voluum, you can implement split tests, unlike ClickMagick, as it uses cloaking and link rotators. It also has a free API to control the third party scripts and extensions; however, you can even write a script.
Voluum has an automatic learning algorithm for optimizing the ad, but we still are not sure about the effectiveness of the feature. Nevertheless, here are some compelling reasons we wanted to share with you:
SSL access for improved security
Supposed cost models for CPM, CPA, CPC, and RevShare
30 Data points for better tracking
Reporting to tools to display the type of traffic the site generates
Pricing of Voluum
Voluum is a bit costlier as compared to other tracking tools, but it's manageable because of the features it provides
The basic plan is for $299 per month, including 1 custom domain, and 1 dedicated domain, 2,00,000 events per month. The advance plan is for $599 per month, including 3 custom domains, and 1 dedicated domain, 10,000,000 events per month.
The premium plan is for $1499 per month, including 5 custom domains and 1 dedicated domain, 30,000,000 events per month. You will get access to additional users according to the plan you choose.
👉 Check: Voluum Review
---
ClickMeter is affordable and reasonable compared to other trackers, covering the best of the features for businesses. It sends the traffic to targeted landing pages only, through which you can figure out the actual visitors of the ad.
ClickMeter is the best alternative for ClickMagick because of several reasons. The major is the intuitive dashboard, where you can check click frauds, blacklists, broken lists, and high latencies. Moreover, if you want to send reports to the clients, downloading them all is also easier.
Through ClickMeter, you can target your audience according to language, device type, location, and other related filters to make a better choice.
Features of ClickMeter
Here are the main reasons why we consider ClickMeter to be the best ClickMagick alternative.
This feature is best for affiliates and publishers who want to decide the effectiveness of any campaign. ClickMeter will bring out better conversion to boost your business; hence you can only focus on campaigns worth your time.
As the dashboard is highly intuitive, you can track and optimize ads within minutes. You won't require any technical knowledge of coding, etc. to optimize pages. Without much effort, you can set up quality marketing campaigns and proceed with the deliverables.
ClickMeter ensures that only legal clicks are tracked and monitored through this feature. Hence, there are no chances of any fraudulent clicks getting counted in the tracking system.
ClickMeter does link cloaking by using customized page titles within the URL encryption.
ClickMeter is integrated with several tools like API, Shopify, Magento, WordPress, Chrome, Firefox, UTM tracking code, etc. to make the tracking process more accessible.
ClickMeter promises 99.999% uptime as the data centers are hosted on Amazon web services to keep up the tracking value.
You can track the entire sales funnel and convert the ads by an ID, conversion values, or SSL.
Pricing of ClickMeter
There are three plans by ClickMeter, each having affiliate marketing tools and an A/B test rotator. The medium package is for $29 per month, including 25,000 events per month, 2500 data points, and 1-year of data storage.
The large plan is for $99 per month, including 2,00,000 events and 20,000 data points, along with 2-years of data storage. The X-large plan is for $349 per month with three years of data storage and 20,00,000 events, 2,00,000 data points.
ClickMeter also offers a 30-day money-back guarantee, and you can change your plan anytime.
---
AdsBridge is the best alternative for ClickMagick as it is an intelligent ad tracking platform and traffic distribution system. You can do a lot more activities other than tracking through this amazing software. AdsBridge provides users with advanced functionality like LP builder, auto-optimization, multi-access option, and a lot more.
You can easily boost your ad campaign performance and make it more attractive through AdsBridge. The software's key benefits are, totally cloud-hosted system, affordable pricing plans, and tracking & advanced TDS.
AdsBridge is best for scaling because the interface is optimally designed to give promising benefits. If you are an affiliate marketer, newbie, or business itself, you can easily save a lot of time, as the software is handy enough.
Features of AdsBridge
Here are some reasons why we consider AdsBridge to be a better alternative to ClickMagick.
Allows location-based targeting for better conversion and significant results
Easily track sales funnel through the intuitive dashboard, be it of any affiliate program or PPC.
Efficiently perform mobile optimization to ads for better outcomes.
Protection against fraud throughout the day and night
Monitors the performance of your link round the clock
Add retargeting to any link quickly.
Excellent precision and speedy delivery of data
You can upgrade your subscription plan by clicking on the upgrade tab and pay accordingly (monthly or yearly).
Pricing of AdsBridge
AdsBridge offers a 14 day trial period to their users wherein you get free clicks and conversions and 50,000 visits per month with no over the limit. If you run out of this plan and still want to use the software, there are three plans to choose from, each having different benefits.
The professional plan is for $89 per month, in which you get 10,00,000 visits per month, visits over the limit, and free clicks and conversion. The business plan is for $379 per month, the enterprise plan for $799 per month, and for the exclusive plan, you need to contact the customer service.
You can save up to 15% by choosing yearly packages, and if you want to save more, try some promo codes!
👉 Check: AdsBridge Review
---
If you are looking for the best link cloaking and tracking tool, then LinkTrackr is all you need! It has amazing features to share the traffic between two places by splitting links. Through this, you can figure out quickly which link is performing well.
You can also track all types of links, including clicks and impressions, through LinkTrackr. Moreover, following the links get more accessible by your domain name. You also get real-time access to the reports having all the relevant information you will need to analyze traffic.
LinkTrackr does not allow traffic from automated browsing, banner exchanges, wholesale sites, and mass transit sites for better results. Analyzing the traffic is a bit tedious through LinkTrackr, but you can use different follow-up tools.
Features of LinkTrackr
Track your links and create ads in the email, blog posts, banner, and ads. Can insert the link anywhere.
Add your customized domain for a professional look.
Centralize tracking of Facebook ads and track other ads with the PPC system.
Keep track of multiple sales and leads with the help of the entire sales funnel.
Track the conversions easily with the pixel tracking code from the affiliate network, blogs, and anywhere.
Cloak the link for your WordPress site.
Pricing of LinkTrackr
LinkTrackr offers a 30 day free trial period to their users, and after that, you can choose or upgrade and downgrade any plan according to your needs and budget.
All the packages of LinkTrackr include advanced cloaking. The basic plan of LinkTrackr is for $9 per month, including 100 tracking links, 10,000 clicks. The pro package is for $19 per month, including 500 tracking links, 50,000 clicks.
The hyper package is for $39 per month, including 1000 tracking links, 100,000 clicks, and an extreme plan for $69 per month. You will get 5000 tracking links and 500,000 clicks through this pack.
---
Improvely is yet another best alternative for ClickMagick, which significant companies choose to use since 2009. It's the best conversion tracking and clicks fraud monitoring software, and blooming to be the white hat versions of all the above-listed tools.
With improved, you can easily track sales in different currencies and recalculate it. The fraud protection protects your website and affiliate campaigns from any fraudulent transactions.
Moreover, you can also integrate the tracking software into any website or shopping cart to track the clicks.
Features of Improvely
Improvely is the best alternative to ClickMagick, as you can increase your website conversion rate by following links. Here are some more features.
Test the traffic of landing pages by splitting the screens and check what brings more traffc.
Get all the reports on a page, including SEO, paid campaigns, keywords, social media, etc.
Creates customer profiles to tell how many times a specific person visited or clicked the ad on the site.
Integrate and work with multiple major networks like Taboola, Twitter, Facebook, AdWords to get effective results.
If you fail to follow your links, you might never learn about detailed impression statistics, conversion tracking, click-through rates, and conversion tracking. And if you do not follow their link, you can lose lots of insightful information regarding sponsored links.
Instant email alerts of new conversions.
Automatic suspicious activity detection tool and IP exclusions.
Developer API for custom tracking.
Built-in A/B split testing tool.
Dashboard displaying critical metrics at a glance.
Easily exports raw data to Excel CSV.
View device info, IP address, referrers, etc.
Pricing of Improvely
Improvely offers a 14 day trial period to its users to check the conversions. It has four different plans, each having affiliate marketing tools, built-in A/B testing software, and click fraud monitoring access.
The freelancer plan is for $29 per month, wherein you can track 10,000 visits, conversion, and revenue. The most popular plan of improvely is the startup plan, for $79 per month in which you can track 50,000 visits and is for 3 team members.
The small agency plan is for $149 per month, and the large agency plan for $299+ per month. The large agency plan includes white label reporting and access to sub-accounts.
---
🌟 ClickMagick FAQ
🙄How does ClickMagick work?
It is one of the best link tracking platforms that allows you to track your ads and focus on where you can get the most profitable clicks. ClickMagick is perfect for entrepreneurs, info-marketers, affiliates, consultants, etc.
🧐How much does ClickMagick cost?
ClickMagick offers three pricing plans to choose from, i.e., Starter, Standard & Pro plan. Its starter plan cost you $27/mo, standard plan cost $67/mo, and pro plan cost $97/mo.
🤑Does ClickMagick offer a free trial?
Yes! ClickMagick provides 14 days free trial to its users that enables them to test all its features.
🔎What are the best alternatives to ClickMagick?
There are various alternatives to ClickMagick that you can give a shot.
1. Voluum
2. ClickMeter
3. Adsbridge
4. LinkTrackr
5. Improvely
---
Final verdict: Which is the best ClickMagick alternative?
ClickMagick comes with lots of benefits; hence it gets difficult to choose the right alternative. Your needs may differ from everyone and the budget too. Voluum has the best features and is a bit expensive; its results are up to the mark; hence we find it the best alternative.
If you are looking for the cheapest alternatives for ClickMagick, we suggest using Linktracker and Improvely. It's easy to identify click frauds; then, the later one is the best choice. Conclusively, think multiple times before buying any subscription.
We have listed the best alternatives for ClickMagick to help you make the right decision. We hope that this list is beneficial for you and satisfactory!🚀