Are you looking to scale your Facebook Ads game and get ahead of your competitors?
Facebook Ad spy tools can be your best companion in your media buying journey. Here we have listed the top most Facebook Ad spy tools or Facebook Ad Intelligence tools that help you to quickly browse millions of Facebook ads with keywords, find top-performing ads on your keyword, domain and filter out thousands of top winnings ads, check its detailed demographics and analysis to create rock-solid FB ADs strategy for your own campaigns.
One set of tools that big companies are using to gain an edge over others is AdSpy tools.
As the name suggests, AdSpy tools gather (or "spy") data on how ads are performing with what segment of your audience, how your competitor's ads are doing, and what keywords you should be using to gain that edge.
If you want to get the kind of sales the big companies are using social media, you also need to start using these AdSpy tools. The problem is finding the right one for your business. Fortunately, we have brought you a fully updated list of Facebook Ad Spy Tools in 2023 with their specific benefits and cons to help you make the right choice.
How Can Facebook AdSpy Tools Help You?
Are you confused about how your competitors are getting ahead of you?
Not sure how audiences will react to your campaigns?
Want to know how to use AdSpy tools to your benefit?
All the big brands formulate strategies that help them get the kind of sales they do. But in today's digital age, they make these strategies using tools so sophisticated even seasoned digital marketers are in awe of them.
Digital marketing is a highly competitive field, and social media marketing is its most competitive form. The multitude of users, less time and space to pitch your product, and too varied a user base to appeal to at the same time are just a few of the challenges social media sites involve. Facebook is the haven of most sales on social media platforms given its massive users and its no-holds-barred market. This is a widely known fact why people rushed to Facebook, and now it is a very saturated marketplace.
If you can become one of the more significant sellers in a saturated marketplace, you can reap the benefits of it nearly permanently. To help you form the right marketing strategies to achieve that, you need to use AdSpy tools and understand the type of ads performing well in your vertical.
Essentially with a competent AdSpy tool, you will be able to access the following information:
How your competition is approaching the customers on occasions they can make sales.
What are the discounts and coupons, and how they are pitched to the users to get conversions.
The kind of content which is to be shown to get sales (videos, images, and links).
When what and how many times you should post (and when your competitors' post and related data on the post's performance).
A summary of customers' reactions to different posts.
An understanding of how your competition targets its customers and the tools they use to do that.
You can get a detailed insight into how your competitors go about their marketing and the highest-performing marketing strategies. With this information and an active Facebook audience, you are free to reach the sky as an online marketer.
We have attached a detailed list of the best Facebook AdSpy tools in 2023 for you to choose from, depending on your needs and affordability.
Top 16 Facebook Ad Spy Tools (Updated 2023)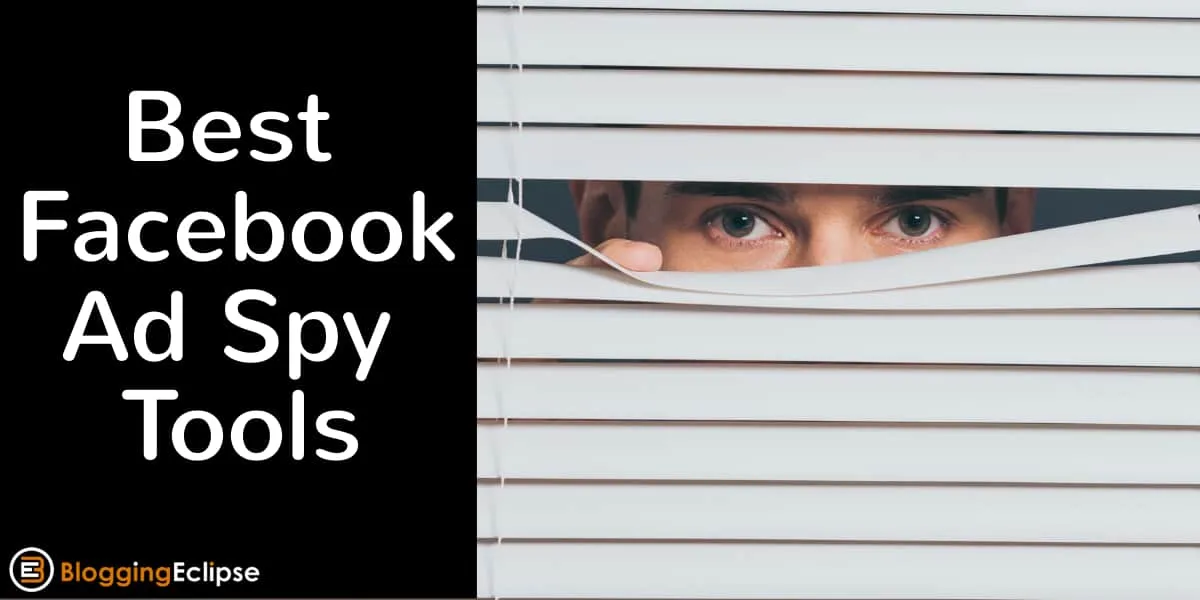 AdSpy is one of the oldest and most reputed AdSpy tools in this list and the Fb Ads industry. They have a comprehensive ad database as one of the pioneers of AdSpying, and their database is not limited to Facebook. If your target audience is in facebook or Instagram, Forgot all other and go with Adspy, With free 1000 Ads views you can test the tool for a few days and then quickly subscribe to their cost-effective premium plans by using our specioal ADspy discount coupon to get virtually unlimited usage on Adspy.
They have indexed over 4,000,00+ ads making them the owners of one of the most extensive ad indexes in the world. You can get data on how ads are performing on both Facebook and Linkedin using this platform. Your social advertising game will get a massive boost the moment you join AdSpy as you can both replicate your competitor's advertising strategy or analyze your plan and fill the gaps in your strategy.
Also read: AdSpy Review: $150+ $75 OFF Coupon [Best FB Ads Spy Tool]
The function to add geotags on ad performance (track the location of which ad is performing well in a particular region) and bookmark ads allow you to make the most of the vast statistical data it presents you. The growing use of technology means a successful social media campaign today is impossible without using these tools, and AdSpy is your perfect partner to make your winning campaign strategy.
Minea can be considered an all-in-one Ad Spyying suite from Facebook to Tiktok. You can make your competitive ad analysis across different platforms such as TikTok, Facebook, Snapchat, Instagram, and Pinterest. Minea analyses over 80+ marketplaces and has analyzed 15 Million+ on all social networks; in addition to all this, what is really excellent is the 2 billion+ users targeted by online advertising; in simple words, you can use these users and ads to upscale your reach while making things even better for targeting.
They have a dedicated database of Instagram and Snapchat influencers showing how their campaigns have worked in the past, their reach, and how well that reach transitions to sales. More and more entrepreneurs have come out with statements stating and restating the growing importance of influencers in social media marketing.
Facebook Ads and their spy tools will always be essential factors in helping you better direct your marketing campaigns, but the rise of influencers in the scene cannot be ignored. Furthermore, the lack of ad spy tools for these influencers cannot be ignored. Affiliate networks have also started partnering with influencers in a growing manner, reinforcing this fact.
Also read: Minea Review: An Advanced Product Research Tool (Truth)
Minea is the first to get you the data on Influencers and spy on the influencers working with your competitors. If you are looking to include social media influencers in your marketing campaign, as you should, Minea undoubtedly has a vital role in the success of your campaign then.

Use our verified coupon code and get 20% OFF on Minea for 3 Months when your subscribe. Hurry up!
BigSpy is a tool positioned towards users newer to AdSpying and cannot spend as much on an adspy tool but want to get that advantage that using these tools provides.

BigSpy was primarily engaged in increasing users for SMEs and advertising agencies. Still, the good thing about BigSpy is its advanced search and custom filters, and you can find the data you need or even instruct it to provide you with the correct information for your ad campaign, making it highly user-friendly. The BigSpy database is divided into AdSpy, Ad Tracking, and Ad Copy Analytics. Ad Tracking and Ad Copy Analytics are tools you can use to see how any particular ad of yours or others is performing and how a specific piece of copy is performing from any ad you're looking into.
Also check: BigSpy Review + 25% OFF Lifetime Discount(#1 Ads Spy Tool)
Offering 6+ platforms for you to scour through currently, it is an ideal tool if you're looking to get helpful information at a price that leaves you to use other services and products as well for your new business.
As the name suggests, Dropispy is an ad spy tool geared majorly towards dropshippers. The technology here is specially designed to help dropshippers identify the most profitable products and niches by offering them a big database of ads and providing them with the tools to search through the huge database with ease to find the winning products and niches.
Well, it is worth mentioning that Dropispy also offers some excellent advanced filters that can turn out to be a game changer in your ad analysis game. You can come across some major filtration options, like targeting certain demographics, audience groups, CTA buttons, and much more. On entering the ads tab, you can see the likes, shares, and comments on any particular ad with the date of the ad creation and its traffic. The other tab is the shop tab. Under here, you can find thousands of dropshipping shops and spy on their sales and how they are achieving them.
You can see which apps the stores you want to compete against are using so you can optimize your sales campaign for that particular app. The combination of seeing which store is promoting on which app and where their traffic is coming from can be a valuable resource in directing your marketing efforts.
Also check: Dropispy Review: $125 OFF Dropispy Coupon [#1 AdSpy Tool]
An active blog, sufficient tutorial material, and 24×7 customer support with a variety of filters, making it not only a large but an easily searchable database makes the Dropispy tool worth every penny you spend on it for your dropshipping business.
One of the most advanced tools you'll find on this list, PowerAdSpy, has a reputation for providing very reliable data to its users. The core function of an ad spying tool is to allow you to gain information on your competitor's strategies and integrate them into yours to get sales.
A vital part of this is that your AdSpying tool provides you with actionable data. That is the vision with which PowerAdSpy was created. PowerAdSpy's ad database is reputed as a vast and easy to navigate one, allowing you to fulfill any and every need you may have from your ad spying tool. They have a large team to keep track of all the top-performing ads across all verticals. This means you're covered with the same ad spying tool even if you choose to expand.
PowerAdSpy keeps you one step ahead as you don't have to guess how your copy or campaign will perform, given you can base it on ads that are already performing well in the market. The signature feature offered by PowerAdSpy is its advanced search and filtering. This feature allows you to find the most relevant ads for your needs, increasing your campaigns' probability of success. Their range of filters includes age, gender, relationship with the interest of your product, keyword, or the landing page action of users for any ad you want to know about.
60% OFF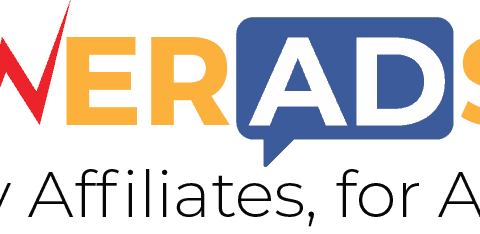 PowerAdSpy Black Friday Deal - 60% OFF on all Yearly Packages
Their Revealbot function is an ad automation tool that can help you create top-ranking Facebook (and other social network ads) instantly. These ads are optimized to get you the maximum brand awareness, ROI, and reach on your respective platform. This, along with their in-depth analytics tool, which can instantly draw the market segments for every ad, complete their in-house package of advanced adspying tools.
Also read: (Updated) PowerAdSpy Review + Coupon Code (10 Days FREE)
The ability to control and use all these functions from a single easy-to-use dashboard and active customer support with an active Facebook and Twitter community offered at a competitive price makes it one of the best AdSpying tools on this list.
Anstrex is a tool focused on providing data on more niche native advertising. For any product you're looking to sell, you can get the entire ad data on that product in a single click. Native advertising is not looked into as much, and using Anstrex, and you can expand your marketing campaigns into this very profitable media channel.
Usually, you would have to undergo hours of copious research to get any info on the native ad networks, but with Anstrex, you don't have to because they have already done that research for you. With access to more ad networks than is possible with any other tool and a database storing millions of ads for each of the 15 countries, they operate in, the keys to infinite traffic are with you, always. A unique database offering exclusive data about native markets is what you want to take advantage of. Anstrex is the collection of native spy tools that will get you that advantage.
Also read: (Updated) Anstrex Review + Discount Coupon | (Upto 30% OFF)
Their signature features are access to the big players in the marketing strategy and the tools to frame a winning campaign in multiple countries.
AdPlexity is a leading adSpy tool because they provide you the option of accessing the landing page URL and directly downloading the landing pages, banners, and all the promo materials which are getting the most sales.
Operating across more than 70 countries and Desktop, Mobile, Native, and API ads have made them one of the leading players in this industry. The ability to see, in real-time, which campaigns are the most successful in 75 countries on a single screen is truly a step in the forward direction for the industry as a whole.
It is easier than ever before to isolate profitable ad campaigns as AdPlexity directly detects a spike in mobile or desktop traffic and gives you a popup to indicate the traffic sources. Another unique feature of AdPlexity is that you can see the top affiliate ads and directly go to the affiliate networks and programs that offer these ads to get in on the action if you are an affiliate marketer (as a large majority of users are).
Integrating both of these functions in the same tool can help users make the most out of their adspying efforts as you can instantly capitalize on whichever is more profitable at any given moment.
Their advanced search filters allow you to search for data on an ad's keywords, advertisers, publishers, countries, devices, and URL. The option to track traffic sources is also available, but you need to be an advanced online marketer to make sense of the data presented. Overall, AdPlexity is indeed a handy adspying tool; it checks all the right boxes, has a vast ad library, and can help you identify and tell you how to appeal to your target audience.
The target set of users for Macaw is online marketers. Social media platforms are filled with thousands of ads. Macaw's specialty is the largest database of ads ranging from Facebook Ads to even competitive intelligence data across multiple regions and platforms like Facebook, Instagram, myTarget, and many more.
Online marketing is a challenging task, and the need for solid data analytics is more than ever. Macaw is focused on providing you with as much reliable data as possible so you can understand your traffic source, device type, and other detailed analytics in a way that you can create a successful campaign. Providing you with all the audience demographics you need, Macaw is a must-have tool for online marketers. Check our detailed review of the Macaw ad spy tool to see and understand its Key Features more detailedly.
Visto is a relatively new AdSpying tool that we have included here as it is ideal for small and medium enterprises.
Their pricing plans, a substantial database of Facebook ads, and varied ads spy tools make them a perfect choice for someone looking for an ad spy software that is user-friendly and light on your pocket. We found that using the "other" filter in the Visto advanced filters section can lead you to affiliate offers that are not displayed that often but are often much better than any of the dating or gambling offers displayed prominently. The low competition gives you nearly exclusive offers and a user was able to make almost $20,000 in profit in an hour, as featured on their active customer support blog.
Also read: Visto Review | 30% OFF Discount Coupon (Free Trial)
Visto is a platform that can help you with an extended range of your needs as an online marketer at a reasonable price. Made by experienced online marketers, Visto finally answers the best Facebook Ad Spy tool for small and medium businesses.
AdHeart is one of the only Facebook ad spy tools which also hosts a large base of creatives. What this means is in addition to getting you the data on all the Facebook ads you want to know about, you can access their network of over 700,000 creatives in multiple verticals and countries.
Their searchable database is a combined effort to help you engage your audience with suitable ads and the right people to create and feature in those ads. Filter ads by country and get a read on their performance by country to isolate profitable keywords, a crucial part of being a digital marketer. These amazing tools are just the start of AdHeart as when you tap into their creative base, divided by industry type, and gather the right individuals to make your well-researched ad campaign come to life.
This ad spy is for marketers, shop owners, and arbitrageurs alike who can all make use of their web of creatives and millions of ad-media files.
SocialAdScout is known for its speed and efficiency of use as an adspying tool. The signature function of SocialAdScout is to gather data on social media ads to see the entire timeline of the ad's progress.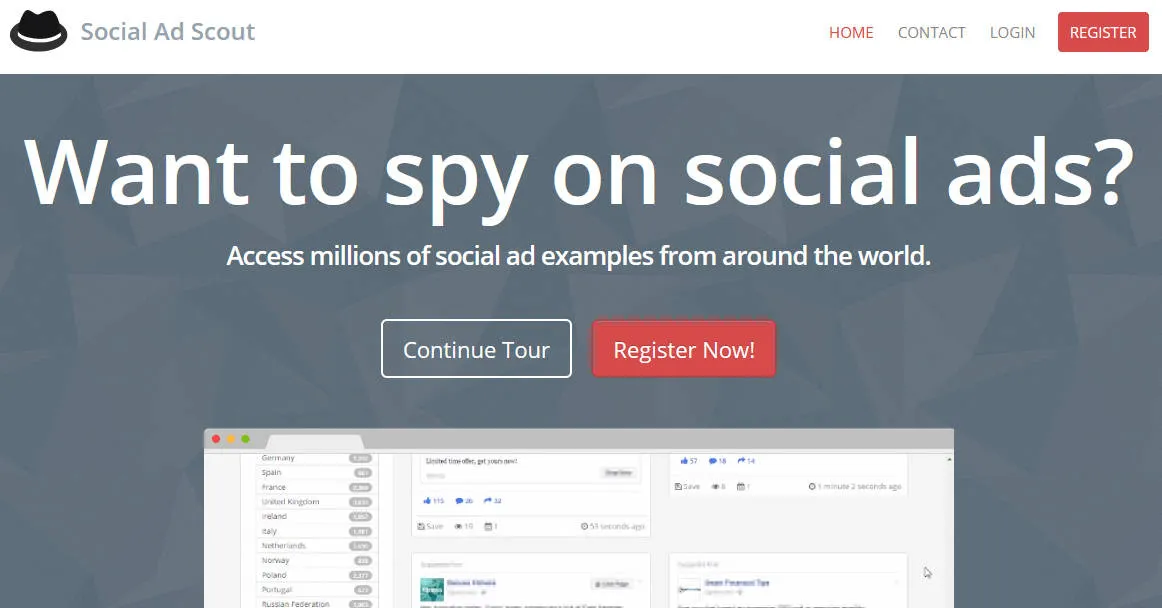 This means you can see how the ad did from the moment it was uploaded to its visibility till the point you tracked it, where the viewers were from and how it ranked overall. Working in over 21 countries with filtering options for demographics, text, and URL SocialAdScout is one of the most advanced AdSpy tools for Facebook ads. You can also download the landing pages of high-performing ads according to your convenience.
Also read: Social Ad Scout Review: #1 Social Ads Spy Tool (20% OFF)
Essentially SocialAdScout is focused on providing the functions of high-end intelligence tools and their advanced features to you at the price of a cup of coffee.
EcomHunt is more of a product research tool. Still, we have included it here because it is a brilliant platform that features winning products from multiple verticals and regions and lists them in a simple, understandable manner.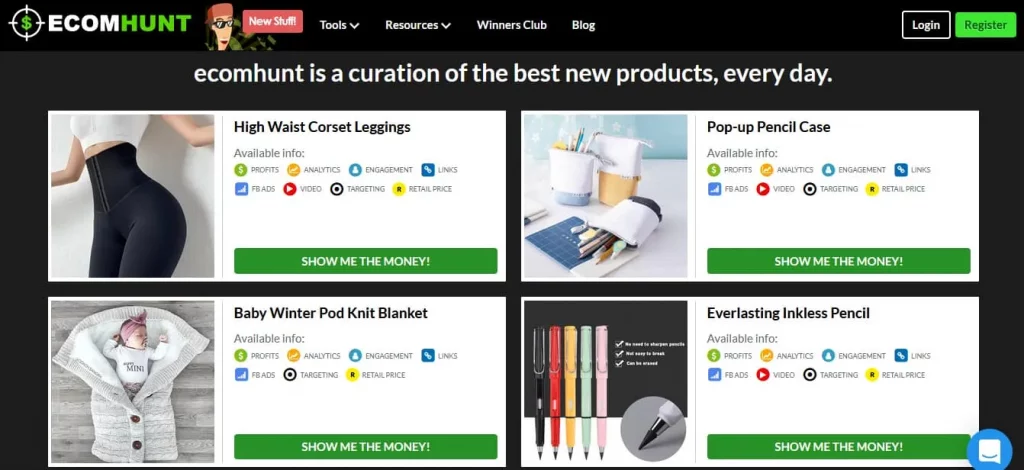 A typical application of AdSpy tools is to help you see which ads are performing the best and then focus your business on selling those products. With EcomHunt, you can directly see a list of winning products and then focus on selling them.
Suppose you want to eliminate the element of guesswork from your product choices as a seller. An active EcomHunt community and their initiatives like the Winners Club make them very popular with sellers. In that case, you can use their constantly updated database created by experts based on solid data analytics. Essentially, if your adspy tool aims to figure out which are the winning products, you should consider joining EcomHunt before you move to figure out which adspy tool to purchase.
Pexda is similar to EcomHunt, but the key difference is the broader range of functionality you get with Pexda.

With Pexda, you can discover a daily updated list of high-performing profitable products, so you never waste money on the wrong products. This list is paired with a database of hot products which you can access before they go viral. To understand how they achieve this, we will take an example. You are a seller trying to research for products you think will sell well.
You don't have the appropriate data to figure out the perfect profitable products, so you think you will get an adspying and a product research tool. The people at Pexda offer you a database of winning products with data on any ad you wish to know about. This helps you get the utility of both with a single platform, and you can focus on making your money while also enjoying the savings of not having to pay for two different expensive tools.
Also read: Pexda Review: 50% OFF Coupon Code | #1 Product Hunt Tool
Pexda is one of the most value-for-money tools on this list, and it can help you rake in the money from the moment you join, so the only question you should be asking is if you will buy the Premium Plan or the Ultimate Plan?
Established in 2011, they are one of the oldest adspying companies. Focused on providing media buyers and mobile advertisers with the insights they need, WRW is an elite adspying platform.
They work with over 20,000 websites and nearly 100,000 advertisers; they make performance advertising look easy. With WRW, you get access to a virtual ad ecosystem, with which you can test out your advertising strategies will perform before you ever put your ad out there.
WhatRunsWhere holds all the tools to help you create a profitable campaign and has been doing so in its ten years of business. Whether it is helping you reach new traffic sources, get the drop on your competitor's marketing strategy, understand the top segments and verticals, or everything in between is WhatRunsWhere unique skillset, and they excel at it.
Connectio.io is a tool for advanced marketers. With features like connecting your autoresponders to your Facebook custom audience and connecting your CRM autoresponders to all your Facebook lead ads Connectio.io, it is undoubtedly a tool with an extreme amount of functionality.
Marketers have used this tool to discover the targeted buying audience in seconds. If you want to focus on knowing your audience better or growing your audience, you can do both with this tool as you can retarget campaigns based on the average behavior of members on your website.
You can also use this tool to leave your competition behind by focusing on highly targeted interests which have less competition than the products you're selling or marketing now from their database of high selling low competition products. Finding out the top users in niches, and running automated tests to find out your competition's interests and your performance statistics for your copy before you run it without missing a beat is just the start of the benefits of Connectio.io.
AdEspresso is an all-in-one advertising tool. You can optimize existing ad campaigns to get your Facebook Ad campaign to the optimum levels. You can also test out images, promos, headlines, and every aspect of your ad campaign in this program before your content goes live to ensure sales.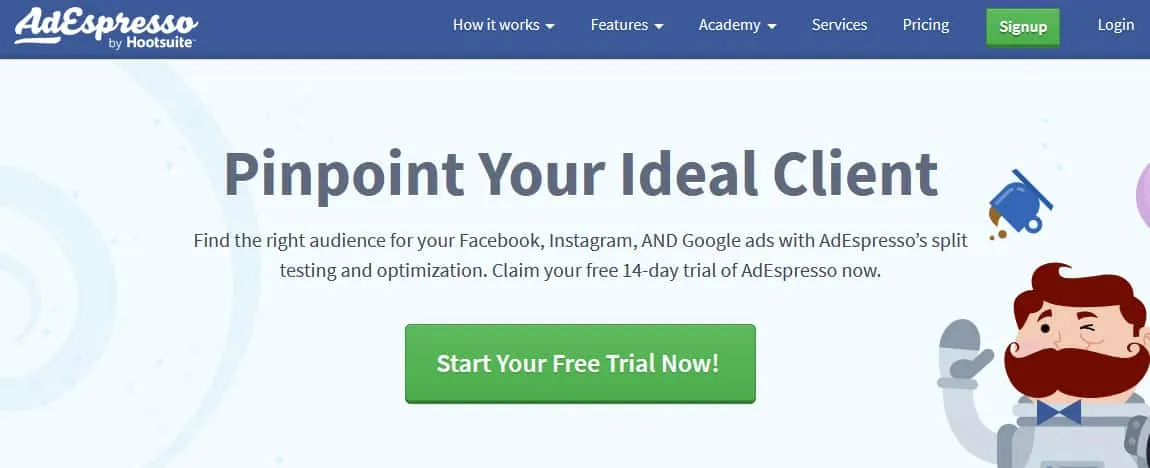 Using their various proprietary filters, these features can be used better if you browse through their Facebook ad gallery. At $49, AdEspresso is perfectly priced to be your one-stop shop for all your advertising campaigns.
Facebook Ad Spy Tools FAQ
What is Ads Spy?
Ads spy is a tool that is used to search for the competitor's profitable ads on social media like Facebook.
Did Facebook remove info and ads?
There is one section which is added by Facebook called "Page Transparency," which is also called "Info and Ads." Well, Facebook does not remove info and ads tabs, but it was moved.
What can I see about my competitor if I used Ads spy tool?
If you use Ads Spy tool, then you will get to know the following things.
1 How many Facebook ads is your competitor running.
2 What the ads look like.
3 Where they are running ads.
4 When they started, etc.
What is a Facebook ad library?
If you're looking for information on ads being run across Facebook, Instagram, WhatsApp, and other Meta platforms, the Facebook Ad Library is an excellent resource. This searchable online database includes ads in all industries- whether they're currently active or not. A library is a valuable tool for research purposes and competitive intelligence, providing insights into the types of ads being run on the platform and their performances.
Conclusion: Top 16 Facebook Ad Spy Tools Updated 2023
Social media advertising is a key success factor for any business nowadays. If you are new to Facebook Ads or you are interested in boosting your paid traffic on Facebook, it is always a good idea to use social media Ad spy tools. These tools will help you to understand the Facebook advertising landscape and create Ads that are targeted, engaging, and get the maximum amount of conversions.
These tools will help you to see the potential of your Facebook business pages and to re-create them as engaging and effective Ads. Businesses that make use of Facebook Ads are at a great advantage when it comes to building their brand, acquiring new customers, getting visibility, and spreading the word about their company.
If you are a business owner, you can take advantage of these Ad spy tools, you can use the above-listed Facebook Ad spy tools to crash test your ads and find out what type of Ad copy and creatives engages the most and what type of content performs the best.
Try Adspy For free + $150 OFF Coupon (1000 Free Ad Views)
Adspy.com is the biggest FB ADs spy tool with the largest searchable of FB ads with the highest level of filters. Best for Affiliate marketers and e-commerce. Try Free and use Coupon code "BLOGE50" to get 50% off for the first three months.
We hope this list helped you understand which is the ideal adspying platform for Meta. AdSpying is an essential practice that the big players are already making use of, and if you want to be a part of the future of digital marketing, you also have to join hands with an adspying platform.
To decide which is the right platform for you, you have to think about your needs and your budget precisely, which comes in the meeting point of the two—all the best, leaving your competition behind in the dust using their strategies.🤞🤞