Well, you might be wondering what the free tools offered by Helium 10 are?
A great amazon seller tool like Helium 10 offers some great free-of-cost features and tools that can be used in many ways. As per my own experience, I was indulged in Helium 10 for a long time but, after knowing about the Helium 10 free tools, I was pretty much impressed. Well, in this article, I'll be writing about the tools that are free and can be used to expand your Amazon selling operations.
But just as an overview, whoever is not known to what Helium 10, let me give a quick overview of what it is?
Helium 10 is an ecommerce suite, Amazon suite; if more specific, it can provide you some great assistance in terms of product launches, keyword research, Amazon PPC, competitor analysis, and much more. We'll not be going into depth in this article, and you can check out my other in-depth article on Helium 10 review and how it can be used in upscaling your Amazon selling operation.
After all the overview and what Helium 10 is, let's take a look at the Helium 10 free tools and understand how they helped me and can be useful to you.
So let's get started!!
---
Helium 10 Free Tools | Helium 10 Review
Well, as per my experience in the field of Amazon selling, searching for that suitable tool for all the operations can be a task in itself at first; I wasn't sure of how this tool could be helpful for my operations, but the features and tools offered by it were great.
In addition to all the features, Helium 10 offers some free tools that can be used in several ways, so let's take a look at what are the free tools offered by Helium 10:
You might be familiar with the fact that SEO is pretty much very crucial in almost everything done online; using proper keywords and optimizing your content can be helpful in making your content on the top over Google, Facebook, and Amazon. Correct keyword research can make your product among the top listed products when they are searched for.
Just think of a scenario where someone searches for a Bluetooth speaker, and your speaker comes on the top of the search results; well, nobody mentioned the brand/company name, but how come your product becomes the ace player in searches? All thanks to the keyword research, these same operations can be implemented over Amazon as well.
Helium 10's Amazon Keyword Research Tool is free to use and can be used in two different manners, one involving the Keyword search and the other using the ASIN. The Amazon keyword research tool can be helpful in several ways, such as:
Improving the product visibility: Amazon, which can be called a search engine in terms of products, use proper SEO and keyword research can help you optimize and find the most relevant keywords to optimize your product listings and everything.
Amazon PPC: Discovering the thousands of product matches and longtail keyword research can be really helpful in many ways, like opening up several opportunities in Amazon PPC. Keyword research is one of the most crucial steps in the process, as mentioned earlier, and it ultimately determines the success of your PPC campaigns. Works like a step to step process in making your products and your Amazon selling practices better.
Amazon Keyword Research can help you in other ways as well, such as keeping your product relevant (in searches), creating momentum over your sales, and boosting your product ranking with proper research and optimization over Amazon's A9 algorithm.
Amazon PPC Audit by Helium 10
Having a complete overview of the PPC reports can be a great way of making better marketing strategies. Well, Helium 10 offers you to even upload your PPC report over Helium 10. The Amazon PPC Audit can be a great way of understanding and working alongside your ACoS (Advertising Cost of Sale).
The PPC Audit can be useful for:
ACoS Scores: The score and proper overview can help you in understanding and managing how close you are to your ACoS target.
Keyword Analysis: Well, this can be counted as one of the crucial factors in searching and listing your product, whereas Helium 10 also gets along with duplicate keyword research so that you won't be bidding against yourself in optimizing the game.
Campaign & Search Tool Analysis: This feature enables you to better analyze how your campaigns are performing; well, in addition to that, the search tool analysis enables you to get an overview of the terms that made you some profit and the others that didn't. Something that makes Helium 10 a great choice overall is its tutorials; they even offer you a PPC Audit tutorial; well, as per my own experience, these videos can be helpful in understanding and implementing these tools over your selling practices.
The URL builder seriously gained my attention as you can access some great features in this tool alone; Helium 10 offers some features and tools in URL builder such as Canonical URLs, Add to Cart, Buy together, Targeted ASIN Search tool, etc.
Well, in addition to this, the URL Builder also offers you options to choose your marketplace as well; you can choose along with options such as amazon over different locations. I have tried using this feature, and this can be really helpful in making your URLs a bit promotional and straightforward, rather than using the URLs with long series of numbers and alphabets.
QR Codes can be considered an important tool that can help your product connect to your audience. These QRs can also be used to collect feedback on your product and promote marketing and selling opportunities. In addition to all these features that I mentioned above, the QR also offers:
Analytics: This enables you to track data such as date, device, and even the number of scans, which can later be used to analyze the information for better service delivery.
Dynamic QR Codes: Dynamic codes refer to the QR codes that can be changed in real-time; this can help come along with no loss of customers.
Customization: You can even customize your QR codes with different colors, logos and much more to make a better impression on the audience.
Do not expire: The QR codes don't expire, and I guess I don't need to write about that as you might be aware of how non-expiatory codes can deliver their service for a long, long time.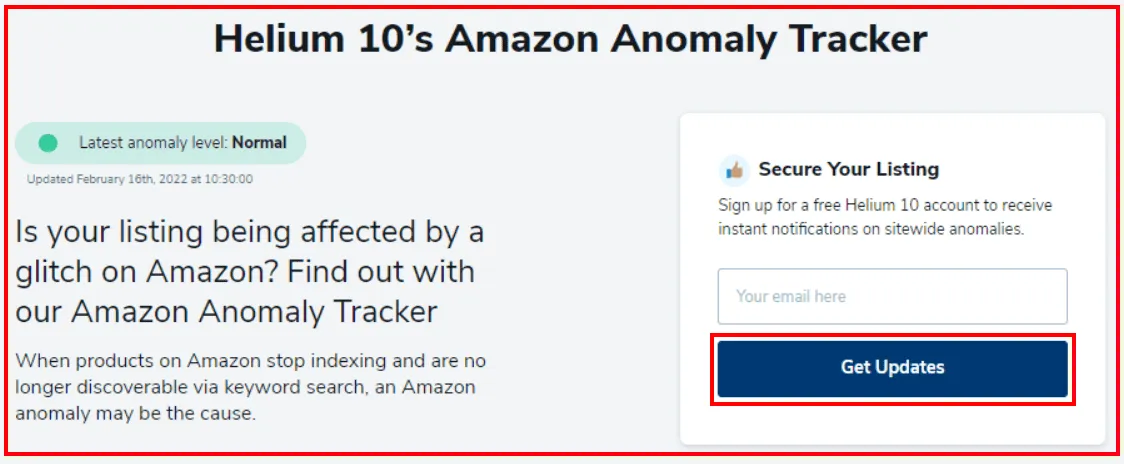 The Anomaly Tracker by Helium 10 can be a game-changer; being aware of any changes or anomalies happening across Amazon can be a great opportunity as well as a precaution while performing any operations.
The Anomaly tracker by Helium 10 shows a graph for the anomaly data, which is categorized into three levels, the normal (within the scope of variance), the medium (possible disruption), and the high/extreme level (search glitch likely).
In addition to this graph showing how Amazon was performing over a certain period, the Anomaly tracker gives you a log of around 2 years, these logs can be used in understanding why a certain dip came along, either it was due to a personal defect or whether due to the site-wide glitch.
The Anomaly Tracker also enables you to get daily updates of how Amazon is performing; you can even opt for the notifications so that you can be notified of any anomalies or whether your product or category is getting impacted due to this site-wide anomaly.
After looking at all the free features and tools, it is pretty sure that the tool can help you in a number of ways, they might be free to use, but the value they deliver is immense. While using these tools, I was pretty amazed by the features they deliver, but after understanding how these tools can be used for your sales practices.
Also read: Helium 10 Review: Ultimate Amazon Software (Why 9 Stars)
FREE
Get Started with Helium 10 for Free
This special promo code allows you to start free with Helium 10. Hurry up! Grab the offer.
This special promo code allows you to start free with Helium 10. Hurry up! Grab the offer.
Show Less
---
🌟 Top FAQs on Helium 10
🙄What can Helium 10 do?
Helium 10 is a leading Amazon seller platform that manages your entire Amazon business. Helium 10 offers perfect suits of tools suitable for both advanced and beginner Amazon sellers to increase product ranking revenue. Helium 10 also provides the tools, resources, and training you need to skyrocket your Amazon business.
🔎Can I try Helium 10 for free?
If you are new to this leading platform, you can try Helium 10 for free as it offers a free version to all its new users. But the Free version of Helium 10 is available with limited features.
❓How much does Helium 10 cost?
Following are the four major pricing plans offered by Helium 10. Click here to activate our exclusive Helium 10 coupon code that helps you to get 25% OFF on the below pricing plans.
Starter: $39/mo
Platinum: $99/mo
Diamond: $249/mo
Elite: $399/mo
🤔Which Helium 10 plan is right for me?
It completely depends upon that particular Amazon seller business model. If you have any questions related to the Helium 10 subscription plan, then you can contact their customer support team that helps you to make more informed decisions.
💻Does Helium 10 have a Chrome extension?
Yes, Helium 10 offers a Chrome extension that helps you find your perfect product. With the Helium 10 Chrome extension, you will see just how easy it is to build a successful e-commerce business. Over 600,000+ sellers extract powerful marketplace data using Helium 10 Chrome extension to build and scale their AMZ businesses.
🚀Is Chrome Extension access included with the plans?
You will get limited access to Helium 10 Chrome extension in the Free Trial plan. The Platinum and above plans give you complete access to all the tools which are included in the Chrome extension.
🏅What is Helium 10 Freedom Ticket?
Freedom Ticket is a comprehensive course that will teach you everything you need to know to launch and grow your Amazon business, from sourcing products to building your own brand. Helium 10 Freedom Ticket course is a complete guide for anyone looking to launch their own Amazon business.
🔥Does the Freedom Ticket Course require a separate purchase?
If you are going for Platinum, Diamond, and Elite plans, then you will not be required to pay for Freedom Ticket Course as these plans cover the cost of Freedom Ticket enrollment.
---
Final Verdict:
As I have already mentioned, what are the features and free tools that Helium 10 offers, but how will they help you? I guess this won't be a matter of question after getting to know about the possibilities I mentioned above. Helium 10, which is a great product research tool in itself, offers some exceptional tools as well, such as Black Box, Misspellinator, Magnet Tool, etc. But you need to go for signing up and getting along with Helium 10 as a user to use these tools, whereas the free tools mentioned above may not require any signing up.
Overall, as an Amazon seller, Helium 10 can help find out sales trends profit margins and even find suitable, profitable products for your business. Hopefully, this article has helped you find value in these free tools, the way I found.🚀🚀
Helium 10 – Everything for Your Business on Amazon
Sign up on Helium 10 for free and get access to all its free tools.