Are you dreaming of making a handful amount of money in a short period? Then starting selling on Ecommerce can give you the best deals, just by staying indoors. And while talking about eCommerce, the only strategic and earning platform is none other than Amazon. And to help you with doing business on Amazon, this Jungle Scout review 2023 is all you need!
But let's not forget about the real competition among Amazon sellers. They are running the same lane for a long time; hence all you can do is strategize your selling. So your savior now is Jungle Scout.
In this article, we have featured Jungle Scout review updated for 2023 that includes its detailed analysis. We have also reviewed the whole customer feedback and the extensions in depth. Below are some fantastic tricks that will help you a lot.
In the end, we have made sure that all your doubts regarding this feature are covered. And let's not forget about the discount coupons we have in our surprise bucket!
Exclusive Jungle Scout Discount Coupons – 🔥 Black Friday Deal 2023
55% OFF
Get 55% OFF on all Jungle Scout Yearly Plans [EXCLUSIVE]
What is Jungle Scout? – Honest Jungle Scout Review
Jungle Scout is an online tool dedicated to Amazon sellers. It's also a Google Chrome extension which was developed back in 2015, and gained popularity in 2019. The need for Jungle Scout aroused when individuals faced problems to do Amazon product research. Jungle Scout helps to make tedious and time-consuming work more accessible by its outstanding features.
The process is easy, fun, and straightforward. You don't have to categorize products, make spreadsheets, and learn the Amazon algorithm.
Not just these, many additional features are paid ones that can help you increase sales. We have compiled all the features, and what we liked most about Jungle Scout. Also, don't miss the end, because we have something amazing for you!
Why do you need Jungle Scout now?
No doubt, that Jungle Scout can make you a successful Amazon seller in a quick period. Jungle Scout has a lot to offer by its free resources and paid ones. You can get a detailed overview of estimated sales, top keywords used, winning products, and, most importantly, a keen eye on the competitors selling strategies.
We have created a combined review of every offering, and also displayed the profit you can get by all these, below.
Jungle Scout Features at a Glance – Is Jungle Scout Worth Your Money?
We have been using Jungle Scout for a good period, and the web app undoubtedly has a lot of abilities. You can get lucrative insights by searching a mass number of product databases of Amazon.
You can make the search more filtered by adjusting the settings. Jungle Scout gives you all the control when searching for any category, pricing, ranking, sales, and revenue. Earning profit through this app is very easy, and that's why Jungle Scout is named the Amazon research tool.
So, let's dig out the features and understand how it can benefit you in all way:
1. Best of all – Product Tracker
The product tracker by Jungle Scout is one of our favorite tools. It helps you to see and analyze a product's entire sales record. This record will give you a detailed insight into the average pricing, sales trend, and fees. What's better than a real-time detail of a product to strategize your selling? Now, here you should know how to make the best out of the product tracker feature.
Choose any product, like a home generator, and put it into the product tracker. This feature will analyze the whole nook and will give you a data-driven approach. Once you get the best seller rank from this tool, try to analyze their strategies. Make a note of the inventories in stock and the units they are selling from the prior period. In the end, the product tracker is quite a fantastic tool, but you should know how to look at the data. Have a keen eye over finding a successful product, and make the best use of the tool.
2. Strategic Tool – Niche Hunter
We call niche hunter a strategic tool by Jungle Scout because of its ideal data. You have to be a research geek or become one; there is no other choice. This tool allows you to identify profitable niches for your selling. Once you get the profitable niche idea, you can look at the product and the keyword. This whole tool works on a specific parameter, like:
Competition score: Once you understand a product category, this tool will give you a competitive rating on a scale of 1 – 10, like the best ten home generators, and the review count. If the product rates 10, then the possibility of its ranking on the first page is high.
Listing quality score: Just like website optimization, Amazon also keeps an eye on SEO. This score by Jungle Scout will give you the optimization listing of the selected product.
Opportunity score: The higher the score is, the chances of your listing at the top rises. The opportunity score is simple to analyze but challenging to maintain.
Average pricing: Through average pricing, you can make out your selling price. If the competitor sells the same product at a low cost, then you should work on your pricing with the help of the tool.
Understanding the strategic and profitable niche while selling any product on Amazon is important. The parameters of this tool are what we like the most. You can dig deeper to know more about any product. This tool will surely help you stand unique among your competitors. You can find treasure through every parameter.
3. Keyword Scout
In this era of SEO, the right keyword research is just like a buried treasure. You have to dig a lot to find a relevant one, which will help you rank and come at the top. With the Jungle Scout Keyword Research tool, you can check out keywords a product ranks for.
You can get a bundle of advantages with keyword scout. It will help you to find the niche keyword that the Amazon buyers are searching for. It will give you a list of the most demanded keywords across your geographical region. You can also check out historical search volume and track organic keyword rankings by which you can optimize your product listings by including the correct keywords found in your Amazon research. This is what listing optimization means, where you can ensure that your descriptions have the words people are looking for.
You can use the listing builder to get a score for your Amazon listing depending on the keywords included. You can save a lot of bucks by using this tool optimally. Say, the cost of running an ad or the pay per click.
What we liked the most of this tool is the way it ensures to give real-time demands. You will never be at the back; the community will always find your product. Even if it is a tough keyword, you will get relevancy every time.
4. Product Database
The product database is a mine, and you have to dig deep down. There are over millions of products over Amazon. You can get lots of useful information through this tool, but you should know how to make the best out of it.
The filters on this tool will give you a list of high demand and low demand competition. You can find your profit by the profit calculator, including the fees too. Select the right criteria, say, if you are looking out for a product with 4-star ratings having an average price of $209. The product list will give you a detailed insight into the international marketplace. Hence, you can strategize your pricing through this tool effectively.
5. Easy Ranking
What is more benefitting than getting the right keyword which will help you rank on the top? Jungle Scout easy ranking gives you a list of keywords along with the popularity. You can get both short-tail and long-tail keywords. But now it's your call, what you have to choose for your product.
6. Inventory Manager
Jungle Scout will also help you to identify when you need to bring in more inventory to meet the demand. Now that's something that is really important, especially if you are an Amazon FBA seller. And if you ensure that you only end up with what you need, it will also save a lot of money on Amazon storage fees.
You get to see the real-time status of your Amazon FBA inventory, by which you can quickly assess when and how much stock you should reorder. It is also a demand forecasting technique that can help you to analyze other critical inventory-level metrics like cost, revenue, average daily sales and average profit per unit. Plus, you can also monitor inbound inventory and keep an eye on units that are on their way to the Amazon fulfillment center.
7. Relevancy Score
So the relevancy score by Jungle Scout is related to the keyword itself. But to make the best use of this feature, you should know what your niche is. Hence, all the features are like a timeline. You skip one, and boom you aren't getting the right result anymore. Therefore, don't skip a feature and make the best use of every opportunity.
8. Opportunity Finder
With the powerful opportunity score finder of Jungle Scout, you can easily find rising trends and profitable niches for your product. This Opportunity Finder is beneficial if you are looking for the first product sold on Amazon or building your business with new and unique products. And, of course, with the Jungle Scout Niche hunter tool, you can easily find various niches to get started selling quickly.
Opportunity Finder refreshes Amazon trend keywords that are in high demand and low competition to easily find profitable product markets. With this, you can skip the manual work of researching and handling your data.
9. Supplier Database
This is the latest feature of Jungle Scout. With this feature, sellers can find legitimate global suppliers used by the world's best brands. You can use the Match Score to identify the supplier of a specific product you're searching for on Amazon.
You can even search using Amazon's ASIN to find the exact supplier of any product in seconds. Plus, you can even use the supplier tracker to accumulate lists of suppliers, compare their quotes, organize samples, manage purchase orders and even track contact information all in one place.
10. Product Alerts
With the Jungle Scout Product Alerts, you can also keep an eye on the products you are selling and monitor prices, reviews, and more. It helps you to stay well informed about critical product changes so you can take action fast, irrespective of the product you are looking to sell or keep our listings optimized for the competition.
Jungle Scout Product Alerts let you to even customize alerts to monitor changes in Amazon products, including product titles, images, category, and new sellers to a listing, and set alert thresholds for changes in pricing, Best Seller Rank (BSR), and product rating. Inside it, you can even track the success of your product with Amazon product review alerts.
How to Use Jungle Scout? A Quick-Step Guide
Using Jungle Scout is relatively easy. For a beginner, we have listed the following basic procedure by which sellers can start using Jungle Scout though there can be other ways too.
Typically, Jungle Scout has Three main areas, to begin with:
Find Products
Find Suppliers
Keywords
Finding Products on Jungle Scout
The initial step, which is also the most crucial step, is to find the products and choose the most profitable ones on Amazon by doing product research.
And then, when you have selected your product, its time to order that, which you can do from the navigation bar at the top of the product database. And to do this is relatively easy and straightforward. And the best way to do that is to use the Product Tracker. In that, you will see the Niche Hunter, which allows narrowing down your ideas based on the different sets of filters.
Finding Suppliers

Next, in the Supplier Database section, you can find the best Amazon sellers and Suppliers. There is a huge list of Suppliers where you have to check information about the services and products. Go only for reliable suppliers, and you can check out more details about the supplier database from the menu.
Keyword Research
Last is the Keyword Research. The keyword section of Jungle Scout has three modules; Keyword Scout, My Lists & Listing Builder. Once you find the product, you can use them in the listing optimization.
What is Jungle Scout Chrome Extension?
At the above, we have mentioned the features of the web app by Jungle Scout. Now, there is more tool by Jungle Scout called Chrome Extension, which is similar to the web app but not the same. There are some more additional features added to the Jungle Scout pro extension.
Features of Jungle Scout chrome extension:
The Jungle Scout Chrome Extension is a plugin that will help you fetch the right amount of data. It is a product research and evaluation tool that helps you do the right product research from your browser. Below are some fantastic features of Jungle Scout Chrome Extension:
Ranking.
Monthly and daily sales.
A number of reviews.
Opportunity score.
Historical pricing.
Ratings.
Revenue.
Most of the Jungle Scout chrome extension feature is the same as the web app; hence, repeating the same is not of good worth. The basic difference we saw between both is the viewability, which is through the browser.
You can just click the icon, and you have all the information dragged down. The web app is comparatively complicated to understand.
What's the difference between Jungle Scout Chrome Extension and the Web App?
With the Jungle Scout Chrome Extension, you can check out all of the product's critical information quickly. You only have to click on the icon in your browser, and it will generate for you tons of helpful information in no time. This will save you time and money.
We would say that the web app is far more robust and complicated as it has a ton of features which can you can use to get more detailed or general information. To help you, you can think of the extension as a quick and real-time view of single products and other most crucial info, whereas the web app is the entire program for complete Amazon research.
How to Install Jungle Scout Chrome Extension?
The following steps can help you to install the extension for the first time. Do make sure you follow them.
First, Log into your Jungle Scout Account
Then choose the Extension option, which is on the left-hand navigation panel.
Finally, click on the button corresponding to your preferred browser, and the extension will be downloaded and automatically installed.
Free Tools Offered by Jungle Scout – Is Jungle Scout Accurate?
Next, in our Jungle Scout review, we will quickly have a look at the Free tools.
Profit Calculator – Jungle Scout Review
The FBA calculator is helpful in determining your FBA fees. This calculator helps sellers to find out how to calculate actual profits and ensure the success of the business. It works similarly to the FBA calculator but allows you to enter all of your expenses to land on your Net Margin Per Unit. You only have to enter your first and last name along with your email address to download it.
Sales Estimator – Jungle Scout Review
The Jungle Scout's Sales Estimator is a great way to check average monthly sales numbers for specific Amazon categories and help aid product launches. You only have to enter the Best Seller's Rank Number, Amazon Marketplace and Amazon Product Category, and the tool will provide you with estimated sales. You can get 10 free estimates per day.
💡 Tips to Maximize Your Income with Jungle Scout (Must Read!)
Many Amazon sellers will tell you many tips and tricks about Jungle Scout and how you can make more money from it. But the below tips are the ones that you should always consider before you use Jungle Scout as your Amazon business partner.
Analyze the product properly and set the right price. You need to analyze the product's average price, a which price points it sells the most units, find out the Amazon fees and also find which price will deliver you the best profit margin.
Do check out all the variations when you look for a product to private label which is currently performing the best and start with that product.
Modify your ways to stand out. You can specify things about the product and what makes it stand apart, even in the images and product descriptions. Do look for similar Amazon products to get an idea, and then go ahead.
Make sure you find products similar to the one you are planning to sell, and then use the FBA fee calculator to find any hidden costs to make your profit margins accurate.
If you have a website or a blog, you can create content about your product niche, which can help you to capture customers who are searching for your products on the internet. And then, when they reach your blog, you can direct them to Amazon to purchase the product.
You can also take the help of influencer marketing to those who might review your product on social media to boost its sale.
You can build an email list of customers so when you are ready to launch a new product, you can choose something that your audience or customers can find interesting. This can also help you to advertise the product.
How to Make the Best Out of Jungle Scout?
As of now, you know the features of both the tools by Jungle Scout. But the real struggle is to make the best use out of all the features. You have to understand what product you want to sell. You should look after the niche, geographical distributions, pricing structure, and keyword relevancy.
Hence, to help you make the right decision, we have listed some steps that will help you make the best use of your money. Just after you have selected your niche, the next step is to look after the pricing. The pricing includes the competitors offering and the average pricing of the product internationally.
Later have a look at the other products monthly and daily sales. This will help you to analyze the competition and demand for the niche you have selected. Now the last step is to go for sales demographics, and if all the results are in your favor, then make an early decision and start selling your product right away!
Expected Earning by Using Jungle Scout
Jungle Scout has come up with a report which guides various insights from more than a thousand sellers; new Amazon Sellers are earning close to $26,000 to $810,000 per year in profits.
Following is a more detailed breakdown in terms of the average monthly sales:
Close to half of the Amazon sellers make $1,000 to $25,000 in monthly sales
20% of Amazon sellers make more than $25,000 in monthly sales
But only about 24% are the ones who make less than $1,000 in sales per month
And here is how Amazon Sellers are profiting:
Close 2/3 of Amazon sellers get a profit margin higher than 10%
36% of them see a profit margin higher than 20%
And only about 8% stated that their business was not profitable yet, and about 5% were there who did not know how much they were expecting.
👉Jungle Scout Pricing Plans – Does Jungle Scout offer Free Trial?
Jungle Scout does offer a free trial, but it offers a 7-day money back guarantee. Talking about the pricing of Jungle Scout, it comes with three plans. Let's have a look at what it offers in three plans.
Below is a tabular comparison of all three plans of Jungle Scout with the features offered.
Basic
Suite
Professional
Pricing
$49 per month or $349 per year
$69 per month or $589 per year
$129 per month or $999 per year
Number of seats included
1
1
6
Additional Seat Cost
–
$49
$49
Browser Extension
Yes
Yes
Yes
Opportunity Score
Yes
Yes
Yes
Product Tracker
20 Products
150 Products
1000 Products
Amazon Sales Estimator
500 Estimates/mo
1000 Estimates/mo
1500 Estimates/mo
Opportunity Finder
Product Database
Keyword Scout
Supplier Database
Three searches per day
Unlimited Searches
Unlimited Searches
AccuSales™ Estimates
Yes
Yes
Yes
Historical keyword data
1 Month
1 Year
2 Years
Historical product tracking data
1 Month
3 Month
6 Months
Marketplaces
10
10
10
Manual Review Requests
Review Automation
Yes
Yes
Yes
Review Automation:
Delayed Send
No
No
Yes
Review Automation:
Exclusions
No
Yes
Yes
Advertising Analytics
No
Yes
Yes
Sales Analytics
Yes
Yes
Yes
Listing Builder
Inventory Manager
Alerts
Supplier Tracker
Promotions
No
Yes
Yes
Listing Grader
100/mo
200/mo
500/mo
Academy Training
Customer Support
Yes
Yes
Yes
Priority Onboarding
No
No
Yes
Jungle Scout Academy
If you join the Jungle Scout academy, you will learn how to sell like a pro. It is the most comprehensive and actionable training program by Jungle Scout for Amazon Sellers. You can learn almost everything right, from product research to managing your business. It is a learning hub that includes over 130 videos and covers virtually every aspect of the Seller's journey with guidance from Amazon pros.
This course is designed by the founder and CEO of Jungle Scout – Greg Mercer. He has an 8-figure seller and is also the winner of Seller Awards for the best Amazon expert. Academy also has weekly Q&A sessions where you can ask crucial questions from their experts. You can also skip sessions as you want and also participate in community forums. You also can take advantage of the Livestream training sessions which are available and grow your skills.
Jungle Scout Alternatives You Should Consider in 2023!
Jungle Scout Vs. Helium 10
Helium 10 is the best alternative to Jungle Scout. It comes with more than 10 powerful Amazon Specific features which make Amazon FBA business profitable and easy. Helium 10 comes with easy-to-use yet powerful tools like a black box, X-ray, magnet and others. We have already reviewed Helium 10 in BloggingEclipse and explained each of the tool in detail. You can check out our in-depth Helium 10 Review here.
And about to talk about the pricing, it also comes with three plans starting from $29/month. This is the starter plan which is for the training and tools you need to get started. Then comes the Platinum plan, which costs $84/mo and is best for growing business. Lastly, you have the Diamond Plan, which is for $209/mo and is best for expert sellers looking to scale.
Jungle Scout Vs. Viral Launch
Viral Launch is another strong competitor of Jungle Scout. It is a powerful and robust tool for Amazon sellers to boost their profits. These tools help sellers to optimize their sales, and for that, it offers tools like Product Discovery, market analysis, keyword research, Split test, Competitor Analysis, Listing Analyzer and Product manager.
Viral Launch also helps in innovating and creating effective listings, which can easily fetch more revenue. It has among the most Amazon keyword tools to get your products that offer the most relevant keywords. You can check out our more detailed Viral Launch Review here.
About its pricing, it is slightly more expensive than Jungle Scout, where its Initial Plan, named Essential Plan, is priced at $69/month. Then comes the Pro Plan, which costs $99/month. Finally, you have the Pro Plus Ads Plan, which costs $199/month.
Jungle Scout Customer Support
Jungle Scout's customer support is relatively fast and friendly. For a new user, you might have many questions about the tool, but their customer support team is highly patient and responds to every query and problem via email, which is excellent!
You also have the Help Center Page, which has answers to almost all the technical and Frequently asked questions related to accounts and payments. Along with this, you also have the Jungle Scout Academy, where you can learn and master the art of selling on Amazon and how you can use this tool to its full potential and unlock new revenue potential. In the Academy section, where you can also get a weekly Q&A section which can clear your doubts quickly.
Jungle Scout Affiliate Program
Jungle Scout terms its affiliate program as the best affiliate deal in the industry. And support this statement has three reasons:
Zero Earnings Caps for the affiliates, as there are no caps on how much money they can make. Affiliates can make thousands of Dollars per month by sharing their link.
They offer a 90-day affiliate cookie to keep them credited when the customer makes a purchase.
Affiliates are paid every month, and payouts are made one time via PayPal or Stripe each month, paid in a 60-day conversion window.
The application process is also straightforward; where affiliates first have to apply, and their team will review your application and welcome you to the program. After that, affiliates will receive their link. Affiliates can now share it and start collecting up to $150 for every successful referral.
Jungle Scout Customer Testimonials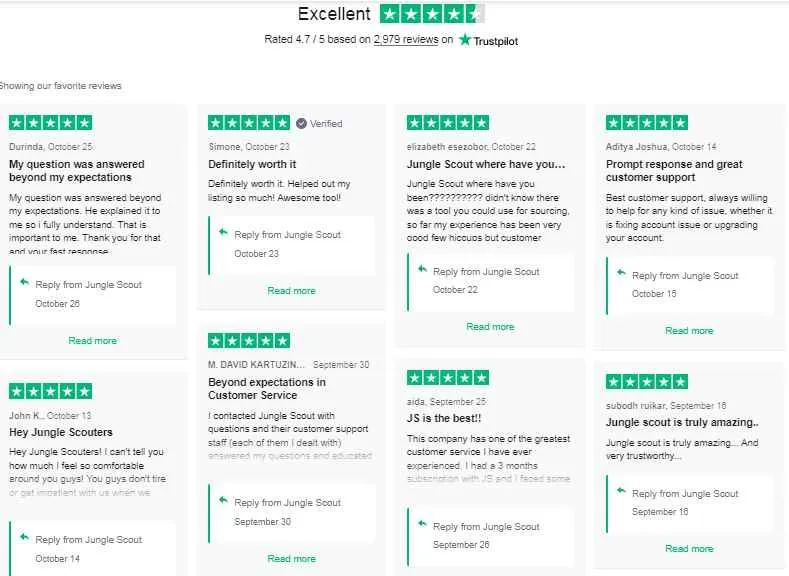 Jungle Scout FAQ
What is Jungle Scout Chrome Extension?
Jungle Scout Chrome Extension evaluates new opportunities that enable you to forecast product sales, request reviews, etc. It also helps you determine whether the product is a worthwhile investment or not.
How to install Jungle Scout Chrome Extension?
Follow the below steps to install Jungle Scout Chrome Extension
1. Sign in for Jungle Scout.
2. Always use Google Chrome as your browser to download Jungle Scout Chrome Extension.
3. Click on the Extension tab button, which is at the top of the page.
4. A new page will open, simply click on the Install Chrome Extension button.
5. Jungle Scout icon will appear once the extension has downloaded.
6. At last, enter your credential, and you are ready to use Jungle Scout Chrome Extension.
Does Jungle Scout offer a free trial?
Jungle Scout never offers a free trial, but it assures the user with a 14-day money-back guarantee. The only trick you can do here is canceling your subscription within 14 days and get your money refunded.
Can I get Jungle Scout for free?
Nothing is available for free in the market. However, you can get Jungle Scout at a discounted price by using our special JungleScout coupon.
Who owns Jungle Scout?
Greg Mercer is the Founder and CEO and Jungle Scout. He was also the 2020 EY Entrepreneur of the Year and is a leader in the Amazon Selling community who built Jungle Scout initially as a Chrome Extension to automate the process of finding products to sell on Amazon.
Can you use Jungle Scout Pro Extension on more than one computer?
Yes. But remember that you will be logged out on the other device as soon as you log into the new one, as the extension only supports one user at a time. However, many customers do share an account with their entire team.
Can you rely on the accuracy of Jungle Scout?
Jungle Scout is a tool that many Amazon Sellers use, and you can count on its accuracy. Even though it's not exact, you are expected to know a good knowledge of how selling on Amazon works but its still reliable. And, of course, a lot of new entrepreneurs do make the mistake of taking Jungle Scout as the only gospel. But you also need to know how things are going and take it as a guide to your decision-making but not the decision itself.
Is Jungle Scout really worth it?
Yes. The features this tool offers it is really worth it. If you wish to grow your Amazon FBA Business, this tool can really help you with finding the best winning products on to go. With features like Keywords scout, competitions, sales estimates, search volume, profit calculator, instant access to data history, and much more – this tool is clearly the one to go for!
Is Jungle Scout free?
No. But Jungle Scout does offer you a 7-Day Money-Back Guarantee along with three pricing plans. So if you don't like the tool, you have got 7 Days to decide whether you should continue with it or apply for a refund.
Is there any free alternative to Jungle Scout?
Yes. Unicorn Smasher is the Free Alternative to Jungle Scout. This Free alternative to Jungle Scout might be great for new sellers, but many experience sellers have mentioned that its data is not accurate. Also, it lacks a few of the features which Jungle Scout offers.
How to sign up for Jungle Scout?
It is straightforward to sign up for Jungle Scout. You can follow the easy steps mentioned below:
1. Head to Jungle Scout and click on the orange "Sign up" button in the top right corner
2. Then, choose between monthly or yearly to check out the pricing plans. Click "Buy now" on the plan which you want.
3. Enter your email address and password, and click "Next."
4. With your credit card info, you can complete your purchase and start using Jungle Scout.
From where does Jungle Scout get its data?
Jungle Scout has more than 500 Million data points per day. The data come from various sources, for example, Amazon sellers, who have elected to share their data.
How accurate is the Jungle Scout's Sales Estimator?
The Sales Estimator of Jungle Scout is highly accurate as it is powered by AccuSales, which is the industry's most accurate sales estimation algorithm for products sold on Amazon. It can predict the average daily, weekly and monthly sales for millions of products, plus it also has an active role in powering all the data found on Jungle Scout.
Jungle Scout on Social Media
Conclusion: Jungle Scout Review + Discount Coupon | Should you really go for it?
Jungle Scout can save you a lot from groundwork. It identifies all the best products according to your niche, which can make your business more profitable. Not just this, the way Jungle Scout guides you throughout with the optimization, we think that no other application can do it.
The entire history of sales data enlisted to you can help you make strategic decisions. You can even rework on budgeting and lower the price of ads and PPC because you will have all the required data in the first place.
Hence, the bottom line is to get yourself a package, try it for months by using the above guidelines, and boost your Amazon selling business in the right way!
Jungle Scout Review – Start and scale your ecommerce business!
Amazon is a huge marketplace, and it's hard to be competitive and make sales on the platform. With so many sellers on the platform, finding your niche and growing is difficult. Jungle Scout was developed by sellers for sellers. With Jungle Scout, you can find profitable products to sell, stay up-to-date with marketplace changes, manage inventory, etc. It provides resources and data that will help you succeed on Amazon.
Positive
It is an excellent tool for Amazon product research.
It offers accurate data.
Easy to use dashboard.
Large access to the supplier's database.
Excellent customer support.
Negatives
There is no mobile app.
The pricing is a little expensive.
Jungle Scout – Best Amazon Seller Software
Try Jungle Scout risk-free for 7 days with their money-back guarantees.
Quick Links: