If you want a platform for web hosting, then there are tons of choices available out there. But, choosing the right web hosting provider is essential.
That is why, today, we will give a detailed ✅Nexcess Review, which is a premium web hosting provider. Here, you are trusting the system, and you are giving the rights to manage your store to some automated system; that is why we can understand why you need the best web hosting provider.
Web hosting comes with modifying feature sets, price points, and bonuses. What is the advantage of owning a website on WordPress if your hosting provider does not offer you something which others do not? Even if you have to pay a little more to get all the integrated features for your store, then that is a fair deal.
Using a web hosting provider optimized for WordPress and comes with a managed hosting platform assures that you have ample time leftover to handle things like content creation, digital marketing, site design, and much more. That's why picking a managed WordPress hosting provider like Nexcess is often the clean choice. If we want to choose the best web hosting provider, we must know all its details! Without further due, let us begin our Nexcess review and see if this is the right fit for you or not.
If we say in simple words, WordPress web hosting is an online hosting service that is optimized in terms of management, security, and speed.
Additionally, it makes your store management much more manageable. Once you sign up for it, you will not need to worry about 'Managing your store'; instead, a hosting provider will take care of all the other aspects.
The things that a WordPress Web hosting platform provides are as follows:
Updates to the WordPress core, plugins, and themes
Review optimization so your loading times stay low
Reliable, offsite backups of your website
Outstanding assistance for those times you run into problems
Server configuration if you're on a VPS or dedicated plan
Since we now know what a WordPress Web Hosting platform offers, it is time to understand what Nexcess has stored for its customers.
Attention: 🔥 [Updated]Liquidweb coupon: 65% Discount on VPS Servers
---
Detailed Nexcess Review
Nexcess, based in Michigan in the United States, has more than 18 years of hosting experience under their tract and is acknowledged to host 45,000+ websites on their network.
Technology in the current era is proliferating, and hence it is difficult to come up with something very new in the field, but every technology demands challenging work and seriousness.
Around 20 years from now, Nexcess has set its goal to fulfill the promise. Nexcess commenced their life struggle from a garage present in Michigan. The garage was as tiny as a small room.
The developers decided to become one of the most excellent hosting providers who empower their clients to create the business and develop it well.
While it has other services like flexible cloud hosting and enterprise hosting, Nexcess's flagship offering is a handled hosting service for WordPress, Magento, and WooCommerce. There's also assistance for Drupal, Craft CMS, and good old ExpressionEngine.
If we say in simple words, a web hosting provider is all about publishing and having an online store at a fair and reasonable price. They are reasonable if you are making a profit because let us tell you that Nexcess is not cheap.
Why pick Nexcess and choose it that will return your investment from your online store?
To ease our worry, Nexcess provides 9 core values, by which they state that we can easily trust on their integration process.
The values that they offer are:
Beyond their convenience
Business mind
Planning innovation together
Not just a job but to grow and lean regularly
Service: The client is always the priority
Ideas: Creation, innovation, and repetition
Fear: Growing over fear
Protective: Provides protection
Let us dive deep in our Nexcess review to get to know all the juicy details.
---
✅Exclusive Nexcess Discount Coupon Code (100% Working)
| Nexcess Coupon | Details | Redemption link |
| --- | --- | --- |
| 50% OFF | Save 50% off on six months of Nexcess hosting. | Activate Deal |
| 50% OFF | Flat 50% off on managed WordPress plans. | Activate Deal |
| 25% OFF | 25% off on managed WooCommerce hosting plans. | Activate Deal |
| Free Trial | Start 14 days free trial. | Activate Deal |
| StoreBuilder | Get your first month free on StoreBuilder by Nexcess. | Activate Deal |
---
Key Features of Nexcess
In this section, we will look out for all the features that Nexcess offers.
🏅 Ease of Use
This is the most crucial feature that we look for when going for specialized software. We do not want the learning curve to be too big; that is why finding the ones will make our work easier and automate our work.
For this, Nexcess would be a great choice. The whole service kind of needs you to know what you're doing, hosting-wise. If you've ever built a website with traditional hosting, you'll find your way around swiftly enough. If you haven't, well, services like Hostinger are a lot more easygoing to start with.
There's an easy-to-use dashboard that gives you access to all the tools needed to manage your site. Here are just some of the things you can do from it:
Allow the Nginx Accelerator to speed up content delivery and purge its cache.
Turn on the free CDN services you get with your hosting plan.
Monitor bandwidth use
Set up an FTP account for testing purposes
Configure the free SSL certificate
Run your email accounts
Design manual backups
Set up the platform and developing environment
🚀 Exceptional Speed & Performance
Nexcess guarantees an exceptional experience for server performance and superior loading speed, specifically designed for WordPress and Magento websites.
Nexcess web hosting services are much speedier than the others.
The speed is up to much faster than the other available web hosting services. Using PHP 7.0/7.1, My SQL 5.7, Apache 2.4, RAID, and SSDs to collect the information in the cloud storage has been feasible.
The power-packed band offered here shows excellent performance, load balancing is much better, intensified security, and low memory consumption. There is a feature offered by Nexcess, which is particular in its way; that is, the auto-scaling platform designed especially for Nexcess cloud.
🎯 99.9% Uptime Guarantee
Nexcess is one of the few web hosting providers which offers an almost 100% uptime guarantee. Do you know what does that means? It means the news is delicious!
Although it is not feasible to be the best, therefore Nexcess already cleared that there are some exceptions:
Malicious attacks that take out a server(s) (e.g., a DDoS attack)
Scheduled network, hardware, or software maintenance
cPanel issues that cause disruptions
Legal actions that were taken against your website or company
Despite all this, Nexcess does a great job providing a 99.9% uptime guarantee, which most of the software cannot.
🌌 Auto Scaling Method
If your website gets hit with a massive influx of users, more resources will automatically be allocated to your website, for free, for 24 hours.
That is excellent for dealing with things like "the Reddit effect." Getting a little extra attention on your site won't cause your site to discontinue or shut down.
However, if the steady stream of traffic continues, and it's not a DDoS attack, then you'll probably need to update your plan to handle the extra site users. But, if you're making money from your now-famous site, that works out!
💻 Free Backups
That is a thing; that is a lot of hosts who do not provide you free backups. Instead, you have to pay additionally for it.
But that is not the thing with Nexcess; here, you get free backups for your benefit!
Nexcess makes daily backups, which are kept for 30 days each. This is huge; this is enormous! That means you'll never lose more than 24 hours' worth of content or updates. That can be irritating, but it's nothing you can't recover from with a few coffees and some relentlessly happy pop music in the background as you work.
---
Nexcess Customer Support
Nexcess is not the most cost-effective cloud storage service as opposed to other alternatives. In exchange, many other less costly cloud storage services lack Nexcess' caching, website acceleration, auto-scaling, regular backups, and 24/7 technical support.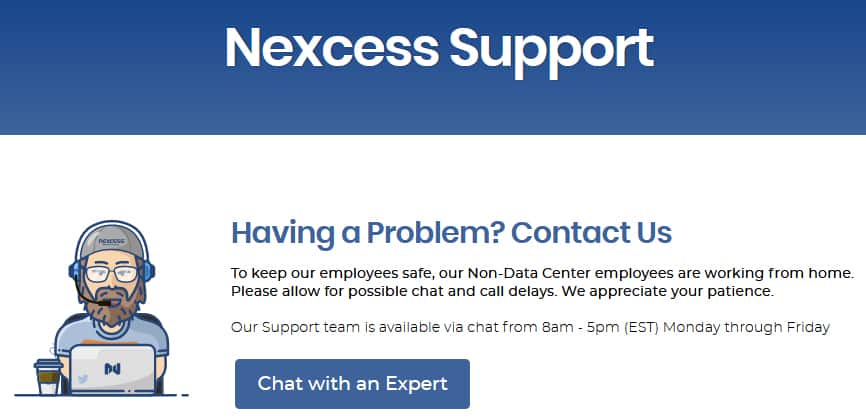 The auto-scaling support is very efficient. If your website lacks traffic or is a DDoS attack, it will automatically traffic your website. By this, your website will not likely get shut down for over a month.
After that, you have the option of paying by the hour or moving to the next tier of service. That is a significant improvement over most other cloud hosting providers' pay-as-you-go models: you won't be criticized if your website performs well.
If, in any case, your website is facing any issue, then Nexcess will not wait for you to contact customer service. Instead, Nexcess's integration will automatically connect to the customer service.
Isn't that great?
However, suppose there are any other issues that you face and are not informed automatically. In that case, their customer service representatives are available via phone, email, help passes, and live chat 24 hours a day, 7 days a week.
Please do not confuse the live chat available on their home page with customer service executives as that live chat is for sales-related inquiries only. You can only get access to their actual customer support once you sign in as a client portal.
---
Security Pro Plugin for Managed WooCommerce & WordPress Hosting
If you buy any Nexcess Managed WordPress or Nexcess Managed WooCommerce plan, you will get access to the premium iThemes Security Pro plugin worth $80/year for free of cost!
With the help of the plugin, you can take advantage of the following features:
WordPress brute force protection
Local brute force protection
Network brute force protection
XML-RPC brute force protection
Google reCAPTCHA Integration
Two-factor authentication
Scheduled malware scanning
Security logging
User action logging
WordPress user security checking
IP address blocking
File change detection
Reducing comment spam
---
Nexcess Pricing Plans
There are multiple pricing plans which Nexcess offers:
Nexcess Managed WordPress
Spark (1 website) ($19)
Maker (5 websites) ($79)
Designer (10 websites) ($109)
Builder (25 websites) ($149)
Producer (50 websites) ($299)
Executive (100 websites) ($549)
Enterprise (250 websites) ($999)
Nexcess Managed WooCommerce
Starter (1 store) ($19)
Creator (3 stores) ($79)
Merchant (5 stores) ($149)
Standard (10 stores) ($299)
Growth (20 stores) ($549)
Enterprise (30 stores) ($999)
You have to keep in mind that, that the pricing chart of Nexcess is a little pricey. If you are getting a lot more profit from your store or website, there is no harm investing this amount.
All is fair if you are maximizing the profit of your business.
If you are considering going with Nexcess, make sure you have investment-ready in your pockets.
---
🌟 Nexcess FAQ
✅What is Nexcess?
Since 2000, Nexcess is specializing in WooCommerce, Magento, managed WordPress hosting. Nexcess offers exciting features and has five major data centers all around the USA, UK, and Australia.
✅Does Nexcess offer free SSL certificates?
✅Do I need technical knowledge to use Nexcess?
Nexcess is a great web hosting provider that offers a wide range of solutions for small to large websites regarding your technical knowledge.
✅Is there any working Nexcess coupon code?
Yes, check the above-mentioned Nexcess discount coupon code that enables you to save maximum money on your plans.
---
Conclusion: Nexcess Review 2023 | Should you buy this hosting?
So, what did you learn with all the features that we mentioned in the above article? You must be thinking that why go with something costly like Nexcess if you can go with other web service providers?
The answer to your question is QUALITY.
The thing is the integration and support you will get here in Nexcess, which you will not see in other hosting providers.
Other than that, Nexcess's ease of use makes it the best choice for the newbies! If you are new in technology, then with Nexcess, you will not need to go through a big learning curve.
So, finally, we highly recommend this web hosting provider for your business.
We hope that you find our Nexcess review helpful. If there are any suggestions or questions related to our article, mention or ask them in the comment sections below.
Until then, keep digitizing, keep maximizing.🏅
Affiliate Disclosure: This post may contain some affiliate links, which means we may receive a commission if you purchase something that we recommend at no additional cost for you (none whatsoever!)