Every Amazon seller wants to relax while earning a good amount of money. This can happen with nearly every e-commerce business. There are also thousands of sellers on Amazon that have an exceptional business.
All of these merchants on Amazon have really worked hard to get where they are now. The first step towards success in Amazon's business is to evaluate the market and their come product research software.
There are various tools available on the internet that helps sellers to conducts accurate analysis to become successful. Jungle Scout and Viral Launch are two of the well-known product research tools. Choosing the right Amazon product research tool can help merchants substantially increase the chances of making a tremendous amount of money.
The only secret is to choose the right Amazon product research software. In this review, we will compare ✅Jungle Scout Vs. Viral Launch tools that include all the detailed insights about their features, benefits, pricing, etc.
---
Jungle Scout Vs. Viral Launch 2022 | The ultimate comparison
What is Jungle Scout?
Jungle Scout is an e-commerce software explicitly designed for users of Amazon. It is used as a tool for specific purposes of various product research for the sellers of Amazon.
It takes from users the information regarding the concerned products, tracking the product, exploring multiple opportunities and ideas related to the product, crosschecking and referencing data of the sales from various competitors, and calculating the fee estimates of FBA.
It is becoming one of the best software tools in researching products in the market. It has a reach of about 2,00,000 sellers who trust the Jungle Scout software.
Check: Detailed Jungle Scout Review
It also helps find profitable products easily and quickly on Amazon, and since it finds you profitable products, it will help you make a lot of money. Along with this, it will have the help you save some money.
---
Features of Jungle Scout
There are various features that you might want to know as an Amazon seller. It has an FBA fees estimator. It also tracks down not just profitable products for ou but also tracks down several competitors. It has a data tool for exporting as well.
Another essential tool that is present in it is the niche hunter tool. Additionally, it also allows you to collect scores related to product opportunities.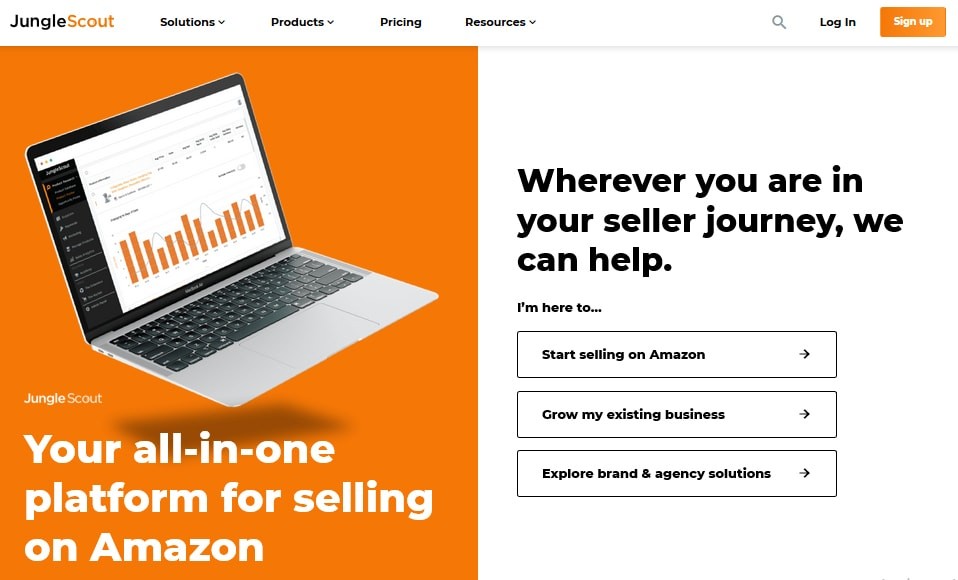 Another feature is Google Trends Checker. The next is a tool for Keyword Scout. It allows lets you keep track of the reviews and the ratings. It will also help in doing a review count. Finally, it estimates the total sales and allows you to search for filters, which help you filter out unneeded information about several products.
Along with this, several new features were added to Jungle Scout as well. They include deleting unneeded products that result in irrelevant search results. You can also view the historical trends of price by clicking on the column that mentions various prices.
Another new feature is that the historical trends based on the products' rank can be viewed by clicking on the column that shows the rank. Lastly, you will view the report of Google Trends from the available Jungle Scout data.
---
Jungle Scout Google Chrome Extension
The Jungle Scout software is only available in two windows. The first is the version of the web app, which is now re-branded as Jungle Scout. The second is the Google Chrome extension. The Jungle Scout software is a subscription that you pay for every month. As discussed above, its fundamental function is to help various users find various useful keywords and products on Amazon.
However, the Chrome extension helps users track and find various useful keywords and evaluate the products discovered for the user.
---
Jungle Scout Pricing
There are 3 plans available at the moment. They are- Jungle Scout, Jungle Scout Extension, and a joint plan that includes both Jungle Scout as well. The Jungle Scout plan is priced at $39 for a month.
50% OFF
The Extension plan is priced at $179, and it is valid for a year. The final plan, which is Jungle Scout and Extension, is priced at $169. You get 3 months of Jungle Scout as well as 3 months of extension.
---
Pros & Cons of Jungle Scout
Pros of Jungle Scout
It is a straightforward yet helpful and efficient tool for product researching and product discovery.
It will also provide you with excellent insight into the sales data. It is of great help when you need to find various new ideas as well as opportunities.
With the help of Jungle Scout, it is elementary to track products. Furthermore, it is handy software whenever you want to identify profitable products.
It will help you determine which competitors in the same field have products that have both low and high-profit margins.
The chrome extension will also give you an accurate and precise result whenever you research the product and the competitor. Lastly, many videos can help you and guide you as a user through the process of an Amazon FBA store.
Cons of Jungle Scout
Customer support is not available
There are not many cons; however, some users who have used jungle scout software have said that their customer support is prolonged and takes a lot of time to reply.
The English language is mandatory.
Another con is that it can be tough to find people who speak any other language than English and hence if you need any help, you will have to know the English language.
---
Jungle Scout Vs. Viral Launch: Features Comparison
| | | |
| --- | --- | --- |
| Features | Jungle Scout | Viral Launch |
| Product Database | Included | Included |
| Competitive Research | Included | Included |
| Market Intelligence Tools | Included | Included |
| Supplier Database | Included | N/A |
| Keyword Research | Included in all plans | Included in Pro plans and above |
| Chrome Extension | Costs extra | Included |
| Launch | Included(but additional features cost extra) | Included(but additional features cost extra) |
| Listing Builder | Included | Included in Pro plans and above |
| Sales Analytics | Included | Included |
| PPC Optimization & Automation | Included | Included in the highest level plan |
| Training & Video Guides | Included | Included |
| 24/7 Support | Included | Included |
| Official Website | 👉 Visit Jungle Scout | 👉 Visit Viral Launch |
---
What is Viral Launch?
Viral Launch is another software that helps in product research. With the help of this, you will find lucrative products and sell them on Amazon. According to Globe Newswire stats, Viral Launch has become the third-largest advertising platform that is digital in the US.
They made high profits and experienced a 117% leap in percent in Amazon revenue of ads in 2018. At the same time, its net worth crossed $10 billion.
More about Viral Launch Software
There are several data points under this software. Some of them are- historic trends, the revenue for every month, sales of every month, and the history of sales made in the past 12 months. Like Jungle Scout or any other tool that can be used for research on Amazon, Viral Launch is a marketing intelligence tool specializing in data management. Along with, there are some more features.
Some of them include a sales estimator and help us monitor all the sales made and all the deals that might occur. Furthermore, it acts as a tool that helps in analyzing the products and their efficiency. It also lists the optimizer.
Lastly, it is a tool that is useful for product launching. At the same time, it also offers various packages that depend on Amazon sellers' journey. It includes the different types of service add-ons and discount and coupon codes.
---
Features of Viral Launch
There are many features of this software. However, the below mentioned are the top features.
1. Keyword research tool
The first is that it is a keyword research tool. Due to this feature, you will find keywords that are the most relevant for your products. On the other time, it will also keep track of the keywords' data and manage the analytics of the keywords' data.
Once you find the keywords that you were looking for, you will be able to adjust the product's description so that it stands out to the customers at the present moment and in the long run.
2. Product discovery
The second feature is that of the product discovery tool. The fundamental idea of this tool is to help you in finding specific products on Amazon. This will help you find the market for different opportunities for the product. Still, it will also help give you access to real-time data on the different catalogs available on Amazon's site.
Furthermore, this tool will also help you in keeping track of the performance of the other products. This includes data from the past, getting accurate estimates of the sales of products similar to your products, and predicting future sales, which is how well they might sell in the future.
3. Viral Launch marketing
The third feature is the Viral Launch marketing intelligence tool. This tool acts as a Chrome extension and is said to be an eye-catcher among all the Viral Launcher tools that are available.
These tools help make an excellent estimation of the total sales and estimate sales by analyzing your competitors' products. Lastly, it provides loads of information about different products based on whether you do product analysis on Amazon or any other retail platform.
4. Product idea scoring and ranking
The fourth feature is called Product Idea Scoring and Ranking, and it determines whether the product that we are selling is worth the effort we are putting in and whether it be sold or not.
The rating of all products is done on a 5-point rating scale, from 1 to 5, and is based on the relevance and appeal of the search that has been made.
5. Viral launch review tool
The next feature is the Viral Launch review count tool. It helps estimate the number of reviews that we might get and is based on what products/services we are planning to sell on Amazon.
Moreover, as an Amazon seller, you will also be able to automate the requests of reviews received from your customers.
6. BSR trends
The sixth feature is used to keep track of the BSR trends. It is essential that, as a seller, you know the metric system of the Amazon Best Seller Rank (BSR).
If you know the BSR, you will be able to keep track of all the trending products, and you will be able to decide whether any products need to start selling as soon as possible. Lastly, knowing about the metric system will help you observe what is being demanded and trending among your customers.
7. Viral Launch
The seventh feature is the Viral Launch free trial. Everyone loves free stuff, and this is why Viral Launch offers a free 14-day trial to its customers. Interestingly, you do not need to add your credit card details, unlike other companies or software.
It merely asks for your email id, and that is enough. Hence, without your subscription's burden getting renewed automatically, you can avail the benefits of this software until your free trial is over. If you like it, you can pay for the subscription.
8. Viral Launch kinetic PPC
The last feature is the Viral Launch Kinetic PPC. It is a very new feature, and it helps incorporate the analysis, automation, research, and strategy are compiled together in one element.
---
Viral Launch Pricing
There are 4 different plans. All of them are paid. The names are- beginner's kit, pro seller package kit, brand builder package, and data hunter package.
The beginner's kit is priced at $50.15 for every month and includes just the basic features of this software, and it includes Viral Launch Market Intelligence as well as Product Discovery. It is a plan made for entrepreneurs who wish to launch their first product on Amazon's site.
The next is the pro seller package, which costs $84.15 per month. It has more than just basic features. Along with only the basic features mentioned above, the added features include keyword manager wherein you can write 2000 words in a day, keyword search, builder, and analyzer for listing. It has a limit of 50. It should be purchased by brands that are still growing and progressing and wish to enhance their sales.
The third plan is the brand builder package, which starts at $126.65 per month and is meant for larger brands who wish to dominate the markets. It allows you to write 5000 rankings of keywords daily.
Along with this, there is the feature of tracking 100 other competitors and lastly analyzing 100 listings every day along with other features mentioned above.
The last and final plan is the data hunter package, and it is priced at $339.15 per month. It should be purchased by established brands who wish to maximize organic and PPC profits. This plan allows you to analyze 250 listings, rankings of 15,000 keywords, and allows the tracking of about 250 of your competitors. Along with this, you get every feature mentioned above.
---
Pros & Cons of Viral Launch
Pros of Viral Launch
The wide variety of Viral Launch features are an excellent idea for launching and scaling the store of Amazon. Additionally, it has extensive and comprehensive information about analytics on both the sellers and the products. It is software that is accurate, effective as well as efficient. Along with this, it is very user-friendly as well.
Furthermore, there are a lot of video tutorials of different types on YouTube along with checklists, so that is easy for you to learn this software. Hence, it is a helpful and easy software to follow along with tutorials of videos and checklists, and along with this, informative webinars are also available online. It also saves you a lot of time and can give useful insights to you.
It is not just PC-friendly but is mobile-friendly, which makes it a more straightforward software to access. An update was recently done to the software, which further enhanced the software's efficiency even more.
Along with all these benefits, you also get access to a live chat box present at the site of Viral Launch itself and makes your work easy due to the accessible communication that can be done with the team and admins of Viral Launch.
Lastly, they do not have any forced sales tactics, which allows you to pick features that you want without any pressure.
Cons of Viral Launch
There are also cons to this software as well. Automatic renewals can be annoying when you need to use your credit card and when you are not using their services, you will not be notified about any of it. Furthermore, once you have subscribed to Viral Launch, you cannot get a full refund or partial refund.
Even if the services are not used! Lastly, market intelligence can fail to give accurate results at times or even any products sometimes. People have also left negative reviews and complained against their pricing policy and how they had difficulties finding or getting good results or getting a good or positive response from the customer support team.
---
🌟 Jungle Scout Vs. Viral Launch FAQ
❓How much is Jungle Scout?
Jungle Scout provides the following three pricing plans:
Basic Plan: $29/mo
Suite Plan: $49/mo
Professional Plan: $84/mo
❓How to get Jungle Scout for free?
Jungle Scout is the only tool that you need to build or grow your online business successfully on Amazon. One can try Jungle Scout risk-free for 14 days with their money-back guarantee.
❓Is there a free alternative to Jungle Scout?
As we all know that Jungle Scout is the paid Amazon product research tool, but it also offers a risk-free for 14 days money-back guarantee. So you can easily try Jungle Scout, but for some reason, if you are not satisfied with the tool, then Jungle Scout will also refund your money. On the other hand, Unicorn Smasher and Helium 10 are the free Jungle Scout alternatives.
❓How much does Viral Launch cost per month?
Viral Launch has 2 simple pricing plans that suit each person's needs.
Beginner – $51/month
Pro – $85/month
You can use our Viral Launch coupon code to get a 40% OFF discount on its pricing plans.
❓Which is the best Amazon market research tool?
Even though each and every Amazon product research tool are so same, but they have a lot many different features. If we compare tool in terms of data, usability, features, and reviews, here are our top amazon market research tools that you should try:
#1. Jungle Scout
#2. Viral Launch
#3. Helium 10
#4. AmaSuite 5
#5. Unicorn Smasher
#6. AMZScout
---
Conclusion: Jungle Scout Vs. Viral Launch | Which Amazon Research Tool is Best?
Jungle Scout has gained way more popularity than Viral Launch among Amazon users due to the services and products offered and the tools that they offer. Even though it has coins, but the pros overpower the cons.
The majority of users have expressed confidence and a positive experience with this software and the app's successful use. Also, constant updates are a great way of increasing the efficiency of the app.
Now that we have told you everything about both Jungle Scout and Viral Launch, we hope you are more informed about the two software, and we hope you will be able to decide which one is better and suits your conditions and requirements. In case you need some time to decide, make sure to come back here for all the details.🤞