Looking for an honest Shortly AI review?
Yes, you have landed on the right page.
Writers experiencing blocks has become a widespread phenomenon. Many of them do get stuck between projects and find themselves helpless and nowhere to go. But Shortly AI is here to help you come out of this challenging situation as it is among the best GPT-3 based AI writing assistant software that can write your articles, emails, ad copy, books and anything you want.
This Shortly AI review will throw more light on the usage, benefits, pricing, pros & cons, FAQs and its alternatives which can help you make a better-informed decision about this tool. So let's begin.
Shortly AI Review Facts Upfront
| Product Name | Shortly AI |
| --- | --- |
| Product Type | AI Writing Tool |
| Used For | Copywriting and Content Writing |
| Pricing | $79/mo |
| Free Trial | Yes |
| Credit Limit | Unlimited |
| Best Suited For | Digital Marketers, Copywriter and Content Creators, Bloggers |
| Official Site | https://www.shortlyai.com/ |
What is Shortly AI? – Honest Shortly AI Review
Shortly AI is an AI based writing tool that uses the latest GPT-3 technology to write articles, ad copy, blog posts and much more. This fantastic tool is easy to use and understands your needs, and then writes for you accordingly. And we have tested this tool, and you simply don't have to worry about the quality of the content because it is just the next level.
It does not matter if you have to write a marketing copy or an insightful article; this tool is capable of doing it all for you. With Shortly AI, you can write Blog Posts, Emails, ad copies etc. Plus, it also has a few powerful commands which you can use to write more unique articles. Also, there is not limit on how much you can write, and the quality of the articles is also human-like.
Well, we have been using Shortly AI for two months now and are certainly impressed by it and among the best AI content writing software in the market. It actually saved a lot of our manual work and time as well that used to go into writing content. We did try many other tools as well but were impressed by Shortly AI more. Let's dig into more details about this fantastic tool.
Write 10x faster.
Write 10x faster.
Shortly AI Feature Lists
Following are few of the fantastic features of Shortly AI:
Let's you generate articles, stories, Blog posts etc.
Creates social media posts
Powerful Commands to enhance content generation speed.
Delivers 100% Original Content.
Unlimited Words Credit.
Helps you write Emails inducing the subject lines.
Can also create Video Scripts.
Shortly AI Review – How to Use Shortly AI in 5 Quick Steps?
Let's now check out how you can create content using this Shortly AI. This easy step-by-step procedure is going to help you create unique content using this amazing tool.
Step 1: First of all, Click on this unique link to activate your Shortly AI Free Trial. And you simply don't have to worry about anything as you are not going to be charged a single penny for it.
Step 2: And after you have successfully created your Shortly AI account, now its time to create your first blog using this AI tool.
Step 3: Next, you have to choose what you want Shortly AI to create. In our case, we have selected writing an Article/blog. Then Simply click on Start Writing and proceed.
Step 4: Now, you first have to put in a brief description of what you wish to write. Then, Enter the Heading and write a few initial sentences about your content and hit the "Write For Me" Button.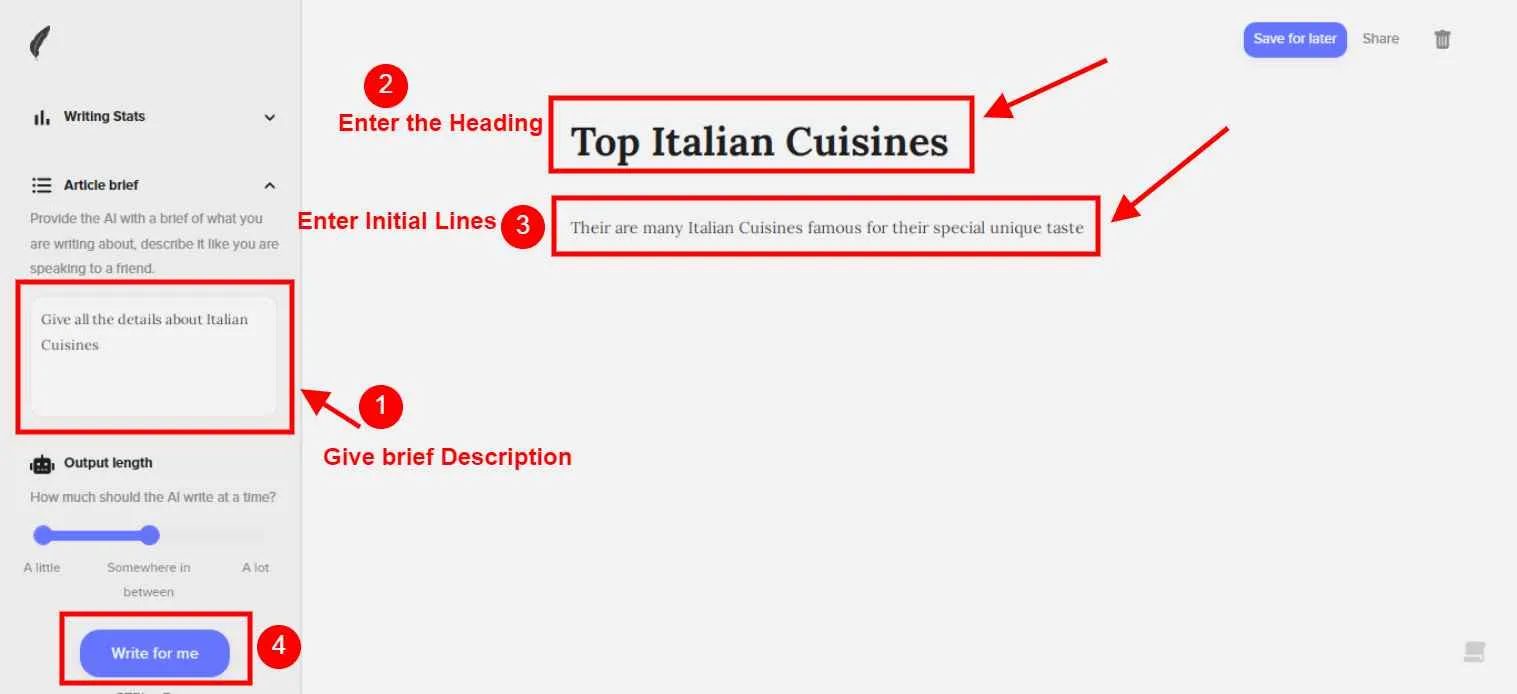 Step 5: That's all. Here is your unique content delivered by Shortly AI. Don't worry about the quality of the content, as it is free from plagiarism.
Congrats! You have now learned how to generate Blog Posts from Shortly AI. Further, you can also specify the output length, and it will provide you with content automatically.
Shortly AI Commands – How to Use Shortly AI Commands?
The Shortly AI Commands are something that makes this AI tool special. With these commands, you can create content within no time and write anything you want. Let's discuss more in detail about them in this section.
Here are few of the commands for Shortly AI:
/Instruct
/Shorten
/Expand
/Rewrite
1. Instruct Command
This is among the most popular Shortly AI commands by which you can instruct the software about anything you want. With this command, Shortly AI will work more like Google Assistant. As Google Assistant delivers you unique content so well Shortly, AI gives you the exact content you need.
You only have to type in the following command and see the magic of this AI tool.
/instruct[WRITE YOUR TEXT HERE]
You can also select the text and then press the "CTRL"+ Enter" to run the instruction command.
Here is an example showing how we used the Instruct Command.
Examples of Instruct Command
/instruct[Write an introduction paragraph for "How to increase stamina"]
/instruct[Generate an outline for "How to increase Height naturally"]
/instruct[Explain why should we wake-up early]
2. Shorten Command
This command is another powerful command in Shortly AI which you can use to shorten a long paragraph or a sentence.
To use this command, just type in: /shorten [your sentence or paragraph here]
You can also select the paragraph or sentence and Press "CTRL"+"[" to run the Shorten Command.
3. Expand Command
You can use this command to expand the words in your paragraph or sentence. This command is really useful in the case where you are struggling to explain a topic or finding it hard to put forth your thoughts.
And to use Expand Command, Just type in: /Expand [your sentence or paragraph here]
You can also select the paragraph or sentence and Press "CTRL"+"[" to run the Expand Command.
4. Rewrite Command
With this command, you can rewrite any paragraph or sentence. You only have to put in the command, and it will rewrite the paragraph or sentence in a unique way.
And the Rewrite Command is: /rewrite [Your Sentence here]
You can also select the sentence or paragraph and press CTRL+P to run the Rewrite Command.
What can Shortly AI do for you? – Benefits of Shortly AI
Next in our Shortly AI review, we will now see what this amazing AI tool can do for you.
1. Unique Content in No Time
After using Shortly AI for a few days now, we can definitely say that it does provide you with unique content human-like. As it is powered by the fantastic and latest GPT-3 technology, it writes almost like humans. This technology also empowers it to more effectively understand the provided details and work accordingly and provide you with unique content.
Also, it would lessen your content generation time and save it for other content ideas. Also, Shortly AI can create unique content irrespective of any industry and also the content produced is entirely original and free from plagiarism.
2. Copywriting Frameworks
Are you tired of writing a copy that is not converting? Well, Shortly AI can help you with that as it can help you to write better and faster copywrites within no time. It will help you in copywriting and ensure that your copy sounds like it was written by a copywriter.
For this, you can use the Shortly AI Instruct Command and write any kind of copywriting structure.
Example:
Before-After-Bridge
AIDA
PAS
And many more.
3. No Word Count Limit
Unlike the majority of AI writing tools, Shortly AI provides you with unlimited work. When you use AI to make your content, you do require a lot of words.
As less content generated is of no use, its better that there is no limit on the words generated.
ShortlyAI doesn't have credit systems which we think is a certain edge over other AI copywriting tools. So you don't have to worry about words, and you can write as much as you want.
4. Create YouTube Video Scripts
If you are struggling to write Video Scripts, well, Shortly AI is here to help you. This feature can help you find the right script which will surely be engaging and more effective for your audiences. And with Shortly AI, you can create Video Scripts in no time. Only you have to write in a few commands, and the rest of this AI tool will write for you an engaging script.
5. Write Quick Content with Shortly AI Commands
Content generation is critical when we talk about any AI writing tool. And Shortly, AI has more to offer where its commands can be used to generate content quickly. You only have to type the required command along with what you wish to generate, and the AI tool will deliver you content in no time.
6. Write Converting Emails
Shortly AI is also beneficial in case of writing high converting Emails. It can help you write interesting Emails in which your audience is interested.
In marketing, it is highly important that you write engaging and exciting emails which contain the proper usage of right words so that your audience finds it interesting to read it and finally bring in conversions. And Shortly AI helps you with good and engaging emails which will compel your audience to read it completely from start to end and make your Emails converting ones.
7. Write Books
For authors, this feature of Shortly AI is something to rely heavily upon. Whether you have to write a short novel story or an article, Shortly AI can help you with all of that. When you sign up for a free trial of Shortly AI, you only have to enter brief details about your story, and the rest of the tool will do for you. And don't worry about the provided content by Shortly AI as it would be really engaging as if a human had written it.
8. Social Media Posts
Social media posts are an excellent way to boost your presence on the internet, but some find it hard to give enough time to writing posts for social media. But with Shortly AI, you have a writer who can write for you the exact content for your social media posts. For this, you can use the instruct command to write posts for your social media.
More Writing Benefits
Along with all the above mentioned benefits, Shortly AI can also be used for writing:
Letters
Amazon Product Descriptions
Quora Answers
Poems
YouTube Video Headings
Benefits and Features of anything
Blog Posts
Ideas for Blog or YouTube channel
Anything you want!
Shortly AI Pricing Plans – How much is Shortly AI?
Shortly AI offers two pricing plans: One is the Monthly Plan, and the second is the Annual Plan.
Shortly AI Monthly Plan
The monthly plan is going to cost you $79/mo and gives you unlimited access to words. So here you don't see those credits, which you usually see with a few other AI writing tools. You also get powerful commands which help you write faster.
This plan is excellent for all the writers out there as it claims to remove writer's block. Especially when you are writing long content, Shortly AI is a handy tool to have.
Shortly AI Annual Plan
The Annual Plan comes at $65/mo. So if you are in love with Shortly AI, you can go for its Annual Plan, which will also serve you 2 extra months of usage and will also save you money. The features, though, remain the same as you get with the Monthly Plan.
Who Should Go for Shortly AI?
Who is Behind Shortly AI? – Who Made Shortly AI?
Qasim Munye is the founder of Shortly AI. The objective behind creating this fantastic tool was he wanted to help people who are struggling with writing content and the ones who want faster and unique content the easier way.
Through this tool, he has now made content writing an easy task so everyone can use this tool and create content that is unique and more human-like. But have you heard THE BREAKING NEWS?
Latest Update on Shortly AI
Jasper AI, which was formerly known as Jarvis, has acquired Shortly AI. If you don't know what Jasper AI is, well, you will learn more about it later in the alternatives sections.
Very recently, the CEO of Jasper AI, Dave Rogenmoser, announced on his Facebook Group that Shortly AI had been acquired by Jasper.ai.
In the new Boss Mode plan of Jasper AI, they have provided all the functionalities of Shortly AI.
But the users of Shortly AI do not have to worry about it as they are not going to mix up both the tools, and they will continue to operate separately.
Shorty AI Alternatives to Try in 2023 – Close Shortly AI Competitors
If for any reasons if you don't like Shortly AI, you can count on any of its alternatives mentioned below.
Shorty AI 🆚 Jasper AI
Jasper is a world-renowned AI writing tool that is known for creating various types of content. It is a powerful AI tool that offers an advanced set of features like the Boss Mode, Jasper Commands, and Jasper Recipes and supports 25+ languages and many more.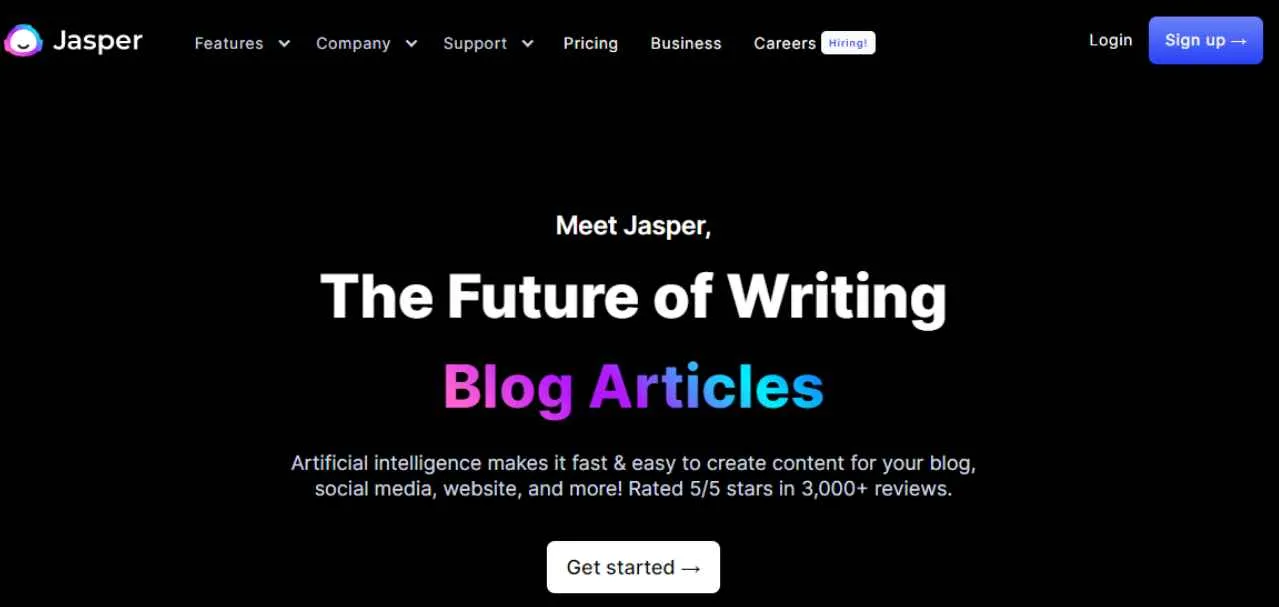 You can also choose from 50+ unique templates depending on which type of content you want to create and tone similar to the language and writing skills of a human writer. The Jasper AI Advanced Algorithm will read your body text and understand what you wish to create the content and then you can apply finishing touches to it and publish it easily. Also, the pricing of Jasper is quite affordable.
Initially, to try out Jasper, you can go ahead with the 5-day free trial with 10,000 words of credit. Also, the pricing of Jasper AI is affordable and budget-friendly. But for unlimited credits you have to subscribe to higher plans.
Let's enlist few key features of Jasper AI:
Pricing starts at as low as $24/mo
50+ Templates to help you create unique content
Powerful Jasper Commands
Jasper Recipes
Jasper Art
Surfer SEO Integration
25+ Language Support
Unlimited Projects Folders and Logins
So Where is Jasper AI better than Shortly AI?
Jasper comes in with a long-form editor whereas you don't find this in Shortly AI.
Jasper Supports 25+ Languages
Surfer SEO integrations is also their Jasper AI
You also have a Grammarly Extension in Jasper AI
Jasper Recipes is something which is not their is Shortly AI
Jasper comes in with 50+ templates
Plus you can also add team members in Jasper
So Where is Shortly AI better than Jasper AI?
Shortly AI offers unlimited word credits with its plans whereas in Jasper you have limited credits
At $79/mo it offers command functionality where as in Jasper Boss Mode you get this at double price.
Shorty AI 🆚 Copy.ai
Copy.ai is another AI writing tool similar to Shortly AI that claims to save your time and increase your conversions. As per its homepage, the tool's value proposition will bring an end to writer's block and generate marketing copy in seconds.
This new AI tool has undoubtedly made a mark for itself as it is used by many online business owners and digital marketers who are looking to save time and speed up their copywriting and content creation process. Also, Copy.ai does specialize in generating content for websites, sales letters, landing pages, social media and even email marketing.
You can use this tool to write:
Product descriptions
Website copy
Email content
Google Ads, Social media ads, and posts
Sales copy and much more
The best part about Copy.ai is that it comes with a Free plan. It only has one single paid plan, which costs $49/mo and gives you all the features of this excellent AI tool. This free plan comes with a 7-day free trail of the Pro plan, and thereafter its features get limited.
So Where is Copy.ai better than Shortly AI?
30+ Templates to generate short form content
Multiple Language Support
Add team members to your account
So Where is Shortly AI better than Copy.ai?
Blog Post feature is not their in Copy.ai which you get in Shortly AI
Shortly AI can write books and novels
FAQ related to Shortly AI
What is Shortly AI?
Shortly AI is an AI Content writing software that lets you write anything you wish to. It can write blog posts, emails, ad copies, video scrip and much more. And to write this, it is powered by the latest GTP-3 technology, which is used in many AI writing tools.
What is the cost of Shortly AI?
Shortly AI comes in with two pricing plans: One is the monthly plan which costs $79/mo, and another is the Annual plan which costs $69/mo, where you also get 2 months of extra usage free.
Does Shortly AI deliver plagiarism free content?
Yes, Shortly AI generates 100% original plagiarism free content. You don't need to worry about the quality of the content.
Is there any Shortly AI free trial?
Yes. Shortly AI does come in with a free trial where you get 5 free attempts. And the best part about this Free trial is you don't have to enter any credit card details to get it. You can use this free trial to get accustomed to this tool and check out its various features before heading to any of its paid plans.
Is there any word limit in Shortly AI?
The best thing which we really like about this fantastic AI tool is that there is no word limit. So you don't have to worry about the word limit and write fantastic content in a few minutes.
Does Shortly AI offer any lifetime deal?
Currently, when we did this Shortly AI review, we did not find any lifetime deal associated with it. If you wish to save on your purchase, you can go ahead and get its Annual plan, where you also get 2 months of extra usage for free.
Which is the best alternative to Shortly AI?
While we reviewed Shortly AI and also used other AI tools, we did come across Jasper AI as the closest alternative to Shortly AI, which comes in with powerful features which are definitely worth it.
Are there any Shortly AI discount or coupon codes?
Shortly AI does not offer any discount or coupon codes, but you can get 2 months of extra usage if you subscribe to its Annual Plan.
Final Verdict: Shortly AI Review – Is Shortly AI really worth the hype?
After doing this Shortly AI review, we realized how awesome this AI writing tool is. We did use it to create articles, video scripts and emails, and it was simply phenomenal in doing so. The only problem we came across is that, at times, the generated content contained wrong statistics and data, but it's not a big issue. We can expect such kind of errors from any type of AI.
Writers block is now faced by many content writers across the world. But by using Shortly AI, you can get rid of this problem as it can help you generate unique and plagiarism-free articles, which you can use to enhance your creativity and write more efficiently.
Before leaving, we highly recommend you to try once the Shortly AI free trial to understand this tool better before moving ahead with its paid plans.
Do let us know whether you like our Shortly AI review by your comments and suggestions below.
You can't spend time writing content, or you just don't have the skills to come up with a quality content to effectively market your business. Shortly AI is the best writing tool for all your copywriting needs. Shortly AI is an AI writing assistant that helps you automatically generate high-quality content for anything. It can create original, engaging copies for you in just a few seconds — from emails & blogs to ads & social media. Sit back and relax while Shortly AI takes care of everything for you.
Quick Links:
Affiliate Disclosure: This post may contain some affiliate links, which means we may receive a commission if you purchase something that we recommend at no additional cost for you (none whatsoever!)