Are you an affiliate marketer looking for a reliable and high-performing CPA network? Maybe Zeydoo is the answer to this.
In this Zeydoo Review, I'll introduce you to a high-tech digital ecosystem that has been dominating the CPA market for over 10 years. With a wide range of offers and in-house products, Zeydoo has proven its reliability and high performance in the industry.
Zeydoos' expertise in various verticals, such as Surveys, Sweepstakes, Mobile Apps and utilities, and Lead Generation, ensures that you have access to the best offers to maximize your earnings.
So, join the network of over 3,000 partners worldwide and experience the benefits of working with a trusted and experienced CPA network like Zeydoo.
Gist of the Zeydoo Review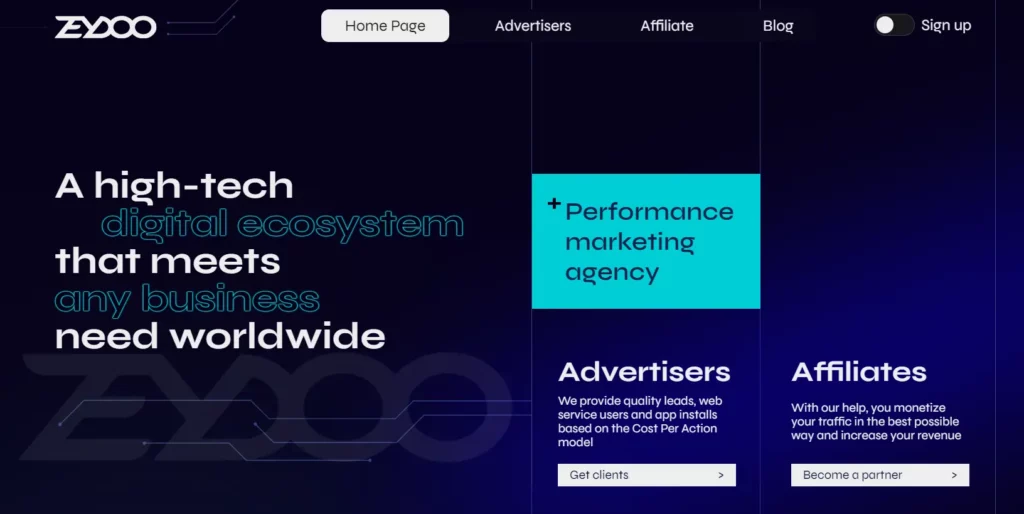 Zeydoo has made a significant impact in the CPA market with more than 10 years of experience, over 3000 active partners worldwide, and an impressive 2.5 million conversions daily. This robust performance is backed by key advantages such as unlimited caps, worldwide offers, flexible and custom rates, and a lifespan of over 3 years for their offers.
Zeydoo's exceptional performance has not gone unnoticed in the affiliate community. They have been recognized with several prestigious awards, including the AffBank Award 2021 for The Best Finance CPA Network, the affLift Peak Award 2021 and 2022 for The Best CPA Network, and the OfferVault Winter Rankings 2022 and Summer Rankings 2023 where they were ranked among the top 3 Best CPA Networks.
Zeydoo Key Features
Zeydoo offers a comprehensive suite of features that cater to a wide range of affiliate marketing needs. Here are some of the key features:
Intelligent Anti-Fraud Solution
Zeydoo has an in-built anti-fraud system that ensures high-quality traffic. This system filters traffic to provide optimal traffic distribution and reduce the cost of conversion.
Wide Range of Offers and Verticals
Zeydoo offers a broad selection of channels for affiliate marketers, including social media influencers, blogs, mass media, and email marketing. They also provide access to exclusive offers in highly converting niches that were hand-picked after internal testing.
In-House Products
Zeydoo has more than 10 exclusive in-house products spanning the globe. These products are continuously updated with novel landing pages, optimized funnels, and refined products. This effort has contributed to a steady increase in the conversion rate for over 3 years.
AI Solutions in Advertisement
Zeydoo uses AI technology to provide high payouts due to extra monetization features and advanced AI targeting technologies. They also use AI technology for understanding user behavior and for constant technological research.
Easy Conversion Flow
Zeydoo offers an easy conversion flow where partners get paid when the user clicks just one button. This makes the installation process extremely user-friendly for potential customers.
Scalable Ad Campaigns
Zeydoo provides unlimited options to scale ad campaigns. Their high-tech CPA platform provides the tools for comprehensive statistics with all necessary parameters to analyze and scale business in real-time.
Top GEOs and Rates
Zeydoo offers top Geos and rates. They offer custom rates depending on the type of traffic partners bring, ensuring they receive the best compensation for their efforts.
A few important aspects you might wanna consider while getting along with the Zeydoo CPA Network include verticals, offers, payment options, and much more. Let's have a quick look around them.
Zeydoo's Smartlink Feature
Zeydoo's Smartlink feature is a highly advanced and technological tool designed to optimize your ad campaigns. It is based on a sophisticated algorithm that helps you get the most out of your ads by uniting numerous offers all in one link.
How Does Smartlink Work?
Smartlink works by processing thousands of campaigns per day, considering your chosen GEO, platform, and other variables. Once the link is clicked, the algorithm directs traffic toward offers with the highest EPC (Earnings Per Click). This feature is designed to save you time and increase your revenue by automatically optimizing your campaigns.
Benefits of Using Smartlink
How to Use Smartlink?
To use Smartlink, log into your Zeydoo account and navigate to the Offers section. Here, you will find the Smartlink feature. Click on it and push the Request Approval button. After a short wait, you can enjoy the best performance imaginable.
Verticals and Platforms
SmartLink works for various verticals including Software and Extensions, Content on Demand, Mobile Content, Utilities, Sweepstakes, Finance, Dating, and Games. It is important to note that Zeydoo does not work with Adult and Proxy or iFrame traffic.
Smartlink is compatible with various platforms such as Pop-Under, Push, Redirect, In-app, and Traffic-Back.
Top GEOs and Platforms for your Zeydoo Offers
Smartlink includes top-performing slices (Platform + GEO) such as Android BR (Brazil), IN (India), VN (Vietnam), RU (Russia), NG (Nigeria), MX (Mexico), FR (France), CZ (Czechia), AU (Australia), US (United States); iOS US (United States), GB (United Kingdom), DE (Germany), EG (Egypt), IN (India), IL (Israel), CO (Colombia), JP (Japan), SG (Singapore), CL (Chile); Windows US (United States), DE (Germany), FR (France), AT (Australia), JP (Japan), PE (Peru), PL (Poland), DK (Denmark); Mac OS CA (Canada), US (United States), VN (Vietnam), IT (Italy), DE (German), FR (France), ES (Spain), ID (Indonesia), BR (Brazil), JP (Japan), UA (Ukraine), GB (United Kingdom).
Registering for the Zeydoo Affiliate Network: A Step-by-Step Guide
Becoming a part of the Zeydoo Affiliate Network is a hassle-free process that can be completed in under 5 minutes. Here's how:
Step 1: Access the Sign-Up Page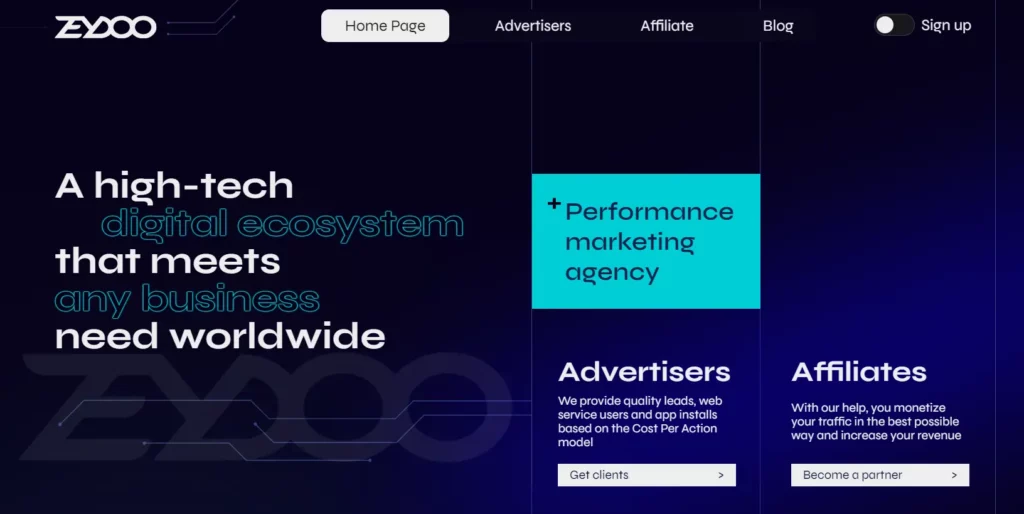 Begin by heading over to the Zeydoo sign-up page. You can locate this page by visiting the Zeydoo website and selecting the "Sign Up" button.
Step 2: Fill in the Registration Form
Upon reaching the sign-up page, you'll be required to complete a registration form. This form will request your personal and billing details. Ensure to provide accurate information as it will be utilized for payment and account verification purposes.
Step 3: Proceed with the KYC Check
Once the registration form is filled out, you'll be required to undergo a Know Your Customer (KYC) check. This step involves uploading payment documents to validate your registration. Rest assured, this data is kept confidential and is solely used to facilitate quick and regular payments.
Step 4: Wait for Account Approval
After completing the registration and KYC check, you'll be redirected to your personal account. However, you'll need to wait for your account to be approved before you can launch traffic. This process typically takes up to 24 hours. To expedite the moderation process, you can reach out to the support team through your account.
Step 5: Explore the Platform
Once your account is approved, you're free to explore the platform and its diverse range of offers. With a wide array of verticals and in-house products, Zeydoo provides a versatile platform for affiliates.
Keep in mind that while Zeydoo generally approves accounts quickly, it can take up to a couple of workdays (Monday to Friday) for your account to be approved.
Why You Should Consider Zeydoo CPA Network?
Zeydoo has a global reach with GEOs worldwide and over 3,000 global partners. This allows them to monetize traffic in the best possible way and increase the revenues of their clients.
In addition to all this, Zeydoo's outstanding performance has earned them recognition in the affiliate community and several awards, including the AffBank Award 2021 for the best Finance CPA Network and the affLift Peak Award 2021 for The Best CPA Network.
On the other hand, what makes Zeydoo even better is the quick approval. The registration and approval process on Zeydoo is straightforward and quick. Once registered, users can pick the best offers and start promoting. Zeydoo also offers a bimonthly payout option alongside different platforms such as Paypal, Payoneer, Wire, and Webmoney.
Zeydoo Referral Program
Zeydoo offers a referral program that allows affiliates to earn additional income by referring new partners to the network. By promoting Zeydoo and encouraging others to join, affiliates can earn up to 5% of the lifetime revenue generated by sub-affiliates who register using their unique referral link.
This provides an excellent opportunity for affiliates to expand their earnings and benefit from the success of their referrals. The referral program is a testament to Zeydoo's commitment to supporting its partners and fostering a thriving community of affiliate marketers.
Verticals Offered by Zeydoo CPA Network
Zeydoo specializes in various verticals, including Lead Generation, Mobile Apps & Utilities, Sweepstakes, and industry-specific smart surveys and smartlinks based on AI.
Lead Generation
Lead Generation is a significant vertical in Zeydoo's portfolio, focusing on financial, insurance, and other services. The company has been actively working on expanding its lead generation vertical and scaling the performance of its publishers. The lead generation market has grown several times in the last five years, with the US being the leader in money turnover. Zeydoo offers the opportunity to generate leads in different ways, from sending users directly to the advertiser's website to working with API and data collection on the affiliate's side.
Mobile Apps & Utilities
Zeydoo also specializes in the Mobile Apps & Utilities vertical, promoting on a Cost Per Install (CPI) basis. This vertical encompasses many different offers, including VPN, dating apps, smartphone cleaners, ad blockers, QR code scanners, and other useful mobile apps.
Zeydoo partners drive dozens of thousands of conversions every month in this vertical, and the manager team launches the best offers for mobile apps. The company also offers several exclusive in-house products within the Mobile Apps and utilities vertical, enabling partners to run global traffic and build a stable income through media buying.
Sweepstakes
Sweepstakes is another prominent vertical in Zeydoo's offerings, which includes quizzes and giveaways. The company offers Single Opt-In (SOI), Double Opt-In (DOI), and Pin Submit campaigns in this vertical. Zeydoo covers a broad spectrum of verticals in the Sweepstakes category, making it suitable for affiliates with diverse niches.
Industry-specific Smart Surveys and Smartlinks based on AI
Zeydoo also offers industry-specific smart surveys and smartlinks based on AI, operating on a Cost-per-lead (CPL) basis. These smart surveys are highly lucrative offers for partners, consistently generating substantial income. The simplicity of the flow, coupled with quality traffic, leads to a relatively high conversion rate.
Common FAQs for Zeydoo CPA Network
What are the key features of Zeydoo?
Zeydoo offers a wide range of features including an intelligent anti-fraud solution, a wide range of offers and verticals, in-house products, AI solutions in advertisement, easy conversion flow, scalable ad campaigns, and top GEOs and rates.
What verticals does Zeydoo specialize in?
Zeydoo specializes in various verticals including Lead Generation, Mobile Apps & Utilities, Sweepstakes, and industry-specific smart surveys and smartlinks based on AI. They offer unique opportunities for affiliates to monetize their traffic across these diverse verticals.
What payout models does Zeydoo offer?
Zeydoo offers various payout models, including Cost Per Install (CPI), Cost Per Lead (CPL), Single Opt-In (SOI), Double Opt-In (DOI), and Revenue Share (RevShare), catering to publishers with different types of traffic.
Are there any traffic restrictions on Zeydoo?
Zeydoo does not work with Adult and Proxy or iFrame traffic. They focus on providing quality leads and support for their partners while maintaining a high standard of compliance with industry regulations.
Wrapping Up on Zeydoo CPA Network Review
After a thorough analysis of Zeydoo's features, benefits, and performance, it is evident that this CPA network is an excellent choice for affiliate marketers. With over a decade of experience, exclusive in-house products, and a diverse range of verticals, Zeydoo has established itself as a trusted platform in the industry.
Their intelligent anti-fraud solution, user-friendly platform, dedicated support, and unique features like the multi-vertical Smartlink and referral program make them an excellent choice for affiliate marketers looking to maximize their earnings.
By providing exclusive offers, custom rates, and a global reach, Zeydoo ensures that its partners have access to the best opportunities for success in the affiliate marketing industry. So, if you're an affiliate marketer seeking a reliable and high-performing CPA network, Zeydoo is definitely worth considering.
You may also read:
Affiliate Disclosure: This post may contain some affiliate links, which means we may receive a commission if you purchase something that we recommend at no additional cost for you (none whatsoever!)