Are you searching for the best way to generate maximum leads, sales and revenues?
Today, everyone wants more profit & maximum revenues and for this, they employ digital marketing & B2B lead generation agencies to manage ads generation media campaigns.
One of the most effective ways is to generate leads from your traffic and convert your visitors into subscribers. And by, generating quality leads from website traffic is the biggest challenge faced by most of the internet marketers.
In that case, what should be the solution to this problem?
The solution is quite simple. Use premium lead generation tools, but the right one that fulfills your purpose.
Albacross Review: Turn your website Visitors into leads
Most of us don't do a deep study of lead generation tools and buy any or tools at a heavy cost and then when we find out that it is simply the wrong tool while our competitors are utilizing other effective tools.
If you are a serious internet marketer looking to generate more revenues by monetizing your website traffic then this Albacross Review is for you.
In this review, we will discuss one of the most powerful lead generation tools better than LeadWorx and Leadberry. This new platform that I came across is Albacross which performs far better than some of the most premium lead generation tools scattered over the net.
Albacross enables you to reach targetted customers by generating high-quality B2B leads from your website traffic. It's like scanning our site visitors and shows you which visitor is valuable and how to contact them.
The company offers a wide range of automated lead generation services like capturing your visitors, tracking their activity and identify decision makers. It claims to be the easiest tool for all types of websites and comes with easy integration and comes with one click integration plugins for WordPress, Joomla, Google tag manager, etc.
About Albacross: Company Introduction
Albacross was founded in 2013 and is a Swedish startup of B2B lead generation. At present is the most popular and prominent B2B lead generation tool provider. It has a vast team of professionals with expertise in different fields and is reported to have a team size of 20-50 professionals under their roof.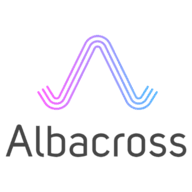 It collects information about unknown website visitors to generate a potential lead for your business.
It provides users with useful, relevant information about the visitors like which pages were visited and how much time spent on a particular page. Later the visitor can be contacted to convert the potential lead to high sales.
Over 23,000+ companies are using Albacross with over 3 million companies tracked in30 days and over 38 million visitors tracked in the last 30 days.
Albacross dashboard is very impressive with in-depth details about the visitors which lacks other lead generation tools. But is this dashboard effective and does it provide quality leads?
To know more about Albacross read further in this review and get a detailed description of Albacross and why Internet Marketers, eCommerce owners should use it.
Albacross Features at a glance:
Albacross comes with exclusive cloud-based lead generation tools which enables you to turn your website visitors into lead magnets. Let's see some of Albacross features and critical benefits
Capturing website visitors
Albacross Captures your visitor's and finds you which potential customers and companies are looking at your website or going through it, Their algorithm quickly filters the best clients by looking at their other online activities and tells you how to approach them. It also gives you ideas and proven tips to close the deal with them.

Detailed Activity Tracking
With their enhanced tracking engine, It tells you which website pages are performing better and which product is being most viewed by genuine customers So you can encourage your sales or marketing team to engage it more effectively.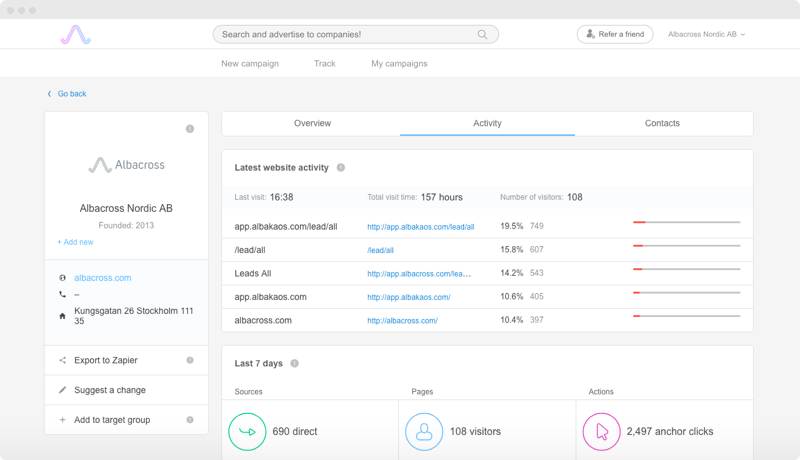 The cloud-based tool gives you complete latest website activity, visit time, the total number of visitors in particular duration, week, month or year. It also shows some contacts you get via your website visitors. The tool purifies your online communications from your site to make sure you have only converting contacts and removes the junk one.
So It does most of the analytics works, and as it gets integrated with most of the CRM or sales pipeline apps via Zapier, It automatically sends high quality leads on your CRM Software directly.
Connect with decision makers:
Albacross help you to identify decision makers from your website visitors. It gives you access to their personal, GDPR complaint email address of decision makers at companies interested on your website or page.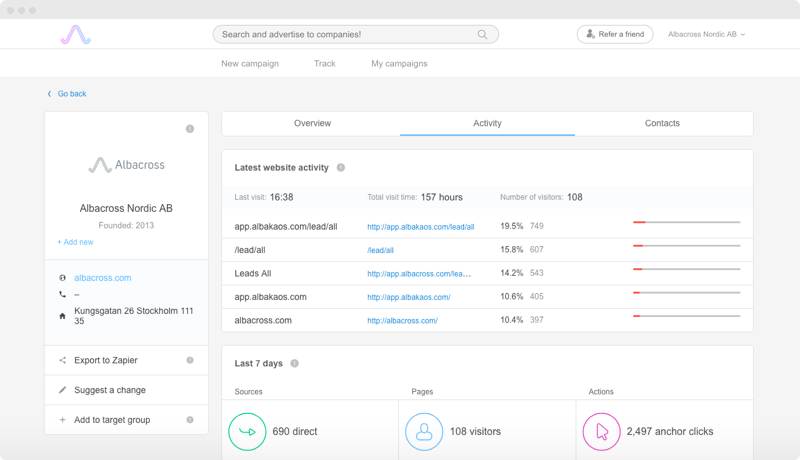 It also tells you the position of users visiting your website from companies you can contact them on email or social media. This all process is automated with their innovative bunch of tools and also which works brilliantly to offer you the best-converting leads from your site or blog.

Additional Albacross Features at a Glance:
Unlimited visitors and companies*.
Automated email reports for leads.
Filtering & tagging
1000 leads export/month on premium plan
Integrate 1000+ apps via Zapier like HubSpot, SugarCRM, Salesforce, pipedrive, Highrise, Microsoft Dynamics CRM, ZOHO, and Base.
90 days history
Easy setup, takes less than 30 seconds.
All the above-listed features come at very low pricing. Check out any currently activate Albacross discount here.
---
How to Get Started with Albacross?

When you visit Albacross official website, you will see a responsive landing page with necessary details. You can start 14 days free trial to see how valuable leads you are getting via Albacross lead generation platform from your website.
Click on this Get Started button and enter your existing email address and choose a password for your login.
Alternatively, you can also choose any social media profiles to sign up like Facebook, LinkedIn or Google+.
Signing up at Albacross is free and doesn't require you to enter your credit card information.
Once you click on sign up or choose any of the social profiles, in the next step, you need to enter your details, On filling these details, you are ready to go further as now you are a registered user of Albacross.
Once you are registered you can now install a lightweight tracking code to your website by following any of the three methods:
Automatic installation, by using Google Tag Manager or by using a plugin for WordPress, Joomla or Drupal.
Here is a Video demo showcasing Albacross Lead Generation Process
---
Why choose Albacross?
Right when you are at losing your visitors and leave the hope of getting them back, this is when Albacross comes handy. Usually, 98% of visitors are not grabbed by a website even after putting a lot of hard work & dozens of email collection tools. Albacross helps you identify those visitors and generates a lead where there was no hope of getting them back.
Here are some of the tools and new benefits you get with Albacross.
Amazing Dashboard:
Albacross dashboard is intuitive and user-friendly. You won't need much time to understand the technical aspects of this dashboard. Once you login to the panel, you will find a search box at the top of the dashboard. This search box helps you find any company related to your business.
To search for any company, you need to enter the keyword, and the result will amaze you. Upon search based on a keyword, it provides a list of companies from around the world which can be potential leads. If you want to search a company based on some factors, then you can use filters for it too.
Filters like revenue, employees, and location are available. So based on these criteria you get a clean result. Let's say you are looking for food companies with more than 30 employees. So type FMCG in the search box and set the filter of employees to 30 and location to India or any other country. Based on these criteria you will get a list of targeted visitors with excellent leads.
Track Labs:
IT helps you overview a company that visited your site. It takes a bit of time to generate leads as first the data is collected about the company and then is displayed on the dashboard. You can see real-time updates to your lead list once the process has been carried out.
The result given by the Track Tab can be filtered by the activity of the visitor, revenue, employees, pages visited, time since the last visit, location and social (includes Facebook, Google Search, etc.)
New Campaign Tab:
It is for those who already have a list of companies and some information about the targeted business. For uploading the list of companies, you need to hit the upload list button and add the company name or its number & location. The tool will process the data and find related matches
Report Generation:
Do you want to keep track of all the leads on your email account? With Albacross it is possible to deliver all the new leads to your inbox every week. Yes, you heard right!
Just select Email Reports from the drop-down menu under your name in the top right corner. Click on Create report button, and within a few clicks, you can configure the settings to deliver the new leads to your inbox.
Lead Export:
Albacross provides two options to export your leads.The first option is to export them to your computer as a .csv file. The secondoption is to export them to your CRM using Zapier integration such asSalesforce, HubSpot and many more.
First, create an account on Zapier which should be active. Click on Create a Zap button and choose Albacross app. Then select the Exported Lead option from the list. To connect Albacross account to Zapier, you need to enter the API key which you can get in the CRM & Integration tab. You are ready to export your leads by choosing an app now.
---
Albacross Premium plans: (Its worth every penny)
Albacross comes with free 14 days trial of their premium plans. You will be charged for your subscription after 14 days. Alternatively, you can also immediately switch to its free plan. The tool is free to use meaning you can generate leads for free. But if you are willing to access premium features, then you should purchase a premium plan on a monthly or yearly basis.
Paid plans at Albacross offer features such as CRM integration (Zapier), 100 contact details of decision makers/month, 1000 leads an export/month,90 days history, five domains and more.

Albacross premium Plan
The most popular Albacross plan is "premium plan" which costs 79€ per month when billed annually. It comes with extensive features like 1000 leads report each month and over 100 personal emails of decision-makers each month. Apart from this, it gives you all standard features like Free CRM integration, unlimited users, companies and visitors, 5 Domains allowed, LinkedIn integration, etc.
Albacross Business plan
The business plan is for large enterprises and businesses. It costs 249€ when billed annually. The plan comes with all standard features, and a high amount of 5000 leads export each month and over 500 personal emails of decision makers. It also comes with a dedicated success manager who helps you to get better leads and conversions with their to each account.
---
Albacross Account Based Marketing
Albacross offers account-based marketing to target specific companies by displaying relevant ads. By targeting high-value accounts, this method of marketing increases ROI and gives a tremendous boost to your business.
In account-based marketing, Albacross allows you to choose companies by searching for new leads with filters like industry, revenue, location and more.
You can set your budget per day, scheduled for any time duration and set the start date. Within minutes you can launch your campaign.
Analyze your campaigns and find out where you are lagging with intuitive dashboard.
By displaying awesome banners (supports JPG, PNG, and HTML5) you can grab maximum traffic.
Albacross for Internet Marketers! Should you use?
Every smart Internet marketer always thinks for innovative ways to drive quality traffic which converts. Most of top
bloggers
and marketers build their blog authority by keeping the loyal audience with them. They collect
emails
, leads and use
automated email campaigns
to keep users active.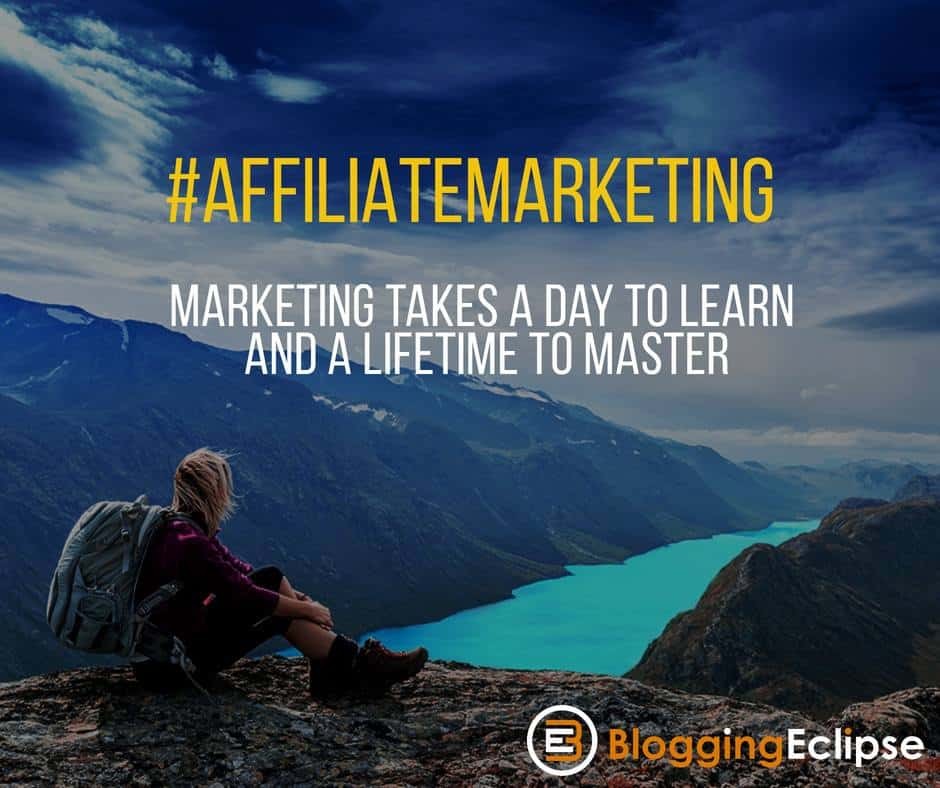 However, Albacross gives you more enhanced leads while working on your website background. It does not affect your website performance or design. You get good leads related to your product and also personal email address of decision makers. So you can always collect these high converting leads and send them an email or add them to your current email list.
You can reach them out with promotional offers and news or latest post. This not only increases your traffic but gives your online business a boost with high converting leads.
So as all internet marketers know the significant benefits of leads and how important is "high quality leads" for them, Try Albacross free for 2 weeks to see the difference and see how successful you can be using Albacross lead generation platform.
---
Conclusion: Albacross Review (Must use Lead Gen tool for Internet Marketers)
If you want your business to be successful online, then you should give Albacross try as it targets all B2B companies and generates new leads by optimizing your traffic.
After using Albacross, you can cross all the limits that top you from increasing business relationships and expand your business. So start collecting quality leads from your website and do share your experience in the comments section below. Wish you best luck with your online marketing. 🙂