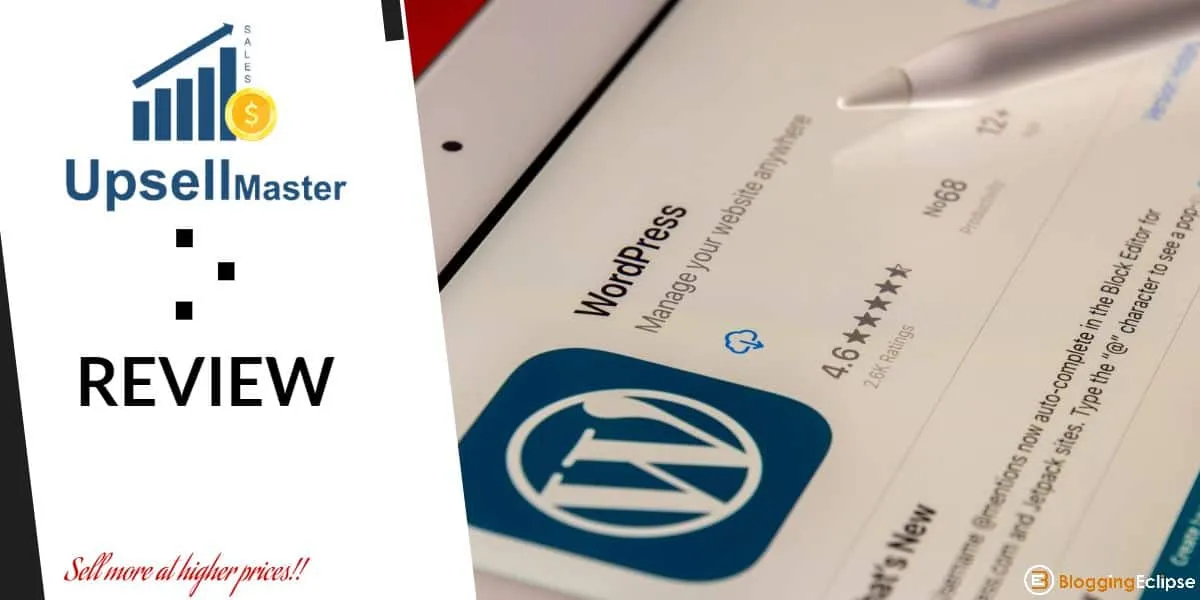 Looking for a UpsellMaster review? Or are you someone who is looking forward to upscaling your sales? If yes, this article is going all set for you. We'll be looking forward to a WordPress plugin that can help you get along with a bunch of tools that can be used for several things, including sales funnels, dynamic coupons, VAT validation, custom fields and many more will be mentioned later in the article.
But before diving deeper into the plugin, let's take a look at what upselling is? Have you ever wondered how you get along with buying something more expensive while you were looking forward to buying a cheaper version? Or maybe you might have added some add-ons before checking out. If yes, all this results from upselling; basically, it is an excellent sales operation that makes your customer buy more expensive or a product/service with better features.
One of the most popular websites that use upselling is Amazon; you might have experienced buying some add-on or some post-purchase offer, making a purchase better. So won't it be great if your customers pass those payment gateways with a more expensive product/service? If yes, UpsellMaster can be your one-stop solution for getting along with better sales operation and sales funnel. UpsellMaster can help you with several things that can help you with selling subscriptions, sales funnels, dynamic coupons, earnings & sales reports (well, variety of reports) and much more.
Let's get started with what is UpsellMaster and how you can leverage UpsellMaster for your sales funnel solutions, so let's take a look at this plugin description!!
---
Detailed UpsellMaster Review
The UpsellMaster uses a data-driven algorithm to automatically calculate an upsell product in one click for each product. You can tweak the way it works to continuously optimize your upselling strategy. Since the service is an algorithm (data) driven, it won't be needed to make things work with every single product, as you can get along with almost every product by clicking on the Calculate All button. UpsellMaster offers a product bundle to help you with autoresponder integration, sell a subscription, free trials, and much more.
In addition to all this, one of the main reasons why UpsellMaster can be called off as an excellent plugin for your upselling operations is its multiple purpose delivery, as where people get stuck along with multiple third-party SaaS, UpsellMaster delivers multiple services which include creating a sales funnel, sell subscriptions, free trials, smart order bumps and much more, we'll get to that later in the article.
Activate our latest UpsellMaster coupon code that helps you get 20% off on all licenses. Special offer end soon.
Access to all features
Now that we are all done with what UpsellMaster is let's look at the key features that make UpsellMaster an excellent deal overall for upselling operations.
---
UpsellMaster Features at a Glance
The answer to this question is pretty simple: it is customer satisfaction while managing suitable upsell products while getting along with hundreds of products that are up for selling on your website. From my experience around different tools which work along the same process of sales funneling, there aren't a lot of tools/plugins that offer this much amount of tools in a single place. So, let's get started with all these features and understand how these multiple features can help make things easy for your sales operations.
Single Click Calculation of Suitable Upsell Products
One of the most suitable features that make UpsellMaster an excellent thing is its Single Click Calculation of getting along with Suitable Upsell Products. Since Upsellmaster works on a single algorithm, it enables you to get along with the suitable Upsell as per the product listed on your website. UpsellMaster also allows you to test and implement different Upsell strategies and fine-tune them as per your needs and everything.
As I already mentioned earlier, UpsellMaster works on an algorithm that automatically lists the upsells as per the products listed on your website. Something that gained my attention was its flexible algorithm, as it lets you configure the different tasks such as:
Upselling Targeted Price Ranges
No. of Upsells (Maximum number of 10 Upsells)
Setting up the products and considering the products which can be set upon different points such as same product tags, categories, products and much more.
This, as a result, can help you in getting along with excellent suggestions per product-based.
Upsell Reports & Tracking
Sales reports represent a lot when it comes to business and its similar aspects, and this is where you can also consider Upsell sales reports which can help you get along with better Upsell funnels. UpsellMaster offers a good-to-go sales summary that can be later used to create better and more effective sales strategies.
Most businesses have upsells, which are additional products and services that complement their main offerings. It can be said that many online businesses have found some success using upsell strategies. As I already mentioned that big businesses like Amazon uses this strategy. Now getting back to UpsellMaster, it offers some great features in terms of data and information that identify the average values of these upsells and their key parameters like total number sold, average value, and customer lifetime value. In addition to all this, you can also get along with other parameters such as sales value, related products location, customer base, and much more.
As I have already mentioned, the UpsellMaster offers many features and data, but one thing which can be counted among my personal favorites is its filtration process, as some of the data and information mentioned over here might not be of your use.
You might have noticed that the ecom stores and big businesses like Amazon also have an option that shows not only related products but also shows recently viewed products while getting along their website; well, UpsellMaster has got that covered as well. Think of this in a scenario where you look for a product/service, and the search goes on for quite some time. Still, every time you get along with a couple of products, you can see which products you saw or searched recently; this might eventually work into converting your window shopping into a real one. This can be an excellent feature to consider as a valuable asset for converting your potential customers into real ones.
This can turn out to be a valuable asset for people looking forward to working along with different things like recently viewed products or upsells. UpsellMaster offers some different options for all this, as you can either opt for the recently viewed items or can even lookout for the option where you can access both Upsells and recently viewed products. In addition to this, UpsellMaster offers these features in carousels and lists. In contrast, if you are interested in looking forward to using both, as I mentioned above, you can utilize shortcodes and widgets for that.
Upsell Products in Different Locations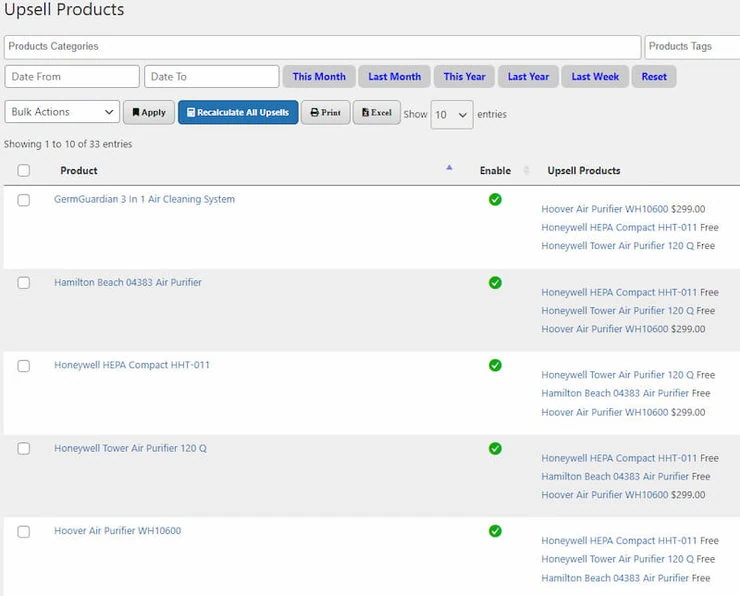 What I intend here to say is that you might have already got an idea of how upselling can help you overall. But, in addition to this, you can also place your upselling products at different locations such as the Product page, checkout process page, on any page with the use of Upsell widget, or even on any post using Gutenberg (shortcode).
Well, since I just mentioned UpsellMaster works with one of the major page builders like Gutenberg, so let's take a look at the Gutenberg integration so that you can look after what are some of the upsides of this integration.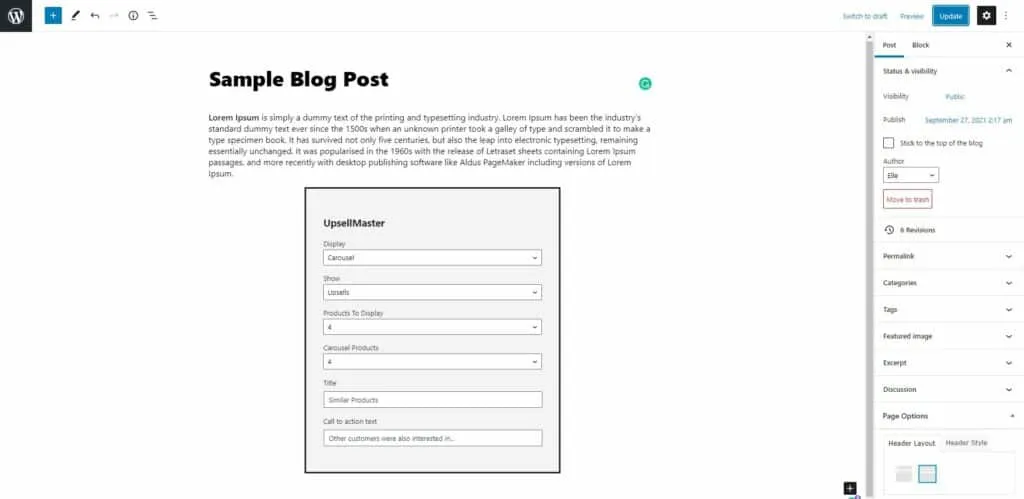 Unlike other tools and features that I mentioned above, the Gutenberg integration lets you explore some other aspects of integration, enabling you to place the recently viewed products or the Upsell products on any page or post. This, as a result, can help you in exploring more options and getting along with trying out different strategies and everything. Placing the products (both recently viewed and upsells) in different locations can help you get along with different marketing strategies. As a result, you can explore different options and get along with what is best suitable for you and your business.
Now that we are looking forward to integration and similar aspects let's take a look at some of the other integrations under UpsellMaster.
There is no doubt that the tools and features are pretty excellent in terms of business upscaling and creating what makes things work in those aspects. Well, UpsellMaster offers some excellent integrations, including Easy Digital Download and WooCommerce integration.
One of the best things that I encountered while going up for UpsellMaster was its 1-click upselling, which makes UpsellMaster an excellent choice overall. As a result, you can things getting done without getting indulged in time-consuming stuff. After getting done with all the features and integrations, let's have a quick peek around some of the setting options that you can use for better results.
Number of Upsells: This section enables you to get along with the number of upsells you want to mention.
Recalculation Interval: Well, this section lets you get along with recalculating the upsells created for each product and the frequency for the changing ones.
The general setting also includes Batch size, Keep Upsell data for, Default upsells, Auto calculate upsells for newly created products, and enable log. I haven't mentioned a lot about these features since, as I guess these setting options don't need a briefing as they are pretty simple to get along with.
This section offers you some setting options, including Enable, Display type (Carousel or Display list), Title, Show (Recently viewed products or Upsells), Call to Action text, Max Columns, Max Products in Carousel, Add to Cart Button, and Description length. I don't need to mention this, but you might be well aware of how these different sections can help you make things work along with your business and online operations.
Where the above-mentioned setting options focused on working things alongside different sections on what is to be included in the list, the algorithm logic enables you to get along with the setting options that can help you with products that you want to exclude based on tags, categories (product categories), etc. The algorithm logic includes setting options that include excluding categories, excluded tags, price range, priority 1,2,3, and 4; the priority section lets you get along with a tool that includes vendor, lifetime sales, category, tag, and null.
The other setting options include Widget and Shortcode, but since I have mentioned them earlier, I don't think I would be needed to give a briefing about them over here. Now, since we are all done with all the features and everything, let's take a look at what are the pricing plans offered here that make UpsellMaster a good-to-go plugin overall.
---
UpsellMaster Pricing Plans
The UpsellMaster offer three different pricing plans, which are distinguished on the basis of the site license, which includes:
Single Site License: Costs around $99
Three Site License: Costs around $149
Ten Site Licence: Cost around $249
In addition to all this, it is worth mentioning that the plans mentioned above are based on an annual basis. UpsellMaster plugin does not offer a free version, but you can get along with a 14-day money-back guarantee, which is pretty decent. After getting done with all the features and the pricing plans, its time to look at the question of Is UpsellMaster worth it?
Is UpsellMaster Worth it?
Yes, I think UpsellMaster is totally worth it as the features and options offered so far are pretty much excellent in many ways, as this can make things work in a lot of ways. Here are some of the features that were my personal favorite:
Upsells + Recently Viewed Products
Accessibility to settings for Algorithm Logic
Integration with Gutenberg, EDD (Easy Digital Download) and Woocommerce
Easy management of recently viewed products on any page/product using Gutenberg
---
🌟 Top FAQs on UpsellMaster
🙄What is UpsellMaster?
UpsellMaster is a premium WordPress plugin that many people use. It allows them to display upsells, recently viewed products, and a list of the most popular products on their website. UpsellMaster plugin saves time as it does not allow you to spend your precious time on manual work.
🔎What is the purpose of UpsellMaster?
With just a few simple clicks, the UpsellMaster plugin automatically calculates upsell products for each product because it uses a data-driven algorithm. You can even optimize your upsell strategy because it allows you to change how your algorithm works. It's a simple, intuitive & easy way to make upsell profit on your website.
💲Is UpsellMaster worth money?
The UpsellMaster is the ultimate WordPress plugin to develop a successful upsell strategy, sell more, and increase conversions. It's also the perfect plugin for anyone looking to be strategic in their marketing approaches. The Upsell Sales Report offered by UpsellMaster gives you all you need to know about your upsell sales on your products. This report gives you detailed insights into your sales performance.
🔥Can I try UpsellMaster for free?
No, You can not try this plugin for free as there is no free trial or free version offered by the UpsellMaster plugin.
🚀Is there any refund policy?
There are three major pricing plans of UpsellMaster that come with a 14-day money-back guarantee.
🤔Why should I go for this upsell plugin for my WordPress site?
There are various reasons why you should consider the UpsellMaster plugin for your WooCommerce or Easy Digital Download Store:
1. It enables you to show upsells and recently viewed products.
2. It offers Upsell Sales Report that includes detailed insight.
3. The algorithm of UpsellMaster allows you to make changes in upsell strategy.
4. You can easily integrate it with WooCommerce and EDD.
---
Bottom Line:
Overall, the features and tools offered are pretty decent as per the online business needs. As a result, you can better ROI and sales funneling if worked upon properly. So, overall, UpsellMaster is good to go single plugin from my perspective. As a bottom line, it can be said that Upsellmaster can be an excellent way of adding more to customers' shopping carts making better conversion rate and ROI to you as a seller.
Hopefully, this UpsellMaster WordPress plugin review has some of the basic queries and questions that you might be encountering.
UpsellMaster Review – Sell more at higher prices!!
UpsellMaster will show potentially lucrative offers you can make to increase sales, even if you have limited sales volume. Easy, fast and effective solution for WordPress store owners, eliminate frustrating upselling problems that frustrate customers. UpsellMaster is a comprehensive solution that can fit into any WordPress store. Improve conversion rates of your sales with UpsellMaster.🚀
Positive
Recently viewed product
Integrations (Woocommerce, Gutenberg and using EDD Advanced Shortcodes for EDD)
Use of shortcode and widgets
Better strategies and sales funneling
Negatives
No free version
A bit pricey for singel website, but the price is okay in the bigger plans.
UpsellMaster – Premium WordPress Plugin
Get 1 site license plan for just $99.00 only.