Are you looking to take your digital marketing efforts to the next level and achieve higher conversion rates? Do you want to optimize your user experience on mobile devices and reach your potential customers more effectively? Then your search may come to an end at Push.House, the innovative push notification ad network that's revolutionizing the digital marketing landscape.
In today's world, we're flooded with notifications on our mobile devices. We are aware that many of notifications will be of no use to us, but since we have to check other alerts we get on our phone, we will carefully go through them anyway.
As an advertiser, imagine if you could reach the push notifications of the users you're targeting directly?
Any advertiser knows that targeting ads is key to a successful branding campaign but to the point that they directly reach your target users' mobile phones? But how can advertisers cut through the noise and reach their target audience directly?
The answer lies in Push.House, a push notification ad network that enables advertisers to target their ideal audience directly on their mobile devices. . By sending push notifications containing advertisements to the subscribers of the publishers with whom they partner, Push.House provides advertisers with an effective way to reach their target audience. This simple method helps generate a significant revenue boost as push notifications have a much higher CTR than personalized campaigns like email or SMS.
Their numbers prove this: nearly 60% of sent notifications are read through in the first hour of sending them, with their overall CTR being over 10%.
Push.House has impressive numbers, with nearly 60% of notifications read within the first hour of sending, and an overall CTR exceeding 10%. With 525 million active subscribers across 180 countries, Push.House generates over 14 billion impressions and 30 million clicks every day, making it a powerful tool for any digital marketing agency seeking to expand its reach and maximize its impact.
In our comprehensive ✅Push.House Review, let us explain why Push.House is the top choice for advertisers and publishers.
---
Detailed Push.House Review
Push.House, founded back in 2018, is a Ukraine-based push ad notification portal and is considered one of the world's best global CPC Ad Networks. The secret behind the success of Push.House lies in its massive network of publishers and advertisers. Push.House is completely free to join for publishers and advertisers. Additionally, their payout limit is a mere $50, and they offer various payment methods such as Paypal, Webmoney, and even Bitcoin. So, regardless of your preferred payment method, Push.House has got you covered.
Are you interested in becoming a part of the prestigious Push.House network? Allow me to walk you through a step-by-step guide on how to use Push.House from scratch:
---
Joining Push.House as an Advertiser
#1. Sign Up & Create an Account
First things first, it's essential to note that the signup process of webmasters is different from that of advertisers. So make sure you select the appropriate option before proceeding.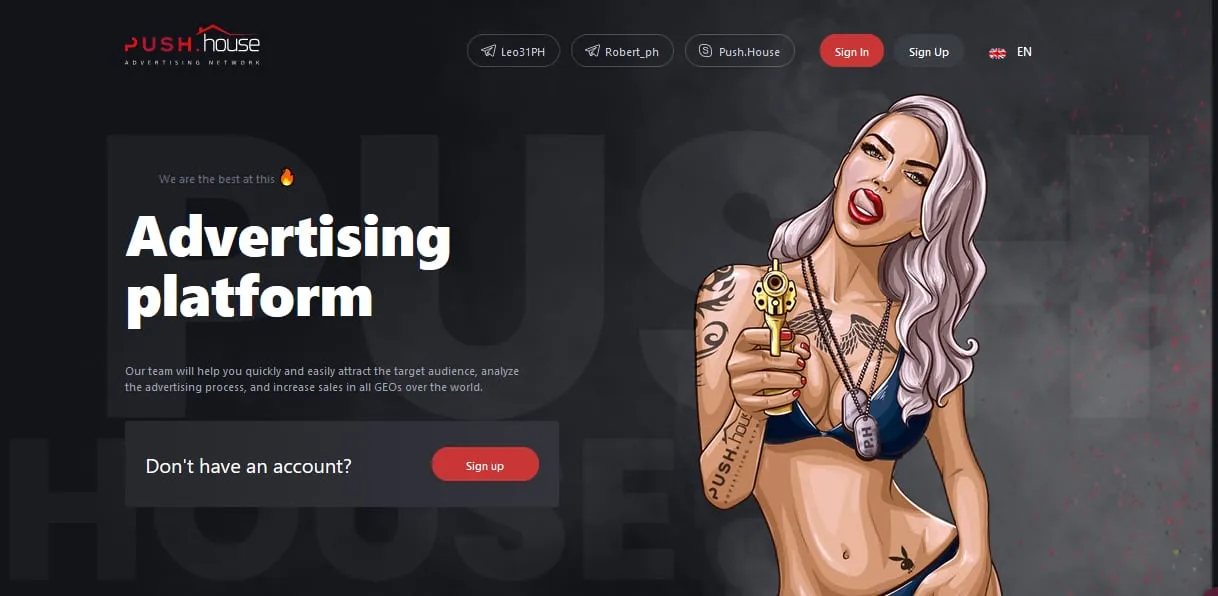 Once you've made your choice, head over to the Push.House website and locate the signup option at the top of the page. Click on it and fill in the registration form that pops up. After that, simply hit the "Create your account" button, and you're done! Don't forget to check your email for the verification message to complete the process.
Step 2: Create a New Campaign
After creating your account, the next step is what you have desired for so long, yes, designing your first-ever Ad. For this, you have to click on the "Create Campaign" button and start a push ad campaign. After that, you need to add Campaign Name, Category, Choose Ad Format from Push Notification or In-Page Notification, and add your website link to drive traffic at a better pace! Also, make sure that you read the user guide on how to create, set up and launch your campaign.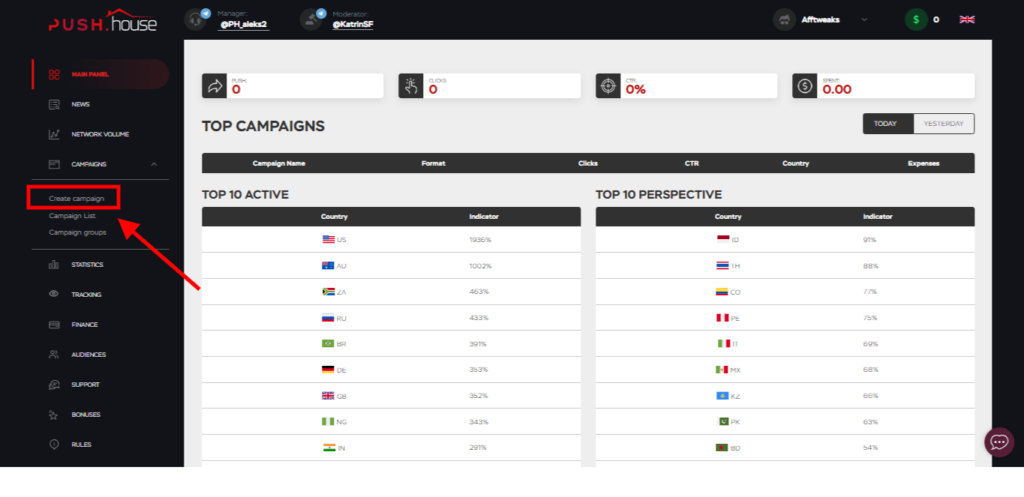 Step 3: Select your Target Audience
Targeting an audience plays an essential role in any business type, which is a crucial step in Push.House. Set your target audience appropriately according to where you want your ad to be displayed. Make sure that you have selected appropriate traffic settings, country and rate, and advanced targeting by selecting device type, subscription age, OS version and browser setting. With Push.House, you can target your ads to the last detail. Directly set the target audience you want to reach with your campaign, and Push.House will take care of the rest.
For example, if you want users from India to see your ad, you can select India before clicking on Create Ad.
Step 4: Sit Back and Get Real-time Results
Once you have created your campaign, Push.House's team will review your campaign and approve it as soon as possible. You will be informed once your campaign has been ready to launch. After approval, you will notice an increase in the number of impressions and clicks on the link you have attached to your campaign.
Their in-house dashboard can show you your growing number in real-time. Their advanced real-time tracking system includes data on impressions, clicks, CTR, and any sales or payments being generated. By analyzing the real-time statistics, you can gain insight into when your target audience is active and adjust your targeting strategy accordingly.
The customer support team is ready to help you with any queries you might have, even though the dashboard is relatively complete with all the information you need. With Push.House, you don't need additional software to track your metrics or hire external professionals to analyze your reach. Your account's manager and their customer support team are both adept at helping you create the perfect ads in a variety of verticals.
---
Joining Push.House as a Publisher
The network's policy with publishers is very straightforward. If you have a website with an active audience, you can join the network, and they will help you monetize that traffic by sending push notifications of links and products your audience will be interested in.
As such, they have not laid down any requirements for publishers to join their network.
Additionally, Push.House has a separate website called Partners.House for its advertisers. This website is an affiliate network designed specifically for monetizing push subscriptions. Whether you're a small publisher who's just starting and wants to make some money with their small but growing audience, Partners.House can help you with that, just like they can help large-scale publishers effectively monetize their massive amounts of traffic.
The general requirements and rules Publishers should take note of are given below:
Do not try to make money by clicking on your own ads.
Publishers have no right to attack a third party's right to privacy.
Don't try to join the network with fake or tampered data on your amount of traffic.
Don't create multiple accounts.
Don to use bots or traffic exchange sites to boost traffic on your site. Only real users and organic traffic is beneficial to the advertiser on the other side, so Push.House ensures that there is no foul play.
---
Features Offered by Push.House
Push.House is a platform designed to assist publishers in monetizing their traffic by offering a plethora of features. These features encompass an array of tools such as customizable push notifications, individual platform rates, and CTA buttons for ads. One aspect that sets Push.House apart from the competition is its straightforward policy that imposes no requirements for joining.
Push.House Features for Publishers
Push.House's Features for Publishers:
Weekly and on-time Monthly Payments: You can expect your payments regularly, either on a weekly or monthly basis, ensuring a reliable and timely income stream.
Multiple deposit options: Enjoy the convenience of choosing from a range of deposit options to suit your preferences and facilitate seamless transactions.
High Conversion Rates: Experience impressive conversion rates, increasing the likelihood of turning your traffic into successful conversions and maximizing your earnings potential.
Highest payout as compared to other competitors: Push.House offers the highest payout rates in comparison to other competitors, ensuring that your efforts are rewarded with a generous compensation structure.
Wide acceptance of traffic: Regardless of the country you operate in, Push.House welcomes traffic from over 150 countries, providing a global reach and opening up opportunities for diverse markets.
Numerous Ad Formats: Benefit from a variety of ad formats to choose from, enabling you to customize your campaigns and cater to different target audiences, enhancing engagement and results.
Anti-Fraud System: Push.House employs an advanced anti-fraud system to ensure the integrity and authenticity of your traffic, protecting your campaign's effectiveness and maintaining trust.
Advanced Targeting: Leverage the power of advanced targeting options to precisely reach your desired audience, optimizing your campaigns for maximum impact and conversion rates.
Instant payment for each PUSH subscription: Receive instant payments for each PUSH subscription, enabling you to access your earnings quickly and conveniently.
Real-time tracking system: Stay updated with real-time results through Push.House's tracking system, allowing you to monitor the performance of your campaigns and make informed decisions based on accurate data.
24/7 Customer Support: Enjoy round-the-clock customer support from the Push.House team, ensuring that any queries or concerns you have are promptly addressed, providing a smooth user experience and peace of mind.
Moreover, advertisers can benefit from Push.House's affiliate network, Partners.house, which specializes in monetizing push subscriptions. Partners.house is a veritable powerhouse in the world of affiliate marketing, and its expertise is truly remarkable. The way in which they assist publishers is multifaceted, providing them with a broad range of resources and tools to effectively monetize their traffic.
Push.House Features for Advertisers
#1. Advanced Targeting of Your Ads
Filter through the users you want to send ads to by Device, CPC, Age, age of their subscription, country, city, browser language, to even their OS version. As we discussed earlier, you can see the real-time results of your ad in Push.House. This means you can see which times users are more likely to click on or interact with your ads.
This is why they have offered dedicated time targeting options in their platform. This does is that you can turn on or off the times of the day or the days that you want your ad to be seen.
#2. Manage Your Advertising Budget by Campaign
As part of their range of advertiser-focused features, you can track and limit how much you spend on specific ads. This includes:
You can set a specific amount of money to be spent on particular campaigns per day. The minimum limit is $10. Given the nature of push ad notification portal(s), this limit can sometimes be overrun
As the name suggests, you can also set a total budget limit for every campaign. This limit can be breached at times, with the minimum spend being $10.
If you do not want to set a spending limit, you can set the limit by a number of clicks. This feature is particularly useful if you need just a certain number of clicks to test a campaign. This limit can be overrun.
If the offer you are promoting only allows a specific number of daily conversions, this feature can be handy.
#3. Customize Your Bids while Creating the Campaign

This feature enables advertisers to customize their bids during campaign creation. Advertisers can optimize their bids by setting different bid values for specific target audiences, and locations and maximize their return on investment.
#4. Moderation Queue
After you create your campaign, it will go into the moderation queue. You can pause the campaign's release after moderation. This means you can make and keep reviewed ready-to-launch campaigns ready well in advance.
The specific benefits of this are you can have campaigns lined up one after the other without any break in them and release them at your convenience, according to the days and times where you get the most benefit as per their advanced real-time statistics.
New Features of Push.House (Latest Updates)
Push.House team works tirelessly to enhance the platform and create optimal working conditions for users. In a recent update, Push.House introduced the new Audiences functionality, and they share a few more valuable tools available to Push.House partners. Let's deep dive into some of the new Audiences functionality and more valuable tools;
1. Badges
One of these tools is the Badges feature, which allows Push.House's Partners to select an icon representing the vertical of their ad. Adding a badge to your ad significantly increases the CTR and conversions.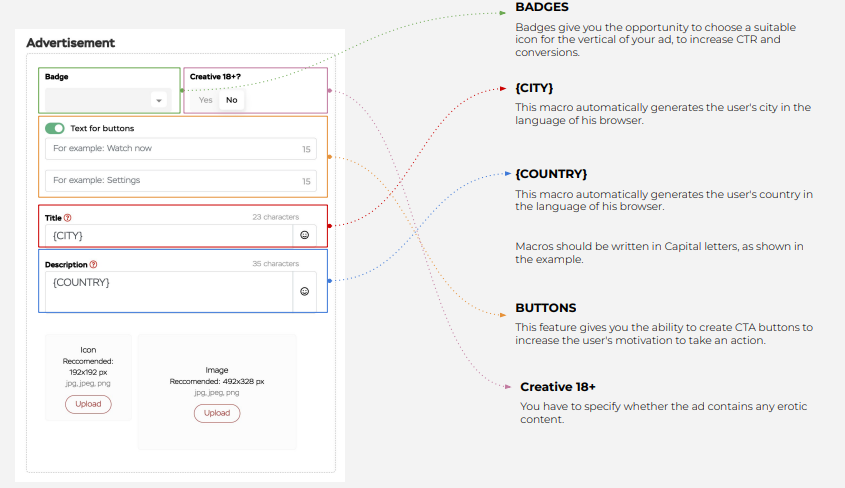 The system offers a various collection of icons for any vertical, making it easy to set up your ad campaign and improve your results.
2. Buttons
The system also has a cool feature that lets you create buttons for push notifications. This way, you can add Call-to-Action (CTA) buttons to your ads, which can significantly boost user engagement and motivate them to take action. What's even better is that for every campaign, you can customize the text on these buttons. This means that advertisers have more control over their ads and can tailor them to fit their specific needs.
3. Individual Rates for Platforms
The latest update in the system is pretty exciting! You can now set individual rates for each platform, which means that after reviewing your campaign statistics, you can change the cost per click for each platform separately. This feature is fantastic as it allows you to save costs on platforms that aren't working well for you and ultimately increase your Return on Investment (ROI).
How can Push.House help in targeting your audience?
Some of the main features that Push.house offers to their partner in the audience section are listed below:
With a whitelist, you can specify the IP ranges of operators that are allowed to access your Affiliate Program or Purchase traffic from the specific cities not yet covered by the network.
To create a White List, you must specify:
The name of the audience you are creating. (For example White list – offer name)
ID type (In the drop-down list, select WHITE LIST).
Enter a list of site IDs, one per line.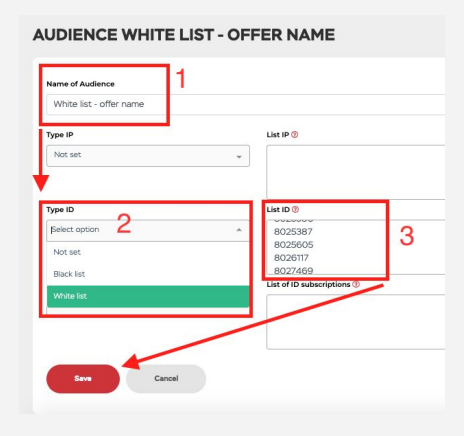 The blacklist creation feature enables users to block access to certain operator IP ranges or exclude specific cities that are not covered by the network.
To create a Black list, specify:
The name of the audience you are creating. (For example Black list – offer name).
ID type (In the drop-down list, select BLACK LIST).
Enter a list of site IDs, one per line
IP Blacklist / Whitelist (IP Type)
Push.House offers their partners two powerful features called Whitelist and Blacklist. To use either of these features, simply specify the relevant IP ranges in the following format: Ranges from 1.1.1.1-2.2.2.2, with each range on a new line. Both whitelist and blacklist are available to help partners to manage their traffic more effectively on the Push.House platform.
Retargeting can be a useful tool if you want to focus on a particular audience, such as subscribers who have taken a specific action, like making a purchase. To do this, you can specify the subscription IDs that correspond to that group of subscribers. These IDs are then included in the statistics using the (pdpid) macro, with each ID on a new line. By using this method, you can work on your advertising campaigns more effectively, and increase your chances of reaching your desired audience.
Adding an audience to a campaign
Once you have created and saved all the required audiences, you can find them in the AUDIENCES section. When you create or edit a campaign, you can easily select the specific audience you want to target.
What are Macros on Push.House?
While creating your campaign, you will see a set of macros below the dialogue box before you add the link on which you want to generate traffic.
These are options where you can see specific details about your consumers.
This macro shows the site from which the user got the push ad. Useful when you want to know which sites are generating profits and which are just dead weights. The dead weights can be done away with or put on the back burner to not cut into the budget for profitable traffic sources.
This shows the specific campaign the user clicked on. You can analyze which ads of yours converted better and optimize the ones which didn't.
Track the subscription age of users. All traffic segments are divided by subscription age, so you can choose which particular segments will benefit you most.
A large amount of traffic is still accounted for by feeds. Various feeds and their traffic quality can be seen here. This is in addition to the push advertising campaign and the push traffic you will generate from there.
Price of the click made by a user on an ad.
Country where your ad is displayed.
A city where your ad is displayed.
OS version of the users who are clicking on your ads.
Track the browser language of users who are clicking on your ads.
Browser used by the traffic your ad generated.
Helps you understand which ad formats convert better (helpful to advertisers who want to run multiple campaigns in different formats).
---
Push.House Affiliate Program
The Push.House affiliate program is an excellent way to earn extra income. Just invite anyone you think might be interested in joining their ad network. It is very beneficial as you get a 3% commission every time someone uses your referral link to join.
It is easy extra money as all you need to do is apply to the Push.House affiliate program, where they will give you a tracking link that you can send to potential users. The 3% commission is paid out to you from your referral deposits whenever someone uses your link to join the platform.
---
🌟 Push.House FAQ
🙄What is Push.House?
Push.House is a platform for push notification advertising. It boasts global coverage, the ability to send messages in 180 countries, quality traffic for advertisers, a high return on investment, real-time statistics, and personal managers to help with technical issues.
🔥Is Push.House sign-up is free?
Yes, signing up on the website is entirely free. All you have to do is fill out the registration form on their website.
🔎Is there an affiliate program for Push.House?
Yes. When someone joins the platform using your affiliate link, a 3% commission is paid to you from their referral deposits.
🚀How can I track my results?
After you've completed the step of creating an Ad campaign, an account manager will approve it, and you'll be assigned one dashboard to watch your data and results.
😎Is Push.House worth it?
Because of the high quality of service they deliver to its customers, Push.House has earned a worldwide reputation. They've been operating in over 180 nations around the world. It is the most popular Push Ad Network, having overcome all other Push Notification Ad Networks because of its higher quality and a variety of features that others lack.
---
Conclusion: Push.House Review 2023 | Should you really go for it?
Thirty years ago, an advertiser had to estimate the users who would like to use his product and what they would like to hear. He just told them that and earned a solid revenue. Today the situation couldn't be any further away from this. Even if you say exactly the right words to make the sale, the medium in which it is presented to the user is essential.
Your perfect copy with your excellent product will remain unseen in an unread email or an ignored text message. These days push notifications are how we keep track of everything in our lives and the world. If your ad copy can be placed in the push notifications of the user you know is interested in your product, you have a nearly guaranteed conversion.
Push.House's string of successes since its establishment in 2018 is proof of this. One of the best CPC Ad Networks in 2023 overall, Push.House is the platform that can make your hard work building traffic or designing a campaign get the revenue it deserves.🤞🤞