JuicyAds
JuicyAds is a powerful and popular industry-leading advertising network. Since 2006, JuicyAds teams have served trillions of ad impressions!
Adsterra

With Adsterra, publishers maximize eCPM with relevant ad feed while advertisers meet their KPIs and enhance ROI. Grow your business with the best team in the industry!
HilltopAds
Make money from your website. Monetize your website traffic with the best converting offers and get high eCPMs
Are you aware that users are almost five times more likely to make an in-app purchase after engaging with incentivized ads? This compelling statistic underscores the power of incentivized ads, a marketing tool that rewards users for completing certain actions, thereby driving higher conversion rates.
As we explore the best incentive ad networks, we'll explore how these Ad networks leverage the allure of rewards to boost user engagement and advertiser gains. From gaming to shopping apps, incentivized ads have revolutionized the way advertisers connect with their audience, offering a win-win scenario that benefits both parties.
Let's get started with the list of best incentive ad networks!
💰 11 Best Incentive Ad Networks for 2023
| Incentive Ad Networks | USP of the Ad Network |
| --- | --- |
| Adsterra | Uses AI-powered Advanced Algorithms |
| JuicyAds | Proprietary assistant for campaign auto-optimization |
| HilltopAds | Instant activation of accounts |
| Adgate Media | Over 2,000 active campaigns |
| Adscend Media | Offers a Lightweight SDK, iFrame, and API |
| OfferToro | Offers access to User Blocking and Unblocking Tools |
| Tapjoy | High eCPM offers exceeding $1000 |
| CPAGrip | Postback tracking features available |
| Perform[cb] | Offers custom domains feature with API as well |
| NativeX | Over 5 billion advertising requests per day |
| OGAds | 10 years of expertise in the industry |
Founded in 2013, Adsterra has grown to become a market-leading ad network trusted by over 30,000 advertisers and publishers worldwide. It serves over 30 billion ad impressions per month globally, with 70% of its traffic being mobile. Adsterra's unique Partner Care approach sets it apart from other ad networks, providing a personal touch, quick replies, and top-notch problem-solving skills. This approach, coupled with its innovative ad formats and advanced algorithms, makes Adsterra a great choice for both advertisers and publishers seeking to maximize their return on investment.
Key Features of Adsterra Ad Network
---
JuicyAds Ad Network is a renowned player across Incentive Ad Networks, particularly in the adult industry. With its robust architecture, global coverage, and modern interface, JuicyAds has carved a niche for itself in the advertising world. It is a self-serve platform that offers users complete freedom to create and manage their campaigns, thereby providing a high degree of control and flexibility. The network has been serving the market since 2006 and has delivered trillions of ad impressions to date, making it a reliable and trusted choice for both advertisers and publishers.
Key Features of JuicyAds Ad Network
---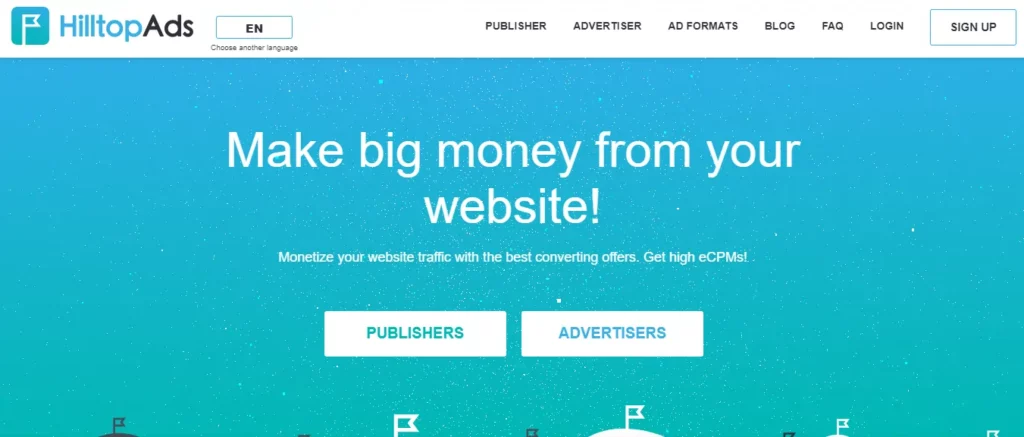 HilltopAds Ad Network is a remarkable Incentive Ad Network that has been serving publishers and advertisers globally since its inception in 2013. Based in the UK, HilltopAds has carved a niche for itself in the realm of CPC/CPM advertising networks. What sets HilltopAds apart is its unique approach to traffic segmentation based on the quality and activity of users.
This ensures that advertisers receive high-quality traffic from legitimate sources, thereby enhancing the effectiveness of their campaigns. HilltopAds' commitment to eliminating bot/cheated traffic further underscores its dedication to maintaining traffic quality. With its diverse ad formats and easy-to-use platform, HilltopAds has become a preferred choice for those seeking a robust and reliable Incentive Ad Network.
Key Features of HilltopAds Ad Network
---
AdGate Media is a renowned Incentive Ad Network known for its rewarded advertising. This platform is a bridge between premium brands and users of popular apps, providing a unique opportunity for monetization and user acquisition. AdGate Media is committed to helping app developers and website owners monetize their platforms effectively, ensuring that they only pay when their specific goals are met. This focus on goal-oriented payment models, coupled with non-intrusive advertising, makes AdGate Media a great choice for those seeking to maximize their revenue while maintaining a positive user experience.
Key Features of AdGate Media Ad Network
---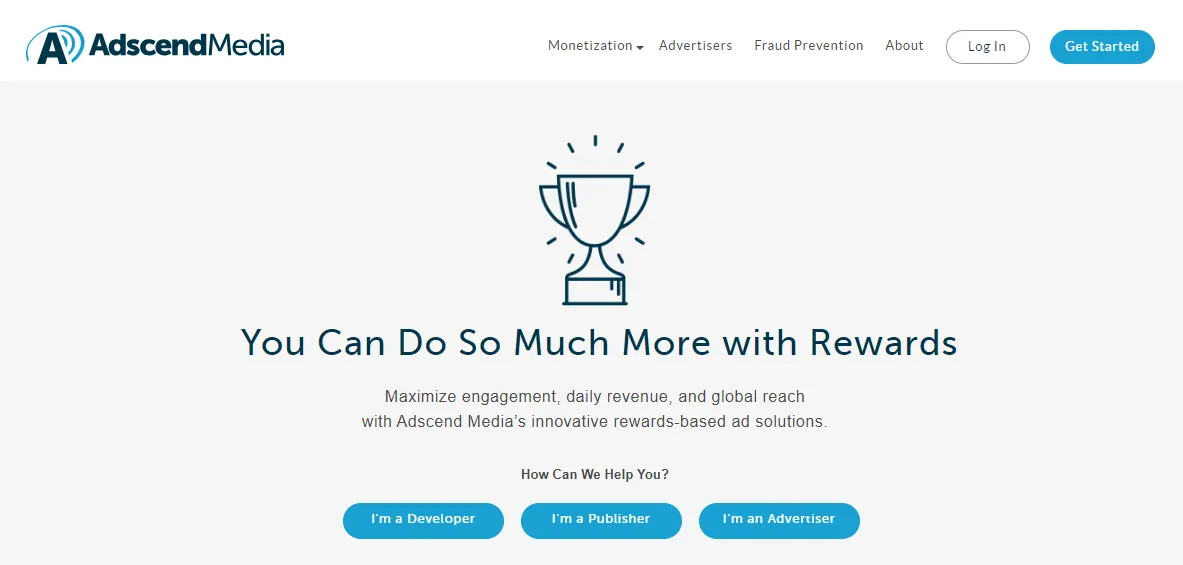 Adscend Media Ad Network is a highly regarded Incentive Ad Network that has been providing innovative solutions for mobile app and web publishers since 2009. This award-winning platform is recognized for its superior monetization and brand engagement solutions, which include Offer Wall, Rewarded Video, and Affiliate Marketing.
Adscend Media's unique approach to advertising allows users to earn rewards by engaging with their favorite apps, games, and websites, thereby creating a rewarding model that benefits both publishers and users. The network's commitment to providing excellent support and a wide array of options to earn rewards makes it a great choice for publishers looking to maximize their earnings.
Key Features of the Adscend Media Ad Network
---
OfferToro is a leading player in the world of Incentive Ad Networks, providing a robust platform for businesses and app developers to monetize their digital assets effectively. The company's core strength lies in its innovative approach to advertising and monetization, offering a suite of solutions that not only drive revenue but also enhance user experience.
OfferToro's commitment to success is evident in its dedication to providing a highly engaged audience to advertisers and a one-stop-shop monetization method to publishers. This commitment, coupled with its long-standing history in the industry since 2012, makes it a reliable and trusted partner in the realm of Incentive Ad Networks.
Key Features of OfferToro Ad Network
---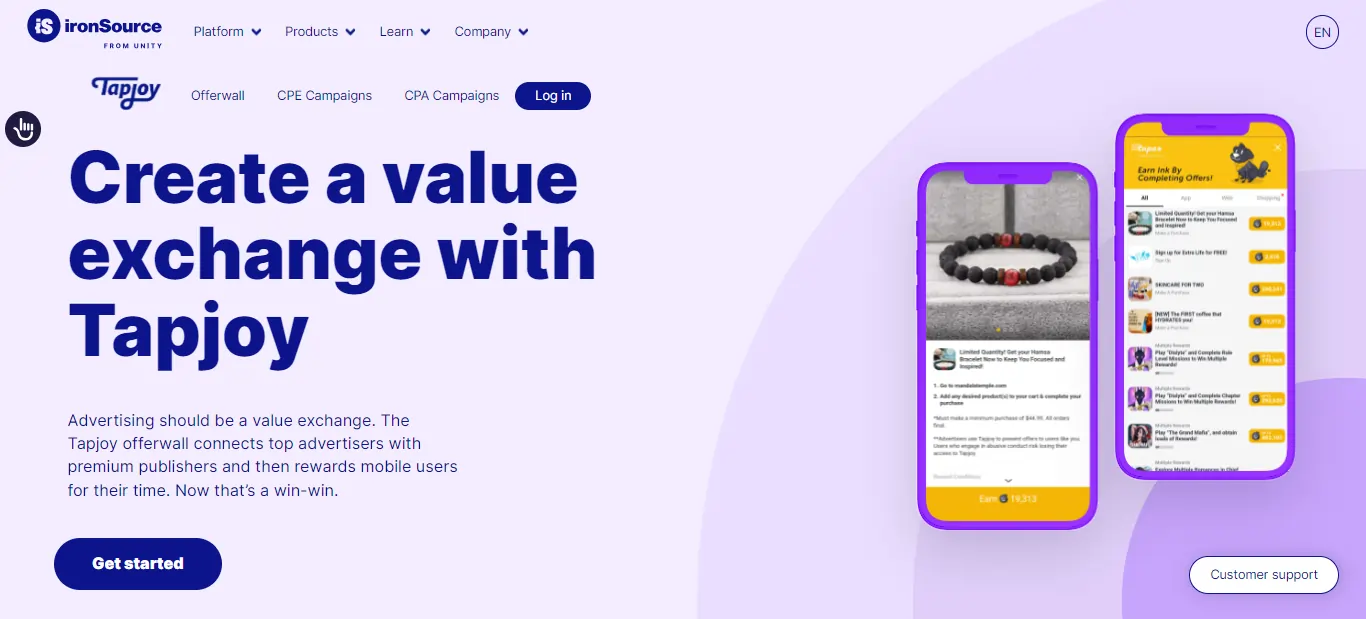 Securing its position on 7th position, TapJoy Ad Network is a trusted choice in the Incentive Ad Networks sector, revolutionizing the mobile industry by connecting advertisers with their ideal audience in the world's most popular mobile games and apps. It operates on a unique value exchange model, where mobile users are rewarded for their engagement with ads, fostering a mutually beneficial relationship between advertisers and users.
This innovative approach has positioned TapJoy as the industry leader in the offerwall category, with a significant number of top-grossing apps and mobile games leveraging its services. By prioritizing user experience and maximizing app revenue, TapJoy has successfully transformed the dynamic between advertisers, publishers, and consumers, making it a standout choice in the Incentive Ad Networks industry.
Key Features of TapJoy Ad Network
---
CPAGrip Ad Network is a leading player in the affiliate marketing industry, renowned for its impressive track record of success and high level of publisher satisfaction since 2013. As an industry leader, CPAGrip provides a wide range of sophisticated tools and an extensive inventory of incentive offers, making it a top choice for both publishers and advertisers. The network's commitment to innovation, coupled with its dedicated support team and experienced development technicians, has made CPAGrip one of the best-reviewed performance engines for publishers and advertisers alike.
Key Features of CPAGrip Ad Network
---
Perform[cb] Ad Network is a leading player in the incentive ad network industry, renowned for its innovative approach to performance marketing. As a top-ranked CPA Affiliate Marketing Network worldwide, Perform[cb] has been connecting advertisers and affiliates since its inception, focusing on delivering real outcomes and real customers.
The network's commitment to outcome-based marketing means that advertisers only pay when a specific outcome is achieved, such as a customer checking out on an e-commerce site, a prospect submitting a lead generation form, or a user downloading an app. This approach ensures a high return on ad spend (ROAS), making Perform[cb] a great choice for businesses seeking to maximize their ROI.
Key Features of the Perform[cb] Ad Network
---
NativeX Ad Network is a remarkable Incentive Ad Network that has been a popular choice among marketers globally. As a global digital marketing agency, NativeX is dedicated to driving ROI for all sectors of business in a mobile-first world. It has a deep understanding of user preferences and provides access to various global top media platforms and channels to help businesses reach their target audience. NativeX improves the efficiency of businesses' overseas media buying experience, and ad creative management, and boosts growth beyond borders. It is a one-stop advertising solution that scales businesses and drives growth.
Key Features of NativeX Ad Network
---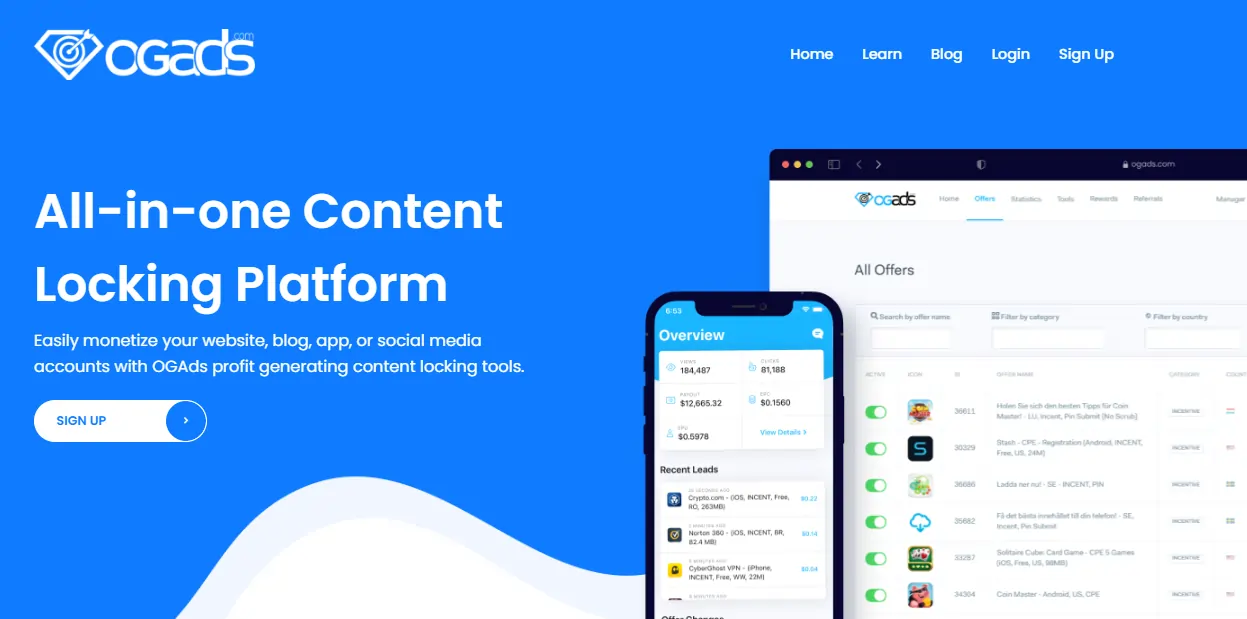 OGAds Ad Network is a remarkable Incentive Ad Network that has carved a niche for itself in the realm of content locking. Established in 2014, OGAds has been a game-changer in the affiliate marketing scene, helping affiliates, webmasters, and developers monetize their mobile and desktop traffic. It has been recognized for its innovative platform and potential for high earnings, making it a network worth considering for affiliate marketers.
OGAds has a unique focus on content lockers for both mobile devices and desktops, providing a great way to monetize premium content. With its profit-generating content locker, one can easily monetize their website, blog, app, or social media accounts. The network has more than 600 various offers and almost 10 years of expertise in the industry.
Key Features of the OGAds Ad Network
Ethics of Incentivized Ads
Incentivized advertising, a strategy where viewers are rewarded for engaging with ads, has become quite a popular tool as it taps into our natural desire for rewards, offering something in exchange for our attention or engagement, such as watching a video, downloading an app, or signing up for a subscription. However, the ethics of incentivized ads are complex and multifaceted, raising questions about privacy, manipulation, and authenticity. Here are some of the key aspects that you might wanna consider:
Privacy Concerns
One of the main ethical concerns is privacy. Online advertising often involves tracking user behavior across multiple websites and devices, raising concerns about the monitoring of online behavior and the potential for profiling and discrimination. Incentivized ads, which often require users to provide personal information or perform specific actions, can exacerbate these privacy concerns.
Ads Manipulation
Another ethical issue is the potential for manipulation. Incentivized ads can create a false sense of urgency, leading users to make hasty decisions they may later regret. Furthermore, the use of data-driven advertising in political manipulation campaigns has been highlighted, with the capacities of digital ad systems facilitating such campaigns being seen as a liability for democratic societies.
Authenticity of Ads
The authenticity of incentivized reviews is another ethical concern. Research suggests that people who are incentivized tend to write more positive reviews, potentially misleading others. Brands should not incentivize reviews under the condition that the reviews be positive, as this practice is not only unethical but also misaligned with the Federal Trade Commission's regulations.
Despite these ethical concerns, incentivized ads can be highly effective. They can result in higher conversion rates than non-incentivized ads and can be a powerful tool for businesses to reach new customers and build brand loyalty.
While there are some ethical concerns, it's crucial for businesses to be transparent about their use of incentivized ads and to ensure that their offers are compelling and fair.
Latest FAQs Related to Incentive Ad Networks
How do Incentive Ad Networks work?
Incentive Ad Networks connect advertisers who want to launch campaigns with publishers looking to sell ad space on their digital properties, like websites and apps. The network aggregates remnant ad inventory from various publisher websites and then matches it with advertiser demand.
What are the benefits of using Incentive Ad Networks?
Incentive Ad Networks can drive considerable gains for advertisers. Studies show users are almost 5x more likely to make an in-app purchase after engaging with incentivized ads. Plus, when they engage with at least one incentivized ad in the first week after installation, app retention has the potential to improve by around 300%.
What are the potential downsides of using Incentive Ad Networks?
While Incentive Ad Networks can drive significant engagement and conversions, the average user Lifetime Value (LTV) of incentivized ads tends to be low, and much lower than non-incentivized ads.
What are the legal considerations when using Incentive Ad Networks?
When using Incentive Ad Networks, it's important to comply with the guidelines set by regulatory bodies like the Federal Trade Commission (FTC). For instance, if an incentive could sway what someone says in an endorsement, that incentive should be disclosed. The FTC doesn't mandate the specific wording of disclosures, but the general principle is that people should get the information they need to evaluate sponsored statements.
Conclusion
With global ad spending in the sector expected to cross an impressive $250 billion by 2024, the Incentive Ad Networks have proven to be particularly effective in the gaming industry, making up around 90% of gaming ads. In addition to this, you might be amazed to know that they have also found their place in the corporate world, with a staggering 90% of corporations now utilizing incentives to motivate their sales teams.
Well, moving toward the closure of this article, there's this one question spinning around my head, i.e. Will incentive ad networks continue to focus on rewards, or will they find new ways to engage users?
Hopefully, you might have found yourself the right incentive ad network that suits your marketing and business operations.
Affiliate Disclosure: This post may contain some affiliate links, which means we may receive a commission if you purchase something that we recommend at no additional cost for you (none whatsoever!)