Are you ready to become a smart Amazon seller? Then, You must know and use this smartest Amazon seller software ever!
Whether you are an online retailer or just giving a thought to start a new online business, Amazon provides an unparalleled opportunity to everyone. You can sell your products to any corner of the world with a bare minimum investment.
Amazon is expanding for over a decade, and this is the best time to place the right feet. But is it that easy to start a business online? Online businesses have big potential, but it comes with real challenges!
If you have the will to start over a new business or shop on Amazon, it's very much easier. There are some tools available to help you succeed at its best. But how to stay apart and stand out unique in such a crowd and stiff competition?
There are so many products getting sold at high prices and the cheapest rate possible. Some provide excellent customer service, while within others have bundles of positive reviews of their products. Hence, to help you stand out better, Seller Labs help users give the highest competitive edge. The tools are comprehensive and result-driven. Find out more about this software in this detailed ✅Seller Labs Review 2023, and get yourself this software right away!
---
Detailed Seller Labs Review
In simpler words, Seller Labs is the latest management software having all potential and essential tools a user will need while starting up an Amazon shop. It does not just help plan and strategize all the Amazon Sponsored ads to boost sales. There are in all five features by Seller Labs that help users to crack the Amazon selling code. The Seller Labs Pro is an AI-powered marketing platform for sellers who believe in performance-driven sales.
Yet other features of Seller Labs include Campaign Optimizations, Expansion, Communication center, and many others. Altogether, there are different features provided by Seller Labs to boost Amazon sales seamlessly. Find out more about all of those below:
---
Key Features of Seller Labs
As mentioned previously, Seller Labs have different applications for Amazon sellers according to their requirements. Know more about the products and their detailed review below:
#1. Communication Center powered by Feedback Genius
It's the best feature by Seller Labs. The software generates positive reviews for the products through its effective features. Initially, it automates the email to every Amazon product buyer and notifies them out for a review.
The seller gives feedback on the product they have bought. What it does is automating emails to Amazon buyers and asking them for their feedback about the seller and the product. Moreover, several customizations come along with the messages based on MSKU, ASIN, and others. Through this software, it gets easier to monitor negative feedback from the buyers. As a seller, you can resolve the issue by replying to them at the same time.
Other variables offered with this feature include drafting user-friendly emails for your customer. One can add their business logo or attractive personalized lines to give them a personal feel.
The communication center powered by Feedback Genius automates the messaging part and helps customers know more about the ordered product's status. They will receive notifications relating to the delivery, packaging, and other related things.
The tool helps to build trust with customers and gives the best shipment details. All of this encourages users to give positive reviews to the product or the business.
What benefits does this application provide?
There are several benefits Feedback Genius provides to its users. It's a time savior in different ways because the customers are kept updated. A business can boost sales and profits because it asks the user to provide feedback after receiving the product.
Any business won't be required to spend maximum time on the customer feedback system to automate the overall process. The best part is the feature is Amazon compliant. Hence one can use the feature smoothly!
---
#2. Advertising Center powered by Ignite
Sponsored product ads are one of the most important things when it comes to Amazon sales. The advertising center powered by Ignite mainly focuses on optimizing sponsored product ads. It keeps track of historical data and syncs all of it in a report.
These reports include charts, statistics, keywords, ad groups, and individual customer search terms. Hence, users can easily manage their Amazon products by optimizing sales and adjusting bids. This software by Seller Labs is integrated into the Amazon marketplace web service (MWS) and sponsored products API. Hence, users get detailed, data-driven information about marketing and sales campaigns.
All of these data are organized appropriately in a chart for comfortable reference. Through the Ignite feature, you can optimize and manage your campaign by moving keywords and adjusting the bids. Moreover, the algorithms assist users in decision-making processes for their businesses.
What benefits does this application provide?
The Ignite feature by Seller Labs optimizes the overall product advertisement and gives the best possible result. Through the data obtained by this tool, one can get better judgment and decisions on how to market a specific product for driving the best sales.
As the tool automated the overall process, it saves a lot of valuable time you might waste on enhancing the Product ads. Through the rich data available, you can find hidden data and reduce your spendings accordingly. You can save yourself from wasting money on not-so-worthy campaigns and can choose the one that will deliver the best results.
---
#3. Keyword Center powered by Scope
Yet another powerful feature by Seller Labs is Keyword Center powered by Scope. This software provides higher ranking keywords with its intelligent Keyword research tool for the best product discovery. The data-driven keywords thus provided with this software helps businesses to optimize the sales page accordingly. It gets easier to sort out high traffic keywords within a quick turnaround time.
Discovering top-selling products also gets easier with Scope. One can enhance their Amazon SEO and PPC through this software easily. Moreover, with this feature, one can get the right information about several products and historical pricing data.
What benefits does this application provide?
Conducting a profitable Amazon sale is the dream of every seller, and by using Scope, this is possible. The tools help users to reduce the overall PPC spendings and perform keyword-driven sales. Sellers can also estimate their profit margin through the keyword ranking score.
Also, one can compare the overall performance of keywords and phrases of the products widely sold on Amazon. Also, if you have recently started your venture and you are confused about which Niche to choose, then this tool will help you with that as well. Amazon sellers can also decrease FBA fees and Amazon commission by analyzing the risk through the software's data. Understanding and evaluating profit and monthly revenue also get easier with Scope.
---
#4. Quantify – Performance and Notification Center
Opportunities play a crucial role in any business, be it online or offline. Through the Quantify feature by Seller Labs, Amazon sellers can easily spot opportunities and analyze trending products. The software provides detailed financial information from the user's Amazon account. This information displays profit margins, financial forecasts, and a breakdown of profits. All of these will help users to eliminate confusion regarding its business financial progress or losses.
Another best part about this feature is Inventory Management, which is a must in any online business. Guessing never works every time, and you must have trackable data and insights. Whenever your inventory runs low, you will get quick notifications about the same.
Quantify also gives its users an overview of product trends, promotional success, seasonal sales, and more accurate and in-depth sales data.
What benefits does this application provide?
Optimizing business sales and future opportunities get easier with Quantify. One can evaluate their earnings and inventories accordingly. The exciting part about this feature is the advanced financial information for determining current market positioning.
Users can also analyze sales strategies with this tool. Overall, the tool simplifies the process through its trackable reports.
---
#5. Snagshout – Best Amazon seller software in Action
Last but not least, Snagshout is the best feature by Social Labs, and we could not agree more. It's a social platform built specifically for Amazon shoppers to find the best deals from Amazon sellers. They need to do social activities, like leaving positive/negative feedback about any product they have bought.
Through this tool, Amazon sellers can obtain profitable organic traffic about their Amazon product. Here, they have to take care to exchange the right promotional deals for their products to attract shoppers.
What benefits does this application provide?
Social networking is now an essential part and parcel of any business. Through Snagshout, sellers can get social publicity from Amazon influencers having a good number of followers. The tool also works best on improvising sales velocity to increase the traffic!
---
Seller Labs Pricing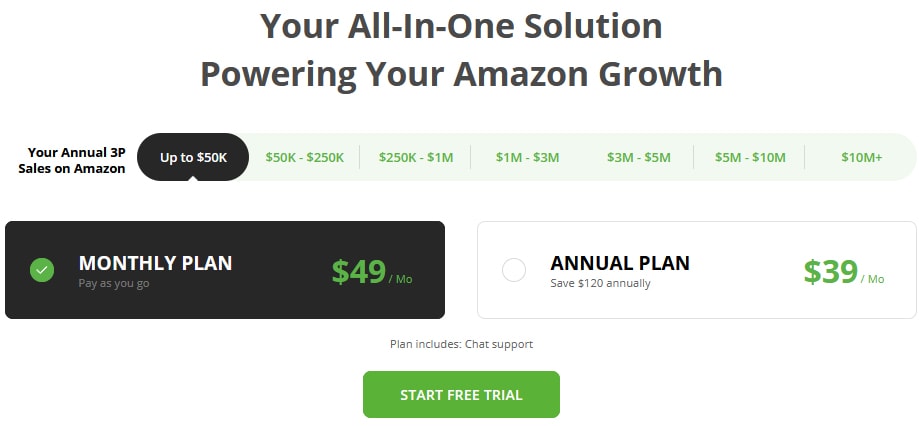 $49 monthly plan ($39 if paid yearly ~ $120 savings)
This plan is for those having Amazon sales of around 50k dollars. The plan includes all the basic features along with round the clock chat support.
$99 monthly plan ($79 if paid yearly ~ $240 savings)
This plan is specifically for those having Amazon sales ranging between 50K to 250k dollars. Every best feature is included in this specific sales range plan, and the plus part is the email assistance and chat support.
$149 monthly plan ($119 if paid yearly ~ $360 savings)
This plan is specifically for those having Amazon sales ranging between 250K to 1 million dollars. The users will get access to all the best features, including both email and chat assistance.
$299 monthly plan ($239 if paid yearly ~ $720 savings)
This plan is specifically for those businesses having Amazon sales between 1 million to 3 million dollars. The features differ as compared to previous plans. Added support is also included in both chat and email.
$499 monthly plan ($399 if paid yearly ~ $1200 savings)
This plan is specifically for those Amazon businesses whose sales range between 3 million to 5 million dollars. With this plan, you will get an email, phone, and char assistance. Added benefits include onboarding support. A dedicated account manager will help you with any problems and will provide the best service level management.
Lastly, If your Amazon sale ranges above 5 million, you need to contact the support team to help you get the best monthly and annual plan. You will get the best subscription suiting your business.
---
Major Benefits of Seller Labs
Any E-commerce business requires a long-term strategy, but it's harder to decide the right one due to the fluctuating market. A user will require tools to build a successful business, and Seller Labs offers the same. Be it tracking inventories using quantify or finding profitable keywords using Scope. Seller Labs has it all. If you are a beginner, then both of these tools are very beneficial.
Yet another best part about Seller Labs is Ignite, which helps in focusing on paid advertising to get the best ROI. Reviews also play an essential role in any business, and Feedback Genius is thus used to get positive reviews.
You can either buy specific features out of these options or opt for Seller Labs Pro to get the benefit of all. With so many positive and beneficial reviews displayed on the website itself, Seller Labs is indeed a treasure!
---
Pros & Cons
Pros
Proficient tools to boost Amazon business performance
Automated system for hassle-free business management
Different Product lines to provide various benefits
Allows subscription to that software that your business needs the most
Effortless sales and product marketing on Amazon
Cons
Snagshout and Scope are compatible with Amazon only.
Some features support just the US audience.
Feedback Genius only supports Amazon marketplaces like the EU, US, and the UK.
---
🌟 Seller Labs FAQ
✔What is Seller Labs?
Seller Labs is a platform designed for Amazon sellers for smart Amazon growth. It is the AI-powered marketing software that helps Amazon sellers to keep a very close eye on their business to drive more sales.
✔Does Seller Labs offer any free trial? 
Yes, You can start free with Seller Labs as it provides 30 days free trial to its new users that allows you to test all the features of this powerful tool.
✔Which services are provided by Seller Labs?
Apart from the beneficial features, Seller Labs also offer some helpful services that really help Amazon sellers to drive more sales.
#1. Amazon Listing Optimization
#2. Advertising Management
#3. Photo services
#4. Amazon Store
#5. Messaging optimization 
✔Which marketplace does Seller Labs support?
Seller Labs supports almost 11 Amazon Marketplaces, including United States, Canada, Mexico, United Kingdom, France, India, Germany, Italy, Spain, Japan, Australia. 
---
Conclusion: Seller Labs Review + 50% OFF Coupon Code 2023
Seller Labs are popularly known to be the smartest Amazon seller software. The user base is so broad that many Amazon sellers earn a hefty amount daily. It is trusted and followed by everyone as it's worth every penny. Apart from automating the selling process, the software also provides several other benefits that are remarkable.
But as a user, the software will provide benefits according to the boundary you are setting. If you wish to get more profits, you need to spend a good amount of time on the software. On that note, don't underestimate the power of such software, give it a try, and see your products getting boosted. It's software every brand owner must have!🚀🚀