Ever wondered why some marketers in the Nutra vertical are more successful than others? The answer lies in their choice of Nutra Ad Networks.
Right Nutra vertical combined with the right audience group can result in 6 figure income!!
Today, we're focusing on a niche that has seen significant growth and interest – Nutraceuticals, or 'Nutra' for short. For an industry with massive growth and a projected valuation of $240 Billion by 2028, searching for opportunities that align with 6 figures revenue is not an impossible thing to look forward to. This is where Nutra ad networks come into play, the path to expanding your reach to the traffic type that will unlatch your share in this billion-dollar industry.
This article will guide you through the "14+ Best Nutra Ad Networks" that have proven to offer high-quality services and profitable opportunities for affiliates as well as advertisers.
👉 Also, If you wish to explore the what are some of the best-performing products in the Nutra vertical, keep reading the article to the end!
Now, let's get started!!
💊 14+ Best Nutra Ad Networks
Choosing the right Nutra Ad Network is indeed one of the most crucial decisions required to get along with the process of your marketing operations. The below-mentioned Nutra Ad Networks are categorized on the basis of different aspects including the GEOs they cover, the payment options, the type of traffic, ad formats, etc.
So without any further adieu, let's get started with the list of top Nutra ad networks that you might wanna consider:
| | | |
| --- | --- | --- |
| Ad Network | Ratings | Key Features |
| HilltopAds | 4/5 | Traffic segmentation, various ad formats, auto optimization, high ROI, low CPM |
| Adsterra | 4/5 | High monetization rates, easy-to-use control panel, various advertising options |
| Richads | 4.3/5 | Good performance, push notifications, supportive account manager, large traffic volumes |
| TrafficStars | 3.2/5 | High-quality traffic, self-serve platform, OpenRTB capabilities, 5 billion daily ad impressions |
| Zeropark | 4.9/5 | Reliable traffic, intuitive UI, good targeting options, high traffic volumes, optimization tools |
| MyBid | 3.9/5 | Fully-managed platform, real-time bidding, campaign management, reporting |
| RollerAds | 3.6/5 | Top-performing ad formats, in-house anti-fraud system, unique optimization algorithms |
| PropellerAds | 4.3/5 | Easy-to-use interface, great support, fast campaign approvals, high converting traffic |
| Clickadu | 3.2/5 | High traffic volume, fair rates, professional and responsive customer support |
| AdMaven | 4.1/5 | Offers publishers high revenue with top-notch optimization tools and a broad network of advertisers |
| AdSpyglass | 4/5 | Ensures 100% of ad views are filled with a minimum payment threshold of $10 |
| Clickadilla | 3.4/5 | Offers focused advertising for the leading mainstream verticals |
| Plugrush | 3.5/5 | Provides multiple options for those interested in buying, selling, or exchanging traffic |
| PopCash | 4.1/5 | PopCash offers fast website approval for immediate publisher monetization |
| Galaksion | 4.3/5 | With 30 billion monthly impressions, Galaksion drives ample direct traffic to your promotions. |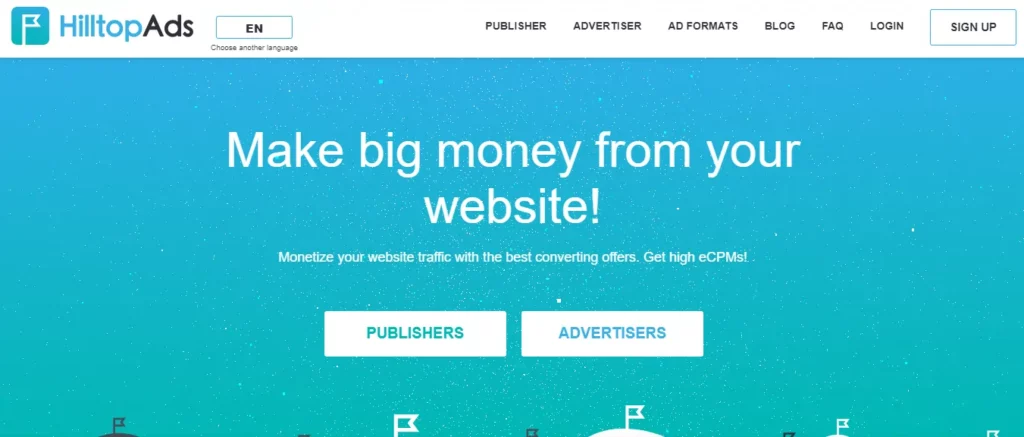 Securing the #1 spot on our list, HilltopAds has been a popular choice across users. HilltopAds global ad network operates on a Cost Per Mille (CPM) basis, ensuring you only pay for impressions received. With traffic from direct publishers and advanced targeting options, HilltopAds ensures your ads reach the right audience. You can get along with several features that make it an attractive choice for both publishers and advertisers. HilltopAds specializes in pop advertising and provides a wide variety of CPM offers, along with the option to request Cost Per Action (CPA) or Cost Per Click (CPC) offers from a Personal Manager.
Key Features of HilltopAds Ad Network
Operates on a Cost Per Mille (CPM) basis, ensuring you only pay for impressions received.
Specializes in pop advertising and provides a wide variety of CPM offers.
Offers the option to request Cost Per Action (CPA) or Cost Per Click (CPC) offers from a Personal Manager.
Accepts websites with both mainstream and non-mainstream content, catering to various types of high-quality traffic.
Maintains up to a 100% fill rate without blocked impressions, aiming to maximize user revenue.
Offers competitive rates and weekly payments via multiple platforms including PayPal, Bitcoin, Wire Transfer, Webmoney, Capitalist, and Tether (USDT).
Provides various high-converting ad units that fit the user's website and device, including pop ads, banners, in-video ads, and native ads.
Offers a variety of ad formats including push notifications, video ads, pops, direct links, and display banners.
Provides real-time detailed statistics and eCPM real-time optimization.
Offers custom solutions for valued partners and has its own ad server solution.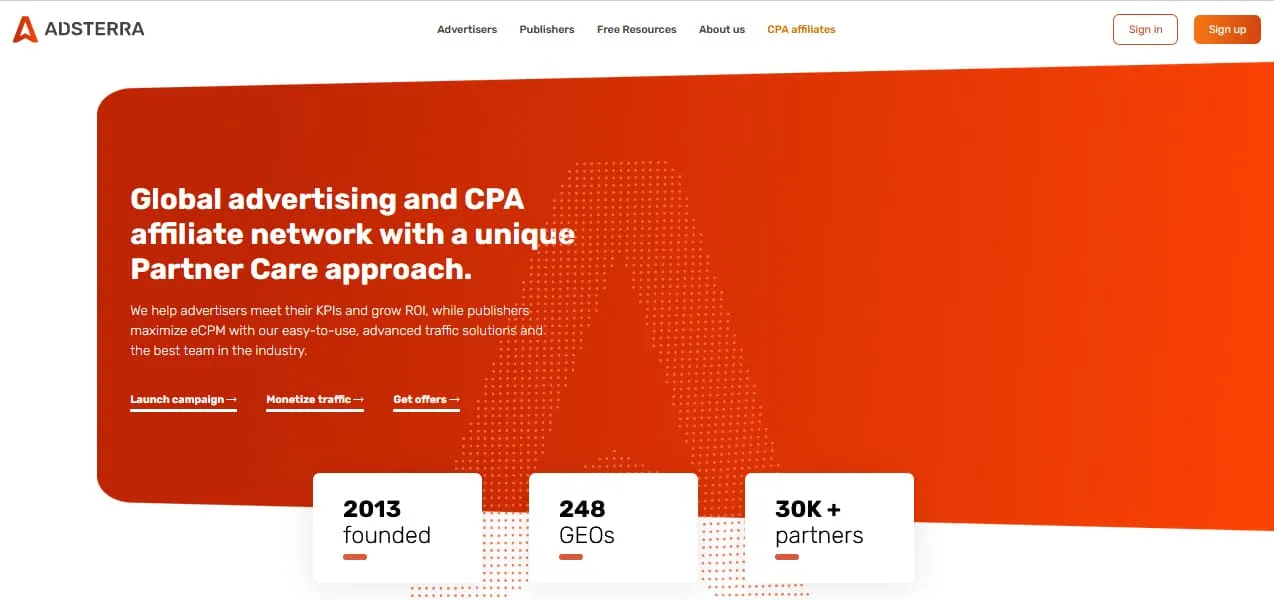 Adsterra, founded in 2013, has quickly risen to prominence in the world of digital advertising. Serving 248 GEOs and partnering with over 33,000 entities, Adsterra has established itself as a robust ad platform for brands, agencies, solo marketers, and media buyers. With its quick approval for publishers and a powerful platform that unlocks high-quality CPM, CPC, and CPA traffic from over 20,000 direct publishers, Adsterra is undoubtedly the right ad network to be listed in our list of best Nutra ad networks.
Key Features of Adsterra
Quick approval process for new publishers, typically within 10 minutes.
Caters to a diverse array of traffic, including desktop and mobile website traffic, social and mobile app traffic, and URL shortener/domain parking traffic.
Offers a range of monetization options, including popunder ads, native banners, social bars, direct links, and VAST videos.
Emphasizes security with a three-level security system that includes innovative in-house and reliable third-party fraud detection systems, as well as human checks.
Provides a self-serve platform for those who prefer to work without a manager, fully automated for an easy-to-use experience.
Supports a variety of payment methods for publishers, including PayPal, Wire, and Paxum.
Offers three anti-Adblock options that can increase revenue by an average of 35%.
Offers over 20 targeting settings, delivering your ads to the best-matching audiences.
Allows you to monetize any traffic, from a small blog to APK files or social traffic. AI algorithms choose the most competitive CPM rates along with relevant ad content.
Choose from a variety of ad formats including Popunder, Social Bar, In-Page Push (Social Bar), Native Banners, Video Ads, and Banners.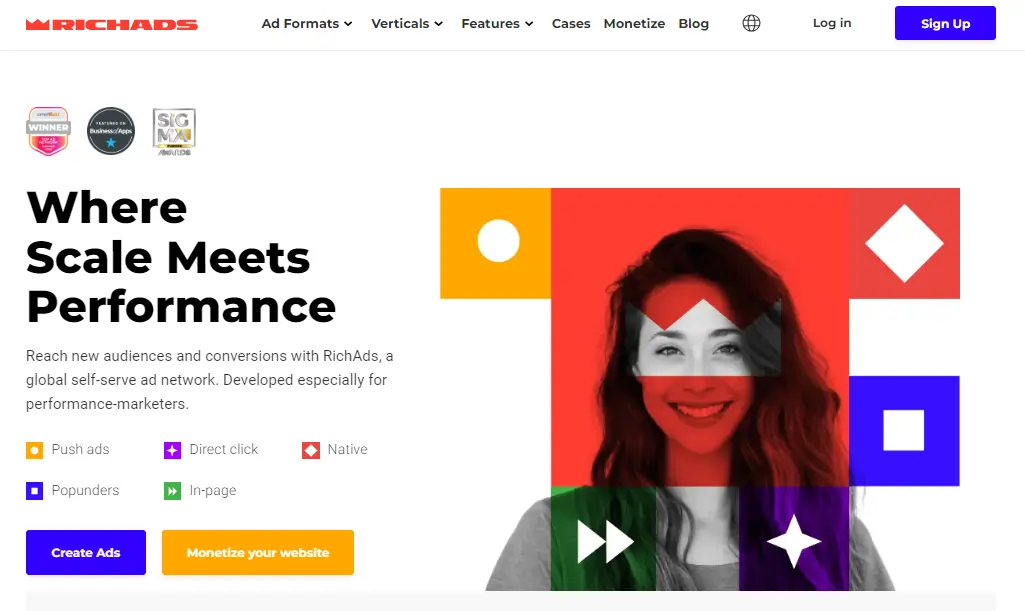 Being listed at #3, Richads is indeed an excellent ad network to consider when it comes to Nutra ad networks. Established in 2013, RichAds serves over 5 billion ad impressions per day across 220 countries, making it a powerful platform for reaching new audiences and driving conversions. With two main traffic channels that work well for Nutra campaigns, RichAds is a top choice for marketers globally.
To maximize the effectiveness of Nutra campaigns on the RichAds platform, advertisers should focus on in-page and native ad formats. The recommended deposit for Nutra offers on the platform is $150, with the CPC starting from $0.003 for push campaigns and $0.001 for in-page push campaigns.
RichAds goes beyond offering multiple ad formats. It provides advanced features like Automated rules, Target CPA, Optimizer, Performance Mode, and Microbidding to optimize ad campaigns. For achieving maximum results, specialists recommend launching Nutra ad campaigns on Premium sources. These strategies and tools, combined with the platform's extensive reach and high-quality traffic, make RichAds an excellent choice for Nutra advertisers.
Key Features of Richads Ad Network
Offers a platform that serves over 5 billion ad impressions per day across 220 countries.
Supports a variety of ad formats including direct links, push ads, and pop ads.
Monetizes websites, blogs, mobile apps, domains, ad networks, SEO tools, social media accounts, and plugins/extensions.
Offers a 100% compatibility feature that allows publishers to combine ad formats from multiple providers.
Provides dedicated personal assistance at every stage of the process, from installing the code to receiving payouts.
Ensures high fill rates, monetizing all publisher inventory at competitive rates.
Next on our list is TrafficStars, which has made a name for itself in the digital advertising landscape. With over 5 billion daily ad impressions, TrafficStars offers an easy-to-use platform where both beginners and expert media buyers can buy and sell premium worldwide traffic with just a few clicks. Known for its top-performing ad formats and exclusive traffic sources, TrafficStars is a go-to platform for those seeking to maximize their advertising efforts.
TrafficStars offers automatic payouts, allowing you to select the payment method that suits you best. With detailed, real-time statistics, you gain insights on how to monetize your traffic more efficiently. The platform ensures your site's safety 24/7 and gives you control over running Google-compliant ads. With expert support from your own personal account manager, you can be sure to get the most out of the platform. Plus, with a 100% fill rate, all your traffic will be monetized, worldwide.
Key Features of TrafficStars Ad Network
Easy-to-use platform for both beginners and experts, facilitating the buying and selling of worldwide premium traffic.
Top-performing ad formats include Banners, Native ads, Video Pre-Roll, Push, Popunder, and Full Page Interstitials.
Advanced monetization platform with features like automatic payouts and a selection of suitable payment methods.
Detailed real-time statistics provide insights on how to monetize your traffic more efficiently.
Ensures website safety 24/7 through their compliance team and offers control over running Google Compliant ads.
Provides expert support through personal account managers who ensure you get the most out of the platform.
A 100% fill rate ensures all your traffic will be monetized, worldwide.
Being listed at the #5 position, Zeropark is a renowned commerce media monetization platform that caters to affiliate marketers and media buyers. It is worth mentioning that Zeropark has worked with brands like Nike, Walmart, Samsung, Adidas, Target, etc. It is designed to help you reach high-intent customers beyond the scope of major search engines. With a decade-long presence in the ad tech industry, Zeropark has established itself as a reliable platform that delivers scalable performance and diversifies advertising channels, all while maintaining a cookieless environment. It has a strong foothold in the ecom vertical and also offers lucrative opportunities in adult verticals.
Key Features of Zeropark Ad Network
Offers an all-in-one campaign management platform, empowering clients with full control over their campaign's performance. It provides self-serve capabilities, robust reporting, and full data transparency.
Designed to help affiliate marketers and media buyers acquire high-intent customers, enhancing the performance of their campaigns.
Provides a comprehensive range of services, including dedicated campaign management teams, data reporting, budget optimization, media planning, and traffic compliance monitoring.
With over a decade of experience in the ad tech industry, Zeropark's solutions are proven to deliver scalable performance.
Offers a global reach with over 96,000,000 monthly available volume and an average CPC of $0.15.
Provides an all-in-one platform with an intuitive interface, easy campaign set-up, and advanced targeting.
Future-proof solutions are a part of Zeropark's offerings, allowing partners to benefit from sustainable growth opportunities through cookieless engagements. These are crucial for crafting long-term omnichannel marketing strategies.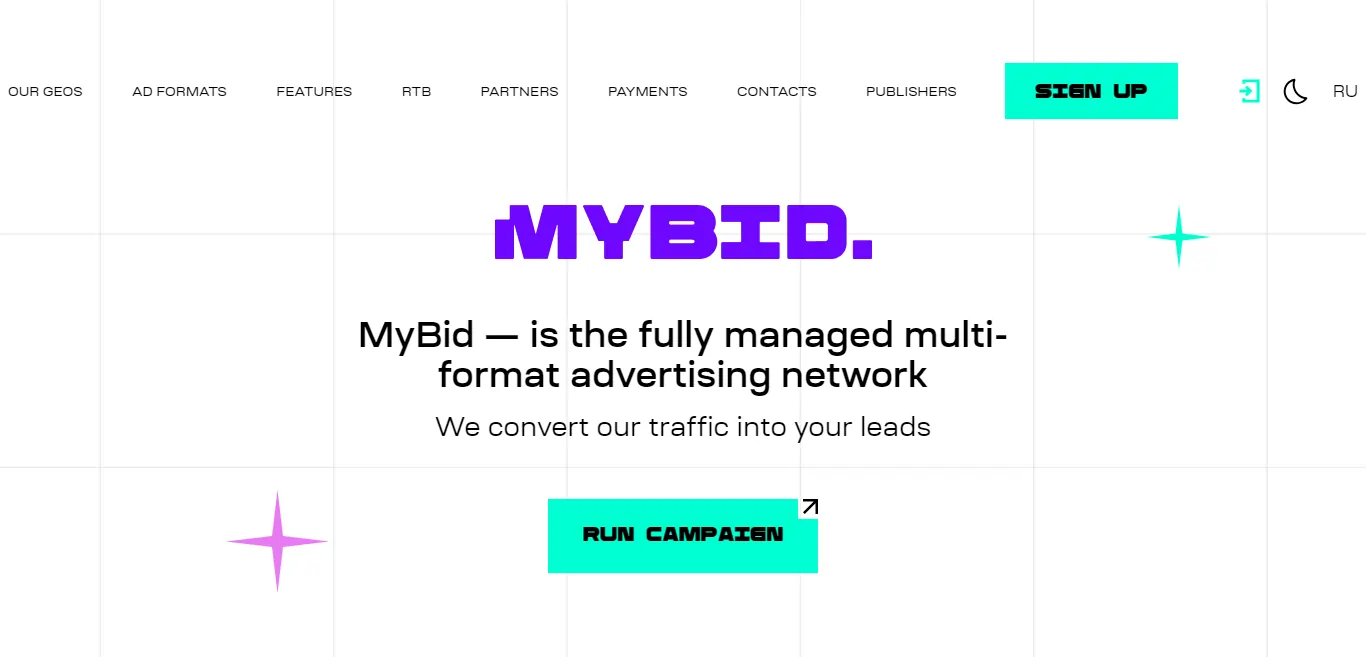 MyBid has been an emerging player when it comes to Nutra Ad Networks. Tailored to the needs of affiliate marketers and media buyers, MyBid provides a direct traffic source and a plethora of advertising formats. This makes it an ideal platform for those seeking to diversify their advertising channels and enhance their campaign performance. Since MyBid primarily focuses on adult traffic, the Nutra products focusing on the adult domain can be used, this basically includes the Men's health and sexual wellness products.
On the other hand, Real-time Bidding and other additional features for Advertisers include full automation of traffic purchase, the ability to quickly scale, simultaneous connection to a huge number of traffic sources, the ability to regulate the required volume by changing the rate for traffic, fair market pricing, and DSP/SSP integration.
Key Features of MyBid Ad Network
Instant campaign moderation is a standout feature of MyBid, allowing for quick adjustments and optimization of campaigns.
MyBid offers a variety of advertising formats in one network, including Push Notification, In-Page Push, Popunder, Native, Banner, and Video, providing flexibility and diversity for advertisers.
In-house anti-fraud measures are a key feature of MyBid, ensuring the safety and integrity of your campaigns.
MyBid offers competitive prices, making it a cost-effective choice for advertisers of all sizes.
It supports multiple payment methods, including USDT, Wire Transfer, Visa, MasterCard, Paxum, and Capitalist, providing convenience for advertisers.
RollerAds has acquired quite a good place considering the ad networks in the whole ecosystem. Since RollerAds has got some great stats when it comes to the number of Direct publishers (10,000), with 2 billion impressions on a daily basis, whereas it has also got around 5 million clicks; making the whole portfolio of RollerAds an impressive one. Now if we talk about the geo-targeting options available, the marketers can explore IP Range, Traffic Quality, GEO, Carriers, Connection type, Subscription Age, Browser Types, etc. Overall, the features RollerAds offers are great for both advertisers and publishers. On the brighter side, marketers can take leverage of the targeting which will result in better revenue opportunities in the Nutra vertical.
Key Features of RollerAds Ad Network
RollerAds has an in-built antifraud system, ensuring that fraudsters and bots don't stand a chance to chip off from your payout.
RollerAds provides 100% real traffic, giving you confidence in every impression and click that you get.
It offers competitive pricing, with the minimum bid being only $0,001, making it a cost-effective choice for advertisers of all sizes.
RollerAds boasts 10K+ direct publishers, 2B+ daily impressions, and 5M+ daily clicks, providing a massive reach for your campaigns.
The minimum deposit for advertisers is only $50, making it an affordable choice for advertisers of all budgets.
RollerAds supports a variety of payment methods, including Wire Transfer, Credit Card, Capitalist, Paxum, WebMoney, Payoneer, and PayPal.
It offers smart targeting, allowing you to reach the best-converting audience with a variety of targeting options.
PropellerAds, positioned at #8 in the list of top Nutra ad networks, is a distinguished player in the advertising industry. Known for its high traffic quality, PropellerAds is recognized as the #1 advantage by an impressive 97% of their partners. It offers a substantial traffic volume, boasting 120,370 ad impressions per second, enabling businesses to reach their goals effectively. PropellerAds is synonymous with high ad performance, offering advanced targeting and ad customization that significantly reduces conversion costs. Furthermore, it leverages automation through AI-powered algorithms, designed to boost conversions while saving time and budget, making it an ideal choice for those seeking to diversify their advertising channels and enhance their campaign performance.
Key Features of PropellarAds Ad Network
PropellerAds provides easy campaign management, allowing you to start ad campaigns in minutes and always stay in control.
It supports a variety of ad formats, including Push Notifications, In-Page Push, Interstitials, and Popunder.
PropellerAds supports a variety of payment methods, including Wire Transfer, Credit Card, Capitalist, Paxum, WebMoney, Payoneer, and PayPal.
PropellerAds provides high ad performance, allowing you to drop your conversion costs with better targeting and ad customization.
Clickadu, listed as the #9 Nutra ad network, is a premium ad network that specializes in web and mobile channels. It offers unique capabilities and expertise in revenue maximization for publishers and advertisers alike. With 5.8+ billion daily impressions and 3.6 million daily conversions, Clickadu stands as a trusted platform for digital advertising. Unlike other adult ad networks, Clickadu offers a variety of ad formats including Instant Text Messages, Video Pre-Roll, and SKIM. It boasts an extensive base of over 3300 active publishers and more than 41300 active campaigns. Clickadu also employs bot filters, based on a Machine Learning algorithm, to ensure the best value delivery to both advertisers and publishers.
Key Features of Clickadu Ad Network
Clickadu offers advanced targeting options, including geo, site, and device type, allowing you to reach your ideal audience.
It specializes in revenue maximization for publishers and advertisers, ensuring you get the most out of your campaigns.
Clickadu ensures quality traffic with its fraud and bot filtering system, ensuring every impression and click you get is genuine.
Clickadu offers a variety of ad formats including Banner Ads, Popunder, Push Notifications, Inpage Push, Instant Text Messages, Video Pre-Roll, and Skim.
It provides high eCPMs in over 240 countries, ensuring a wide reach for your campaigns.
Amidst this extensive list of the best Nutra ad networks, the AdMaven ad network has emerged as a leading player, ranking 10th on our list of best Nutra Ad networks. The key attribute to AdMaven's success can be attributed to the comprehensive coverage it offers, while monetizing every user and impression, regardless of location or device.
AdMaven's ad network is designed for easy integration. From native push notifications to full-screen ads, their ad placements can be implemented in just a few minutes. This allows publishers to quickly start monetizing their valuable traffic. Advertisers, too, can swiftly launch their campaigns across multiple formats.
Key Features of AdMaven Ad Network
With advanced optimization tools and a vast network of direct advertisers, AdMaven ensures high revenue for publishers through excellent ECPM.
AdMaven monetizes every user and impression, regardless of their location or device, providing a truly global reach.
AdMaven filters out inappropriate creatives and malware, ensuring the safety of your site and a satisfying experience for your visitors.
Publishers can choose their preferred payment solution from options including PayPal, Paxum, ePayments, WireTransfer, and Payoneer.
AdMaven offers a variety of ad formats, including push notifications, new tab (pop), interstitial, and banner ads, allowing publishers and advertisers to choose the format that best suits their needs.
AdSpyglass ad network stands out as a powerful option for website owners and publishers in the Nutra vertical aiming to maximize their ad revenue. By integrating with multiple ad partners, AdSpyglass ensures you receive the highest possible CPM for your ads. This comprehensive solution can lead to up to a 50% growth in your website's profit. AdSpyglass also offers partner programs with several ad networks, including the SSP marketplace for small and medium companies, and Ad mediation for large DSPs.
Key Features of AdSpyglass ad network
AdSpyglass ensures 100% of ad views are filled. The more ad networks in your list, the higher your fill rate.
AdSpyglass offers a 5% referral program for life for every referred partner.
Marketers can choose from a variety of popular ad formats including Popunders, Display Banners, Native Banners, Instant Messages, Direct Links, In-Video (VAST), Slider (VAST), Push Notifications, In-Page Push, and Interstitials.
AdSpyglass operates on a Revshare, CPM commission model, making it a good-to-go choice for marketers.
The minimum payment threshold is $10.
AdSpyglass offers multiple payment methods including PayPal, Credit Card, Wire Transfer, Bitcoin, and WebMoney.
Clickadilla being listed at #12 on our list of best Nutra ad networks has made quite a name among advertisers and publishers. With over 4.5 billion+ daily traffic, coverage in 240+ geo locations, 13 ad formats, and serving 16,000+ clients per day, Clickadilla is a comprehensive solution for your advertising needs. Focusing on live support, mainstream, nutra, and adult traffic, detailed real-time statistics, and easy integration with only one tag, Clickadilla is designed to optimize your advertising experience.
Key Features of Clickadilla Ad Network
Clickadilla offers a wide range of ad formats including on-click (popunder), banner, in-app, web-push, in-stream video, in-page, tab links, interstitial, notification widget, native ads, and content feed. Each format has its own daily volume and minimum bid.
Clickadilla also provides targeted advertising for the most popular mainstream verticals such as dating, software, gambling, and more.
Clickadilla also offers an anti-fraud technology that works on different parameters such as bot filtering
Clickadilla offers real-time statistics with hourly updates, integrated with Google Analytics and Yandex Metrica for better traffic management.
With Clickadilla, you only need to place one tag on your page for full management of ad formats.
Clickadilla offers live support with a personal manager who is 100% responsible for your experience, eliminating the need for ticket systems and waiting times.
Listed as the #13 Nutra ad network, PlugRush unifies multiple advertising technologies into a simple, open, and intelligent solution. With billions of traffic impressions, coverage in 100+ geo-locations, and 4 different ad formats; PlugRush is designed to drive real results, whether you're looking to buy, sell, or trade traffic. Additional features include conversion tracking and API integration, which play a crucial role in managing higher volumes and simplifying operations.
Key Features of Plugrush Ad Network
PlugRush is an innovative advertising platform that offers a variety of solutions for those looking to buy, sell, or trade traffic. It's designed to help publishers drive real results.
Users can grow their audience by joining PlugRush's Trade Program to trade high-quality clicked traffic. The system is fully automated and completely free.
The platform allows publishers to increase their earnings through access to thousands of high-paying campaigns.
With a 99% fill rate, PlugRush monetizes worldwide traffic by serving targeted advertisements to all visitors.
PlugRush offers premium rates for publishers, with the promise that higher quality will yield greater rates while providing real-time statistics that allow publishers to analyze their traffic in a variety of ways.
The platform provides deep targeting options like browser, country, OS, carrier, and re-targeting to help achieve advertising goals.
With PlugRush's S2S conversion tracking via postback URL, you can monitor conversion rates and ROI in real-time.
Users can choose from a variety of ad formats including Push Notifications, Display Banners, Popunders, and Native Ads.
Securing the spot at #14, PopCash is an ad network that offers a variety of advantages for publishers and affiliate marketers. These include fast approval and payments, a minimum withdrawal of $10, an 80% revenue share, quickly updated reports, first-class support, safe and clean ads, simple implementation, a 10% referral program, and unique integration. The PopCash team has over 10 years of experience in the online advertising business.
Key Features of PopCash Ad Network
With a minimum withdrawal of just $10 and an 80% revenue share, PopCash offers a lucrative platform for publishers, whereas advertisers can look forward to only a $5 minimum deposit.
All ads are continuously moderated by their team, using both internal and third-party tools.
PopCash's ad code seamlessly works on all devices and can be easily integrated into any website.
PopCash ensures quick website approval, allowing publishers to start monetizing their traffic promptly. Payments are processed within hours to ensure publishers receive their earnings promptly.
Accepted payment methods include PayPal, Paxum, Skrill, WireTransfer, Payoneer, and Capitalist.
Since its foundation in 2014, Galaksion has rapidly expanded its reach across 190 countries, providing global advertising solutions for both publishers and advertisers. It has been consistently ranked among the best, securing its position at #15 on the list of top Nutra Ad Networks. Galaksion offers an excellent advertising platform ideal for publishers, affiliate marketers, and advertisers looking to maximize their marketing potential.
Key Features of Galaksion Ad Network
The ad network's flexible bidding model further enhances its appeal, offering Cost Per Acquisition (CPA), Cost Per Mille (CPM), and Cost Per Click (CPC). This allows you to optimize your advertising budget and ensure maximum ROI.
Galaksion offers a broad range of ad formats to suit any marketing strategy, including Interstitials, Push Notifications, On-page Notifications, Native Ads, and Video.
Offers some extensive targeting capabilities, allowing precise audience selection based on factors such as Country/Region/City, Browser language, Timezone, Browser, Platform, OS, and Frequency/Capping.
Galaksion is the preferred choice for affiliates working in other lucrative verticals as well, like mobile apps & games, utility, gaming, gambling, service APPs, finance, and e-commerce. Backed by an impressive 30 billion impressions per month, Galaksion guarantees a high volume of direct traffic to your offers.
Products in the Nutra Vertical
The Nutra vertical in affiliate marketing is a broad and lucrative niche that encompasses a wide range of products aimed at promoting health and wellness. These products, often referred to as 'nutraceuticals', offer numerous benefits, from weight management to boosting immunity, and are in high demand worldwide.
Weight Loss Products: These are incredibly popular in the Nutra vertical. They include dietary supplements, meal replacements, and fat burners designed to aid in weight loss.
Cosmetics: The Nutra vertical also includes a wide range of beauty and skincare products. These can range from anti-aging creams to acne treatments, all promising to enhance one's appearance.
Workout Equipment: Nutra affiliates often promote workout equipment, such as resistance bands, weights, and fitness trackers, to complement nutritional supplements and aid in achieving fitness goals.
Medications for Men's Health: Products targeting men's health, including testosterone boosters and products for penile enhancement, are also part of the Nutra vertical.
Products for Smoking and Hangover: These include nicotine patches, gum, and other aids to help quit smoking, as well as hangover remedies.
Supplements: Nutritional supplements, such as vitamins, minerals, and protein powders, are a significant part of the Nutra vertical. They are designed to supplement one's diet and provide essential nutrients.
Immunity Boosters: In the wake of the global pandemic, immunity-boosting products have seen a surge in popularity. These include supplements rich in Vitamin C, Zinc, and other essential nutrients known to boost the immune system.
These were some of the Nutra products you can look forward to, but remember the vertical is not limited to these products and you might encounter more and more Nutra products while working alongside them. By promoting these products, affiliates in the Nutra vertical can tap into a lucrative market with a wide range of potential customers. However, it's essential to stay informed about the latest trends and regulations in this rapidly evolving niche.
Which ad formats perform the best in Nutra?
As for the ad formats mentioned above, choosing any of the above-mentioned Nutra ad networks would result in opening up several options in terms of ad formats; but, on the other hand, the push and in-page push ad networks perform the best in the Nutra vertical. It is worth mentioning that these ad formats have been seen working on the brighter side with the adult domain, this when combined with Nutra, i.e. working on the enhancement supplements can result in better results in marketing operations. It has been seen that both of these ad formats have got some excellent results in getting along with the right target audience.
Now let's have a quick overview of why these ad formats perform comparatively well as compared to other ad formats.
Apart from our data, there are several clear reasons why these formats have been consistently effective for Nutra ad promotion over time.
These two traffic types let you engage people directly using a personal touch in your campaign creatives. You can also address the particular issue of your target demographic, presenting the optimal solution to their problem.
Use of Demographic segmentation; thanks to creatives, you can not only draw in a user but also classify your audience. It's feasible to construct several creative packages for diverse groups and examine each strategy. For instance, feature both females and males in the "before/after" creatives to pinpoint your potential customers.
Mobile user reach; The in-page push format lets you target not just Android, but also iOS users in the campaigns, allowing you to connect with a substantial number of people.
Affordable cost per click; The starting CPC for the push format is $0.003 for Tier 3 and $0.01 for Tier 1, while for the in-page push, the starting CPC is as low as $0.001.
In addition to all this, it is worth mentioning that some of the top-tier countries that perform well under the Men's enhancement and related categories include India, Nepal, Algeria, Peru, the Phillippines, and the USA.
Whereas, if we look forward to the weight loss supplements, which are indeed one of the most popular Nutra category people are interested in. Some countries that perform really well under this sub-category include the USA, India, Thailand, Czech Republic, and Slovakia.
How to make engaging creative ads in Nutra vertical?
Now that, you have got an overview of the basics, let's look at how you can create an engaging ad creative. The below-mentioned points are primarily for publishers and affiliate marketers, but advertisers can also look forward to all of these aspects as well in order to get a better analysis of how things are meant to be done:
Identify Your Target Audience: Understanding your potential consumers' demographics, preferences, and pain points can help you craft relevant and appealing creatives.
Highlight the Benefits: Ensure that the advantages of your Nutra products are clearly outlined in your creatives. People are more likely to be interested if they understand how your product can benefit them.
Use High-Quality Images: High-resolution images can enhance the visual appeal of your creatives and make a strong first impression.
Incorporate Testimonials: Adding customer testimonials or before-and-after photos can boost your product's credibility and increase conversions.
Optimize for SEO: Make use of SEO.app or another AI-powered SEO-optimized tool to optimize your creatives for search engines. This includes using relevant keywords, ensuring that your creatives are of the right size and format, and making them mobile-friendly.
A/B Testing: Create several versions of your creatives and test them against each other using SEO.app. This will help you determine which creative is the most effective for your target audience.
Call to Action: Including a clear and compelling call to action (CTA) can encourage potential customers to take the desired action, such as making a purchase or signing up for a newsletter.
Consistent Branding: Make sure your creatives are consistent with your brand's colors, fonts, and messaging. This can help increase brand recognition and trust among your audience.
Comply with Regulations: Ensure that your creatives comply with all relevant health claims regulations to avoid any legal issues. Using SEO.app can help you navigate these regulations and ensure your creatives are compliant.
Analyze and Refine: Constantly review your creatives' performance using SEO.app and refine them based on the insights gained. This will help you continuously improve your creatives and make them more effective.
FAQs on Top Nutra Ad Networks
What are Nutra ads?
Nutra ads are advertisements for nutraceuticals or nutritional supplements. These ads are often promoted through affiliate networks, where affiliates earn commissions for generating leads or sales.
Which countries are best for Nutra ads?
Some of the countries that perform best on Nutra ads include the US, UK, Asia, Europe, Australia, Africa, and South America. Whereas, some of the tier-two countries that perform best include India, the Philippines, Algeria, Slovakia, etc.
What are the primary factors to consider while choosing the Nutra Ads network?
While choosing a Nutra ad network, you can look forward to things like Ad formats, commission model, countries covered, targeting options, bot filters, GEOs covered, and the volume in which the ad network deals.
Conclusion on Best Nutra Ad Networks
Choosing the right Nutra ad network is indeed one of the most crucial decisions to look forward to. Considering the whole industry in the advertisement segment, the Nutra vertical is indeed an excellent choice to work with. Fortunately, the above-mentioned Nutra ad networks are not limited to just Nutra vertical, but also work on other verticals as well; hence opening up some excellent results to your business operations.
As a friendly suggestion choosing the best Nutra Ad network is dependent upon some primary aspects including the ad formats, top GEOs, daily impressions, volume, targeting options, bot filters, etc. Whereas, the key to success in this vertical lies not just in choosing the best Nutra ad network, but also in understanding the nuances of the Nutra market, staying abreast of the latest trends, and continuously optimizing your campaigns.
Hopefully, this article on best Nutra ad networks has cleared some of the common questions and queries you might be dealing with. So, what are you waiting for? Step into the world of Nutra Ad Networks and uncover the key to becoming a successful marketer.