Are you looking for the best, all-in-one CMS for your business? We've got you covered! Both SuiteDash and Plutio are very big players when it comes to all-inclusive business management platforms. In this SuiteDash Vs. Plutio review, we are going to compare both software head to head and see which one comes out on top.
So without further ado, let's settle this SuiteDash Vs. Plutio debate!
---
SuiteDash Vs. Plutio: The Ultimate Comparison
What is SuiteDash?
SuiteDash is an all-in-one business management tool. It has multiple functionalities all under one platform so that you can control everything with one inclusive dashboard. It is a cloud-based platform that lets you do everything from project management to time and expense tracking to more. It includes all the tools you need to mage your business all within one neat package, saving you tons of money and time.
SPECIAL OFFER
Looking for reliable software to manage your business? Use this promo code to get started with SuiteDash's 14-day free tria
Full-Featured Trial
PREMIUM OFFER
This 100% verified SuiteDash coupon code enables you to get started with Start Plan for $19/mo only.
UNLIMITED Portals
---
What is Plutio?
Similar to SuiteDash, Plutio is a business management tool that is easy to use fit for small businesses and freelancers. It has many advanced functions that make the business a lot easier to run. It can help you boost your productivity with tools that help you get on top of all business tasks and more. Plutio lets you customize your space and brings everything you might need into one manageable platform. You can easily manage and track all your invoices, activities, projects, and more with Plutio.
EXCLUSIVE OFFER
Enjoy lifetime 2 months free on annual billings at Plutio. [100% Working Plutio Coupon Code]
HOT OFFER
If you are a student, then activate this latest Plutio coupon code to get 20% off on all plans. Limited time offer. Grab now.
SPECIAL OFFER
This special promo code allows you to test all features of Plutio for free. Special offer end soon.
---
What Sets SuiteDash & Plutio Apart?
Although there are many features in common between SuiteDash and Plutio, each platform does also has certain features that set them apart from the other. Let's take a closer look at what makes each platform unique:
SuiteDash Features at a Glance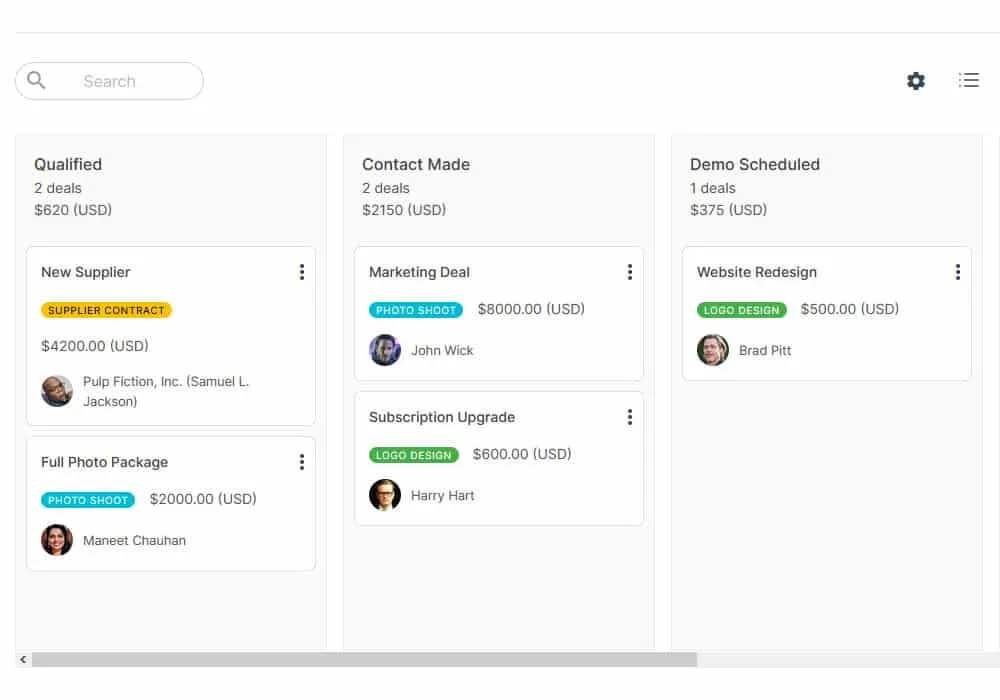 Onboarding a new client is always very important, but its also a time-consuming and taxing process. SuiteDash makes this easier for you by offering features that automate the entire client onboarding process. Get embedded kickoff forms customized and optimized to fit in seamlessly with your website. Trigger automatic FLOWs that do all the heavy lifting of onboarding a new client for you. It includes self-registration, bulk imports, triggered actions and much more.
More automation includes automatic layered actions, client circles that segregate clients based on filters you put and more. We all know that knowledge is power, but it can also be a powerful way to bring in leads and money into your business as well. All you need to do is find a way to channel your knowledge and present it to your audience in the right way. SuiteDash helps you do just that! With its LMS learning features, SuiteDash can help you monetize your valuable knowledge by helping you create online courses that can be used to enhance your team's performance and bring in more leads.
With SuiteDash's LMS learning capabilities make easy to understand, customizable and integrated courses that add value. SuiteDash also offers email and drip marketing features. It lets you set and track campaigns. It lets you choose how to edit your campaigns, create emails using tested templates, collect leads with ease and no fuss, build automatic drip campaigns that can be scheduled with ease and much more.
---
Plutio Features at a Glance
Plutio has a very efficient inbox that has a wide range of features designed to make communication clear, efficient and manageable. It has both direct and group messaging, along with auto email sync that sends you message alerts. Other notable features include chats widgets, message snoozing, autosave drafts, send later feature, message statuses, and much more. The chat widget gets a special mention as it lets you send messages in real-time, lets you create a shared inbox, and sends messages that are unopened directly to your email inbox, where you can respond from your email directly without going back to your inbox. The widget is customizable and easy to use.
Plutio also includes a unique space called 'Wiki' that acts as an internal knowledge base for your team; you can add and customize unlimited knowledge bases that are shareable and easy to operate. Plutio lets you make beautiful and highly responsive forms that can be shared and embedded easily. You can add a wide range of fields and categories into your forms to truly make it your own. It also lets you set expiration dates, submission limits, and more. You can add different fields such as name, date and time, address, email, contact information and much more.
---
SuiteDash Vs. Plutio: Detailed Comparison
Now that we have seen what makes each business management solution unique. Let's put them against one another and see which Business platform comes out on top!
SuiteDash
All-in-one business software.
Client portal software to run your business like a PRO.
Plutio
All-in-one solution.
Use Plutio & get work done from one place.
SuiteDash Vs. Plutio: Customer Relationship Management
CRM is a very important aspect of any business management tool. Let's see what each platform has to offer in this aspect:
SuiteDash
SuiteDash has an integrated CRM platform that lets you manage everything like a boss! Manage all your clients from one place keep things streamlined and organized. Assign specific people to clients for easy coordination, create, manage and track client-related tasks. Automate your entire CRM process with smart automation that includes auto-adding contacts for email campaigns, auto assigning permissions and coordinators, and auto-scheduling meetings and auto-generating tasks and templates.
It also has additional features that help in CRM, such as the 'Company First Mode' that lets you assign projects and other items directly to a company you are dealing with, automatic 'Client Circles.' embedded kickoff forms, onboarding FLOWs, action automation, event calendars, data import/export features, bulk edits and more.
Plutio
Plutio offers a lot of features when it comes to client management; you can collaborate, add and invite people into your workspace for a more streamlined workflow. It provides clean and separate profiles for each member, custom fields that let you track details of everyone present in your workspace, distinguishable tags that enhance and simplify your view, local timings for remote workspaces that have international teams, archivable access, real-time status and more. You can easily log meetings, schedule calls and streamlines your work process.
Verdict
Both platforms have a great CRM setup, equipped with tools that make client communication and management a breeze, but the automation that comes with SuiteDash gives it a leg up over Plutio, although Plutio does have automation coming soon on its platform, and we are looking forward to seeing what it will bring to the table.
---
SuiteDash Vs. Plutio: White-Labelling & Branding
Branding is a big part of business, and having a management system that provides white-labeling is a big plus. Both these platforms offer white-labeling services. Let's take a look at what each platform offers specifically:
SuiteDash
SuiteDash lets you customize your portal with your brand's colors, logo and a custom URL. You can customize virtually every aspect of the platform, including the login page, the URL, mobile app, email notifications, loading animations and more! All these customizations are easy to do, just pick the colors you desire from its color picker, upload your logo and more.
Plutio
This add-on lets you customize your space in a similar sense as SuiteDash. You get white-label customization for your interface. You can add your logo and brand colors to the platform. You can also customize your domain and email address.
Verdict
Both platforms win this round as they both offer very inclusive branding options. This helps you add a personal touch and really make things your own.
---
SuiteDash Vs. Plutio: Tasks & Project Management
As a business, it is very important for you to manage, allocate and track your tasks. Both these platforms have advanced features that help you get on top of your tasks.
SuiteDash
SuiteDash helps you manage your team with ease. You can assign tasks, track your time and share files.
SuiteDash has a Kanban project view that lets you visualize your work in such a way that it is proven to help increase productivity. You can easily drag and drop tasks, switch between different columns, manage the tasks of your team members, search, sort and filter task and more.
Maintain clear communication and workflow with your clients using SuiteDash's intuitive and completely customizable dashboard; this lets you share client-specific information and lets you customize and add your client's logo for a customized experience. You can streamline your overall workflow by sequencing your templates and tasks project and task files that are structured and organized as per your convenience. It also lets you auto-generate tasks, templates, schedule tasks and more.
Plutio
Plutio has a very interactive dashboard featuring easy-to-understand graphs, dynamic content and more. It lets you add everything from images to HTML widgets. Easily set goals for you and your team and track them in real-time. Create multiple dashboards for each role that are completely customizable; you can add different role-specific elements as well as different design elements.
Plutio lets you create, delegate and track tasks with ease. Create tasks with custom fields, colored tasks and more for a more organized way of doing work. All tasks can be allotted start and due dates; you can add descriptions, comments, @mentions, reminders, followers, images and files to a certain task. Create checklists, templates, project management boards, unique links and more. Additionally, you can easily move, copy and paste tasks making task management easy and organized to the T.
Plutio also lets you stay on the top of your game with exhaustive time tracking capabilities. Instantly track the time you are sending on a particular task, edit the time with ease and add in time manually as well. You can maintain a detailed timesheet for each project that can be exported and printed. Tasks can be segregated as billable and non-billable. These timesheets are also sharable via a public link and email.
Verdict
As we can see, both platforms are very thorough and inclusive when it comes to offering features related to task creation, time tracking and project management capabilities. Again SuiteDash does include automation, but for this round, we will call it a tie as both tools really deliver on this aspect.
---
How are SuiteDash & Plutio Similar?
In this section, let's discuss some of the features both these softwares include:
SuiteDash offers comprehensive features for invoicing and receiving payments. You can receive payments directly in your portal and also get a subscription payment and membership site that is chock-full of helpful features that offer easy management for both you and your client. Send out invoices and estimates to your clients with ease, send out clean and irresistible proposals that compel prospects to work with you. You can also make and send over subscription plans that get sent out automatically after a set period of time for easy, hassle-free billing. SuiteDash also offers time tracking, dedicated storage and a dashboard for invoices.
Plutio also offers a very feature-rich invoicing system that lets you integrate multiple payment methods and currencies. You can also offer subscriptions, add a payment schedule, custom fields, references, discounts, footers, issue and due dates, references, tax inclusions and more. You can send and track the status of your invoices download and send them through public links. It also lets you add billable tasks to invoices directly. Get notified instantly as soon as an invoice gets cleared. Create stunning, professional proposals that are made using an easy drag and drop editor. You can easily add items, packages, electronic signatures and more.
With SuiteDash, you can manage all your appointments, meetings, and everything in between with its integrated calendar. Anyone in your team can schedule appointments and meetings with another member or clients, schedule appointments, check availability, cancel and more with ease. You also get a birds-eye view of everything, including tasks, upcoming events, appointments, meetings, etc., with statuses.
Plutio makes organizing your day a piece of cake! Easily schedule, set and attend meetings with a comprehensive birds-eye view that lets you see everything from meetings, to tasks with statuses, to projects and invoices. You can create different events set their commencement and due dates. Plutio also lets you sync your Google Calendar with it for easy access.
Both software includes a wide variety of third-party integrations that enhance the overall user experience.
SuiteDash Includes a direct login plugin with WordPress, a two-factor authentication, reCATPCHA and Captcha, along with Zapier, Google Calendar and Twilio integrations.
Plutio, on the other hand, includes a public API that lets you sync all your data, along with Zapier, Integromat, Stripe, Square, PayPal and Google Calander integrations.
---
SuiteDash Vs. Plutio: Pricing Plans
Let's take a look at the pricing structure of each business management platform in detail:
SuiteDash Pricing Plans
Suitedash has three plans that can be billed monthly, yearly or once for lifetime usage.
Plutio Pricing Plans
Plutio has very simple and straightforward pricing plans that give you access to all its features.
---
SuiteDash Vs. Plutio: Pros & Cons
Even though both platforms have stellar features, there are two sides to a coin. So, let's take a look at the advantages and disadvantages of each software:
SuiteDash Pros & Cons
Plutio Pros & Cons
---
🌟 Top FAQs on SuiteDash Vs. Plutio
✔What is SuiteDash used for?
SuiteDash is the best all-in-one software that helps you easily organize & manage all of your business tasks. Use SuiteDash to securely connect your clients with your business and collaborate on projects from a single platform. Meet deadlines, share files, and get feedback faster with a powerful solution that's simple to use.
✔Is SuiteDash secure?
The web application communication of SuiteDash is encrypted over 256 bit SSL. This level of encryption is generally used by financial institutions and major banks. SuiteDash does not share your data with a third party.
✔Can I try SuiteDash for free?
Absolutely! SuiteDash offers a 14-day free trial that allows you to try this leading business solution for free. The free trial of SuiteDash helps you to test drive all the features.
✔Which SuiteDash plan should I choose?
Purchasing any of the SuiteDash plans is completely depends upon your business requirements. Every customer goes for the free trial of the PINNACLE plan that helps them experience all the important features that SuiteDash offers.
✔What makes SuiteDash different?
SuiteDash is a super simple & powerful tool for managing your business. It's an all-in-one solution with no hidden fees or contracts. The professional teams of SuiteDash constantly develop a tool that is more feature-rich and easy to use for small to large size businesses. Click here to create your free SuiteDash account and run your business like a PRO.
✔Does SuiteDash include project management?
Yes, SuiteDash includes project management. Besides, SuiteDash offers all the powerful toolkits that cover all your business needs. The major reason why many people choose SuiteDash is that they don't need to pay for multiple tools as this single platform solves all their necessities.
✔What does Plutio do?
Plutio is easy-to-use, easy-to-manage software that helps you run your business from one place. It lets you work together with people at any distance and share files, create proposals, collaborate in real-time and more.
✔Does Plutio allow me to invite my clients?
If you purchase the Studio, Agency and Enterprise plan of Plutio, then you can invite as many clients as you want. But if you buy a Solo plan, then you can invite upto 3 clients.
✔Does Plutio offer any free trial?
Yes, Plutio offers a free trial to all its new users. The free trial of Plutio does not require any credit card.
✔Does Plutio offer any coupon code?
Use the above-mentioned Plutio coupon code that helps you to enjoy 2 months free if you go for annual plans.
---
Bottom Lines:
Both SuiteDash and Plutio have proven to be stellar software; both have a wide array of features and integrations that make business management a cakewalk. At the end of the day, it all depends on the features you prioritize over others. Which platform do you think is better? Let us know in the comments below!
Affiliate Disclosure: This post may contain some affiliate links, which means we may receive a commission if you purchase something that we recommend at no additional cost for you (none whatsoever!)