Ecommerce platforms are changing the way how people are shopping. In order to increase the conversion rates, these ecommerce platforms need to provide a better user experience for their users.
This is where tools come in; the importance of tools in ecommerce platforms is indisputable. This is because these tools help in planning, organizing, and improving business operations.
There are many tools available that can help your online business improve its conversion rates and user experience. A lot of people are now relying on tools to be able to keep up with that pace and leverage the latest technologies.
The importance of tools in ecommerce platforms cannot be stressed enough. They have proven to be incredibly useful for both consumers and merchants as they give them access to more information while simultaneously making processes much easier than before.
But, it is not always easy to find the ideal tool when it comes to marketing or selling online. As the market is saturated with hundreds of tools that claim to make your journey easier.
However, there are certain aspects that should be determined before choosing a platform for your enterprises, like security and performance.
SamCart and ClickFunnels are two such tools, geared towards eCommerce businesses.
In this ultimate comparison SamCart Vs. ClickFunnels, I will review almost every minute detail. And, this review includes the features, pros, cons, and main differences between SmartCart and ClickFunnels. At last, We'll share our opinion that will reflect which tool is best for business or not!
Don't you think that the battle between SamCart Vs. ClickFunnels will be exciting, interesting, and amazing❓
Undeniably, in the comparison of SamCart and ClickFunnels, that software stands tall which has the best features, advantages, and winning chances in this ultimate face off.
We can't wait for more to start the journey of finding the best in both of them. So, let the pilot episode uncover itself.
---
SamCart Vs. ClickFunnels: Overview
We are sure you are in search of a 100% efficient a best working web-based tool. You might be searching this because either your well-established business is not collecting the revenues as expected or, you just came into business line with the plan.
Don't be fretted up! We have compiled these two best tools among thousands of tools with the same abilities. However, these tools have some similar and unique features that differ from each other.
In today's digital world, the competition is at its high.
With some outstanding easy-to-use and revenue booster tools, you can survive in the market with an automated tool that works effectively and efficiently.
Going with a manual process needs time as well as no guarantee of outcome.
Now, let's understand what these two tools are and how it works in a nutshell.
---
Detailed SamCart Review
The SamCart team is made up of experienced experts including startup, eCommerce, and marketing veterans. They strive to build an eCommerce platform that is an industry leader, direct to customers, and one that increases the users' conversion rate and profits with every sale.
Compared to ClickFunnels, SamCart is 1-click E-commerce web-based software that creates professional and perfect shopping cart pages. Apart from its primary purpose, it comes with ready-made templates and sales funnel creation to scale up the business revenue.
It doesn't only restrict itself to checkout page creation as it tends to create smooth payment structures. With more unique features, it can drive and help your business grow faster. Let's see how SamCart works in a nutshell!
How SamCart works?
We wish we could say different but, most of the sellers are deprived of the knowledge of the working and functioning process of SamCart.
To understand the working process of SamCart, you need to first understand the problems it focuses on fixing.
Shopping Cart Abandonment is one such heartrending phenomenon wherein the buyers add the products to their shopping cart, they get to the finish line but they don't follow through with the purchase.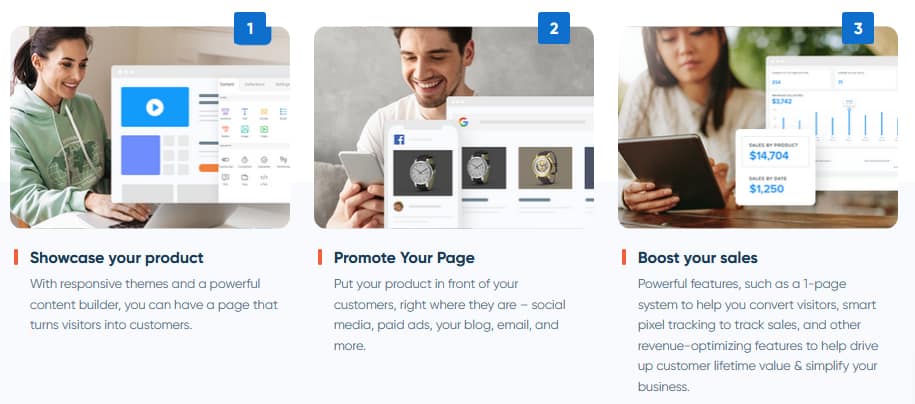 No seller or business person wants to hear this issue scaling up for their products or goods. According to several kinds of research, a shopping carts' abandonment rate is varied from 50% to 81%.
Doesn't it afraid the sellers with these frightening statistics?
There are many reasons shopping carts get abandoned, either because of a slow loading time, a confusing cart, or complex hard-to-understand language.
This is where SamCart can help, it optimizes your checkout pages and thus brings in more conversions.
Just to get rid of this issue, you don't need to be a tech-savvy seller. You need to opt for that software that comes with embedded features to resolve this issue.
And, the SamCart has an integrated solution and can fix this issue with ease. This cart builder application allows newbies and established entrepreneurs to increase sales with E-mail marketing software.
SamCart is a unique shopping cart resource. There are many templates available through its streamlined process, which can help you build an optimized checkout page in just a few clicks!
You can not only make a checkout page with just your product but also add other elements like payment gateway, upsells, coupons, SamCart integrations, and more.
---
SamCart Features and Benefits
Drag & Drop Builder allows you to easily build beautiful pages without ever touching a line of code. No coding experience is needed!
Pre-designed templates to help with your product launch.
Sell whatever you want without any limitations.
They offer localized services for any language, currency, or region you need.
Keep your checkout process frictionless with a digital wallet. Check out faster and save on every purchase you make.
Custom Domains allow you to include your own domain when creating a new sales page on Branch. This will make it easier to use the current branding of your business.
By using pre-purchase order bumps increase the likelihood of more sales. By checking a box, you're increasing the chances of your customer buying three or four products instead of just one.
Include upsells with just one click.
Optimize everything with split testing on every page seamlessly, and increase your conversions.
Track every online sale back to the source so you know who is selling your product and how much with pixel tracking.
SamCart's advanced reports will help uncover valuable insights at a glance.
Offer subscriptions, rather than a one-time purchase or free trial, to build subscribers for a recurring revenue stream. You can also offer various payment plans and subscriber benefits to appeal to your target audience.
Integrate tools to help make your marketing process easier are email marketing, fufillment, and digital memberships.
If you're looking for a processor, SamCart takes care of that and gets you started up in just a few clicks!
SamCart always keeps data clean, secure, and protected by synchronizing with your CRM platforms.
With the coupons feature you can create one-time, recurring and various coupon types.
Manage subscription subscriptions for your customers. Letting your customers quickly manage their subscriptions is a great way to make life easier for you both.
SamCart's uptime of 99.99% means that you will never have to worry about losing money again.
---
Detailed ClickFunnels Review
When you think about the pioneer marketing platforms that can offer numerous unique and basic features then, ClickFunnels is best! It helps every seller or business person sell their goods or products with a perfectly designed sale funnel or path.
ClickFunnels was founded in 2014 By Russell Brunson and Todd Dickerson to make the process of making a successful funnel easy.
Its unique and main purpose is to create lead generation for scaling up your business. It also creates a sales funnel for different products of different categories by giving the sales funnels an attractive and simple design to the consumers.
How ClickFunnels works?
Just to understand the function and working of ClickFunnels exactly, take this example.
Serve the plate with multiple eat-able foods to customers but, it depends on whether he/ she will have it or not. That's where exactly the role of ClickFunnels comes into play.
It makes the plate more colorful with a collection of favorite foods and many others. Regardless of the price and impact, the customer will surely eat the food, and similarly, ClickFunnels can perform better than other tools.
As the ClickFunnels prime focus is to create a lead generation with its well-designed sales funnel. So, this makes it more useful than the shopping cart page builder. This sales funnel creator tool has been embedded with sales funnels designing templates that can help you perfectly optimize landing pages and sales funnels.
Currently, the lucrative and most promising sales funnels requirement is too high because hardly most customers go beyond the wide-end (of Sales Funnel).
Moreover, ClickFunnels helps you increase the engagement rates, ultimately leading to an increase in customers to go past the wide-end to small end to fall for the mousetrap.
Also read: ThriveCart Vs ClickFunnel 2022 | Which One Is Best? (Top Pick)
---
What are the Benefits and Features of ClickFunnels?
Easily drag and drop your site's files and edit the text on the webpage.
Build sales funnels that convert in no time .
​Fully automate your email and Facebook marketing campaigns with ClickFunnels!
Forget about using spreadsheets, blogs and email to manage your assets. Everything Organized In One Simple Dashboard!
Generate leads by capturing the contact information of people who visit your website. ClickFunnels allows you to create a simple marketing funnel that helps you increase conversions and more.
With the addition of pre-designed templates, you can easily create beautiful web pages and funnels, also with a focus on conversion. You can also add "1 click upsells," as well as other features to help convert visitors into paying customers.
Their marketing automation gives you the power to make the most of follow-up emails and other messages. You can send email newsletters, follow up with clients through phone calls or social media days, and more. It's a powerful way to reach out to your audience that's built like no other!
---
SamCart Vs. ClickFunnels: Common Features
#1. Checkout Pages
Do you know most customers face issues during the checkout process, making it a choke point for all the businesses? It often happens and leads to a high rate of cart abandonment, which reduces the profit and decreases the conversion rate.
Therefore, SamCart has in-built best and robust checkout pages that integrate the solution. It makes the checkout pages appealing and intuitive with 18 choice-able checkout pages. All 18 pages are available in both horizontal and vertical columns.
And, you know, vertical checkout pages take less space and are highly responsive. It also includes the pop-up feature that can notify the customers to purchase the added products on the shopping cart. This lowers the rate of Shopping Cart Abandonment and increases the engagement rate.
While ClickFunnels has the same feature name, ' Order Pages .' Do you know that ClickFunnel's order pages feel more like an afterthought? Yes! It is a secondary feature but included in the ClickFunnels features list.
#2. Up-sell Pages
Both platforms use this feature to scale up the business to entice customers to buy services and products. This feature has the most enticing/tempting attributes like an add-on to purchase, an upgrade, or an expensive service or product.
You know SamCart has better-rounded upsell pages compare to ClickFunnels. It doesn't mean that ClickFunnels has got nothing on the bucket list. It has a 1-click page feature. SamCart upsell pages are easy to build and use that allow customers to upgrade product the purchase in 1-click. SamCart also has an exit pop-up element that makes it better comparatively.
#3. Affiliate Management
Like Upsell pages, an affiliate management feature is also included in both of these pioneer marketing platforms. This feature helps you to generate affiliate accounts that means external support is available directly from your business website in marketing.
Both platforms have a robust, well-designed, and intuitive design to track earnings/referrals effortlessly. You should know that this feature of ClickFunnels is named 'BackPack' with lots of functionality like affiliate analytics, affiliate management services, and 2-tiered programs.
---
SamCart Vs. ClickFunnels: Competitive Features
Unique Features of SamCart
A/B Testing
Mobile Friendly
Unique Features of ClickFunnels
Automated
Email Marketing
Sales funnels creation
Different types of funnels like Webinar, Hero, Product Launch, Campaign, Cancellation, and more.
Unlimited lead generation
---
SamCart Vs. ClickFunnels: Pricing Plans
SamCart Pricing
In case you want to launch the business and create a beautiful and intuitive one-page website to showcase the products at just $49 a month. If you opt for an annual package, you can save up to 20% to cost $470.
Grow Package is the most popular, and it is best for conversion rates. It charges you $99 a month while $950 a year.
It includes all basic and advanced features and $1910 a year or $199 a month.
ClickFunnels Pricing
ClickFunnels will cost you around $97 in a month, but you can avail yourself of the 14-days Free-Trial version before going for the ClickFunnels subscription packages.
Want to have ability and flexibility with unlimited growth and offers then? It costs you $297 a month.
Access to all advanced features and basic features included in Platinum and Basic plans are also added to it. Likewise, the charges increased to $2497 per month.
[su_box title="Which marketing platform is better in pricing?" box_color="#6d09e9″ title_color="#ffffff" radius="4″]
So far, you came to know about the pricing plans of the SamCart and ClickFunnels. In comparing ClickFunnels and SamCart, you may find the ClickFunnels is a bit expensive but offers some unique and exclusive features.
Moreover, SamCart becomes automatically best when compared with ClickFunnels.
[/su_box]
---
SamCart Vs. ClickFunnels: Pros & Cons
SamCart
Pros
Fully optimized checkout pages
Wide range incredible and great 1-click upsell pages
Easy to use
Cheaper
Affiliate management
Shopping cart page builder
Zero transaction fees
Powerful Certifications like SCA, GDPR, PCI, and more
Built in SSL
Cons
No email marketing
No automation
ClickFunnels
Pros
1-Click upsell pages
Easy to use
Unbelievable affiliate marketing program
Numerous ready-made funnels
Checkout pages
Sales funnels builder with marketing automation & landing page creator
Anytime cancellation
30 Day Money-back Guarantee
24/7 Customer Support
Cons
Not fully optimized checkout pages
Expensive
---
SamCart Vs. ClickFunnels: Which One is Best for Business?
Looking at the main difference, no one can decide whether SamCart has the vote in its favor or ClickFunnels has. All the features, pricing, pros, and cons explained in this ClickFunnels Vs. SamCart ultimate comparison will help you decide the best for sure.
Now, you know complete detail in the battle between Sam Cart and ClickFunnels. Both have some identical and overwhelming features, pros and cons, but, at the same time, both have some unique as well as amazing features, cons, and pros.
So, deciding the winner or best for running the business smoothly is almost next to impossible but, some basic and advanced factors can help you decide the best.
Not only based on price, ease in use, and ability to drive more conversion rates effectively and efficiently, We feel SamCart has my heart and soul.
Doesn't it mean that ClickFunnels is not good enough or best compare to SamCart? Undeniably, ClickFunnels is the best choice for those who can afford a bit more expensive service. It doesn't have a complex user-interface but asks some time to get familiar with it.
---
Difference between a website and a sales funnel:
The difference between a website and a sales funnel is the major difference between an e-commerce site and a lead generation website.
A website focuses on product sales while a sales funnel is focused on lead generation to grow your business.
A website is the online presence of a company, organization, or individual. A website is often created to provide information about the company, its services, and its products.
A sales funnel is a way of using your site to sell products or services. This funnel can be used for any type of business but it's most commonly found in e-commerce businesses.
A website includes all the web pages that make up the website, such as product descriptions, images, and videos. A sales funnel has only one goal – to generate leads for your company. It does not include anything other than the main page that makes it easy for people to sign up for your service or get in touch with you by phone or email.
---
🌟 SamCart Vs. ClickFunnels FAQ
👉 What is SamCart?
It is the cloud-based platform that offers optimized conversion templates to easily sell products, services, and many more. It offers a drag and drops page builder that does not require any coding skills.
👉 What is ClickFunnels?
ClickFunnels is a versatile tool that helps entrepreneurs to create beautiful sales and website funnel. It offers all the strategies and tools in one place that you need to sell your product efficiently.
👉 Do SamCart and ClickFunnels offer a refund policy?
Yes, both the tool SamCart and ClickFunnels have a refund policy. If you are not 100% satisfied with all features, then you will get your money back. SamCart offers a 45-day money-back guarantee, and ClickFunnels offers a 30-day money-back guarantee.
👉 Do SamCart and ClickFunnels offer free trials?
Yes, if you want to test these platforms for free then, you can easily create a free account. Both the platform SamCart and ClickFunnels provides 14 days free trial to its new users.
---
Conclusion: SamCart Vs. ClickFunnels 2023 | Which one to choose?
As We have shared all our experiences with you and let you know which one is best in the battle of SamCart Vs. ClickFunnels!
You can also use both platforms because both platforms are a complement to each other. ClickFunnels has incredible and amazing features to boost sales with funnel builder. While SamCart reduces the shopping cart abandonment rate with a unique solution.
So, choose one or both very wisely and enjoy the comprehensive feature embedded in it. And drive more and more profit from your selling account or business for a lifetime.🚀🚀