Are you wishing to start an online store but scared of inventories, production, shipping costs, and other related back-end systems? Our latest WooDropship review will definitely help you.
Starting a new business is challenging, and on top of it, if you don't have many finances, it can turn up into a big failure. However, what if we tell you that you can succeed in your venture without thinking of manufacturing or shipping any of your products?
Yes, that's what dropshipping is all about!
Many people assume dropshippers as the middle men's, but in reality, they aren't! If understood in detail, Dropshipping is certainly one of the best online businesses currently in this pandemic situation. You won't need to worry about where to store inventories? Or how to find the nearest warehouses? All you need to find is a popular marketplace, some marketing tools, and plugins to automate the overall process and build a significant market position.
In this post, we have featured our honest WooDropship review 2023 that includes detailed insights about its features, benefits, pricing, etc. While there are so many marketplaces, like Shopify, AliExpress, it's obvious to get confused. Hence to build the business, you can get a plugin that generates profit for you and makes the brand stronger.
Likewise, WooDropship is among the best Dropshipping plugins for the WooCommerce/WordPress stores. It does not just give the ease to import all your stuff from AliExpress to WooCommerce/WordPress, but also it is highly intuitive.
The best part about this software is it's available in both web applications and Chrome Extension. Thus, to help you better here's the detailed review of WooDropship 2023: along with some cons, which you must look after before buying!
Detailed WooDropship Review – Start, Manage & Scale Your AliExpress Business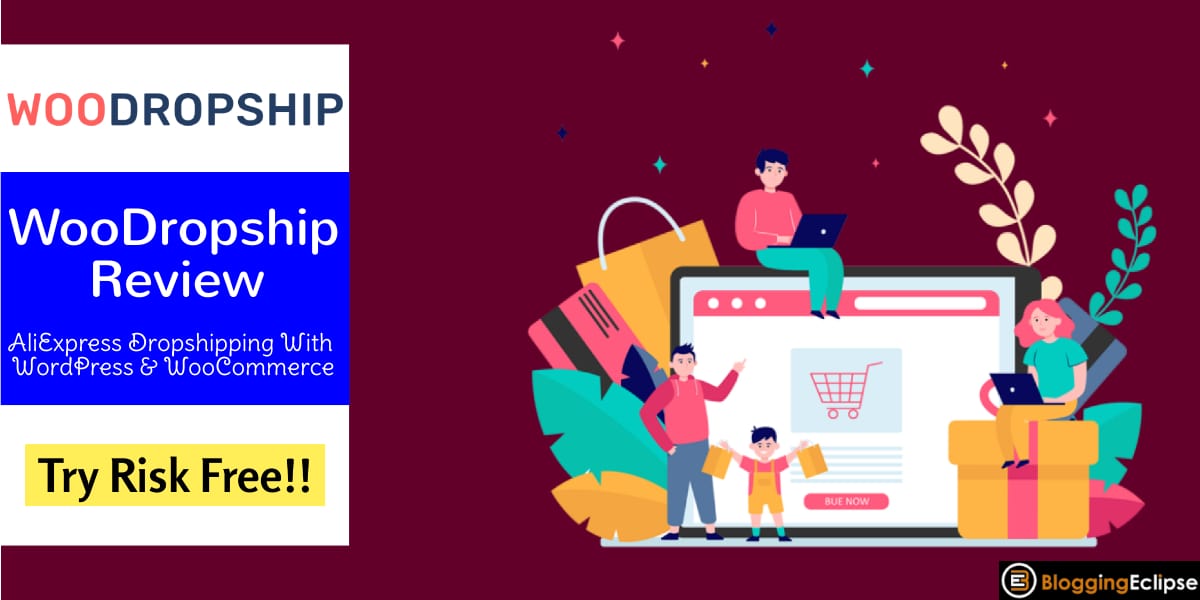 Answering your question about what is the WooDropship tool? It's a plugin that makes the overall dropshipping process easier and accessible from any corner of the earth. You can easily import the products to your store from AliExpress or create a list of products according to its popularity through WooDropship. Through the WooDropship tool, you can make your website look just like an AliExpress website. Be it fulfilling orders or AliExpress, or keeping track of the deliverables, everything can be done within a click!
You can either get this tool by a monthly-subscription where it comes for three plans or can pay yearly according to your needs. But before that, don't forget to look after WooDropship features and benefits.
What the heck is WooCommerce? Can you get profits from WooCommerce?
Just like any other eCommerce module, WooCommerce is also a free eCommerce module to sell products and start your own business. The tool gives the sole proprietors the best access and control to grow their business, even if they are a beginner.
WooCommerce tool works effortlessly with WordPress; hence creating an online store gets easier. You can also integrate the tool with different apps to automate the overall back-end process. On top of this, if you are a sole business owner and want to come up with your own online store, then WooCommerce is the perfect choice for you! If you own a WordPress site, then you can easily grow your business.
How does WooDropship Work? | WooDropship Reviews
Next, in our WooDroopship review, we will look at a step-by-step guide to how this tool works.
First, you go to the official website of AliExpress to find the products you wish to add to your store. After this, you can also use WooDropship Chrome Extension to quickly add products to your WordPress site.
After this, WooDropship would begin the process of importing them when you click on the "import" button. After the required products are imported, you log in to your WooDropship dashboard and check them. You can also edit product titles and descriptions, add or change product images and add price markups.
Once you've made all the changes you want to make, select the "Push Product" option, and the WooDropship plugin will add those products to your store.
So, as soon a customer places an order, you can log into your WooDropship account and click on the "order" option, which will take you to the AliExpress products that the customer ordered. Also, the customer's information will populate automatically.
Then, the final step would be to select "order." Congratulations! You made money by placing the customer's order. So as you can see, the entire process is automated and simple enough so that anyone can understand it and use it. Also, the unique part about WooDropship is that it marks all of your imported orders, so eventually, you don't have to worry about duplicate items.
So that was a simple step-by-step guide on how this tool actually works. Now in our WooDropship review, let's just quickly look at some of its features.
WooDropship Features at a Glance – How do you use WooDropship?
1. Easily imports all the products from AliExpress
This is the best feature by WooDropship and the only reason behind its popularity. Users can not just import any product to your store just through a click, but they also can get potential clients by choosing the right product.
If you are a Shopify user, you must be aware of this feature, and it saves a lot of time. Through the WooDropship plugin, you can easily add products to your store right from AliExpress and decide the product's pricing accordingly.
2. Inventory & price management
While in any business, it's important to take the utmost care of the inventories to not miss out on any order. The major reason behind this improper functioning is that your AliExpress store might not be well synched with your Dropshipping store.
To help you understand better, consider that the price of a specific product increases from the supplier's end. And as there is no proper sync, you don't get any information regarding the pricing fluctuations. The same goes for product availability! But with the WooDropship tool, you will never face such kind of problems.
WooDropship integrates well with the AliExpress site's inventories with your store if any fluctuations happen with pricing or product availability.
3. Set your pricing
Making a profit is the core aspect of any business, be it an offline store or an online one. It's essential to set up a potential profit margin on every product to successfully run the dropshipping business. Whenever you add any product from AliExpress to your store, you can also edit the product description and change the pricing to benefit the profit margin.
For example, If any product sells for $9 on AliExpress, you can set up the price range according to your benefits. To choose profitable pricing, go on different websites selling products similar to your niche and decide accordingly. But it would be best if you never forgot to calculate additional details like taxes, shipping cost, and other related charges. To test each pricing model, you can go for bulk editing, as it's the best way out!
4. Product customization available
Product information/description is highly important, just like the pricing. Customers purchase any product when they get detailed information about it.
It's essential to add various images of the product from different angles to attract customers. Hence, just importing products is not enough; you need to make a lot of edits. Through WooDropship, users get an option to edit the title and the description of each product. Moreover, one can add images from different angles of each product. If there are different variants of a single product, you can display the details and set up the pricing accordingly.
5. Inbuilt image editor
Another major concern of yours might be the watermark images have, and it can affect your customers too! Hence, to not let your customer feel like the image is copied from somewhere, WooDropship has its Inbuilt Image Editor.
Watermarking is a technique that makes sure that the original image of a product is not used without permission from the owner. It's often seen in Google's search results and when the product images are deemed to be high-risk for mass copying. But with the Inbuilt Image Editor by WooDropship, you can remove the watermarks from the images easily with little edits. This will help your store to look premium and genuine and not a typical dropshipping store.
6. Order fulfillment & tracking process
Yet another best feature of WooDropship is its accessible and easy order fulfillment process. Whenever any customer places an order through your store, the tool fulfills it just by a click. All the customer details are auto-filled just when the products are added to the cart without taking much time.
WooDropship Chrome Extension – Scale Your AliExpress Dropshipping Business
WooDropship Chrome Extension comes with a lot of benefits as compared to the web app. It saves the user's time and imports all the products from AliExpress to the dropshipping store directly!
The chrome extension by WooDropship does the following:
It decides the overall shipping method. Users can choose their preferred shipping method, along with the most preferred shipper for their respective orders.
Many people using AliDropship often prefer ePacket, which usually takes around 7-20 days. However, many more shipping methods are available, like China Post EMS, UPS, FedEx, DHL, TNT, etc.
Through the chrome extension, you will get the freedom to choose the preferable shipping country. You can also decide and accept the currency in EUR, GBP and USD, and many more!
You can also decide and accept the currency in EUR, GBP and USD, and many more!
WooDropship Pricing Plans – WooDropship Discount Offer
The pricing of WooDropship is not so complicated to understand as it is a one-time payment subscription. But before buying any subscription plan, you can try the 7-day trial period.
WooDropship provides you with just everything you need just for $49. Isn't that awesome. And most importantly is a one-time fee with unlimited usage.
At $49, you get:
Unlimited Product Imports
Unlimited orders
Priority Support
Variants Mapping
So as you can see, at a single price, you eventually get everything to help you with your dropshipping journey.
How to Create a Custom Store with WooDropship?
As of now, you are aware of the features of WooDropship that can certainly give your business new heights. Yet another benefit of WooDropship is the customized dropshipping store it gives to its users. The store is just for $99 and has all the major requirements you would ask for.
If you don't have much time or you are just a beginner, spend $99 and get a customized store including of following features:
You will get a complete store set-up for any particular niche you want to grow in.
You can either get a new domain for your business or can use a previous one if you have any!
Users get a 1-year hosting along with 100 GB storage that is perfect for any dropshipping store.
WooDropship Essential plan worth $199 for free.
Many themes available to choose from for the dropshipping store.
Easy Payment Gateway set-up with PayPal as the main gateway along with free SSL certificate.
Frequent updates of inventory and product after every 24 hours.
Other than all these, users can also set up their profit margin and get a customized logo, depending on the niche. Dedicated customer support is also included in the custom store by WooDropship.
You can step up the store by going to the official website and can locate the tutorial section. Go to settings, sign up for the WooDropship plugin, and click on the get started for free button. The trial period is just for seven days, and after that, you can install the WooDropship store extension as well!
WooDropship Alternatives You Should Try in 2023
If you dislike WooDropship, some of the most popular alternatives are AliDropship and Dropified.
AliDropship (AliExpress's popular plugin) uses more traditional billing methods, making them a good option for businesses that only need to use the plugin temporarily. There are no monthly fees, and there is just a one-time payment. It's perfect for businesses that want to test the product before committing. Let's have a quick look at a few of its features.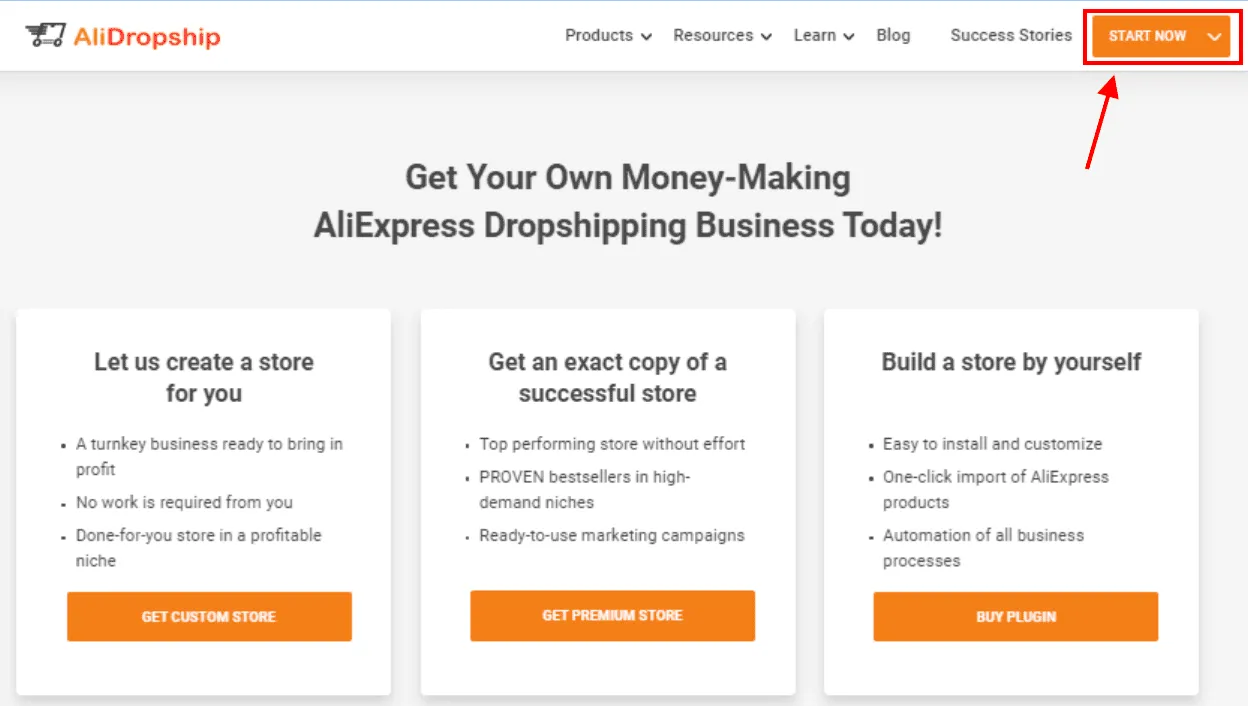 Key features of AliDrophship
It offers you automated management by which you can have better order fulfillment.
You can exercise price control that ensures profitability.
At one click, you can import products from AliExpress.
Product information and pricing are updated automatically and synced with your online store.
Gives you the ability to edit images directly from the WordPress dashboard.
AliExpress cashback system.
You can also import product ratings and reviews.
The AliDropship plugin works well on its own, but the WooCommerce version allows you to enjoy a greater level of customization. AliDropship is easy for you to install, configure, and start using. It offers standard support options, including forums and email. Your profit margin can be up to 2,000%. With this AliDropship plugin, you can shop from over 100 million products from over 100,000 vendors without having to pay additional taxes or fees.
Dropified is another helpful tool for all entrepreneurs who want to use their online store to sell their items and, after that, have respective suppliers store, package and finally ship them to their customers. It can also be used in conjunction with a wide variety of e-commerce platforms that are available in the marketplace.
It also integrates with Shopify and WooCommerce. And comes with a 14-day free trial, so you can test out the service and see if it meets your needs before committing to a purchase. You can use Dropified to promote your own online store by adding AliExpress products to it. You can also use the Google Chrome extension to find different products with a simple search.
With the free version of the Dropified plugin, you can fulfill 50 orders per month and further upload 500 products to your store. A pro version is also there by which you can get greater access to products and do order fulfillment.
As soon as a customer places its order, Dropified will notify the supplier about the order. After this, the supplier will ship the requested order to its customers. Plus, the customers will also receive an email about their order details and tracking number.
Key features of Dropified
You can set up products of any variants.
You can easily change vendors or even have multiple vendors for the same products.
Product filtering via ePacket.
Edit products by uploading and customizing. 
Bulk Editing is also possible.
This tool offers free Google Chrome extension and support, product and fulfillment feature such as inventory and shipping, advanced training, customer service, and more.
Top FAQ on WooDropship Review
What is WooDropship?
It is a web tool that makes your dropshipping store automated, where you can easily add and sell products from your Woocommerce/WordPress store in just one click.
How do I use WooDropship?
It is very easy to get started with WooDropship. You only need to sign up and then install the WooDropship Chrome extension.
Is WooDropship compatible with all themes and plugins?
Yes, WooDropship is very compatible with every WooCommerce and WordPress themes and plugin. WooDropship is a complex add-on that integrates seamlessly with most themes and plugins from the WordPress and WooCommerce ecosystems. With its robust, flexible, user-friendly interface, it has completely revolutionized the way in which we can bring our content to market.
Does WooDropship offer a free trial?
Yes, WooDropship provides free 7 days trial where you can create your free account.
Is WooDropship legit?
WooDropship is not a scam. It is a legit dropshipping tool that has been recommended to many aspiring entrepreneurs looking to enter this market. If you are relatively new, this would be a great option to get started with dropshipping immediately. It has also got positive reviews from all many of its users, saying that it is value for money due to its ease of setup dropshipping plugin.
Can you sell regular products along with dropshipped products?
Yes, the WooDropship service will allow you to sell regular products on your store alongside dropshipped products that are added by their staff. This is a massive plus for entrepreneurs with a solid customer base who want to take their online presence to the next level.
Do you require a WooCommerce store to connect to WooDropship?
Yes, you will need to have a WooCommerce store that is connected to the WooDropship platform.
How to contact WooDropship?
If you have any queries regarding WooDropship, you can contact them by email at [email protected].
Conclusion: WooDropship Review 2023 | Is it worth buying?
When it comes to boosting the dropshipping business, we often suggest everyone go for the WooDropship plugin, due to several reasons. The major reason is that the tool imports all the products from AliExpress to the specific dropshipping store. The overall automation process gets easier and free of cost! Hence you might not need to pay an extra penny for day to day operation of dropshipping.
Yet another best part of WooDropship is its chrome extension for their customers. Through the chrome extension, users can easily import all the products and can choose their desired shippers. With so many pros, there is a bit of drawback of WooDropship, and it's the customer support service. But as a user, you can take a toll on this because you won't face any problems while using the tool.
WooDropship plugin is worth every dollar you are paying. Hence get yourself this amazing tool and automate your business right away!
WooDropship Review – Start & scale your AliExpress dropshipping business!!
Want to start your own Dropshipping business with AliExpress? Now you can! With the WooDropship plugin, you can now easily start and enhance your dropshipping business on AliExpress. This powerful plugin allows you to add, edit & sell different AliExpress products on the WooCommerce store. WooDropship Chrome extension is compatible with all major browsers and is always up-to-date with the latest changes on AliExpress. It is pretty easy to use as it just needs 1 click to add AliExpress products!
Positive
Add AliExpress products by a click
The simplified Order Fulfilment process
Customizable Pricing Rules
The flexible custom store building process
Automatic Order Auto-fulfilment
In-app Image Editing available
Automated pricing available
Highly affordable plugin
Negatives
UI is confusing and can be improved
7-Days free trial period only
WooDropship – AliExpress Dropshipping Plugin for WordPress/WooCommerce
Get started with the WooDropship lifetime membership plan for just $49.
Also read: