Understanding the mindset and journey of those who've risen to the top of their vertical is something all of us should be doing if we are looking to achieve that level of success. Under that same mission, we at BloggingEclipse sat down with Florin Simovici, Co-Founder of TrafficManager.
"Affiliate Marketers don't have to worry about the future; they are the future," says Florin Simovici, Co-Founder TrafficManager
TrafficManager is an affiliate marketing platform that is built around the consumer. Through this interview, we wanted to deliver deeper into their vision of being the premier organization behind helping companies set up successful affiliate networks and providing them with the tools to manage those networks effectively.
The main reason TrafficManager appealed to us was their stellar customer service, a rarity in organizations of the kind motivating us to sit down and poke one of their founder's brains about topics ranging from the future of digital marketing to how TrafficManager can help you be a part of that future;
1. Our readers would like to know the story behind the man who created TrafficManager. Can you tell us something about yourself before we begin the interview?
Actually, "the man" behind the TrafficManager project is made of 2 persons, the other one is my partner and CTO of the company, Francesco (one of the most skilled programmers I have met in my life 😊), we both stood at the base of this project.
He was capable of writing in codes the ideas that gave birth to the first features of the TrafficManager tracking platform. He is still following the project closely, being in charge of the whole development of TrafficManager. We both coordinate the team efforts and prioritize the development of the feature based on our customers' needs and urgency.
I can share with you how I ended up as a partner in a software company from being a normal affiliate marketer when I had nothing to do with the software in my life till then.
I started my journey in the affiliate marketing industry in 2008 as an affiliate. After 1.5 – 2 years, I attended the first affiliate conference event in Amsterdam, which was when I started to feel the real taste of the affiliate marketing conferences and gatherings around Europe.
By attending most of these events in the next period, I have met many people and made a lot of friends from all the affiliate marketing industry niches, so I have learned quickly how the advertisers and the affiliate networks were making money.
I decided then that I would like to open my affiliate network one day, a dream/idea that materialized somewhere around 2014.
Once the affiliate network was launched and the traffic was flowing, I have faced a new challenge, a challenge that was costing me and the partners I had at that time, resources, and profit from our affiliate network – the costs of tracking platforms we were using, the bad support and the real old tracking technologies available on the market.
Soon, an in-house tracking platform became the most obvious solution, so we started to look for a tech. This was when I met Francesco, and the first lines of codes of our network in-house tracking platform that later became the TrafficManager tracking platform started to be written.
---
2. How does using TrafficManager help people engaged in Digital and Affiliate marketing?
The TrafficManager platform provides an affiliate tracking solution for advertisers and affiliate networks from different industries like ecommerce, membership-based websites, lead generation, dating, casino, iGaming, and many more.
However, our platform is not a product designed for affiliates/media buyers who want to track and segment their marketing campaigns (even if it can be used for that as well).
Still, it is more business-oriented, and it was designed for companies that need to open an affiliate network or an affiliate program to promote their products and online services.
In a few words, TrafficManager helps companies to scale their business by offering advanced tracking and segmentation tools, features that help optimize their digital marketing campaigns, automatize their daily tasks, enroll and fully manage affiliates, affiliates traffic, and affiliate marketing campaigns.
---
3. Do you think the Affiliate Marketing industry should try to raise awareness about itself as you often appear at public summits regarding the same?
No, I do not think that people working in the affiliate marketing industry should be preoccupied with the future of this industry because this industry is THE FUTURE.
I think the future stays in the online marketing industry, and the companies that don't have a strong online presence will struggle more and more to be competitive in the future.
The winners will be those companies that will embrace the full potential of online marketing, including affiliate marketing strategies, social media marketing, influencers marketing, etc.
---
4. Is Digital Marketing the future of all advertising?
In my opinion, Digital Marketing is already way ahead of classic marketing channels such as TV, radio, or newspapers, so, in my opinion, we are already in the future. All the successful entrepreneurs already know the importance of Digital Marketing for their businesses.
As tracking platform providers, we are responsible for providing them the right tools to optimize and scale their online presence and businesses.
---
5. What are your views on the rising role of automation in the industry?
The automatization process in all industries is part of a growing process, and we all need to embrace it and adapt our business models based on this.
More than this, tech companies like ours need to come up with cheaper and better solutions to help the clients automate their daily tasks and focus on the things that matter for their business.
I think we will reach a point very soon (if we are not already there) when the 1-man operation businesses have the productivity of those who are operated by dozens of employees, all thanks to the automation tools.
---
6. What was the vision behind creating TrafficManager, and how far along are you on fulfilling it?
When we started as an Affiliate Network, we came across a lot of issues with the 3rd party trackers we used at the time and to mention a few: high costs based on clicks, little to 0 support on technical problems, no support on custom features development, old and slow tracking technology, and more.
The strong point of all these tracking solutions (the only in my opinion) was the great marketing around them, so we had wanted to provide a better and affordable solution for everyone that also solves all the problems we had when we started.
We visualized a solution built with cutting-edge technology that will allow even small businesses to build an online presence and help them scale. I think we already reached that point.
We don't advertise our service too much, and we grow in clients every month, organic, just on our clients' references. The last client that switched from us to another solution was more than 1 year ago, and he moved because he wasn't ready for Casinos at that time.
---
7. What is the largest factor behind making TrafficManager a favorite of Affiliate Marketers?
The simplicity of the platform coupled with the large number of features that cover all their needs and the full-time responsive support team we offer all our customers.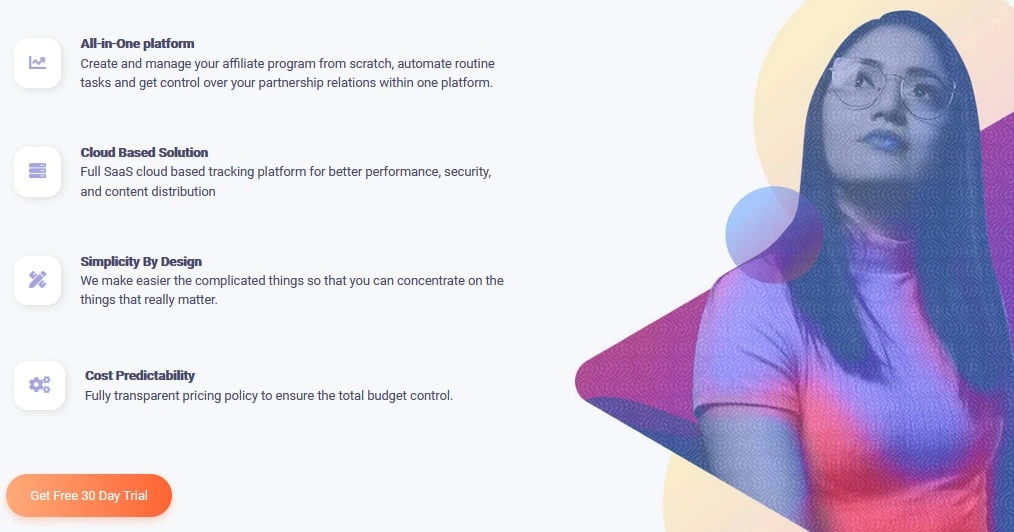 A combination of these three offerings and the gap it fills for people just entering the digital marketing space are the big reasons we have achieved the level of success that we have.
---
8. You're relatively young to have the list of achievements that you do. How would you advise others on achieving big at a young age?
I don't think I have achieved big yet. I am glad of where I am, and I am still building, but I'm 37 now, and I have met in my early days as an affiliate people that at 28-30 were already multiple millionaires with multiple businesses.
I need to say that those were different times for the affiliate marketing industry (the Golden times of the mobile traffic for those who are old enough to know).
Anyway, it is all about having a strong mindset, studying hard, and plan the work with dedication. If you love what you do and you have a plan, follow it. If you fail, learn fast and adapt your plan, then try again and again until you succeed.
They say that Thomas Edison made a few thousand attempts to create the lightbulb – he failed a few thousand times before succeeding, so what stops you?
---
9. What are some of the concerns facing digital marketing as an industry currently, according to you?
Payments, in my opinion, are a big problem in the affiliate marketing industry. Affiliate Networks struggle to pay the affiliates. The banks don't understand the online marketing business very well, and they are still stuck in the past.
The future is online, and until the big banks understand the HUGE market they leave aside, the payment-providing companies can take advantage of the situation and make some nice money from it.
---
10. How do you respond to allegations of market manipulation put towards the affiliate marketing community?
Not sure what kind of market manipulation you intend. I always sustained the competitiveness between companies because it creates a better service for the end client. Still, if an industry is based on just a few major players that hold the monopoly, that leaves room for possible manipulation.
---
11. Which are some of the tools and strategies you've made use of yourself to achieve the success of TrafficManager?
Well, I didn't follow a specific strategy. Still, the fact that I was attending most of the affiliate events from the industry in Europe every year helped me see the industry better and adapt my plans according to the market trends.
The most important tool I think is your mindset – if you are prepared to study and invest time in yourself to specialize in a certain area, nothing can stop you. All the information you need is online, and you need to be patient and search for it.
---
12. What makes TrafficManager the ultimate tool to aid the launch of an affiliate network?
Besides the 200++ features available that make this platform compatible with any niche in the industry, I think the most important thing is the support we provide and our opening on building custom features based on our clients' business model.
---
13. What motivates you to get back to work when you're having a bad day?
I live by the words of Mark Antony that "if you do what you love, you'll never work a day in your life." The work I do is work I'm genuinely passionate about, and work is itself the motivator. If that is not the case with you, then maybe you should reflect and figure out what it is you're passionate about.
---
14. How important is it to create the right team, and how does one do that?
Creating the right team is not just about picking the people but is also about creating a synergy between them. To do that, you need to pick THE RIGHT people and sometimes leave out from the team very skilled people just because they can't adapt and ruin the synergy of the entire team.
In my opinion, this is a very important factor, one of the most important I would say. The people working with you don't need to feel the "weight" of going to a 9 to 5 job. They need to love the place and the people they work with.
---
15. How does TrafficManager consistently deliver such astounding results to its clients?
By listening to our customers and working with them closely on the development of their business by providing the features they need at the time they need them. This constant adaptive nature of the product we offer makes both the product and our customers' experience better.
---
16. How important do you think it is to keep track of all the data around your business's workings?
This is another very important aspect of company development. You need to keep track of all the tasks and be very organized. We use different tools to do that. We also offer various tools to our customers so they can maintain effective data points over the affiliate networks we help them set up.
---
17. How does TrafficManager help in doing that?
We provide our clients the right tools and guidance to keep track and stay organized.
---
18. Keeping in mind its constantly changing nature, what do you think the future of digital marketing looks like?
As I see it, the future stays in the eCommerce industry combined with Influencer Marketing techniques. The selling power of the influencers (the new super affiliates) combined with a great product and an amazing sales funnel will be a blast for many new brands.
---
19. What are some major criticisms you've faced in years of business, and how do you deal with them?
The major criticism I faced in my whole carrier till now came from myself, and this is a thing I needed to work a lot with because it is not healthy and productive at all. 😊
---
20. What would be the elevator pitch of TrafficManager?
We provide a full white label tracking solution for Advertisers, Brands, and Affiliate Networks from industries like eCommerce, Casino and iGaming, Finance, Nutra, Membership based websites, and more.
With the help of TrafficManager, you can create affiliate marketing campaigns, fully manage your affiliates, track and optimize web traffic, automatize your daily tasks and scale your business fast and steady.
---
21. Which is the role of websites like BloggingEclipse according to you in the industry?
I think blogs like BloggingEclipse are fundamental for the industry because Websites like this bring the information just in front of the user through interviews like this, case studies, guides, etc.
All the users need to filter the information they receive and come out with their plans based on real people's examples. The information is goldening my friends.
BTW, I want to congratulate the BloggingEclipse team for the great job they are doing on this project and for the fact that they allowed us to send a message and be part of their amazing community.
That was our conversation with Florin Simovici, the insightful 37-year-old who has created something which can not just get your affiliate network up and running but let it reach the heights which seemed impossible before.
We thank him for his time, his kind words about BloggingEclipse, and the insights our readers must have gained from them.
If you, like us, agree with Florin that affiliate marketing is the future, head on over to TrafficManager.com to know more about how you can create your platform easily.
Affiliate Disclosure: This post may contain some affiliate links, which means we may receive a commission if you purchase something that we recommend at no additional cost for you (none whatsoever!)