Are you looking for the best Samcart alternatives to try this year❓
Here, in this article, we have reviewed the ✅6 Best Samcart Alternatives this year to try on, which are way cheaper, more flexible, easy to use, and reasonably better.
As you know, Samcart is a funnel builder and a full-fledged shopping cart plateform that helps to create customized checkout pages that help to market and sell digital and physical products online.
However, Samcart has some limitations, which are a hindrance to use with flexibility and with ease. Like:
Lack of inbuilt digital sales in tax calculation
No funnel or cart share features
Limited payment gateways and processors
Difficulty into A/B test
Samcart is more expensive and has excellent services like the affiliate management center and subscription saver management. With some commendable functions, of course. Still, just like every other creator out there, there is an ugly side to every beautiful thing, and either of the Samcart competitors and alternatives on this list will serve as the perfect replacement to sell products and services online.
So let's begin!
---
✅Best SamCart Alternatives & Competitors (Updated 2023)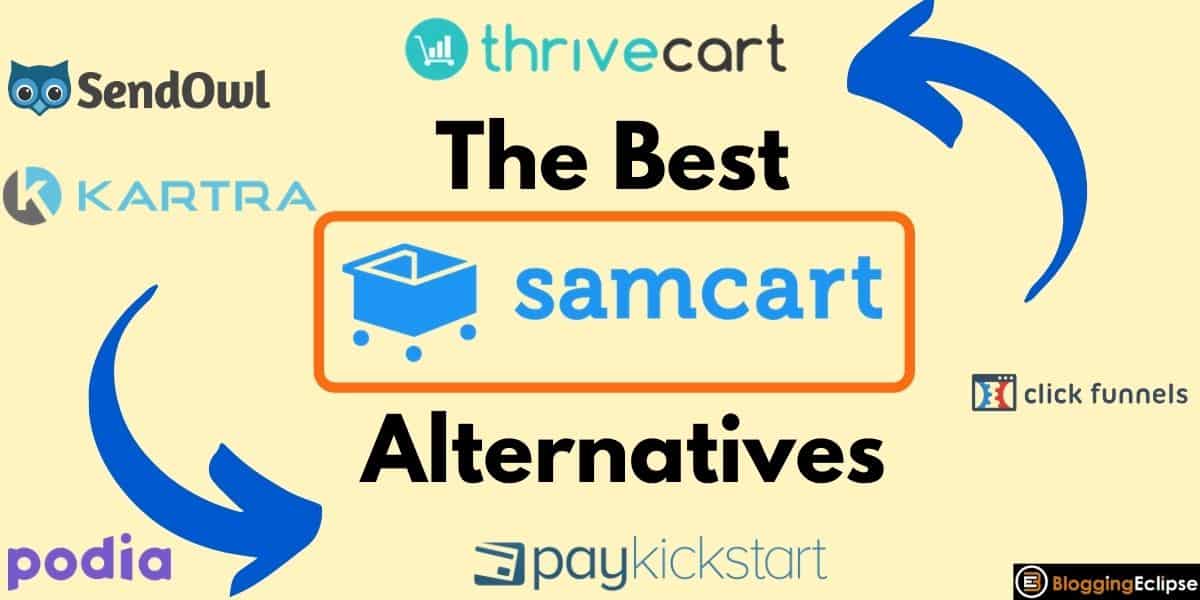 Here are six tools capable of replacing Samcart.
Let's get started with each alternative one by one:
ThriveCart offers many of the same features as SamCart, as it happens to be the closest alternative to SamCart. Investing in the Thrivecart lifetime deal is the best business decision over the past year as it offers one of the cleanest, flexible, bug-free, and yet robust shopping cart experiences out there compared to numerous platforms.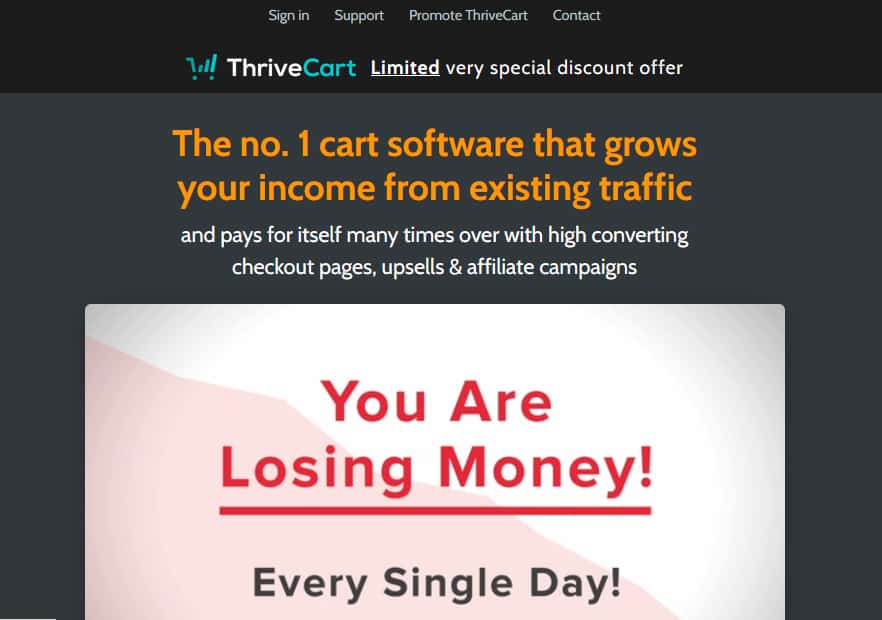 ThriveCart offers a wide array of features like A/B split testing, one-click upsells, Bump offers, affiliate center, prebuilt checkout page templates, and a lot of third-party integration supported. As SamCart and ThriveCart are built on a similar premise to help online entrepreneurs manage their sales, increase conversions, follow up, and give better and deep insights for optimization. Although SamCart is a great shopping cart with impressive features, ThriveCart is more affordable than SamCart. Plus, Thrivecart shares funnel features that lack on Samcart.
ThriveCart's unique feature includes sharing and import checkout and funnel designs from other vendors using the platform. With SamCart, you need to pay $199 per month to access some cool features that ThriveCart offers.
While on ThriveCart, get started with just a one-time payment of $495 standard or $690 for PRO. And get lifetime access and all future updates without ever paying for a shopping cart again. Thrivecart supports more payment processors, which include Apple Pay, which is not available elsewhere. The Thrivecart Apple Pay enables customers from compatible devices to use their thumbprint to pay for products instead of completing all their billing details.
Pros & Cons
Pros
A lifetime deal currently.
Automatic digital sales calculation
One-click upsells, order bumps, and offers
Offer coupons, discount codes, trial periods to customers
Mobile-friendly cart pages and optimized for conversions.
Huge integrations
Built-in dunning system
Inbuilt affiliate management solution
Easy set up to A/B split testing for determining winners.
Helpful knowledgebase, support, and engaging support
Import and export cart sales pages.
Supports different payment methods, which includes recurring, trial, split, etc.
It is tough to decide which software to use when the features seem similar but closely at each of these SamCart alternatives. The only solution match up is ThriveCart—comparing all the features of each, cost, support, integrations, dunning management, and much more.
ThriveCart is the best route in this scenario. Everything you need comes off as a one-time payment. It's a one-time no-brainer deal that has to integrate SamCart with another service like Taxamo. This might cost about $99 per month.
This feature alone gives Thrivecart an edge.
Any website embeddable
No transaction fees
Cons
Not many checkout templates
No emergency support for LiveChat or phone call support
No Trial period, just 30day money-back guarantee
---
It is the second-best alternative to SamCart and the SamCart competitor, and PayKickStart isn't a bad option to be called a good checkout software as it has some pretty dope features and it comes with one of the most excellent affiliate management centers, but not as a specialized affiliate program management tools.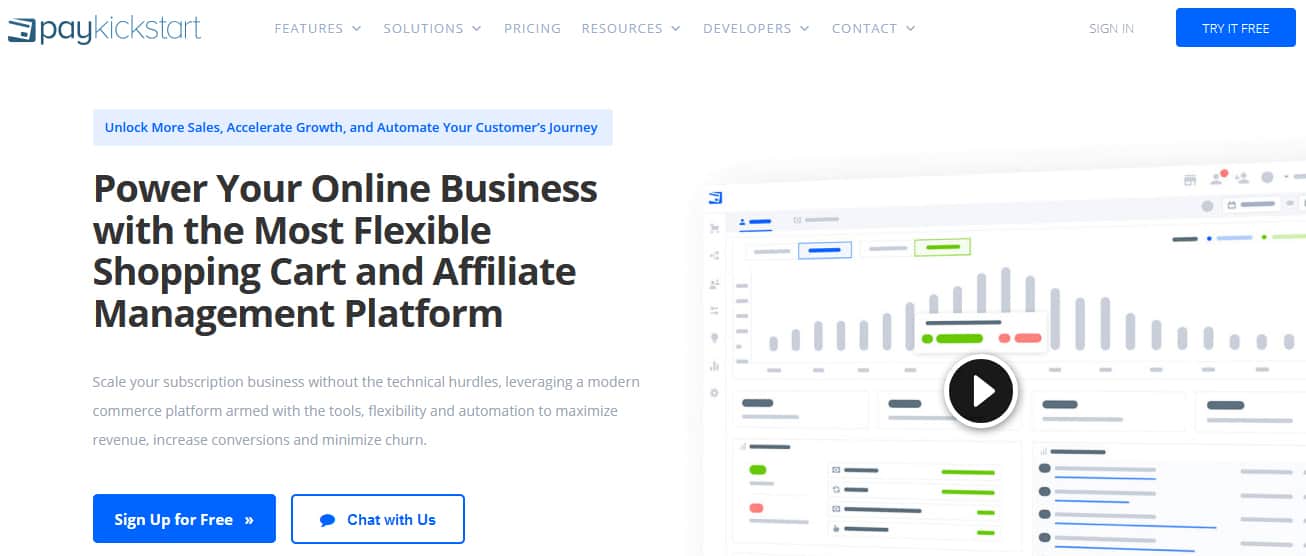 It has the payment gateway integration options among all the checkout services and one click-upsell PayPal integration. There are tons of professionally designed, customizable templates on this tool, but there is no inbuilt A/B split testing for integrating third-party solutions.
Comparing PayKickStart to SamCart
In general comparison, SamCart is pretty much better than PayKickStart. Still, few aspects make PayKickStart higher in the ranking because SamCart gets very expensive if you need an affiliate center and lacks support for many payment processors. Also, for checkout pages, it gives limited design options. As when it comes to payment gateways, it's the best.
PayKickStart is the cheapest Samcart alternative to start with. Paying a monthly fee to get what it offers is normal. It starts at $29 per month, offering a 14 day trial period and a 30 days money-back guarantee.
Pros & Cons
Pros
Integrates with major payment gateways
Add coupon codes and discounts
The built-in affiliate program center
Supports live chat and active Facebook community
Bump offers and one-click upsells available
Integrates nicely with email marketing tools, etc
No transaction fees
Cons
No A/B split testing
Most advanced features not available on the $29 per month plan
Not so friendly but manageable user interface
---
SendOwl is another shopping cart software famous and used by many online business owners, supporting physical products and services. SamCart alternative is not as feature-packed as the other two alternatives.
Because when it comes to payments, they give only three options: Bitpay, PayPal, and Stripe.
SamCart competitor, SendOwl, has limited page templates. Design customization is a great option when choosing to build just like PayKickStart, anything like A/B split testing here.
Checkout solution supports discounts, coupons, bump offers, one-click upsells and integrates all primary email marketing services. Don't forget about the affiliate referral system built into it as well, but there is a severe limitation to what you can do on SendOwl's affiliate center.
Comparing SendOwl to SamCart
SendOwl is much cheaper than SamCart, but SamCart is more sophisticated when it comes to integration, A/B split testing, and affiliate management.
SendOwl starts at $15 per month for the Standard plan up to $99 per month for the Subscription plan.
Pros & Cons
Pros
Supports discounts and coupons
It also offers flexible payment models (subscriptions, plans, and trials)
Supports bump offers and one-click upsells
Primary but good affiliate portal
Supports over worldwide currencies
Cons
A limited page for checkout design and customization
No A/B split testing feature
No live chat support team and Facebook community
---
Podia is a Samcart alternative, especially for selling online digital products. Podia claims to be an all-in-one digital storefront to sell online courses, memberships, and digital downloads without any technical skills required.
It doesn't serve as the complete replacement for Samcart as there are limitations, which is why we recommend going with Samcart reserves. Podia shines in helping host course content, delivering it professionally, build a storefront to sell courses, and accept payments on the website. While most alternatives of Samcart on this list come with an inbuilt and a few other tools, Podia primarily focuses on helping course creators, which delivers excellent memberships.
The pricing plan starts at $39 per month.
Pros & Cons
Pros
Best for course creators
Handles EU Digital Goods VAT tax
Another platform offers free migration
Friendly customer support
Easy to set up and use
Cons
Not a dedicated funnel or shopping cart builder neither for designer
Serves as a solution for course/membership
---
A complete marketing tool with a powerful page editor. ClickFunnels poses a whole marketing tool suite that helps to build and launch a business from scratch, in minutes, under a single platform.
ClickFunnels an all-in-one solution? As it houses all the functionalities to generate leads, warm leads, convert sales, automate sales, manage affiliates, and put up an excellent checkout page. ClickFunnels can't be called a great tool in this area for checkout page creation and design. But the in-built checkout feature does the essential things in a shopping cart software on comparison ClickFunnels and SamCart.
Also read: SamCart Vs. ClickFunnels: Which Service Will You Choose?
The difference is clear. Under one roof, the master of all, the other competitor is a master at one piece. When it comes to SamCart alternatives in terms of prices, it begins cheaper with insane limitations, and even. Simultaneously, on the intermediary plan, the affiliate center and subscription saver are not that good.
On the ClickFunnels starter plan of $97, get all basic checkout features, membership site, plus everything to build marketing funnels. Accept the Affiliate management tool and its inbuilt autoresponder used for follow-up sales funnels, a substitute for email marketing software.
Pros & Cons
Pros
All-in-one sales funnel builder
Powerful Etison page editor
Powerful email marketing and automation platform
Supports one-click upsells, downsells, and order bumps
Hundreds of pre-built templates
Great/supportive community
Free courses on marketing
Easy to use drag and drop
Inbuilt membership software
Unlimited on the Platinum plan
Share funnel feature
Inbuilt affiliate center
Cons
Expensive for beginners
On the startup plan, there are some limitations
---
Another SamCart alternative serves as an all-in-one solution for online entrepreneurs and the closest alternative to ClickFunnels. Kartra has a fine checkout experience compared to ClickFunnels but not a unique software shopping cart, and it serves great as one.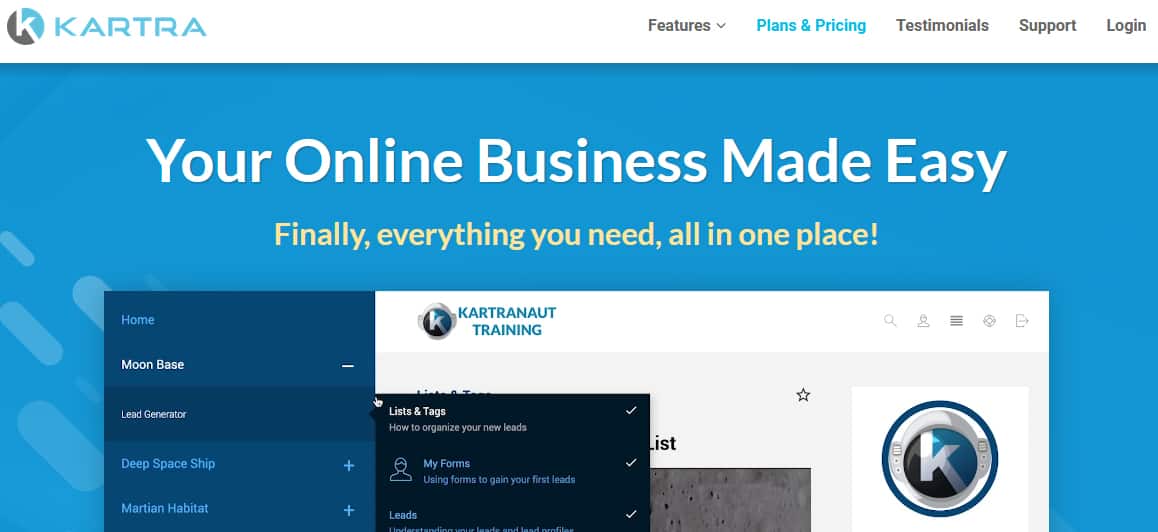 An all-in-one accompanies a page builder, video hosting, HelpDesk solution, and other marketing utilities, then Kartra is the perfect solution. Comparing Kartra as a Samcart alternative is not something to spend time on. It's not an apple-to-apple evaluation. It is a world-class shopping cart that focuses on just being the number one shopping cart, then go with the most recommended best SamCart alternative below. If not up to something more versatile as encompassing all tools, then consider Kartra.
Also read: Kartra Review + Discount Coupon: (Get Upto 25% OFF Now!)
Pros & Cons
Pros
A complete all-in-one
Hundreds of free templates
One-click upsells, downsells, and bump orders
Inbuilt-video hosting
Inbuilt calendar/appointment booking app
Inbuilt Helpdesk/customer management tool
Affiliate center built-in
Course hosting and membership platform
Kartra and funnels and campaigns
Cons
Steep learning curve
Expensive for beginners
---
🌟 SamCart Alternatives FAQ
✔ What Is SamCart?
SamCart is an online eCommerce platform that enables you to build product pages to sell your services, courses, digital or physical products, etc.
✔ How much does SamCart cost?
SamCart offers affordable pricing plans that are Launch, Grow, Scale. The Launch plan costs you $49/month. The Grow plan costs you $99/month, and the Scale plan will costs you $199/month.
✔ Does SamCart offer a free trial?
✔ What is the best SamCart alternative? 
---
Conclusion: Which is the Best SamCart Alternatives?
There are many options out there on the market for an online business owner as the different option has its benefits and disadvantages. It's hard to claim that anyone's platform to be the objectively best. Samcart is one of the best and excellent tools without any glitches.
It's tough to decide to checkout software to use when the features seem similar but look closely at each of these SamCart alternatives, and the only solution that matches up is ThriveCart.
To compare all the features of cost, support, affiliate center, dunning management, etc. As ThriveCart is the best route to go in this scenario. It has everything and comes off as a one-time payment and one-time no-brainer deal. A lack of native digital sales tax calculation integrates SamCart with another service like Taxamo, which might cost about $99 per month. This feature alone gives Thrivecart an edge. But Thrivecart comes out as the greatest of all time shopping cart platform after tons of options.
All the tools and software that we shared in this article work generously, irrespective of how you want to work with to scale your business or the way you have planned it. Results may differ from person to person, on experience and strategies level employed as a tool is only good as the hands wield it.
However, few things make sure that your marketing sales funnels and checkout pages convert to bring you the desired result. And read each tool carefully to know which tool would be best to build up your dropshipping business or scale up your business already into SamCart and look for an alternative to scale up their business into more profits.🤞🤞
Affiliate Disclosure: This post may contain some affiliate links, which means we may receive a commission if you purchase something that we recommend at no additional cost for you (none whatsoever!)