Due to the increasing startups and creative ideas, it's quite challenging to develop the newest concepts. There are many advertising tools available in the market to help you find the best creatives, but finding the best one is still confusing.
A product without right and creative advertising will never do well in the market even if it is quality-wise best. The only way you can communicate and target customers about your product is by marketing and advertising. This generation is all about technology, and as the pace of digital marketing has boosted, you must know and have the right needs.
When said about an advertising tool, many individuals might have heard about SocialPeta. But is the SocialPeta good enough to trust? Rock Su founded this tool in the year 2015, and there is no end to its growth.
In this post, we have featured our honest ✅SocialPeta Review 2022, which includes detailed insights about this amazing ad intelligence platform.
Rock Su is an industry expert and an entrepreneur having good experience in the mobile internet industry. He brought an impeccable revolution through SocialPeta as compared to its competitors.
Having an intelligent combination of advertising solutions, there is a lot more SocialPeta can offer to its users. Readout, our SocialPeta review and know more about this amazing tool. Also, we have some fantastic discounts for our readers at the end to get you the best deal!
---
In-Depth SocialPeta Review
Previously, whatever we have shared about SocialPeta was just a part of the tool. The tool is popularly called a unique advertising creative analysis platform available in over 46 countries. SocialPeta does not only provide marketing intelligence services to its audience but also gives Ad marketing data.
As a result, it provides its customers with detailed marketing and advertising analytics required to boost profits. You can use SocialPeta irrespective of your industry or its size for making better advertising decisions to promote their product.
SocialPeta gives access to millions of advertisements through its website for its users. Moreover, it has a group of dedicated employees that keeps its users updated with the latest advertising trends.
They also come up with the newest ad creatives according to the market trends. The users are required to search for a keyword related to their requirements to get the desired results.
Hence you can easily drive your business growth and maximize your revenue at its best through SocialPeta.
---
Why should you choose SocialPeta?
There is a lot more available in the kit that you must know before using it. We have listed down some major reasons why we tell it to be the best solution to all the marketing problems:
More than 9 million advertiser's available on SocialPeta along with a huge number of global advertisers.
Massive advertising data available on the SocialPeta website to add value to the search.
SocialPeta offers Advertising Analysis across various directions like multidimensional factors along with In-Depth Analytics.
SocialPeta supports several languages as it has a large number of channels across the world.
The tool uses data Intelligence to help businesses develop and build the right marketing decisions.
SocialPeta updates the website, as they have a record of over a million hourly updates in a day.
A massive database about advertisement and search features through 73 advertisement networks.
SocialPeta has several Intelligence features relating to Advertisements, Market-related information, Costing reflections, and eCom insights for excellent Branding.
---
Features Offered by SocialPeta
✨Ad Creatives
SocialPeta is popular for its world's largest ad library that no other advertising tool might have. One can get detailed insights and information about several ads just by a click. All you need to perform research whatever you require by a relevant keyword and the results will cover it all, including your customer's data.
Through this feature and several filters, available users can target the right audience for building unique ad creatives.
Even though there is no category available from the tool's end, you can easily find relevant data quickly. Moreover, users can also get several advantages, be it from viewing the list by higher-order to check who is leading at the top!
💵Cost Management
You can easily manage the costing related to the marketing campaigns, the audience for reaching out to more number of people. SocialPeta also helps users to do several social media advertising via Messenger, Facebook, and Instagram. You can also get detailed data on CPC, CPM, CPA.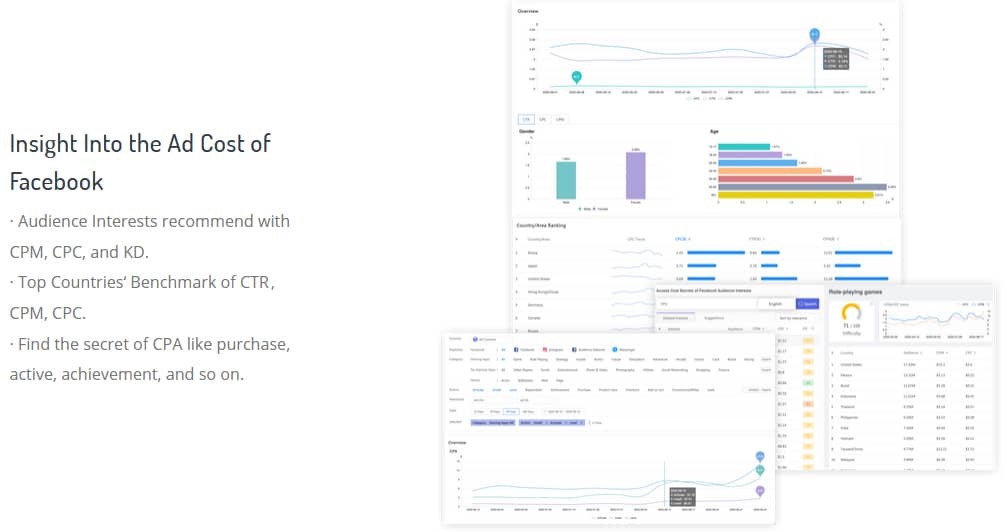 🏅Audience Intelligence
SocialPeta offers massive amounts of data from both global and local networks. You can easily target the needs that can be checked or focussed on. The tool uses trial and error methods to find the right audience.
There are more excellent features available of SocialPeta that you must know about before using the tool.
Some of the features are as follows:
You can monitor several products available in the market without losing the catch of your competitors. SocialPeta has a powerful database to help users analyze changing aspects of competing advertisers like their creativity, channel launches, intermodal companies, publishers, and a lot more. SocialPeta deeply checks into the advertisers ranking trends.
SocialPeta recently launched an advertising cost function to help you make effective usage of money. The best part about this feature is you can be in fierce competition and become a great advertiser in a limited time.
The in-depth analysis feature by SocialPeta is the best feature available for solving marketing and advertising problems. Initially, SocialPeta performs ground analysis of creatives for getting detailed information like ad text, interest words, ad details, etc. Hence, you can process information from the creative production and use it in your content deliverables.
SocialPeta is a one-stop tool for optimizing advertisements and coming out with the final research.
SocialPeta offers a quick search option for various creatives to improve the work's overall efficiency. Moreover, it also provides different tools like keyword research, domain name, advertiser, etc. You can also filter your searches easily from the options available like advertising space, country, theme, material type, system, language, etc.
The major chunk of the data SocialPeta give playable creatives and copywriting analyzer.
SocialPeta makes the overall working process creative and efficient by saving your time and giving you the right information. The tool covers 73 mainstream channels and 46 country languages to boost the work efficiency of its users.
SocialPeta uses several methods to perform powerful research. The updates of creatives are timely, and if the user is stuck in the middle while doing anything, it also provides excellent virtual customer support access.
---
SocialPeta Pricing Plans
SocialPeta offers a free trial for three days to all of its users so that they get to know the tool in a much better way. Even though the free trial period has limitations, you can easily understand the tool's core working.
If you want SocialPeta, you can use SAAS's service for your corporation and then add your business email while logging in. Choose suitable pricing according to your necessities, as there are different prices available for the level.of usage you choose.
The pricing of SocialPeta ranges from $99 to $249 for a month.
---
Pros & Cons
Pros
A massive amount of data from over 73 publishing networks and 10 million ad creatives can be retrieved
Top ranking charts available in each module
Elements are listed in the right way
Graphical representation of every data
Updated database
46 countries and regions have access to advertising data
In the premium package, a live chat facility available as it is built-in
Filters are added for smooth and quick search
Cons
Confusing pricing; even the website doesn't provide much detail about different plans other than the VIP plan
---
Why do we suggest you use SocialPeta?
Many businesses have benefited a lot through the use of SocialPeta. The tool is a major help for those who are starting up with a new venture and have no idea about current advertising trends. The platform has abundant data and content which are frequently updated.
It gets tiring to hire many members on time and not get the desired results in any business. Even we have used this tool for a longer period and realized a massive growth in the user base. That's the reason why we suggest SocialPeta to all our fellow businesses. It's a creative advertising tool covering a wide range of audiences.
Moreover, the ad intelligence works like a wonder, and through the help, one can easily create ads. SocialPeta offers a lot of uber cool ideas through the SocialPeta library. Another best part about SocialPeta is its ad analytics feature through which analyzing the core mistakes gets easier.
SocialPeta also helps its users find the best-suited ways to target the right audience to grow the business. You are open to using SocialPeta completely in the free trial period, yet another best benefit!
---
Conclusion: SocialPeta Review 2022 | Should you go for it?
The current market has lots of advertising tools that claim to be the superior ones. However, using such software for personal use, we have seen that no other advertising tool has more features than SocialPeta. It's challenging to keep up with the latest advertising trends, but social media does it all incredibly.
We would say that SocialPeta is the best advertising creative analysis platform that is highly affordable. You can either handle a team of professionals to work on ad creative or buy a package by SocialPeta and save your hard-earned money.
Look after your requirements and do ground research to know more about the ad creatives. SocialPeta is highly recommended from our end because of its features and virtual assistant to help you throughout. End your marketing troubles and get yourself this amazing advertising tool right away!🚀