Screening the right stock for investment can get tougher at times. And if you are a beginner and stepping into the world of stocks for the first time, it feels no less like a battlefield. But worry not, Benzinga Pro is at your help now.
Read this detailed ✅Benzinga Pro review and step into the world of stocks at the lowest prices and grab the highest ROI. It's normal to get daunted by the feeling of facing losses while trading in stock markets. There are a plethora of technical terms that build up confusion while trading. But, let's be clear, it's not just you going through this. The stock market is highly volatile and is the most complex one to understand.
However much of a pro trader anyone would be, there's always room to learn here.
Backtesting, charting, future analysis is some of the common terms one must understand to gain an edge over all other traders in the market. Yet, learning it all on the go is not like a walk in the park. Thus to help all the newbies and pro traders, one can find several tools in the market.
But relying blindly on any tool for your money is not a good deal. Benzinga Pro is one such popular stock screener app known as the best trading decision-making software in the market. With no further delays, we have covered the main features and functionalities of the tool in this Benzinga Pro review. Also, don't miss out on grabbing an amazing discount at the end of the review!
---
Detailed Benzinga Pro Review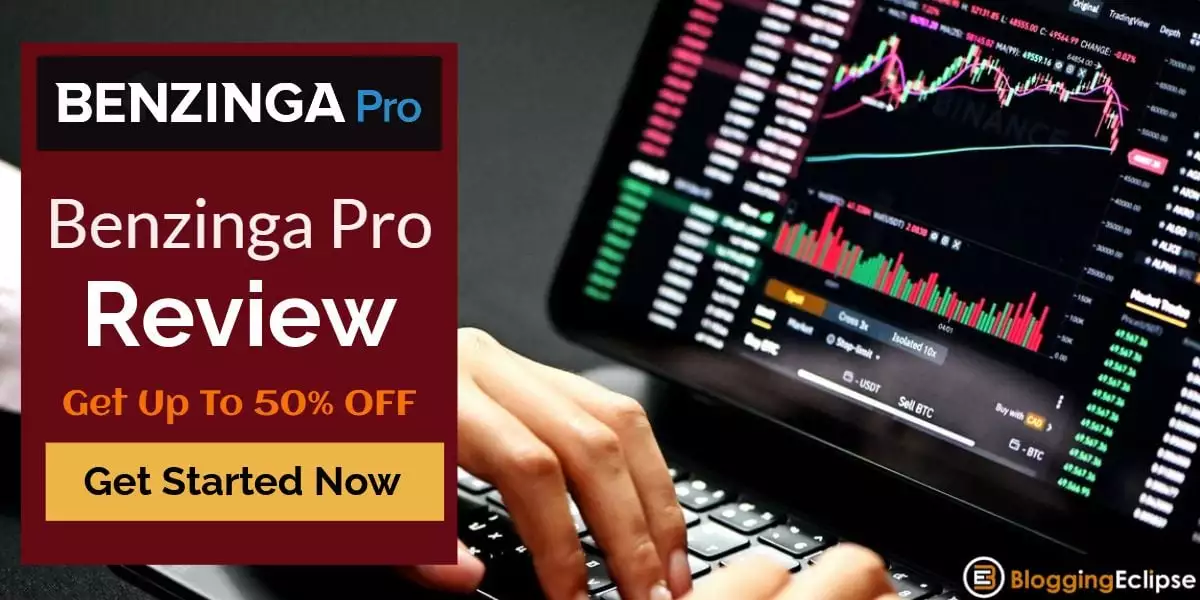 Launched by Benzinga, a content ecosystem, Benzinga Pro is a livestock market news feed covering all the essential information one must know while trading. The information includes rumors, document releases, important market news, and weekly updates. These data can't be usually found on any other free news outlets in such an actionable time frame.
Benzinga Pro even offers a squawk box service that displays real-time news. And talking about this news, even the reporters out there aren't able to spread it all to the traders. Some other functionalities of Benzinga Pro include activity scan, alerts, community chat room, charting, options, and much more. Recently the brand even launched a mentorship service named Nic Chahine.
Since the launch day itself, Benzinga Pro has gotten better every day. Be it from usability to adding the latest innovations, and the brand never failed to attract its customers in the best possible way. With that being said, we have reviewed some of the core features of Benzinga Pro to help you make a wiser decision in the end. Check it out now!
---
Unique Features of Benzinga Pro
Started as just an event, Benzinga Pro turned out to be the best stock market news-based platform within a few months itself.
Initially, the features offered by the tool were stock screener, scanner, trading chat room, and trade signals. But now the list has become more far and wide, and some of the core features of Benzinga Pro are:
#1. Detailed Analysis Window
For every stock, there's a Details section from where users can get a detailed analysis of company features like dividend, PE ratio, and much more. The lower part of the details section covers press releases, partner news, SEC filings, BZ Wire, and BZ signals. Basically, users get access to the most important company financials all under a roof with this feature by Benzinga Pro.
#2. Watchlist Feature
Just as the name suggests, the Benzinga watchlist Feature helps users to add new securities to their existing portfolio. We believe that with this feature, users can exactly define their preferred daily high and low, trading volume, price changes, etc.
#3. Real-Time Market News Desk
Till date, the best feature of Benzinga Pro is the market news desk itself. You can simply click on "Newsfeed" and grab exclusive market news data in just one window. Over here, there are five different features available – Sectors, Categories, Sources, Watchlist, and Desktop notifications.
For example, suppose you are trading according to the stock screener signals. In that case, activating the All Sources option will give you detailed analyst ratings, market news, financial news, and trading ideas.
From penny to low float stocks, users can definitely get detailed information through the news desk filters. Also, in the navigation bar, one can spot the advanced newsfeed that incredibly works like a wonder but is still in beta mode. This feature goes a step further compared to the basic one and helps users add pricing values, volume, and fundamental data as some filter options.
#4. Top Movers List
The movers feature by Benzinga Pro helps users to spot gainers and losers, depending on different criteria. Over here also one can make the best use of the filter options available on the predefined dashboard. One can either choose whether they want to see losers or gainers, market cap, price range and freeze the results for more time. There's an auto-refresh option too for users to get updated results every minute.
#5. Event Calendar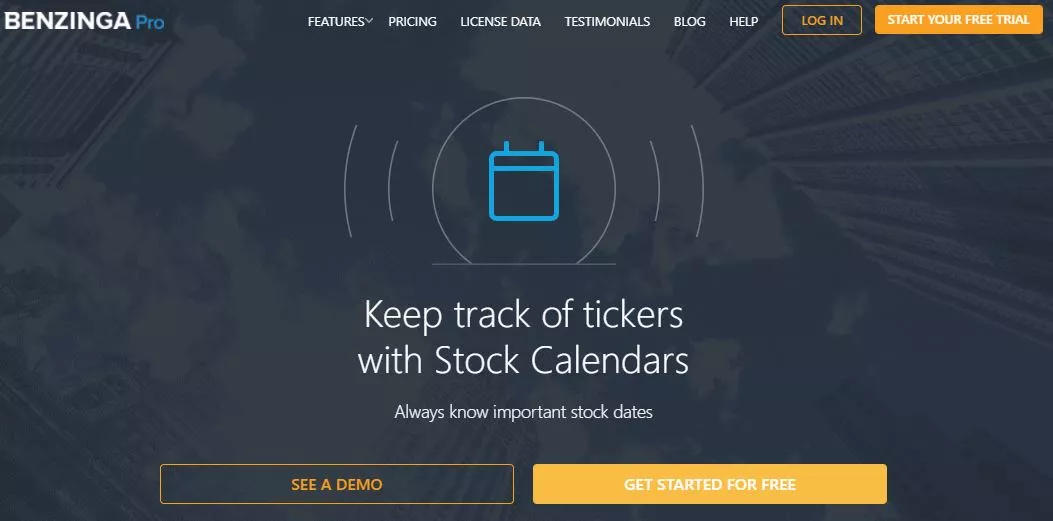 The event calendar feature by Benzinga Pro helps users to analyze news according to specific dates or events. One can select a specific date, like a month, a week, and the news source type. Some of the popular news sources available on Benzinga Pro are:
Dividends
Merger and acquisitions
SEC filings
Splits
Secondary offerings
Analyst Ratings
Economics
FDA
We truly believe that these options truly make trading a lot easier for both beginners and professionals. For example, one can quickly look at the overall activity and make further choices accordingly.
#6. Signals
The signal feature by Benzinga Pro displays price spike, options activity, opening gap, highs, lows, and circuit breaker halts/resumes. All these signals are either displayed by timestamp, stock symbol, or through signal type followed by a description. Users can even export the data as a CSV file by simply clicking on the "Export Table to CSV" option available on the top-right corner.
#7. Screener
If you are a swing trader or a short-term investor, then the screener feature by Benzinga Pro is all for you. As compared to all its competitors, this feature is not really up to the mark but is seen as a news app. It can be taken as an added benefit. With the filters available in the option, one can find out big losers and gainers in a quick time period. A few features which we liked from the screener are the time period and session itself.
Through sessions, one can find top gainers and losers from the market, pre-hours and after-hours. And with the time period feature, one can search for large market moves and read about it all.
#8. Squawk Box
Audio news really works like wonders when trading in a game-changing market. The tool literally offers lightning-fast audio alerts, which is highly beneficial for short-term traders. Talking about their announcements, one can expect basic and advanced details of the market, be it large option moves, earning reports, acquisition reports, and much more.
---
Benzinga Pro Customer Support
The best part about Benzinga Pro is its support system itself. One can contact the team over an email option available on the website or through live chat support. We would highly recommend you to go for live chat features because probably you will get all your doubts cleared within 10 minutes (the website claims this). If you ask some general questions, they readily have several articles to help you with the same.
Some of the articles which we found useful were "How to trade With Benzinga Pro", and "What are the green and red arrows next to headlines".
The software even offers a demo to beginners so that they can understand the working and features easily.
---
Benzinga Pro Pricing Plans
Benzinga Pro offers three different pricing plans, all varying according to users' needs. Here's the detailed information about all the plans and the features included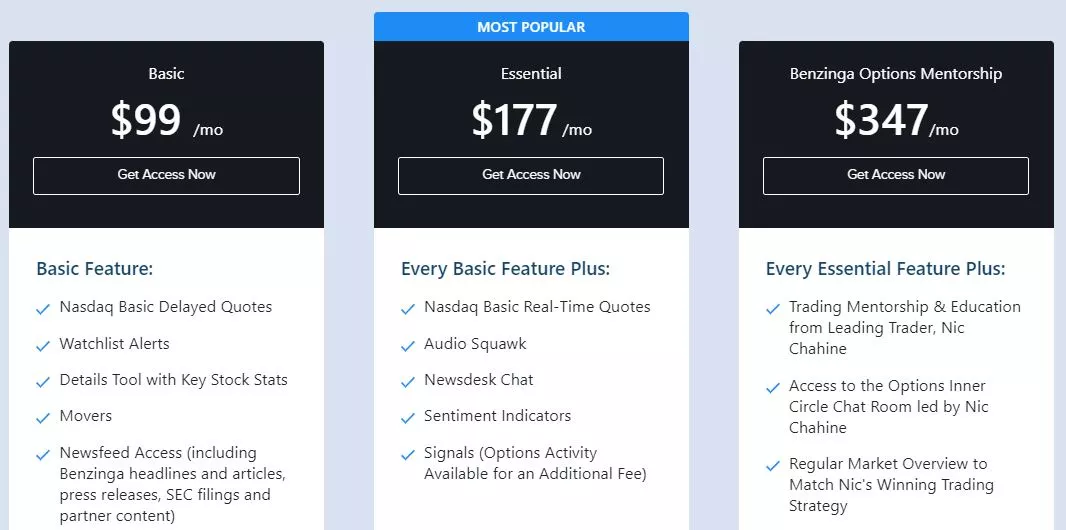 The Basic Plan – $99 per month / $79 per month, if paid annually (20%off)
With this plan, users will get access to
Watchlist alerts
Key stock stats
News Feed access
Calendar suite
Nasdaq basic delayed quotes
Movers
Essential Plan – $177 per month / $117 per month, if paid annually (34% off)
With this plan, users will get access to
Every feature included in the basic plan
Audio squawk
News deck chats
Sentiment indicators
Signals
Options activity available too, but one has to pay an additional amount for it.
Annual Options Mentorship – $347 per month / $281 per month, if paid annually (19% off)
With this plan, users will get access to
Every feature included in the basic and essential plan
Guidance from leading traders
Mentorship
Regular market overview followed by winning trading strategies
Access to options inner circle chat room
---
Is the Benzinga Pro Truly an Excellent Stock Screener App for Beginners?
The audio alerts by Benzinga Pro are the most helpful and game-changing feature. The alerts cover the most basic and advanced information related to earnings, acquisition, reports, and much more.
Hence we find the tool a complete solution to different problems a trader usually faces at the initial stages. With its incredible value-adding capabilities, users can actually earn a hefty amount of money within a few time periods. The very next amazing part of Benzinga Pro is its features itself, as one can use it to get specific results and export it all in a spreadsheet. So in all, from the best customer support team to providing the best features, we believe that Benzinga Pro is an excellent stock screener app one must go for!
---
Benzinga Pro Pros & Cons
Pros
Updated and fastest Real-time news feed
Squawk Box feature available
Mentorship program available to help users learn more about trading
Highly configurable trade & options alerts
Rating calendar available
Accessible on any device versions
Highly affordable price range as compared to its competitors
Detailed statistical information about key stocks is available
Cons
It doesn't offer 24-hour squawk coverage, while many of its competitors do offer the same.
Just covers equities
---
🌟 Benzinga Pro FAQ
🙄What is the Benzinga Pro tool?
Benzinga Pro is the fastest real-time, stock-related news feed. The tool offers complete information, audio news, and profitable trading ideas, all under a roof for a seamless user experience.
🤔Who should buy Benzinga Pro?
Benzinga Pro is not just for pro traders but for everyone looking forward to starting their trading journey.
🔎Do Benzinga Pro offer free trial period?
Yes, Benzinga Pro does offer a free trial period for 7 days. In these seven days, users can explore each feature of the tool and can discover why thousands of investors recommend Benzinga Pro.
🔥How to cancel Benzinga Pro subscription?
Users can cancel their Benzinga Pro Subscription plan within the first seven days after the purchase. They can either contact the team through their official email id [email protected] or through phone at the number mentioned on the website. For better transparency, users are asked specific reasons as to why they are canceling their subscriptions.
😎How to get Benzinga Pro for free?
Benzinga Pro offers a plethora of exciting and rewarding features to its users. Thus, there are no free plans available. However, one can try their offerings in the 7-day free trial period.
---
Conclusion: Benzinga Pro Review 2023 | Should you go for this stock market news platform?
We believe that the only reason behind the growth of the Benzinga Pro software is the collective efforts of their team. Traders get access to each latest information within a few minutes of release, and that's how it helps people to lead. The level of detail the team offers is impeccable, and the continuous feature updates grabbed our attention a lot.
Conclusively, the 7 days free trial period makes the software more reliable for beginners. At Least in this time period, they can explore more about the tool and learn its features in detail. Lastly, if all the features of Benzinga Pro excite you, then please don't think twice. Make the best use of the free trial, and of course, of our Exclusive Benzinga Pro Coupon Code too.
Happy Investing! Happy Trading!