An ad spy tool is a software that helps marketers and advertisers to monitor their competitors by analyzing the performance of their ads. One such tool that has gained popularity is Anstrex, and we are here with our unbiased and latest Anstrex review.
An ad spy tool can be used for many purposes such as detecting competitors' ads in order to create custom targeting or replacing them with your own ads. It can also detect different trends across different websites and help you come up with new tactics to increase conversions and engagement. The benefits of an ad spy tool are that it increases efficiency, puts the focus on the right content, reduces wasted time, decreases production costs, and most importantly, increases ROI.
There are a number of ad spy tools that vary in features, benefits, and price ranges. Are you wondering which tool to choose for spying on push notifications Ads & Native ads of your competitors? Here's a bigger & better solution to help you spy on your competitors currently dominating push/native advertising.
Anstrex is one amazing push ads spying tool that helps you analyze, strategize & execute your push advertising campaigns. With this tool, you can build high revenue-generating Ad campaigns by spying on advertisers dominating push notification ads without a magnifying glass.
Simply get insights into all the data generated by this software, manage all your campaigns at fingertips, check out the history & CPC bids and also access landing pages easily. Anstrex helps you unlock the hidden gems of push and native advertising by building winning advertising campaigns. All this is possible as you have the opportunity to spy on your competitors. You have to spend less but you will earn more, not just save money but also save countless hours spent on research, get abundant data that no other push spy tool offers and build stunning landing pages in minutes. So let's start with an in-depth Anstrex review.
Anstrex Review 2023: Push + Native Ads Spy at Fingertips
Anstrex offers Ad spying services to over 168,864 advertisers in around 92+ countries worldwide. It allows you to spy on over 38+ ad networks with over 10,401,875 ads and keeps adding every single day.
The software is regularly updated with the latest exhibitions. The tool is easy to use and has more than 10+ system languages and unlimited languages to spy from.
Anstrex Use Cases | Improve Your ROI with Anstrex
Anstrex is an amazing platform that helps you uncover new opportunities and boost sales by learning from other people's successes and failures. It provides information about new and existing inventory available for sale online.
Anstrex offers three specialized services, i.e., Anstrex Native, Anstrex Push and Anstrex Dropship.
Anstrex Native:
Build amazing landing pages at record speed with more data than any other spy tool in the market. Get a massive return on ad spent and save time on research and execution.
Anstrex Push:
Spy on your competition that is currently on top of push notification ads. Get data from a variety of sources with Entire Campaigns at Your Fingertips. Get easy access to cloaked pages and get increased visibility into history and CPC bids.
Anstrex Dropship:
With Anstrex Dropship, make money with your very own dropshipping store. Automate your operations with its easy-to-use Chrome extension. It gives you instant access to millions of products from thousands of sellers. Find trending and profitable new products to sell online and on social media.
Anstrex Pops:
Anstrex Pops is the new spy tool recently launched by Anstrex that helps advertisers, agencies, and marketers manage, optimize, and track their pop advertising campaigns. The tool shows you exactly what your competitors are doing with their ads so you can find out how to get more clicks, sales, and conversions.
The powerful analytics of Anstrex Pop enables you to see the clear visibility into which pop advertising campaigns are working best, what devices are generating the most sales and a complete understanding of where your campaigns are. You will also get access to all the hidden profitable campaigns running by your competitors. This leading tool gives you pop ads data from across 130+ mobile carriers. You can find out how your competitors' ads perform in different locations with different demographics.
Knowing what your competitors are marketing and doing is the key to staying ahead of them. The pop ads spy tool of Anstrex gives you detailed insights about your competitor's ads campaign from 32 pop ad networks with just one click. You can use this data offered by Anstrex to create your next profitable pop ad. This pop ads spy tool is available with more advanced features as compared to the other spy tools in the market.
Instead of using an emulator, the Anstrex pop spy tool uses real devices such as mobile and desktops to obtain more accurate data. It is the only way by which the user will get access to the precise pop ads. From around 850+ carriers globally, it uses real mobile carrier IP addresses to scrape pop ads. To avoid landing page cloakers, Anstrex instantly scrapes landing pages as soon the ad is seen.
Anstrex pop spy tool offers powerful filters and sorting options that one can easily use to get the most desired results. It offers various filters option that the user can use to filter ads such Ad-network, Country, Device, Category, Affiliate Network, Tracking Tools etc. The user can even sort the pop ads by dates, duration, popularity, etc. Anstrex uses boolean logic for more advanced search. The user can even store this data for futures use as well.
Landing Page Ripper & Deployer:
It uses the best ripping tool that helps you to get access to the landing pages that are accurately ripped. It offers a high converting, fully-featured HTML editor so you can customize landing pages with your branding, colors, text and more.
Detailed Campaign Analytics:
To get a clear picture of what works right now in your market Anstrex pop spy tool scrape thousands of publishers. Get detailed data to drive growth at a fraction of the cost. To cut marketing costs, expand your reach, and make more money, Anstrex also identifies an ad network that is associated with ads.
Verified 35% Anstrex Coupons & Promo Codes 2023




BEST VAULE
✔ Free Access to all pro features
✔ Easy Integration Available
✔ Ad Downloads available
👉Reasons to Choose Anstrex
Most of the advertisers spend huge in launching Ad campaigns without knowing which creatives can bring conversions or which ones will make more money. Anstrex lets advertisers spy on others already running successful ad campaigns so you could make the most out of it.
Landing pages play a crucial role in attracting customers to your website. If you build your landing page from scratch to the masterpiece by ripping and customizing it to look amazing, then you're closer to getting big traffic. Within minutes of customizing your landing page, you can deploy it on the server after ensuring that the landing page has passed all the tests.
"There's always a secret sauce to prepare a delicious recipe". Anstrex with its powerful filters helps you learn the secrets that you are unaware of. If you want to save time you need to spy on your competitors. With powerful filters you can identify the ads run by others where & when.
Want to know from where successful advertisers are getting massive clicks?
Now it's your turn to drive more traffic with full Alexa & SimilarWeb integrations that identify the area generating a tsunami of traffic for your competition.
You name it & Anstrex push will provide you deep data insights like no other spying tool will ever. Its geo partitioning algorithm covers all the locations to provide micro details for each specific country or any region you name it.
Want to find out the best affiliate campaigns to run just like other Marketers?
Take benefit from Anstrex revolutionary affiliate offer wall to know which ads are most popular among webmasters. Check out the ads that they are running through landing pages so even you could run the same ads to gain more profit.
Speed up your research to grow yourself in the competitive market with advanced search tools. Save your time spend on months of research & get the finest results on fingertips. You can always keep an eye on what's going on by setting up alerts. By setting up alerts you will be intimidated about new ads launched immediately so you never miss out on a chance on boosting your earnings by running trending ads.
Anstrex Features at a Glance | Anstrex Reviews
Access Multiple Ad Networks: You can find more native advertising networks with Anstrex than any other spy tool. They include some of the biggest international companies as well as niche-specific ad networks.
International Reach: Antrex provides a wide range of data from all major countries across the globe. They use high-quality residential proxies to access the most reliable information.
Access More Data: Get exclusive access to tons of ads from numerous publishers at your disposal that too in an easy to read and understand format.
Extensive Filters & Multiple Sorting Options: Filter ads by type with a variety of filters, including ad network, category, device, affiliate network & more. Sort the ads based on their popularity, daily updates and more.
Keyword Search: Target with precision using keyword search along with their filters. Anstrex even allows you to search ads in different languages using keywords in English.
Boolean Searches: Get access to state of the the art searching capabilities exclusively for advanced users. Boolean operators can help you combine different types of search criteria.
Rip and Download: Download any landing page by using its built-in downloader. Download more than one page at a time, so you don't have to interrupt your workflow!
Fast Editing: You can customize your landing pages using its extremely powerful HTML editor. Editing text or swapping images, links, etc.
Rapid Server Deployment: You don't need to download it on your PC anymore. Directly upload your lander onto your server by deploying it on AWS S3 bucket or via FTP.
See What is Trending: Anstrex monitors tens of thousands of publishers to give you a complete picture of which leads are working for other campaigns so you can take inspiration and tweak yours too.
Complete Insights: Target your campaign more effectively with detailed insights on multiple aspects like geo targets, traffic sources, devices and more.
Access Relevant Ads & Landing Pages: Get inspired by finding landing pages and relevant ads for your campaign.
Better Offers: You want to get into the game with the pros, right? In order to get into the game with them, you need to know which affiliate offers they're choosing for their campaign. You'll get an idea of which campaigns they're running and which landing pages they're using. Anstrex lets you do all that and more
Get Picture-Perfect Images: It also has an image feature. With this tool, you'll be able to find beautiful photos that actually turn visitors into buyers. You will get everything you need in order for you to achieve the highest return on investment possible with Anstrex.
Marketing Insights: Experimenting with marketing campaigns definitely requires a large budget. So, what if you find out about the things that really work before wasting any money on advertising? If you want to save money on ads, then Anastrex can be a great tool for you. You'll be able to gather all the required info by spying on different campaigns and make better decisions regarding what kind of ads to invest money on.
Drive More Traffic to Your Web Page: With all the information at hand. You can effectively use this information to generate traffic for your blog. After you've acquired some traffic, the sales will begin to roll in, and you'll see the highest return for your investment.
Learn Your Competitions' Secrets: To be able to compete against your competition, you need to understand what they're doing so that you can beat them at their own game. With this in mind, the tool helps you figure out what your competitors are doing.
Increase Your Time to Market: Using Anstrex you'll be able to speed up the research process. In just a couple of minutes, the software will give you exactly what you want using its powerful search functions. As a result, you don't need to spend too much effort or time to obtain valuable native ad data.
Stellar Customer Support: Anstrex has a great customer support team, with 24/7 email responses and a chatbot with a customer support helpline you can rest assured that you will get all the help you need with Anstrex. It also has a huge educational portal and blogs to make sure you have a good experience with the platform.
For who is Anstrex designed for?
Anstrex is the key to unlock the secrets of the advertiser's world. No matter how big your challenge is, you will always find it helpful to grow your business by uncovering the deeper insights of world-class advertisers.
Brand advertisers: Even brands like Dell embrace native advertising. If you want to learn how they do it then there's no better place than Anstrex.
Content Creators: Want new ideas for generating fabulous content? You will get it right here for building perfect ad arbitrage.
Direct Sales Marketers: Learn new techniques by top B2C & B2B sales marketers to boost your revenue.
Affiliate Marketers: Want to learn the secrets of affiliates around the world using native advertising? It is your chance to boost sales by driving a tsunami of traffic to your website. Earn like a pro & live like a pro!
How does Anstrex Help?
Anstrex helps you solve some major problems that come with ad spying such as:
Getting information on competitors in real-time
One of the major issues marketers and advertisers face is getting instant and real-time information regarding competitors. Anstrex native Ads Spy tools solve this issue by providing real-time insights on competition that are relevant to you and help you gain an edge over them.
Getting inaccurate traffic data
AdSpy solves one of the biggest issues when trying to get accurate statistics from online traffic. Unlike other types of software which cannot provide accurate statistics for specific regions or languages, Anstrex can analyze the market deeply and give an accurate picture of where to invest.
Comparing Anstrex with Other Ads Spying Tools
Either compare Anstrex vs adplexity or with other ads spying tools you will find it to be compelling with more features offered at less price.
Let us compare it with Spypush, Advault & Adplexity. After comparing you will identify the features offered at Anstrex is far cost-effective in the market.
Push ads & Native ads are offered by Anstrex whereas this service is not available in Spypush.
Anstrex supports the highest number of ad networks up to 38 whereas ad network supported by Spypush is 7, and Advault is 13.
Total countries supported by Anstrex are 90+ whereas it is only 19 in the case of Advault & 27 in the case of Adplexity.
This one's better than any other. We are talking about total ads which are 10 million+ at Anstrex but in the case of Spypush is 500K+, Advault is 3 million+ and Adplexity is 700k+.
Filter by affiliate network feature which helps you in filtering ads by ad network is available in Anstrex but not supported by Spypush & Advault.
The very critical aspect of any website is its landing page that decides whether your website will attract more visitors & convert them into subscribers or lose them.
Anstrex offers landing page Ripper that is not available in any of the three spying tools.
Some more awesome features like Advance Boolean searching, competitor alerts, Push CPC Bids, & Alerts on Competitors are only available at Anstrex.
So now you know why choosing Anstrex is always better than spending a huge amount on other spying tools that offer less by paying more. When we say you have to pay less for more at Anstrex, we mean it!
Anstrex Affiliate Program
Anstrex offers a lucrative affiliate program that gives you a personal link you can share with your audiences the way you want. You will start receiving commissions monthly as soon as a visitor pays for any plan. It has a dynamic payout plan wherein you get a 50% commission for a first month subscription. Post that, you get a 25% lifetime recurring commission.
Anstrex pays its affiliates monthly if your outstanding balance meets its minimum required threshold. Payments happen through wire transfers or PayPal.
It also offers its affiliates a wide range of benefits like tracking capabilities that let you track all your refunds, cancellations and leads directly from your personal affiliate dashboard, instant email alerts, cookies that last for 365 days and customizable promotional materials along with separate landing pages for top affiliates.
The Anstrex Knowledge Base
Anstrex offers an exhaustive host of resources and study materials for each use case. It has an active community where users answer questions related to their experience using the tool. They can also learn new tips and tricks to make their job easier.
They also have a knowledge base section where they discuss various topics such as how to set up & manage your account, how to add domains, how to change settings, etc.
With a set of videos, articles and FAQ's it very simple for users to learn more about native, push and dropship ads.
Anstrex Dashboard Overview | How does Anstrex Works?
When you first open up your account, you'll see a dashboard with filter options and ad listing areas, both of which will be mentioned and explained in detail as we go through this Anstrex review. When you click on the ad, you will see numerous things which you can explore and see Anstrex. Right in the topmost column, you can see the options like synopsis, creatives, landing pages, statistics etc.
Synopsis, as the name suggests, gives you a detailed overview of the Ad. For example, you will get details about the Alexa Rank in terms of which countries it is available, URL links and many other features. Further, you can also get a preview of the landing page screenshot as you click on the image.
Statistics will give you an idea about how frequently the viewers view the particular ad and also how long it has been since it was last seen. You will see that there are types of graphs. One will show the frequency of the ad seen by viewers over a certain period which is depicted in blue, while the red one would show the rank of the ad you have got over the defined period.
If you are looking for a particular advertiser and want to see what they've been posting for the past few weeks or months, the creative tabs make navigating to their content so much easier. You get detailed insight about how and what worked well and what did not. This can be especially useful for starting or figuring out what niche they want to get into. Not just this, you also see what did not work out for them and the mistakes they would have made. Under the Creatives Tab, you can also view the Cost-Per-Click bids for individual creatives. It's important to note that CPC bids are only available for specific creatives, such as native ads.
The CPC bidding shown in the graph chart is understandable and clear where you can see the current bids and the history of 15 days. To say the least, you eventually get to see how the campaign goes and what twists and turns are involved, plus how you can improve and make it successful.
Landing Page Tabs can quickly give you an insight into how your rivals are marketing their products and services to the masses. You can take a few ideas from these landing pages and download them or even deploy them directly to your server by using the provided service.
The publisher's Tab is a crucial feature that offers detailed information about the publishers and their ads. It shows the active and running ads or displays previously run ads. The Tab also provides a graphical representation of the publisher's performance in the form of charts. You get to see separate insights in a listed as well as in a tabular form. The bubble chart would show aspects like the Alexa Rank, traffic brought in and duration of days. The table shows info like data-first seen, data-last seen, duration, traffic percentage, Alexa Ranks and publishers' URLs.
Ad networks are a fundamental driving force for any campaign that you wish to promote. If you have a strong ad network, it is possible to have a great promotion campaign. The network analysis option provides an understanding of the demographics used by other advertisers when they promote their campaigns. With this option, a company can have a pie chart representation of the networks in use, but in table format. The pie chart represents the type of advertising network used and the percentage of traffic it typically brings in. So, technically, you are getting everything served on a plate.
Native Ad networks supported by Anstrex.
AdNow
dup tech
Dianomi
Google
Ligatus
Logly
NewsMax
Outbrain
Popin
PowerInbox
Speakol
Taboola
Yahoo
Zergnet
Adblade
Content. ad
EngageYa
Jubna
LockerDome
Mgid
Outbrain
Plista
PostQuare
Revcontent
Spoutable
Twiago
Yengo
Spy On In-Page Push Notification Ads
Anstrex can really assist in spying on in-page notification ads and act as a push ad spy tool. It currently monitors 5,000+ publisher websites and tens of thousands of advertising from numerous ad networks monthly. The type of push notifications filter available to users offer all sorts of options, including the standard push notification and the in-app one. This is helpful for spying on publication data along with a lot of complex search filters.
How to Use Anstrex?
Anstrex doesn't need any effort from you at all. It's fairly simple to use and one major factor why people like it so much. You can select any language from among the available options if you don't speak English fluently.
We'll now take a closer look at how Anstex works.
The first thing you need to do when working on Anstrex is to find a winning campaign.
In step two, when you log in to your account, you'll see an overview page with several different views and filter options available.
Step three: The very first thing that you'll see when you open up the app would be the quick filters. There are 9 different ways to filter results including Ad Network, Country/Geography, Device Type, Language, Category, Affiliate Networks, Trackers, Technology, Sort By.
In step four you can select any filter by just clicking on the down arrow next to each one and selecting the appropriate option. For example, if you'd like to choose Taboola for your ads, go ahead and click on the down arrow next to "Ad Network" and then select "Taboola." You can also remove any filters from the list by selecting them and then pressing the cross beside the filter option.
You may need to use the slider bar if none of the quick filters seems appropriate for your needs. You can filter out certain types of adverts depending on their duration (days), strength, gravity, and Alexa ranking.
You can also use its search feature to find results for specific keywords. You can use either basic or advanced searches as described above.
Finally, after finding the right ad or webpage for you, you can either save it online or download it offline.
Using Anstrex for Dropshipping | Secrets of Successful Drop-Shippers Revealed
It is also easy to use Anstrex as a dropship spy tool with few points to be considered while using it. It is recommended to use Google Chrome as the browser while you use Anstrex. Though it does support other browsers as well, while doing this Anstrex Review, we did find that Goggle Chrome is tried and tested and offers something extra.
After you have chosen Google Chrome as your browser, it's time to download the Anstrex Chrome Extension from the Google web page. You should also ensure to maintain the functionality of the system by which you can work on order management and also the addition of new stores and inventory management by using the Anstrex Chrome Extension.
Adding Your Store on Anstrex
Anstrex is Shopify's trusted partner when it comes to providing the tools and resources that your store needs. Once you have connected Anstrex to your Shopify account, you will be able to start browsing through the catalog and finding products that are a perfect fit for your store. You can also connect with various other e-commerce platforms as well. Ensure that you make a proper selection of products carefully and mindfully. Also, ensure that you find the most profitable products.
Anstrex allows you to connect a variety of e-commerce platform that allows you to choose from multiple suppliers, including the famous AliExpress, with access to categories and products which are hidden from the suppliers. You can use the filter option from suppliers, country, categories, ship from and even shipping method. You can find them in the drop-down menu. Plus, you can use sliders to choose a filter with duration, item prices, the sorting method to sort by orders in the past 30 days, Percentage growth etc.
One method that I really like the most for searching for profitable products is by searching from the suppliers' database. You can check their sales history through the sales history tab and see the variants descriptions, price, product quantity and even discounted prices. Not just that, you also get a good insight into the geographical distribution of the buyers who purchased the products from the supplier in a well-defined pie chart. It also has a defining feature that explains the shipping methods provided by the supplier.
Adding Product to Your Store
After choosing the profitable products, it is time to add them to your store. For this, the Anstrex Chrome Extension can help a lot. After selecting which product you want to add, click the "view item" button and the product from the original supplier will appear in a new tab. You can see multiple options which you can make use of like variants, selling price, images, compare by price and many more.
Anstrex Pricing Plans | Anstrex Discount Coupon 2023
The pricing of Anstrex starts at just $139.99/month/user for Native + Push advertising. Let us take a look at the detailed pricing with features incorporated in each plan.
Which ads do you want to spy your advertisers for? Push, Native or both?
You can spy on both types of ads run by your competitors in any region with filter features to filter ads by country, ad network, language or affiliate network. You have to pay depending upon the type of advertising you choose. There are three plans to choose from.
Native Only: $69.99/month/user
27 Native Ad Networks
Native Ads from 64 Countries
Most Advanced Searching & Filtering
Landing Page Ripper
Unlimited Alerts on Competitors
Online Support
Push + Native: $139.99/month
You have the best deal to analyze both kinds of advertisements at the best price.
Push Ads from 92 Countries
Real-Time Push CPC Bids & History
27 Native Ad Networks
Native Ads from 64 Countries
Most Advanced Searching & Filtering
Landing Page Ripper
Unlimited Alerts on Competitors
CPC Bids on Push Campaigns
2-day No Obligation Trial Period
Online Chat Support
Native + Push + Pops: $219.99/month/user
27+ Native Ad Networks
38+ Push Ad Networks
32+ Pop Ad Networks
Landing Page Ripper
Data from 92 countries
850+ Mobile Carrier
Competitors Alerts
CPC Bids for Limited Push Ads
Data From Mobile Devices
Online Chat Support
You can test all the features 100% risk-free for 2 days. If you feel you are not satisfied with the features & performance you can let the support team know it & you will get a complete refund.
Anstrex Customer Support
Customer support is one of the most crucial considerations that we make when purchasing any tool or software. With Anstrex, you will get first-rate and friendly customer support. Also, the support team is a team of professionals. If you wish to contact them any time, you can reach them at any time by email or by live chat. Their customer team is available 24/7, all days of the week. The best aspect of Anstrex is that it has a wide variety of advertising networks with more than 27 and 14,676,732 ads, 105 924 advertisers and 30 countries that are supported by the system. It's the perfect data suitable for any Native Ads campaign.
Anstrex Dropship: Find Hottest Drop-Shipping Products [Get it for FREE!!]
Anstrex recently launched its another flagship product "Anstrex Dropship". With the huge success of the Anstrex competitive intelligence tool for marketers, they have stepped in the dropshipping industry by bringing one of the most powerful dropshipping products spy tools that gives you winning dropshipping products with highest profitability and trends. The tool outranks major dropshipping and Ecom spy tools in the market. Indeed the premium tool is not for free and it proceeds at $69 per month.
However, for now, Anstrex Dropship is free as its in beta with unlimited usage.
So if you are int Dropshipping, ecommerce, FBA business, Start using this Anstrex Dropship to find 🔥hottest dropshipping products from over 6+ million products from 10k+ retailers and suppliers.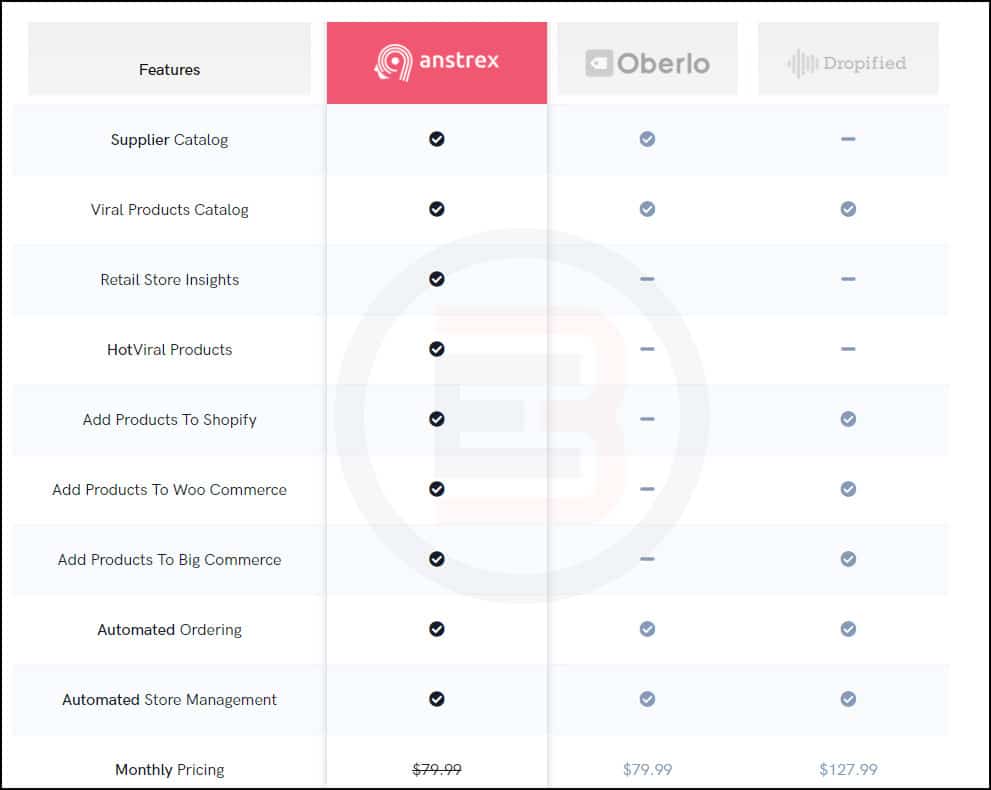 Anstrex Dropship Features at a glance
Anstrex Dropship is one of the best commerce comparative intelligence tools that not only help you find great dropshipping products across the globe but also enable complete automation by adding it to your store, Shopify, WooCommerce, and placing an order with the supplier. Get it free now.
Top 3 Alternatives of Anstrex
Adplexity also helps you to find ads that promote affiliate offers. Along with this, it also allows the download of landing pages. It has an easy-to-use interface which helps in finding successful campaigns quickly. It has comprehensive coverage and dozens of carriers and offers multiple platforms. It does not include the Dropship Feature as offered by Anstrex and is also higher in pricing compared to it. Its monthly pricing starts from $249, which is thrice that of Anstrex. It also offers just 8 total ad networks in just 27 countries.
The range of products is also limited to 700k+. Along with this, it also does not offer landing page tools, competitor alerts, and saving product options. Even though it offers native and push features, compared to Anstrex, it does not offer a free subscription to Dropship.
SpyPush is also an excellent spying tool but only offers 7 Ads and 500k+ ads. In comparison, Anstrex provides you with 38 ad networks and 3M+ ads. But with SpyPush, you only get ads from 10 networks. SpyPush does offer you keyword and URL search filters, but Anstrex opens up multiple other filtering options, which prove to be more efficient than its competitors.
It also shows you the CPC history, which is really helpful in knowing your competitor how much he pays per click. Knowing this lets you outbid them and have the edge over them in this marketing game. Furthermore, when comparing landing pages, both the software allow downloading landing pages, but it is Anstrex that allows you online editing and direct deployment to the server. Though the pricing of SpyPush starts from $49, you get fewer features when pricing is minimal.
Advault supports 13 Ad Networks from 19 countries, but Anstrex Native offers 27 with 80 countries and 10M+ ads. Advault also does not have features like Data Filters and keyword searches. Also, it does not have features like landing page tools or affiliate network detection. The common feature between the two is the filter and favorite bookmarking features. When you only compare these features, Advault and Anstrex both stand equal.
Advault offers a few extra features like a Landing page and funnel features. By using this feature, you can spy on all the aspects of your competitor about his marketing strategy. Another unique feature that Advault offers is the Leading integration. This helps find suitable advertisers that will match your needs and who would be more than happy to partner with you.
But when you compare the pricing of both, Advault has a cost of $249 per month, which is almost triple that of Anstrex. But as said earlier, with high cost comes exclusive features as well.
The Benefits of Push Ad Spy tools for Marketers
Push Advertising has acquired the largest market stake, and in no time, it will dominate other ad verticals too. Push Ad spy tools enable you to see which successful Push Ads are running currently and how much traffic it has received. It also lets you analyze which creative converts the most.
So instead of wasting your time and money on developing and creating your push notification campaigns from scratch, it is better to monitor your competitors and see what sets of ads, images, headers, catchy titles they are using.
No matter whichever is your Niche is. These push notification ad networks house all ads from the world in all languages. So you can easily see which ads are running for the longest time and also which affiliate offers they are promoting. Smart marketers always analyze their competitor ads before initiating their campaigns. It is the only reason they make huge profits and ROI on their budget. So start spying now on push advertising and choose any of the best push notification ad networks which offer cheap price traffic.
👉👉Top Push Notification Ad Networks to buy Traffic (Save $$$)
How to Choose the Best Ad Spy Tool for You?
Ad spy tools are primarily used by digital agencies and advertisers to gather information about their competitors' campaigns. Ad spy tools help them see what their competitors are doing better than them and make necessary changes accordingly.
There are various types of ad spy tools that have come under the spotlight in recent times. And, their effectiveness depends on how they're used by the marketers. The best way to choose an ad spy tool is to know how it is going to benefit you and make use of its features accordingly.
There are many different types of ad spy tools that you can choose from based on your needs and budget. Some of them offer detailed analytics, while others focus on specific aspects like brand safety or monitoring keywords. One tool that stands out is Ad Hawk, which provides access to billions of searches in real-time, allowing you to analyze any search term or campaign at any given time in seconds.
FAQ related to Anstrex Review
What is Anstrex?
It is the most leading ads spying tool that lets you get in-depth information about the ads, which helps you build a high revenue-generating ad campaign. The advanced filter capability of Anstrex gives you complete freedom to see all the live ads running in different countries.
How accurate is Anstrex data?
You can completely trust Anstrex accuracy as they collect data in real-time. To give you 100% accurate geo-specific data, Anstrex uses high-quality proxies. Anstrex also uses a top-notch database management system to provide its customers with compelling searching capabilities.
Does Anstrex offer a refund policy?
Anstrex offers a refund within 2 days if you are not happy with all its features.
Is there any Anstrex discount coupon?
If you want the active Anstrex coupon code that allows you to save bucks, use the above-mentioned Anstrex discount coupon and get upto 30% off.
How to create Ad queries in Anstrex?
In order to add new alerts, click on the blue-colored button 'Add New' at the top left-hand side of the screen. When clicked, a new dialog box appears. You will then simply need to add in what you need.
Can I change my Anstrex subscription?
You can always switch plans if you want. You don't need to sign up for a lifetime plan when using Anstrex. You can always change, downgrade, or upgrade your subscription plans anytime.
Does it spy on Facebook ads?
No, it does not spy on ads run on Facebook.
Does Anstrex offer free trial?
It offers a 2-day money-back guarantee but unfortunately, there is no trial version of Anstrex.
Does Anstrex have an affiliate program?
They do have an affiliate program which you can sign up on their affiliate registration page. Their affiliate program is also quite generous, which offers you a 50% commission for new sign up for the first month and a 25% recurring lifetime commission.
How is the accuracy of data provided by Anstrex?
Their data is Exceptionally accurate because they collect data in real-time by using high-quality proxies to obtain the most precise geo-specific information. Along with this, it also gives you compelling searching capabilities because they use a top-notch database management system.
Can Anstrex help you with landing pages?
It does provide you with unmatched landing page support. You can use various landing page editors to create landing pages. Using FTP, you can upload or deploy the landing page to AWS's server. You are not required to save any landing pages on your computer.
Can you change the Anstrex subscription anytime?
Well, you can easily change the Anstrex plan as there is no lifetime subscription contract with Anstrex. At the same time, you can change, downgrade or even upgrade subscriptions anytime.
What is the difference between Ad-Gravity and Ad-Strength?
Ad-Gravity measures the recent performance of the Ad, whereas Ad-strength is used to monitor the performance of an ad for its entire lifetime. Ad gravity fluctuates depending on the performance, whereas ad- strength will increase over time.
Which browser is recommended for Anstrex?
Anstrex recommends using Google Chrome. The makers of this tool have tested it on this browser. Though other browsers such as Opera and Safari, which are based on WebKit architecture, would also work, Chrome is the best browser.
How many search filters can you apply at once?
There are two types of search filters, basic and advanced. Using basic search filters, you have options like translated texts, creative text, etc. With advanced filters, you can use multiple features at once. Also, keep a note that you can only apply one filter from each group at once.
How to use Sliders?
The Sliders have a specific value. Using them, you can sort filters like ad-gravity, ad-strength and duration. You can also slide to the specific range and select your filters' maximum and minimum values. The left side of the slider is for the minimum value, and the right side is for the maximum value.
What does Ad Rank mean?
Ad rank tells you how well the ad is perming, and in Anstrex, it is ranged from 1 to 5. For example, if your ad ranking is 1, it suggests that the ad can work exceptionally well. But if the score is 5, it means that it may not be doing so well.
Is the dropshipping feature really free?
Yes! The free dropshipping feature is available to use. You have the option of purchasing the native app, pushing or both, and you'll also get this feature for free. All three apps combined make Anstrex an efficient tool.
Conclusion: Anstrex Push Spy Tool Review 2023 | Should you really go for this tool?
So that was our comprehensive Anstrex review. While reviewing it, we found that this tool has helped many to build their campaigns more efficiently. The idea behind this is that you can learn more about your competition while getting tips on how to improve your own website.
This is an amazing opportunity to check whether your competitor's ads are converting or not. It doesn't matter how much you spend on advertising but if your ad isn't performing well then you need to figure out why. And, that is exactly what Anstrex does. It lets you easily track the performance of your ads based on several factors such as keywords, title, image, and location. So, you can compare the results between your ads and those of your competitors.
If you are looking for a simple and convenient tool that you can use to spy on your competitors then Anstrex could be a good choice.
To sum up, we would say Anstrex is an effective and easy way to spy on your competitors. If you want to test risk-free spying on your competitor's ad campaigns either push notifications or native ads then Anstrex is the destination. Your first eye contact with your audience is when they visit your landing page. Your landing page is where you convert your visitors into subscribers. This happens with a very important component CTA.
Without a good CTA your ads will go unnoticed and you will lose your visitors which you never want for your business. Appealing images & headlines are powerful elements to awe your visitors but a perfect call to action is what all you need to make your audience take an action.
Recommend Push Ad Networks to buy Traffic: Megapu.sh, ProPush.Me, Evadav.
Anstrex helps you build a landing page by ripping & customizing it as you want so don't miss on your customers. No need to purchase additional landing page builders as you will get it right here. And we hope that our in-depth Anstrex review 2023 helps you.
Get the most out of this tool by spying on your opponents and get your target audience right where you want.

Are your competitors using advanced marketing tactics to compete against you? Anstrex helps you find out exactly where they're hiding their secrets. With Anstrex, you can uncover the secrets of your competitors and start winning more customers. Anstrex is, without a doubt, the best native advertisement spying tool. If you're still not sure whether you should go for it or not, there is a 2-day trial you may take advantage of. Get started now!!🚀🚀
Also read:
Affiliate Disclosure: This post may contain some affiliate links, which means we may receive a commission if you purchase something that we recommend at no additional cost for you (none whatsoever!)