Alura
Etsyshop.ai

Everbee
Did you know Etsy has over 81 million global buyers? With such a vast customer base, standing out is key. That's where Etsy SEO tools step in.
This shows the importance of having a good SEO tool to succeed in Etsy selling. Here, we are going to disclose the list of leading Etsy SEO tools that can help you to reach the top.
They uncover keywords, decode buyer intent, and optimize listings for a broader audience.
Without any more delay, let's begin!
What is an Etsy SEO Tool?
An Etsy SEO tool is built specifically to help Etsy sellers optimize their product listings for search engines, primarily Etsy's own search engine and Google.
These tools aim to increase the visibility of a seller's shop and item listings in search engine results to drive more traffic and potential sales to their shop.
Etsy SEO tools can also analyze competitor listings and SEO strategies to gain insights into what works and what doesn't.
Additionally, these tools offer features like listing audits, analytics tools, and keyword suggestion generators, all of which aid in optimizing product listings and improving search rankings on Etsy.
With the help of Etsy SEO tools, sellers can effectively navigate the platform's search algorithm and increase their visibility among a large pool of active buyers.
10+ Best Etsy SEO Tools for Better Reach 2023
EverBee is a powerful and innovative Etsy SEO tool that optimizes product listings and helps Etsy Sellers grow their businesses.
It offers a suite of features that leverage data analytics to provide valuable insights into product demand, revenue generation, and market trends on Etsy.
EverBee's primary focus is to assist Etsy sellers in identifying high-demand products and understanding how other listings are performing, thereby enabling them to create and sell products that people are actually buying.
EverBee provides a wealth of data and insights that can guide new sellers in deciding what to sell, increasing the chances of early sales and business growth.
Key Features of EverBee
EverBee Pricing
EverBee offers three pricing plans: the Hobby Plan at $0 per month, the Pro Plan at $7.99 per month, and the Growth Plan at $29.99 per month.
---
Alura is a leading Etsy SEO tool that offers a unified solution that covers every aspect of the Etsy business, from research to marketing, and helps sellers optimize their shop and maximize sales.
Noteworthily, Alura is trusted by over 121,119 Etsy sellers and provides easy-to-use tools and features for starting, running, and growing an Etsy shop.
Alura's primary focus is on keyword and product research, shop operations and finances, and marketing and automation.
The platform also offers tools for managing day-to-day business operations on Etsy, including listing recommendations, follow-up reminders, and financial reports.
Additionally, Alura provides an integrated email marketing solution and automated social media posts to drive sales to your Etsy shop.
Alura Key Features
Alura Pricing
Alura offers three pricing plans: Free ($0/month), Starter ($19.99/month), and Professional ($29.99/month).
---
Etsyshop is another SEO tool for Etsy Sellers, it comes packed with a variety of functionalities, including keyword research, shop analysis, and even the calculation of Etsy fees.
Etsyshop enables sellers to strategically discover and include valuable keywords in their product titles, descriptions, and tags, increasing the visibility of their listings in search results.
It offers an analysis of successful Etsy shops, providing insights into market opportunities and trends for sellers to launch more profitable Etsy stores.
Etsyshop is also a popular choice for Amazon/Shopify sellers, Meta/TikTok Ads, and those involved in Etsy Dropshipping, providing them with a full range of Etsy business features.
Key Features of Etsyshop
Etsyshop Pricing
Etsyshop offers three pricing tiers: The Starter plan costs $7 per month, the Advanced plan is priced at $34 per month, and the Unlimited plan is available for $69 per month.
---
EtsyHunt is the ultimate Etsy SEO tool that enhances the performance of Etsy sellers. It provides a smarter way to sell on Etsy by offering a wide range of features to improve your Etsy shop's ranking and visibility.
EtsyHunt boasts the world's largest database of Etsy products, with over 48 million product listings, 560 million Etsy tags, and 120,000 Etsy shops.
This vast database allows users to conduct in-depth Etsy market research, discover top-selling items, and identify popular searches and tags on Etsy, all from a single platform.
Etsy sellers offer a complete solution to optimize your Etsy SEO, Logo, Listing, Photos, Shipping, Pricing, and Fees.
It is designed to understand what is selling on Etsy, discover winning products, explore top searches, and find the exact keywords/tags for your Etsy listings.
EtsyHuntKey Features
EtsyHunt Pricing
EtsyHunt offers four pricing plans: Free ($0 per month), Basic ($3.99 per month), Pro ($19.99 per month), and Team ($59.99 per month).
---
Sale Samurai is an all-in-one tool for massive Etsy SEO growth that is built to fuel Etsy businesses by providing valuable insights and analytics.
It offers powerful tools to uncover keywords that shoppers are using to make their purchases, brainstorm the next product idea, and much more.
Sale Samurai provides real search volume data behind the keywords that lead to sales, average shipping days, price distribution, and long-tail keyword ideas.
Sale Samurai also improves your listings' success with sales data and letter grades. Moreover, It helps Etsy Sellers discover long tail keywords that shoppers are searching for on Etsy, search volume, and critical information such as price, shipping days, and views per product.
Key Features of Sale Samurai
Sale Samurai Pricing
Sale Samurai offers a monthly plan at $9.99 and a yearly plan at $99.99.
---
eRank, a comprehensive Etsy SEO tool that takes your Etsy Shop to the next level and drives more traffic.
It provides a suite of features that allow sellers to conduct keyword research, track competitors, and stay updated with the latest trends on platforms like Etsy and Amazon.
eRank empowers users with valuable insights into the popularity of various designs and products, helping sellers plan profitable products that are in high demand.
eRank not only assists sellers in optimizing their tags and titles but also keeps an eye on their competitors by tracking their daily sales, listings, and the keywords they use
Further, It offers a blog with trend reports, SEO tips, and how-to guides, as well as a Facebook group with live Q&As and a community of over 13,000 members.
eRank Key Features
eRank Pricing
eRank offers four plans: Free ($0.00/month), Basic ($5.99/month), Pro ($9.99/month), and Expert ($29.99/month).
---
Marmalead is a popular SEO tool that is specifically designed for Etsy sellers to enhance their online presence and increase sales with real shopper keywords.
By utilizing machine learning, Marmalead eliminates the guesswork in optimizing visibility on Etsy by offering authentic shopper keywords.
Over 260,503 Etsy shops trust Marmalead, and a 2021 study found that 50% of its customers earn seven times more annual revenue than the average Etsy shop.
Marmalead Key Features
Marmalead Pricing
Marmalead's Entrepreneur plan is priced at $15.83 per month (Billed Annually).
---
Crest is an exceptional Etsy SEO that enables Etsy Sellers to conduct keyword research, optimize listings for visibility, and analyze shop sales data.
Crest's unique selling point is its focus on location-based customer analytics, providing sellers with deep insights into where their customers are buying from.
The platform is designed to be simple yet powerful, providing quick and easy insights into your shop.
It allows sellers to filter listings by revenue and popularity, discover markets via order geolocation, and track performance over time.
Notably, Crest's integrated SEO engine provides real-time feedback on how changes to listing titles, tags, and descriptions affect your SEO rating.
Crest also offers a unique feature that allows sellers to generate and share video content from their listings.
Key Features of Crest
Crest Pricing
Crest is priced at $12.99 per month.
---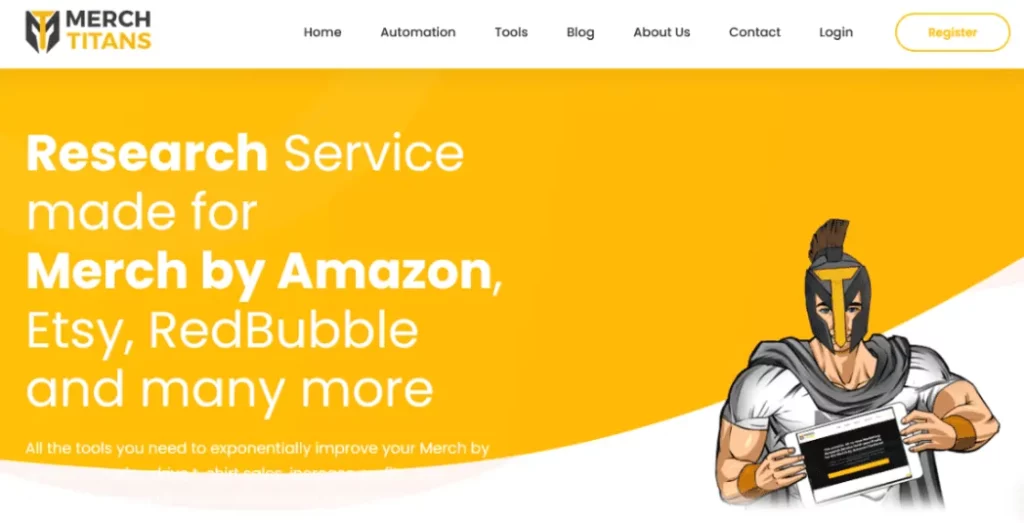 Merch Titans is a comprehensive marketing and product research service that enhances the process of selling on Merch by Amazon, Etsy, RedBubble, and other similar platforms.
With its powerful research service, it provides users with the necessary tools to improve their online merchandising business, drive sales, increase profits, and efficiently streamline their niche and product research process.
Merch Titans offers a range of features including product and brand search, keyword research, suggestions and autocomplete, and a unique feature known as Titan Vault.
The platform also provides trademark alerts to keep your account safe and within Amazon's guidelines.
Key Features of Merch Titans
Merch Titans Pricing
Merch Titans offers a Starter Researcher Plan at $9.99 per month and an Advanced Researcher Plan at $29.99 per month.
---
Koalanda empowers Etsy sellers with advanced SEO tools, keyword research capabilities, product research, market research, and competitor analysis.
This platform is built on the principle of data-driven decision-making, providing Etsy sellers with the same powerful tools and data that large e-commerce companies use to drive their success.
It provides insights into real search volume data, which helps sellers enhance their listings and expand their reach to a broader audience.
Koalanda also offers a unique competitor analysis tool, allowing sellers to see what their competitors are doing right and get inspired by them.
Key Features of Koalanda
Koalanda Pricing
Koalanda offers a free plan with limited features and searches, and paid plans starting from $11.99/month for a monthly subscription and $5.99/month for a yearly subscription.
---
Roketfy is a data-driven platform that provides smart tools and services to help Etsy sellers boost their sales.
It acts as a virtual listing assistant and offers a suite of features that simplify the process of optimizing Etsy listings, conducting product research, analyzing competitors, and tracking shop performance.
The platform also offers a unique way to discover profitable products to sell on Etsy. It uses smart filters to find popular products that are not highly competitive, giving you unique inspiration that matches your specific interests.
Impressively, Roketfy's AI Writer and AI Reviews feature enhances product descriptions and analyzes customer feedback, assisting sellers in optimizing their sales potential.
Key Features of Roketfy
Roketfy Pricing
Roketfy offers three pricing plans: the "Get Started Free" plan at $5.75 per month, the "Premium" plan at $8 per month, and the "Professional" plan at $36 per month.
---
Which Etsy SEO tools offer a Free Plan or Free Trial?
| Etsy SEO Tools | Plan |
| --- | --- |
| 1. EverBee | Provide Hobby plan which is a Free Forever Plan. |
| 2. Alura | Provide a Free Plan with limited features. |
| 3. Etsyshop | Doesn't provide a Free Plan, however, offers a Free Trial. |
| 4. EtsyHunt | Provide a Free Plan with limited features. |
| 5. Sale Samurai | Offers a 3-day Free Trial version. |
| 6. eRank | Provide free membership at no cost. |
| 7. Marmalead | Offers 14-day Free Trial with limited features. |
| 8. Crest | No Free Plan or Free Trial. |
| 9. Merch Titans | No Free Plan or Free Trial. |
| 10. Koalanda | Provide a Free Plan with limited features. |
| 11. Roketfy | Free Trial is available. |
FAQ
How can I maximize SEO on Etsy?
To maximize SEO on Etsy, start by conducting keyword research using tools like eRank to find relevant keywords for your products. Optimize your product titles, tags, and descriptions by including these keywords naturally. Use long-tail keywords that are specific to your niche to attract potential buyers and improve your search ranking.
Which keyword research tools are best for Etsy SEO?
Some popular keyword research tools for Etsy SEO include eRank and Marmalead. These tools help you discover relevant and valuable keywords that can enhance your product visibility and increase your chances of reaching potential customers.
How important are product titles, tags, and descriptions for Etsy SEO?
Product titles, tags, and descriptions play a crucial role in Etsy SEO. Including relevant keywords in your titles and tags helps search engines understand the context of your products. Writing detailed and accurate product descriptions with valuable keywords helps potential buyers find your products easily.
How can I find the best keywords for my Etsy store?
You can find the best keywords for your Etsy store by using keyword research tools. These tools provide insights into popular search terms, keyword competitiveness, and suggestions for high-reachable keywords that can attract buyers.
Final Note
We have taken an in-depth look and present the best Etsy SEO tools available in 2023. These tools find the right keywords, analyze competitors, and enhance listings for better results.
Investing in a good Etsy SEO tool boosts your chances of being found and getting more visitors.
The tools we recommend in the above article are user-friendly, feature-rich, and offer different options for every budget.
Sellers using these powerful SEO tools have seen more exposure, better search rankings, and increased sales.
We advise trying free trials before choosing the best tool for your goals. Keep an eye on performance and focus on customer satisfaction.
With patience and the right tools, Etsy can be a rewarding sales platform.
Affiliate Disclosure: This post may contain some affiliate links, which means we may receive a commission if you purchase something that we recommend at no additional cost for you (none whatsoever!)