What makes a website a hit? Is it the website customization or the beautiful images, or the beautiful icons that you have uploaded? There are many possible reasons for this, but are these reasons enough for your website to hit?
The answer is a big No. The most important thing a seller has to consider the type of products they are listed. They have to scrutinize every product detail, and according to its list on their website.
But do you think this is an easy job to perform?
No, my friend. You cannot perform all these tasks manually. Just like when your website needs a robust web automation tool, it also requires an excellent dropshipping platform. That is why we bring you today an extensive ✅HotProducts.io Review. This is an excellent dropshipping platform that will maximize your sales for sure! Before getting to know what this dropshipping platform can do, let us glance at a quick overview of what exactly this tool does.
---
In-Depth HotProducts.io Review
HotProducts.io takes a different and more comprehensive approach to sell products on your online store or in a market like eBay, Amazon. The whole thing is presented through a modern, fluid, and ergonomic interface; it's nice.
4 main categories with the basic plan are presented in the dashboard.
Hot Products allow you to sell high-performance products hand sourced by the team quickly.
Warm Products allow you to find products that will have a lot of potential in the coming weeks and months. Very useful to find seasonal products.
Engagement Calculator knows the interaction around a product, beneficial to define its viral side.
Audience builders are, more precisely, for Facebook Ads and Instagram Ads. This feature is intended, among other things, to target the right interests for advertising campaigns.
Rewards offer a system of rewards based on the subscription period, including dropshipping training.
The first thing that stands out about HotProducts.io is that it goes far beyond classics tools with the possibility of choosing among European, American, and Asian suppliers. That is so unique! Right? When you have more choices and availabilities, we can do the business better; HotProducts.io is proof. While we are at it, it is time to know about the features of this fantastic platform. Are you too excited to know what is new in the dropshipping business? So are we.
Let's get started!!
---
Key Features of HotProducts.io | HotProducts.io Review
When we say a product's features are an essential element of its working ability, we do not lie. So, please read this section carefully because it contains all the reasons you should go with HotProducts.io.
#1. Video Ad Generator
Video ads are probably the best-converting ad types at this moment. Hotproducts.io has a decent video ad creator that will allow you to create simple video ads from your Shopify product page URL, or you can upload the product images from your PC. It's not the best video ad creator, but it's good enough if you are on a budget. However, there are some excellent video creation software applications that are not very expensive.
#2. Facebook Ads Audience
There is another feature that a lot of other ecommerce tools have. When you choose a product, you'll get audience suggestions to use when selling it on Facebook. The audience suggestions aren't always great, and I believe manual audience research will provide better results.
#3. One-Click Import Button
With this feature, you can easily import the hot products into your Shopify store with just 1 click. It also goes with product descriptions to make the process smooth and easy! This way, you won't have to re-write any product descriptions, which will save you lots of time energy. The one-click import tool will instantly give you the product title, high converting sales description, recommended retail pricing, and images.
#4. Rewards Club
The reward club is for loyal customers, and it comes in the form of video training. It includes videos on how to get started with Shopify dropshipping and Facebook marketing. But you can't rely on this if you know little or nothing about Facebook ads already.
#5. Bonuses for the Most Loyal Users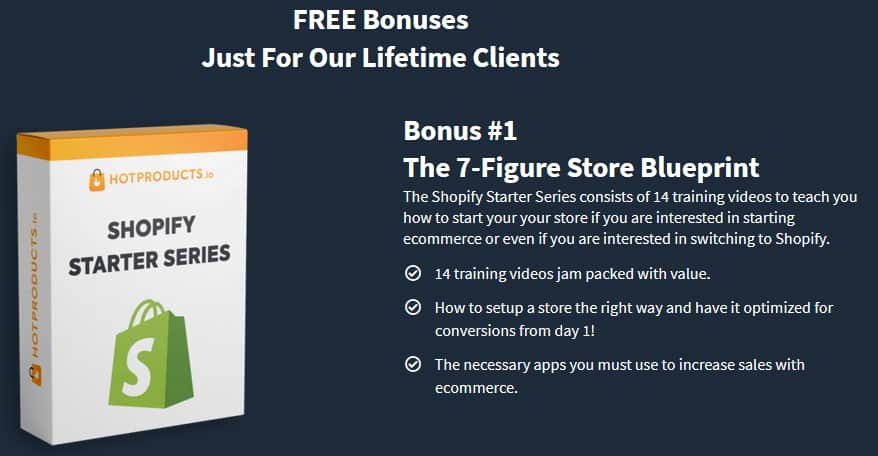 Becoming a member of the HotProducts.io platform unlocks exciting bonuses:
First, you get a series of videos to get started in dropshipping with Shopify and composed of 14 videos and cards (memos) so that you can create your shop quickly.
Then you unlock a course dedicated to marketing with Facebook Messenger. That is an exciting part of an e-commerce business because Messenger has many advantages over the classic email marketing solution.
If you opt with HotProducts for 120 days, you get their Instagram Influencer training. In this training, you'll learn about influencer training and how to vet influencers, so you're not wasting your money and how to scale.
The opening rates are just huge on Messenger!
---
HotProducts.io Pricing Plans | Enjoy HotProducts.io Discount Coupon
HotProducts.io comes with a two-tier pricing plan. They also include a 7-day trial to test out before going for the paid version.
Pro Plan $27/month
Following features are included in the HotProduct.io Pro Plan:
7 Day free trial
Daily hot products
1 Click store import
Daily warm products
DFY product description
Growing UK/US/EU suppliers
FB ad analytics
Facebook ad targeting interests
Engagement scores
Instant product suppliers
Google trends
Rewards club access
Help center access
Priority email support
Facebook video adverts source
Facebook audience builder
Elite Plan $47/month
The HotProduct.io Elite Plan includes everything in the Pro Plan plus:
Instagram research tool
Facebook ads video generator
We were not able to understand one thing. HotProducts.io says that they offer a free 7-day trial, but it also comes with a refund guarantee!
How? Why? How could a free plan come with a refund policy? Other than that, the pricing plans are pretty affordable and can easily be used for a long-term commitment. You will get to know about the refund policy in the following section.
---
HotProducts.io Refund Policy
The sales page says that you get a "Free Trial" for 7 days, but that isn't the case indeed. You have to first sign up with a credit card when you sign up and immediately charge $27 for the first month.
The free trial they're hinting at is just their refund policy! Yeah, you heard it right! If you don't like HotProducts.io in the first 7 days, you can get a refund, but that's different than a free trial, though. And you can only get a refund on the monthly plan, not the lifetime plan.
---
Is HotProducts.io is a Legit Dropshipping Tool?
Yes, without a doubt, we can say that HotProducts is a legit dropshipping tool. If you opt for HotProducts, you will not have to get disappointed for sure!
There are many reasons behind which says that why this dropshipping tool could be a different shot than any other platform. The most exciting part is HotProducts offers rewards and bonuses for their customers! The perks include carious webinars and training sessions. If you are a newbie seller, then HotProducts would be a suitable choice for you because it will clear all the doubts and issues through the bonus section!
Also, if HotProducts claims this platform to be a profit maximizer tool, which automatically turns this tool a legit and reliable one.
---
🌟 HotProducts.io FAQ
✔What is HotProducts.io?
HotProducts.io is the all-in-one Ecommerce software that helps its users to find trending products that they can sell on their online store.
✔Does HotProducts.io offer a free trial?
Yes, HotProducts.io provides 7 days free trial to all its users with a 100% money back guarantee. Start HotProducts.io free trial and test all its features for free. Use our HotProducts.io coupon code that helps you to save maximum bucks on your desired plan.
✔Do I need to install HotProducts.io?
No HotProducts.io does not require you to install anything as it is cloud-based software.
✔Is there any working HotProducts.io discount coupon code?
---
Conclusion: HotProducts.io Review 2023 | Should you really go for it?
The final question arises that whether you should or not go with HotProducts. If you are in this dilemma, let us ensure that HotProducts is a win-win dropshipping platform for everyone! It has got features; it has got affordability, got reliability, and many more things, making it a complete hit. There are some issues like the free basic plan, but they are not too deep.
Other than that, this platform is 100% authentic and safe to use.
You must opt for a dropshipping platform if you want to become a successful marketer because no matter how much we plan, some things are left when we decide to perform these daunting tasks manually. We hope that you will find our HotProducts.io review helpful. We hope that now you will decide the best for your business. With this, we will wrap today's article. If you have any doubts, please feel free to ask them up in the comments section below.
Until then, Sayonara🖐