Hello there! Today we are back again with an ultimate review on ✅Helium 10 Vs. Jungle Scout.
If you are an Amazon FBA seller, what other tools do you use to optimize your business? If you are selling on Amazon without the support of valuable extensions, then there is a big chance that you may not earn as much profit as other Amazon sellers.
Helium 10 and Jungle Scout are both excellent product research tools. However, if you are beginning to ship your sail online, you might as well need some expertise.
There are tons of aspects to look after when we begin our online business. We are usually so hung on the selling part that we tend to ignore critical things. Major characters like keyword lists, product ranking, and product listings need extra attention and care.
But, we already have so much on our plate. Therefore, it is best to rely on automated tools like Helium 10 and Jungle Scout. If you haven't used any product research tool, then this review could help to understand them.
If you are here to choose between Helium 10 and Jungle Scout, you will have to be with us until the article's end.
Now, let us get started with the main business without taking so much of your valuable time!
---
Helium 10 Vs. Jungle Scout: The ultimate comparison
There is a thin line between better and best. And it depends upon us to choose what fits our business.
Let us have a glance at the basics of both of these tools.
Helium 10 Review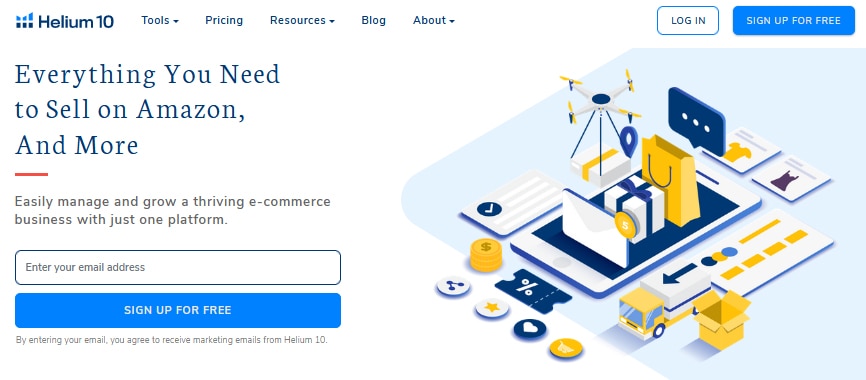 Helium 10 is a set of powerful research tools with excellent marketing features. It enables hundreds of Amazon marketers to efficiently deal with product ranking, spot trends, product listing, keyword listing, and so on. That helps you to generate more sales.
Anyone can use this tool to get excellent product ideas and go deeper into the research. With Helium 10, you get a comprehensive knowledge of your business, and it does all the work to optimize your selling business on its own.
It also allows you to conduct a keyword search by getting higher-ranking keywords. The best part is that with Helium 10, you can spy on your competitor's activities and understand their strategies.
Also, there is an option to identify the current trends and understand the aspects of its popularity.
Most importantly, you can optimize your product listing to improve its ranking.
Helium 10 comes with 10 primary tools that help you to grow your business efficiently. We have thoroughly explained all the Helium 10 features in our Helium 10 review on BloggingEclipse.
Correlatively, you will have to find the time to invest in attending the tutorials and learning through the database that is full of blogs and videos. That could help you to understand the tool more optimally. The most striking aspect of Helium 10 is that it enables you to change your method according to your goals.
Also read:
Now, what makes Helium 10 than Jungle Scout?
Key Features of Helium 10
Comprehensive keyword research with an organized spreadsheet to ease the research process.
Offers data-driven strategies that you could optimize according to your goals and objectives.
Reverse-engineers competitor's strategies to figure out other's tactics.
Black box feature that enables you to find high-demanding products with low competition.
It includes cumulative data of the misspellings and different relevant content searches for valuable strategies.
The Refund genius option prevents you from all the upcoming losses and might even assist you in making more profit.
Jungle Scout Review
Jungle Scout is not a whole package like Helium 10. However, it offers features that are easy to use and comprehend. With Jungle Scout, you will quickly understand the functional dynamics without much expertise.
It is gradually rising in its ranking and becoming one of the most potent marketing research expertise. Furthermore, it is beneficial not only for Amazon FBA sellers but affiliates as well.
With Jungle Scout, you gain access to high-end features that provides you in-depth analysis of the product, ranking, review insights, and many more.
Although the most striking part is while Helium 10 is a complete suite, Jungle Scout has divided itself into two full-fledged apps. You get a web app that becomes a hub for your Jungle Scout use and also gets a chrome extension.
Also read:
But what makes Jungle Scout different than Helium 10?
Key Features of Jungle Scout
Compares various products to bring you better ranking
It provides complete insights into the products, including sales history, reviews, price, etc.
Niche Hunter would offer you more product categories and help you to find the right product.
It provides you keyword research and a unique way of scoring them for the most efficient ranking.
It also enables you relevancy ratings to ensure that you have the proper optimization according to SEO and other comprehensive keyword integration.
A vast product database with access to all of them for broader research.
---
Helium 10 Vs. Jungle Scout: Features
We could go into the in-depth features of both of these tools. But, they might not be helpful for you here. So instead, we would tell you the similar characteristics of both of these tools. And after that, the uncommon features. By this, you could get a better idea about which one suits your needs the most.
Below given is a quick rundown of the common features of Helium 10 and Jungle Scout:
Both of the tools offer Chrome extensions for better functionality.
You get insights on the latest trends, spot-on, sales, advertisement performance, and your competitor's strategies.
It is easier to review your performance and enhance your existing strategy.
Black Box vs. Product Database: Both offer you a list of the hottest products with the precise information available on Amazon.
Both of its reverse engineering keywords options enable you information on keyword research and ranking. You get a list in both of the tools.
Now, it is time to have a look at the uncommon features of both of the tools. What makes Helium 10 and Jungle Scout unique from each other?
Let us see!!
Helium 10 Features
PPC managing option is a must if you are managing advertising campaigns on Amazon. With this, you can create and manage your advertising campaigns. If you do not have the time for it, you can leave it on auto-pilot mode, and Helium 10 will manage everything using its bidding algorithms.
With is, you can prevent your product listing from going out of stock. In addition, you get an option of the maximum quantity of products buyable from each client.
Create external landing pages
One of the best techniques to increase your sales is to drive extra traffic from social media. With Helium 10, you can make external landing pages on social media, offering an extra discount.
Check if your products are indexed for specific keywords on the Amazon search.
Review and Feedback manager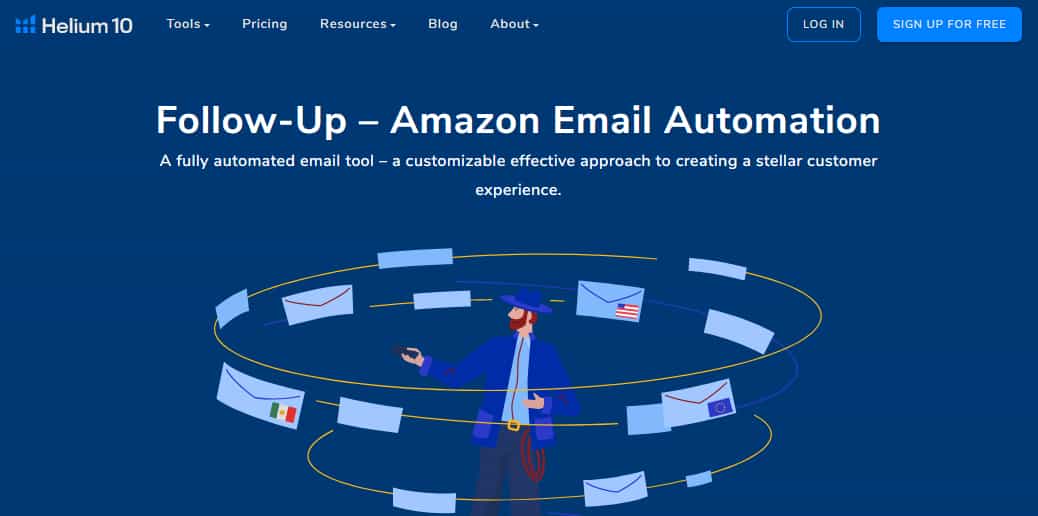 It comes in handy when you are managing lots of orders. The review section from the clients and the customers is crucial, which gets ignored in daily activities. With Helium 10, all those reviews get automated.
Refund Genie is a refund manager if you get broken or expired products and an issue with client reimbursements. You do not have to do anything. Refund Genie makes up for all your losses.
With Helium 10, you get a mobile app as well. This app comes in handy when there are emergencies, like if you run out of stock, your listings are hijacked, or you lost the buy box.
Jungle Scout Features
We all know that there is no tool available that provides 100% accuracy on Amazon keyword research and data volume. But as compared to Helium 10, Jungle Scout provides much better accuracy in terms of Amazon research volume. In addition, you get all the details in a table, which makes it easy for you to understand the process.
Initially, Jungle Scout is a vast company that bought other tools like Forecastly or Jumpsend, which is now combined as a product launch feature in the Jungle Scout. That feature lets you create coupons and discounts and launch them to a potential marketplace. This is a fantastic option because it allows your business to expand its horizon over different countries.
Jungle Scout provides you a list of all the possible suppliers by which you can initiate your business. Unfortunately, most of the suppliers are from China only.
---
Helium 10 Vs. Jungle Scout: Pricing Plans
Helium 10 Pricing
Helium 10 offers 4 pricing plans. They all are built to suit their customer's needs.
Starter Plan: $39/mo
The starter plan includes:
Full access to Xray, one of our most popular tools
Limited access to the rest of the Helium 10 tool suite
Freedom Ticket Amazon Training ($997 value)
Platinum Plan: $99/mo
The platinum plan includes everything of the starter plan plus:
Index Checker: 150 uses/month
Keyword Tracker: 2,500 keywords/month
Alerts: 300 ASINs/month
Follow-Up: 5,000 emails/month
Freedom Ticket Amazon Training ($997 value)
Diamond Plan: $199/mo
The diamond plan includes everything of the platinum plan plus:
Multi-user login
Index Checker: 300 uses/month
Keyword Tracker: 5,000 keywords/month
Alerts: 600 ASINs/month
Follow-Up: 15,000 emails/month
Free access to Adtomic up to $20k/mo ad spend
4 Seller central account connections
Inventory Management: Unlimited SKUs
Elite Plan: $399/mo
The elite plan includes everything of the diamond plus:
Highest-tier access to Helium 10
Quarterly in-person Workshops
LIVE monthly online training with top industry experts
Access to the private Elite Facebook group
Free access to Adtomic up to $20k/mo ad spend.
Jungle Scout Pricing
Jungle Scout comes with 2 pricing plans. One is Pro, and the other is Lite. Let us see what these plans hold specifically in them:
55% OFF
Get 55% OFF on all Jungle Scout Yearly Plans [EXCLUSIVE]
Pro Plan: $197 for a lifetime
The pro plan includes:
Monthly sales & revenue
Industry-leading accuracy
Rating & review tracking
Category & seller ranking
Ongoing support & updates
Web app advanced integration
Sales item profit calculator
Dimension & weight of items
FBA fee estimator
Opportunity score
Lite Plan: $97 for a lifetime
The Lite plan includes:
Monthly sales & revenue
Industry-leading accuracy
Rating & review tracking
Category & seller ranking
Ongoing support & updates
---
Helium 10 Vs. Jungle Scout: Support
Let us see what these two platforms have to offer in their support system.
Helium 10 Support
Unfortunately, Helium 10 does not provide a live chat system. Therefore, if a person has urgency related to any query, it will not work with Helium 10.
However, they do offer a ticket system. So, every query has to wait for 15-24 hours. That is a real downfall for a company that has already set much higher pricing plans. The least Helium 10 could have done to provide on-call support to their customers. Other product research tools, which are much cheaper than Helium 10 offer a live chat system. So we wonder why Helium 10 is lacking in giving the essential feature to their customers?
Jungle Scout Support
Just like Helium 10, Jungle Scout also offers a ticket support system. In addition that, you can contact them via email.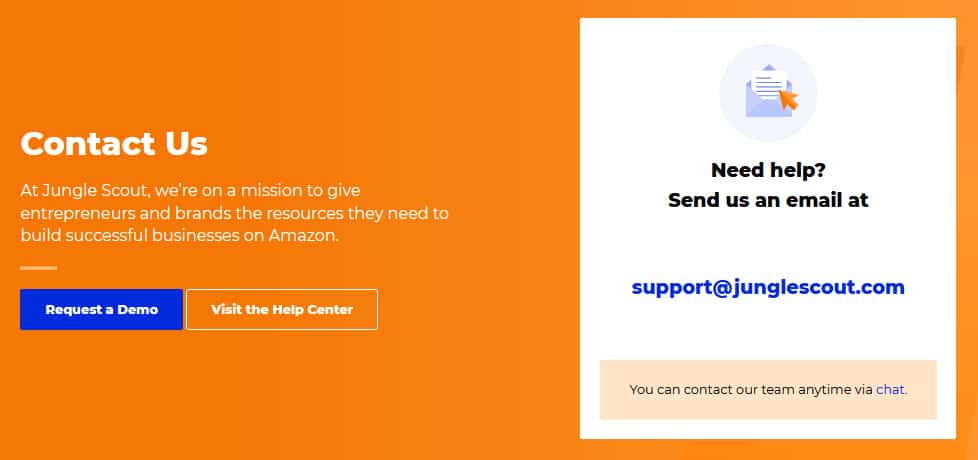 The customer support executives of Jungle Scout are very supportive. If you send them an email, then you get a response back in the minimum span. You do not have to wait for 20 hours to have your query resolved.
But again, the absence of live chat and On-call system in Jungle Scout makes their support system a little weak. Overall, both platforms offer average services when it comes down to their contact support.
---
Helium 10 Vs. Jungle Scout: Pros & Cons
With this, it is time to get to know all the possible pros and cons of Helium 10 and Jungle Scout.
Helium 10
Pros
Included Chrome extension.
The free plan offers many of their 13 tools.
It gives you everything you need to sell on Amazon in one place.
Incredibly accurate when comparing sales of previous months.
Offers a refund tool and listing optimizer.
Cons
Quite an expensive investment.
It will consume some time to get used to the tools and to understand them.
Not an intuitive suite, but professional.
Jungle Scout
Pros
It offers cheaper plans with full features.
Intuitive interface, easy to learn, and easy to use.
Higher accuracy rates than Helium 10 despite the lack of suite
Provides sales data of any Amazon product
Includes keyword research for any Amazon product
Compare sellers, strategy, and relevance to get various rankings.
Cons
It lacks a Mobile app.
It does not offer a free Chrome extension.
It does not consist of as many features as Helium 10.
---
🌟 Helium 10 Vs. Jungle Scout FAQ
🤔 Is Jungle Scout accurate?
Yes, Jungle Scout can be considered one of the most accurate Amazon seller tools because it offers the most accurate data compared to its competitors. Use our special Jungle Scout coupon that helps you to enjoy a flat 50% discount on all its plans.
🔎 What is Helium 10 used for?
🔥 What is the difference between Jungle Scout and Helium 10?
There is not a big difference between Jungle Scout and Helium 10. Both Jungle Scout and Helium 10 are great Amazon seller tools that offer a robust solution that helps Amazon sellers grow their brand and wealth. In this article, we have seen that Jungle Scout is a product research tool that enables you to find winning products. On the other hand, Helium 10 is an all-in-one Amazon FBA platform that offers SEO plus product research.
🙄 Which is better, Jungle Scout or Helium 10?
If we compare these two platforms, then it becomes very challenging to choose one Amazon seller tool because both Jungle Scout and Helium 10 offer great features at an extremely reasonable price. If you are a beginner, we highly recommend going with Jungle Scout as the dashboard is easy to use with powerful features.
---
Conclusion: Helium 10 Vs. Jungle Scout 2023 | Which Amazon seller tool is better?
If you ask us, both of the platforms are equally efficient. Helium 10 is a little extensive with more comprehensive features. On the other hand, Jungle Scout offers fewer features at an economical rate.
It is upon you to go with which one, according to your business needs. With this, we will wrap up our Helium 10 Vs. Jungle Scout review. Feel free to comment down in case of any doubts.🙂